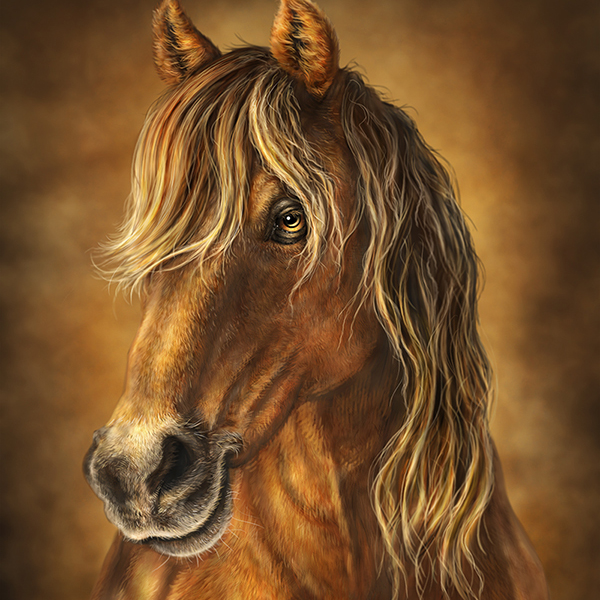 It doesn't seem like too long ago that I took a break from the blog, newsletter and Instagram. I realized this week, however, that it's just a few days shy of two months, which feels like long enough. I've got a longer post coming shortly about the break, but I figured I'd ease into it today with a few updates.
New Paintings
I've completed two new paintings over the break, with a third that I'll finish in a day or two. Here's the first one…Gold.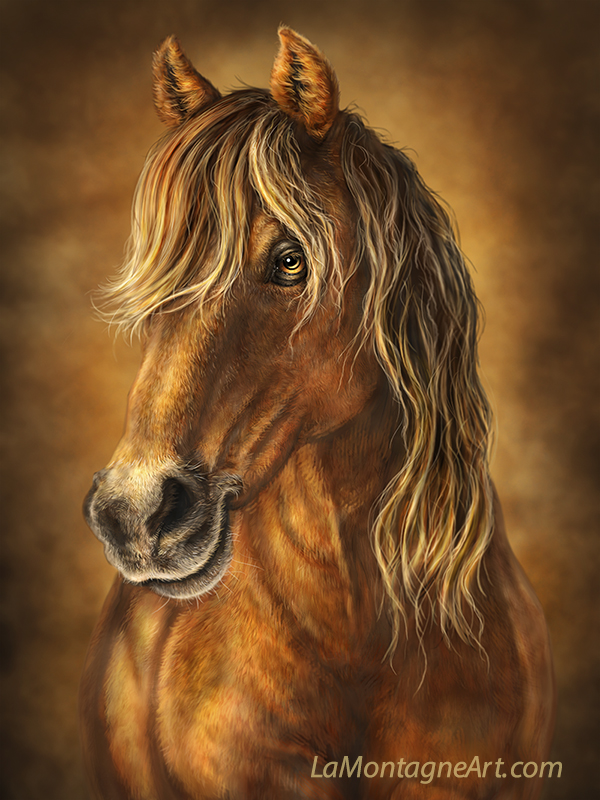 I took the reference for this painting over two years ago, while up at the cabin that friends and I rent near Caroline. As with many of my paintings, there's often quite a bit of time between taking the reference photos and using them. I found this painting a little intimidating as I find horses especially challenging, but I'm pleased with how it turned out. This was completed about a month ago.
As always, if you'd like to share my work, please do, with my thanks.
Here's a closer look.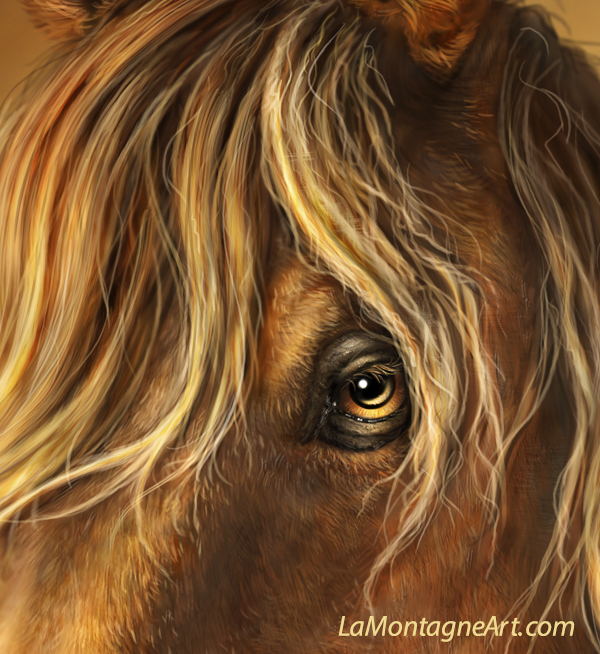 Masks
In recent weeks, many communities have made it mandatory to wear a mask. A month ago, I often felt like a conspicuous minority when wearing mine in the grocery store, but now it seems like anyone not wearing one is the outlier.
I'm at home most of the time, but Shonna has seen quite a few people wearing the masks featuring my artwork. I've had friends, family members, and newsletter followers send me pictures, too. From displays at stores to family outings in full mask regalia, I've enjoyed seeing those.
Many have said they get compliments on the masks (I have as well), and people are asking them where they can buy some.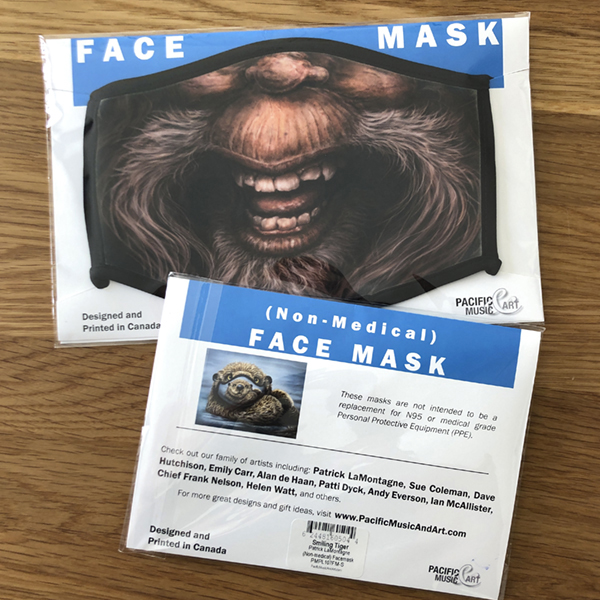 The initial pre-orders went well, the first two resulting in substantial orders, the third one quite a bit smaller, but a clear indication that those who follow my work got what they needed. Lately, I'm receiving more inquiries.
While I could do another order, I don't think it's necessary. You'd order masks from me; I'd place an order with Pacific Music and Art, they'd ship them to me, then I'd send them to you. At the beginning of this adventure, the printing and delivery pipeline was shaky, there were bugs to work out, and we were all still learning the ropes. In that climate, the pre-ordering worked well.
Now, Pacific Music and Art has a streamlined system for efficient ordering and delivery, both for individuals and retailers, and I'm advising people to buy directly from them. You're still supporting my artwork because I get a royalty from each sale.
Shopper's Drug Mart in Canmore has a nice selection of my masks, and I'd encourage Bow Valley residents to support that local business.
Shonna's Mom and her husband came down for the day on the weekend. When they came over for dinner, they said they saw my masks in some stores in Banff.
A friend of mine (thanks, Fred!) sent me this photo of one of the large mask displays at the Calgary Zoo. They've got a few new designs, too.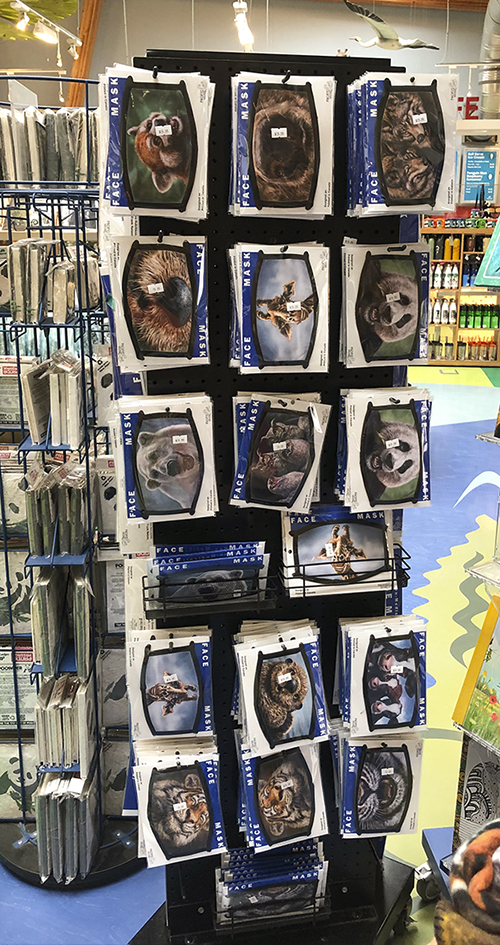 With all that in mind, I'd encourage you to support these and other retailers currently selling my work, rather than do another order myself right now.
If you'd like to order from Pacific Music and Art directly, here's the link.
Even though many of my newspapers still haven't hired me back, I've been drawing the same number of cartoons each week. My clients are used to having a wide selection to choose from, so it didn't seem fair to deprive them of that, especially since they've kept me in groceries this summer. While I draw them every day, cartoons are posted weekly on my site, either on Wednesdays, Fridays or both.
You can see them all on the Cartoons page.
Instagram
As you read this, I'll have re-installed the Instagram app on my phone and iPad to start posting images again and see what's been going on with my friends and fellow creatives. I'm not looking forward to being back on social media, but promotion is part of the business, which will be the subject of a forthcoming post, possibly in the next few days.
You can follow me there at @lamontagneart
I hope you've all been well, as we adapt to…whatever this is becoming. With the US election powered up, the Canadian Parliament prorogued, the ongoing debate about masks, COVID cases up and down, and whatever other steaming piles of excrement 2020 has yet to serve up for our consumption, I'd ask that you ponder the following.
This is tough for everybody. Each of us is dealing with our unique challenges. Before sharing passive-aggressive memes, angry political rants, and self-righteous nastiness, please reconsider. Given how social media works, chances are you're only sharing that stuff with people who agree with you anyway, preaching to the choir as it were.
Speaking from experience, you won't make yourself less angry by feeding that insatiable beast. Consuming and sharing bad news every day will make you miserable.
Play nice, would ya?
Cheers,
Patrick