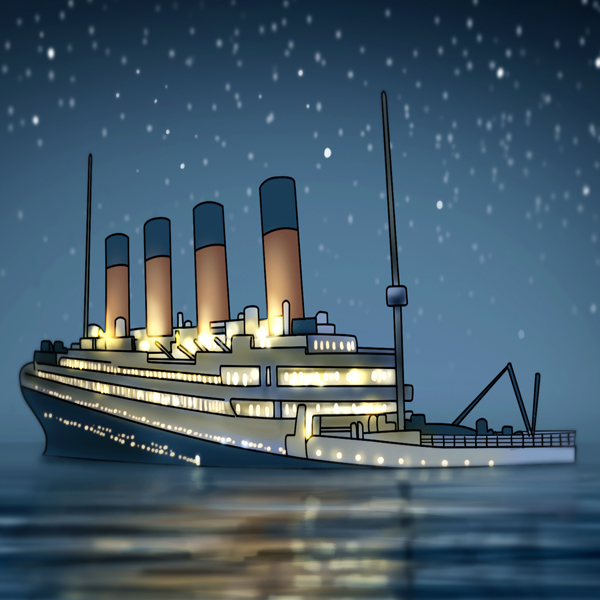 There's an exhaustive list of images, references and tropes that cartoonists (over)use. I could attempt to list them all and it would still only be the tip of the iceberg. Oh, that's one right there.
The Statue of Liberty or an eagle representing the US, a beaver for Canada, a bear for Russia, panda for China, St. Peter at the Pearly Gates greeting whichever notable figure just died, or somebody looking down from heaven. Variations of logos for the Olympics, companies, and events; broken records, road signs, going off a cliff or over a waterfall, weighing scales, talking animals…it's a long list.
I've yet to meet any cartoonist who hasn't used many of these, although most will be quick to criticize another for doing the same. I've been guilty of both of those, more than once. Sometimes it's laziness, other times it's trying to find a new angle on an old theme, and more often than not, it's desperation.
But we've all used these tropes.
It's a point of personal pride that I've never drawn a pearly gates cartoon, but that's splitting hairs, because I've used almost all of the others.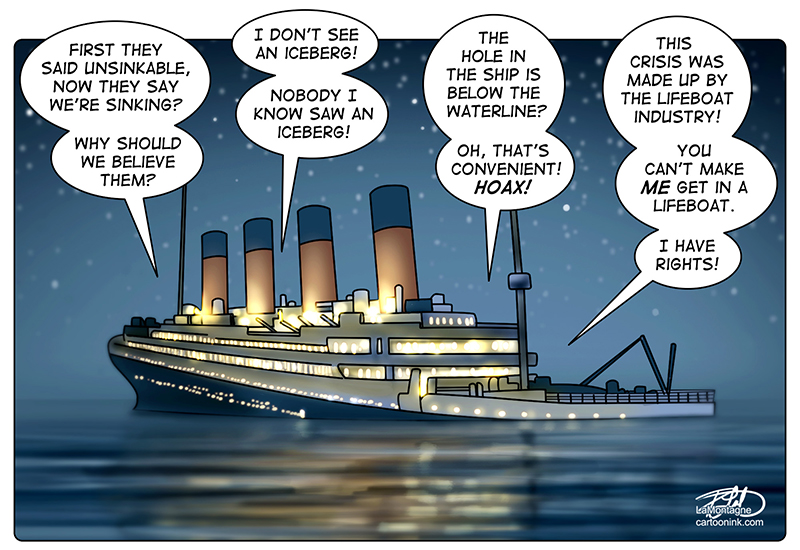 As you can see above, I released a cartoon this week that used one of the biggest clichés in cartooning. The Titanic has been drawn often, by many. I don't think I've drawn the whole ship before, but I've certainly drawn sunken or sinking ships and alluded to the iceberg, which is the same thing.
The Titanic represents hubris, man's ego coming back to bite him in the ass. It's appropriate for politics, corporate greed, and blind ambition, unchecked by reality. Sooner or later, an iceberg comes along to challenge the unsinkable claim. PLENTY of cartoonists have drawn politicians standing on the bow as it sinks.
While I would normally avoid the Titanic imagery, and I'm sure other cartoonists who see it will roll their eyes at my audacity for bringing it out of mothballs, it was a popular cartoon this week. I heard from several editors who loved it, proving once again that we're supposed to be pleasing our customers, not each other.
In my experience, most of us are bitter and cynical 'hey you kids, get off my lawn' types anyway, as insecure about our work as every other artist, something a few attempt to hide with false bravado and imagined authority that everybody else sees through.
It happens in every industry, especially creative ones. Artists will spend days debating details that nobody else cares about.
When I used to attend the Photoshop World conference each year in Las Vegas, several classes I attended were for photographers. Long before I took the volume of photos I do today, I learned a lot from those classes, because what makes one image better will ultimately make another image better.
Alan Hess is a skilled concert and event photographer, author, instructor and he takes photos of other genres as well. He's also a friend, who helped me out with reference photos in the early days of animal work, and I wrote a guest piece years ago about digital painting on the iPad, for one of his books.
During one of his classes, Alan shared a photograph, then zoomed in to show that, seen up close, it was grainier than it looked at full size. I can't remember the context of that lesson, but something he said has always stuck with me.
"You know who cares the most about noise in photographs? Photographers!"
It still makes me smile, because that kind of quibbling over inconsequential details exists in every field, especially creative ones. Artists will obsess (!!!) over the most ridiculous things in their work. We're miserable about it. We'll talk each other to death about details that nobody sees or cares about, and judge each other harshly for it, almost as much as we judge ourselves.
Plenty of freelance writers who imagine themselves Hemingway or the next Woodward or Bernstein will author listicle after listicle to pay the bills. You know the articles I'm talking about. 21 Uses for Old Underwear or 10 Reasons Your Editorial Cartoons Suck!
Then they'll judge other writers for releasing yet another listicle.
We're all hypocrites.
While it's still worthwhile to try to be original and not fall back on tired or overused imagery, sometimes it is indeed that imagery that works best, because it resonates with people. There's nothing to be gained by over-complicating a simple message.
And sometimes, it's just an off day with a deadline.
I enjoyed drawing the Titanic in this cartoon. I could have spent a couple more hours nitpicking it. But that would be obsessing over details that nobody would see, and in a deadline-driven profession, time is money.
The downside of these tropes, however, is that when other cartoonists draw on them, eventually you're going to use the same ones, sometimes on the same day. A well-known moment in editorial cartoon culture is that many cartoonists used the same image to depict the events on 9/11, the Statue of Liberty with tears in her eyes.
I was about two weeks away from trying to become a syndicated cartoonist when that happened, so I didn't draw a 9/11 cartoon, though I certainly wouldn't fault any of those artists. How original can you be with such a monumental event, with no time to let it all sink in before drawing a cartoon? The deadline was as immediate as the disaster.
They call this a Yahtzee when multiple cartoonists come up with the same idea. The fact that they even have a name for it, reveals that it's not uncommon. While idea theft does happen, it's more often just a bad luck coincidence. None of us wants to draw the same thing and the ones who do steal ideas are usually well known for it.
In my experience, this kind of thing happens a lot in holiday seasons, whether it's Halloween, Thanksgiving, the New Year, and especially Christmas.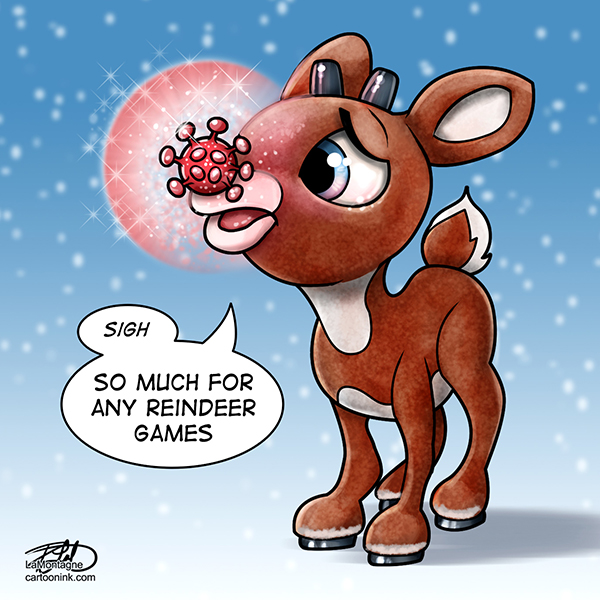 I drew this cartoon yesterday afternoon and sent it out first thing this morning.
Then I went to peruse the daily papers that publish my work to see if they'd printed any of mine. In the Edmonton Journal, I saw this cartoon by Malcolm Mayes, their staff cartoonist. I will admit to uttering a four-letter word or two.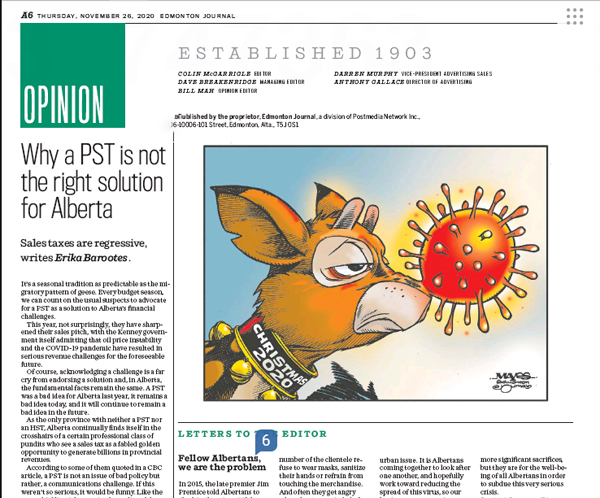 I don't need to tell you that Rudolph is as common a Christmas image as Santa, the elves, the North Pole, a lump of coal, a stocking, a tree, lights, we don't have all day. Malcolm and I won't be the only ones to imagine the COVID-19 virus replacing Rudolph's nose. It's low-hanging fruit and if we hadn't used it this week, somebody else would use it next week, or already has and I just haven't seen it.
I've been sending out 7 cartoons a week, every week, for many years, as have all of my colleagues, especially the ones that are still managing to make a living in this profession, or part of one. With that volume of content, it's the truly original ideas that are the exception, not the rule.
In the old days, before the internet, an editorial cartoonist with a daily staff job had all day to stew over an idea, come up with multiple angles, try to squeeze out another ounce of cleverness, and take hours to bring a cartoon to life. A very few still have that luxury, knowing that spot is reserved for them every day.
Back then, once the cartoons were published, they wouldn't immediately see what their colleagues at other papers had drawn because it didn't matter as much. These undesirable coincidences wouldn't even get noticed.
But today, with instant connection, websites and social media, freelance cartoonists are often competing for the same open spaces, so it's as much about the speed of delivery as it is about the idea. First past the post often wins the day.
What's worse is that we're not just competing with each other, we're competing with viral memes and videos, too. I keep a long list of ideas for editorial cartoons and can't tell you how often I'll see a meme that necessitates me opening that Word file, finding the same idea and deleting it.
The holiday season will see a lot of cartoonists combining masks, sanitizer, and distancing, our now universal COVID clichés with all of the traditional Christmas ones we trot out every year, trying to be original, but ultimately failing. This dominating news story isn't going away soon and having to find a way to draw something new about COVID-19 day after day after day after day…it's exhausting.
I know this cliché cartoon coincidence will happen again and it will bother me as much as it did this morning, but will probably go unnoticed by most, except for other cartoonists.
Cheers,
Patrick
___
© Patrick LaMontagne
Follow me on Instagram @LaMontagneArt
Sign up for my newsletter which features blog posts, new paintings and editorial cartoons, follow this link to the sign up form.