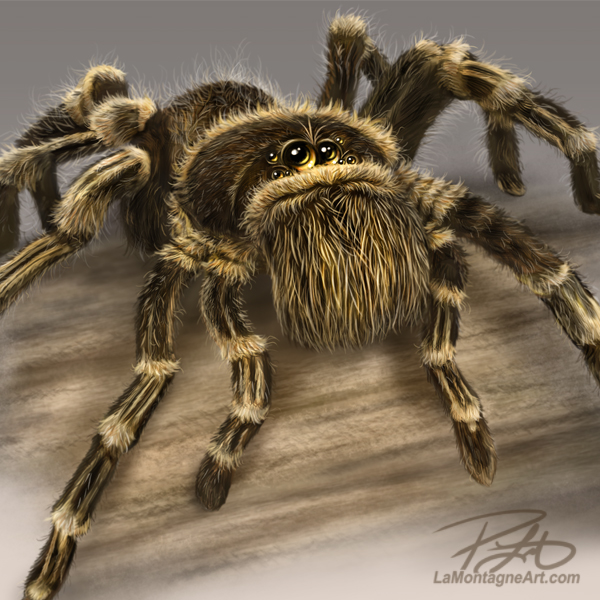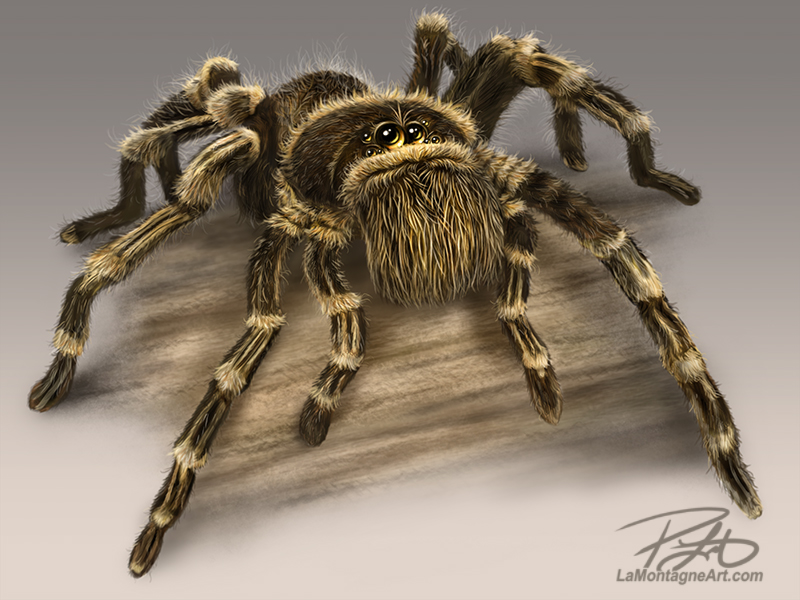 One evening when Shonna and I were first dating, we watched the fun comedy horror movie Arachnophobia with her mom and stepfather. The movie over, I sat in front of the TV to rewind and remove the rented VHS tape. Yes, it was a long, long time ago.
With my back to the room, I didn't notice Shonna's cat, Princess, walking up behind me, looking for attention. After two hours of spiders on the brain, I jumped when her whiskers touched my bare arm. To this day, Shonna swears I levitated. Her late stepfather Ivar was crying from laughing so hard, and the cat looked at me as if to say, "what's your problem?"
Spiders. They certainly push the phobia button for many people, including me.
Multiple legs propel them at seemingly impossible speeds as they find their way under shirt collars or up pant legs. They lie in wait, between sheets and sleeping bags, hiding in dark corners and crevices, waiting to sink their dagger-like fangs into our flesh and inject their killer poison. Or worse, they can't wait to lay their eggs in our ears.
At least, that's the nightmare we imagine.
Reality is a lot less frightening, though not for them. Many households have a designated spider killer. But, like most natural creatures, they have much more to fear from us than we from them.
Spiders are fascinating creatures. They keep more invasive insect species in check, including aphids and caterpillars that can decimate crops. They help control the populations of other insects that spread disease.
According to the Boston Children's Hospital, "It is estimated that less than three deaths per year occur from spider bites. However, most victims are children. Most of the 20,000 species of spiders found in the United States are poisonous, but their fangs are too short or too fragile to break through human skin. The bites of most spiders cause only minor, local reactions."
Mosquitoes kill a million people each year. While they're annoying, we hardly fear them to the extent we do spiders. The bite from a tarantula is comparable to a bee sting in both pain and repercussions. If you're not allergic, it's unlikely even to make you sick.
The other day, Shonna came home from work and mentioned she'd seen a little spider on the wall inside our front door and wondered what had happened to it. I had seen the same spider earlier in the day and told her it was too cold to put it outside, so I left it alone. It was likely still in the house somewhere. Yet, miraculously, we both keep waking up each morning. Surely we should be dead by now.
For many of us, our first reaction is revulsion and shivers. But, just like with every other animal that scares me (BEARS!), knowledge rarely cancels out irrational fear.
In the fall of 2021, the Calgary Expo had a much smaller mid-pandemic version of the event. Like it was for many people, it had been a financially challenging year, and I didn't think paying for a booth would be worth the investment, given the reduced attendance.
As a vendor, I usually only have a limited time to look around if I arrive early each day before the doors open. So, it was fun to buy a ticket and attend the event with my buddy, Derek, who brought along his daughter and her friend.
For a small fee, I had the opportunity to hold a tarantula. Of course, I had visions of this hairy little beast running up my arm and sinking its fangs into my neck (why my neck?!) or crawling across my face (OK, that one comes from Aliens), but I knew that in the real world, I had little to fear.
Once in my hands, I was amazed at how light she was. They're quite fragile, so I knew the spider would die if I dropped it. Suddenly, my biggest concern was not to hurt this delicate creature, and I loved the experience, one I would repeat without hesitation.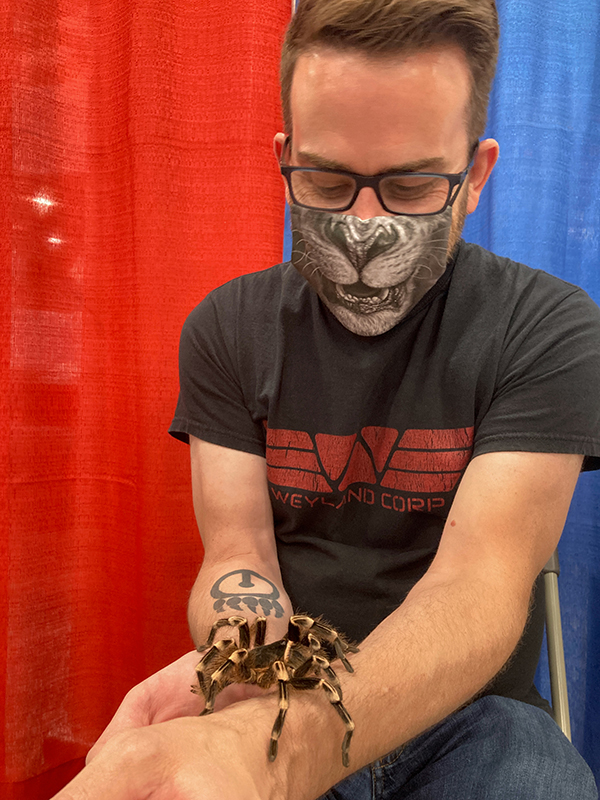 Derek took some photos for me, and I've wanted to paint this tarantula ever since, though I doubt it will be a popular print. I just wanted to try it.
But how would I make this hairy little nightmare appealing? I know it's possible because animator Joshua Slice did it several years ago when he created Lucas the Spider, a character based on a Jumping Spider.
As an aside, those two words together are terrifying for anybody with even a little arachnophobia.
Lucas the Spider is adorable and became a series of animated shorts and eventually a show on the Cartoon Network. However, a large part of his appeal was his movements, toddler's voice and that he blinks. I wasn't sure I'd be able to achieve any connection with a painting.
A tarantula's mouth is on the underside of its body, so I couldn't very well have it smiling. The character had to be in the eyes. But with no eyelids or bone structure to help with expression, I wasn't sure if any personality would appear.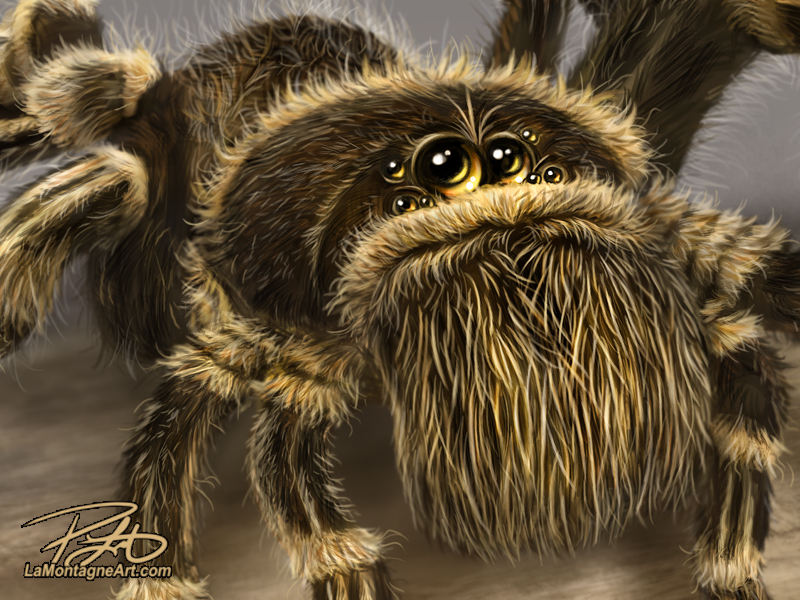 And yet, the natural features below his eyes suggested a moustache and maybe the illusion of a mouth. Humans are geared to see patterns. It's called Pareidolia, just one of the weird ways our brains are wired. It's why we see shapes in clouds, the man in the moon, or a religious figure in a grilled cheese sandwich. It's suspected to be tied to survival and recognizing environmental threats.
I didn't see the imagined face in this spider until the last few hours, but once I did, I couldn't unsee it.
I showed the finished painting to Shonna yesterday morning, convinced she wouldn't like it. But the first thing she said was, "he's cute."
I wonder if anyone else will feel the same way.