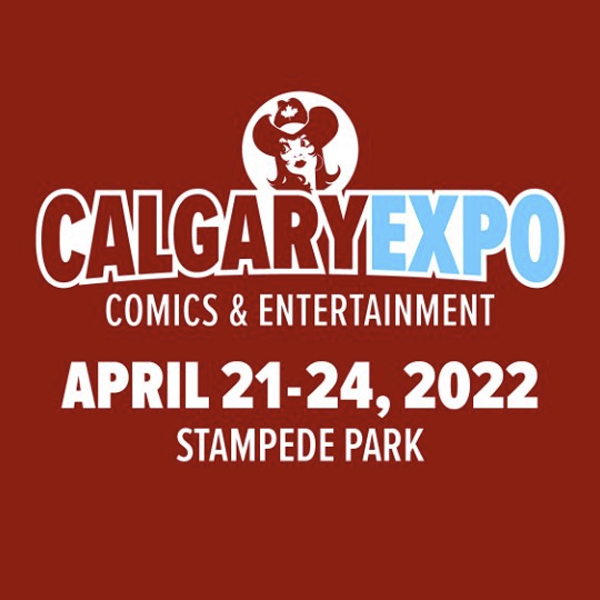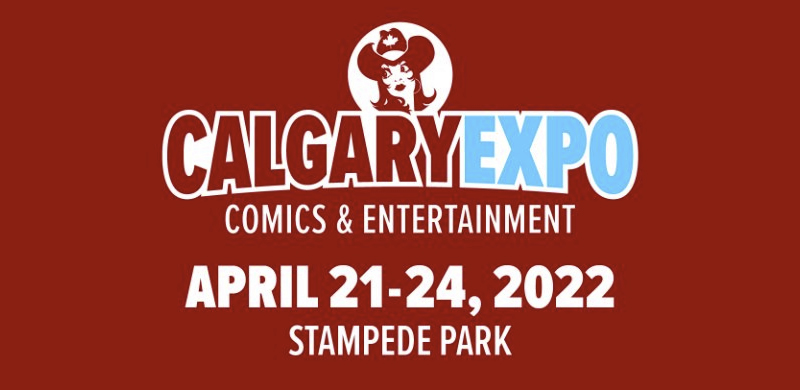 The Calgary Expo is a monster event, beginning on a Thursday afternoon and ending Sunday evening. Pre-pandemic, close to 100,000 people came and went through the doors for four days. It was once the 6th biggest Comic-Con in North America, still growing before the world swerved drunkenly into traffic.
Attendees include comic, toy, art, and pop culture collectors. Movie and television fans pay additional fees to line up for signatures, photo ops, panel discussions and talks from invited celebrities. Calgary attracts some very big names, which draws in more people.
One year, the entire cast of Star Trek: The Next Generation attended, resulting in absolute chaos. The Fire Marshal eventually shut it down with so many people inside that you couldn't move. Thankfully I wasn't a vendor that year. Organizers rewrote their rule book the following year.
In 2014, the cast of Aliens was a big draw, resulting in one of my favourite memories, when the late Bill Paxton ended the show by intentionally overacting his most famous movie lines on the intercom. Exhausted vendors suddenly woke up from packing our booths, cheering and applauding the gesture.
Cosplayers spend countless hours creating incredible outfits, from elaborate body paint to 3D printed helmets and armour of pop culture, movie, TV, animation and comic book characters. For example, my former employer spent weeks creating the most realistic Chewbacca costume you'll ever see, complete with stilt extensions and an electronic voice box. He was a big hit at the show.

Truly an all-ages, family-friendly event, it has consistently been one of the most positive experiences I've had each year. The people-watching alone is worth attending, and the whole event has a circus feel.
In fact, they even have a signature parade in downtown Calgary called POW! Parade of Wonders on the Friday (although Expo is open Thursday evening) to kick it off. I've never seen it live because I'm always prepping my booth for the day. But it sure looks like people are having fun. This was from 2019.
Retailers include comic book stores, T-shirt vendors, book publishers, and every kind of nerdy pop culture collectible under the sun. Then there is the art. There's so much quality art that it would take more time than I've got to catalogue it all.
Artist Alley is a section unto itself, with more affordable booths for creatives to sell their prints and other items. Many are hobbyists building an audience, though some have built a large fan base and do quite well.
The large halls of the main building are divided into 10 x 10 booths, with some larger companies occupying several. Naturally, these Retailer booths cost more, but increased space and traffic translates to more sales.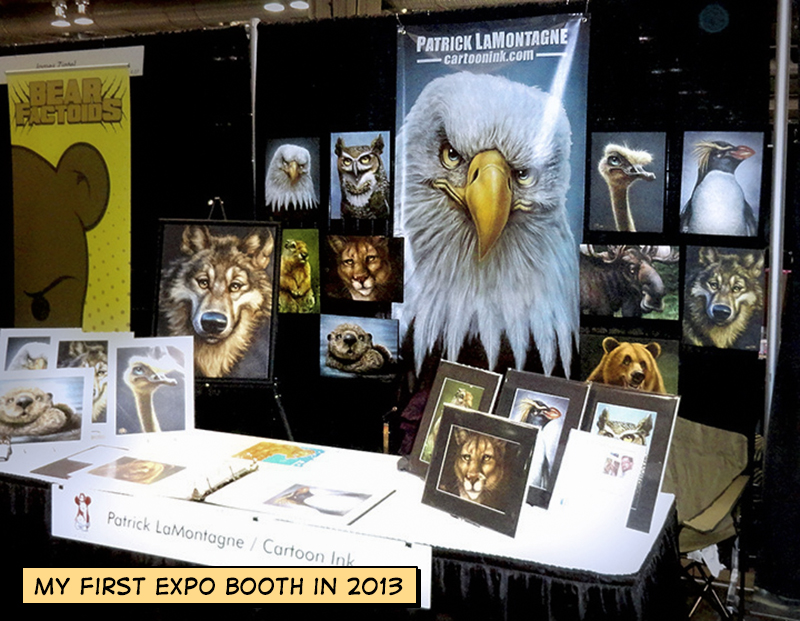 Having worked my way up from my first booth, more of a table really, in the now-retired Small Press section, I've been in the Retailer section for several years. In my last year in 2019, I had a corner booth on a main thoroughfare, a prime location that I had earned through seniority. I have no idea where I'll be this year as the floor plan is likely to change and they haven't released any information yet.
No matter how many times I prepare for this event, it's a logistical gauntlet. For best pricing, booths are usually booked a year in advance on the last day of the previous Expo. I booked my 2020 booth in April of 2019, so they've had my money for three years. Even though they responsibly offered refunds several times during the pandemic, I wanted to keep my booking and priority.
The booth space shown here was bigger than I was used to as the vendor next to me no-showed. So I was able to spread out a little bit, as did the guy on the other side. It's usually more compact.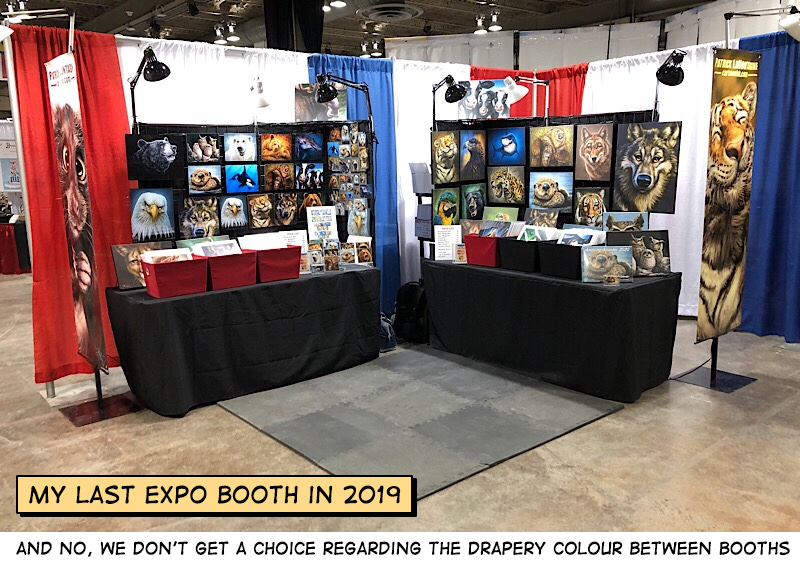 Neighbouring vendors form temporary communities at these shows. We watch each other's booths for bathroom breaks, might do a coffee run if one of us is going, and we talk during set-up and slow periods. I hear a common question: "How did you do today?"
A frequently heard answer, especially from people who don't do this for a living, is, "I've covered my booth costs."
If that's your only goal, and you're doing this for fun or a side hustle, that's important. The booth fee is usually the most significant expense, but it's certainly not the only one.
My corner booth costs $1228.50. Despite overall bright lighting in this venue, having my lights on my artwork and banners makes it pop and attracts more attention. So, I rent power for my booth, another $134. Parking for the five days (including Wednesday set-up day) is $65, and my car stays in that lot from Thursday to Sunday.
If I were doing regular shows, I'd get a blanket policy through my insurance provider to cover all of them. All it takes is one person to bump the wrong thing and fall in your booth, or if something from your display falls into an aisle and somebody trips over it, the vendor could be liable. Of course, nobody thinks it will happen to them, but it's not worth the risk in our litigious society. So, I get vendor insurance for this show through the venue, which costs $64.
Canmore is only an hour away from downtown Calgary when there's no traffic, but getting in and out of the grounds with everybody else adds a lot of time. I wouldn't get home until 10 PM at the earliest Friday night and would have to leave by 7 AM the following day to make it back. Add in the potential for a spring snowstorm, which has happened more than once on this weekend, and commuting would be a gamble.
So from Thursday to Sunday, I stay in a hotel. It's six or seven blocks away from the venue, and I walk back and forth each day. That's $470 all in, with the Expo rate.
I don't have a big appetite these days, and I stay away from the high-fat food trucks. Instead, I eat breakfast at the hotel, pick up a healthy lunch at Sunterra market on the way to the grounds each morning, bring trail mix snacks, fruit and cheese from home, and then grab a late takeout light dinner on the walk home to eat in my room. I used to attend the odd networking event at this show, organized by Calgary artist collectives. They were fun, but I prefer winding down in a quiet hotel room. These are long, loud days with many people, and that always takes it out of me.
My food expense for the weekend is usually around $100.
In the late 90s, I worked at a hotel in Banff. For a couple of those years, I was an accounting clerk. Later, I worked as an office admin for a physiotherapist here in Canmore. Through these jobs, I became proficient with Microsoft Excel.
Shonna is an Excel wizard and loves putting data into a spreadsheet. It might sound boring, but it's a great skill. We each keep our own finances, but there are no mysteries in our household budget for the joint expenses. She'll spend hours tweaking those numbers to make sure everything gets paid, money is set aside for savings, and ensure that we still get to live a life.
So for Expo a few years ago, we sat down and built a spreadsheet to find out exactly how much it cost to do the show.
My booth might cost $1228.50, but before I sell anything, the initial costs add up to almost twice that, and I haven't even mentioned creating a booth and filling it with stock.
The most considerable expense of building a booth is in the first year. I didn't make any money the first two years I did this show, and the second year I barely broke even. I'll buy one or two new display items to improve things each year, but if you take care of your equipment, almost all of it is reusable.
Here is a list of some of the display materials and equipment. Grid walls, corner braces, wall coverings, hangers, lights, lightbulbs, power bars, banner stands, banners, two folding tables, tablecloths, table riser, magnet boards, coaster/sticker display risers, print display bins, print storage bins, storage rack, canvas/metal cases, floor mats, office supplies, toolbox/tools, cargo dolly, business card holders, display easels, and a bunch of other minor stuff.
In the beginning, this whole show was cash transactions. The rule was to bring lots of small bills for your float. Very few sales are cash these days, and everybody wants to use TAP. My handheld terminal costs $20/month to rent, but it's well worth it. But like any other retailer in the world, the banks and credit card companies take a small percentage of every transaction.
That's to build a temporary store for those four days. Then, after that, I need to have items to sell.
Before I sell a print, I pay a printer to produce it, order a backer board to protect and make it presentable, order art bio labels for the backer board, and a cellophane sleeve. Every print comes with an initial cost. It's the same for the large metal prints, canvas and stickers. For the coasters, magnets, calendars, small aluminum prints and anything else I get from Pacific Music & Art, I buy those from Mike. I get them at less than wholesale because he doesn't have to pay me a royalty on products I buy for myself.
Every item breaks down on that Excel spreadsheet. From what it cost to buy it to what I sold it for, and in the final column is the profit from that one item. I track everything I sell during the show, writing each transaction in a notebook. Then, I enter it into a spreadsheet on my iPad in my hotel room at the end of each day. Finally, I enter each day into the more extensive spreadsheet at the show's end.
From the total profit of each item sold, I deduct the hotel, parking, electrical, insurance, and food costs. Only then do I know if I made any money.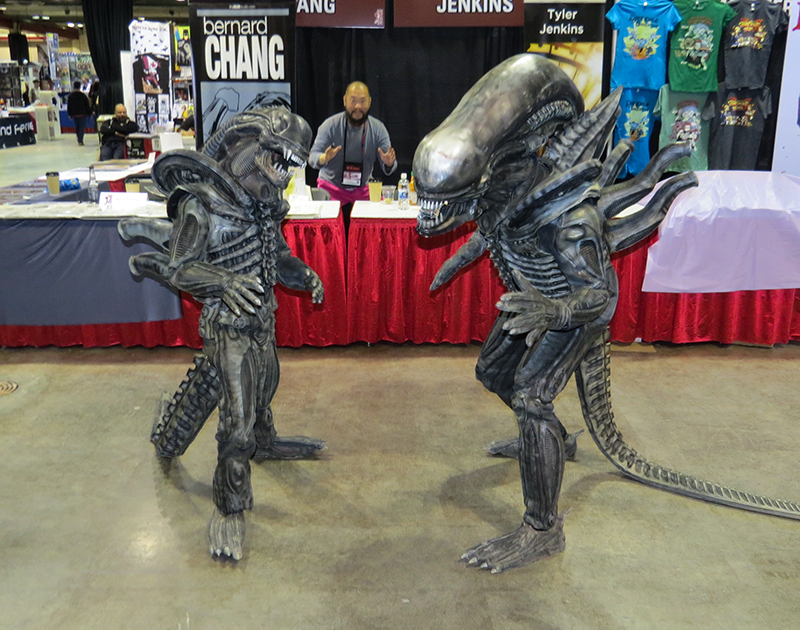 That explains the hard costs, but what about my time?
Coming up with an hourly wage for self-employment is almost like mixing math and philosophy. Building my art skills took decades; painting each piece took many hours, and the whole collection of whimsical wildlife paintings has taken 13 years so far. There wouldn't be any prints, coasters, magnets, calendars, and other items to sell without all of that. So, how could I come up with a value for that time?
I recently spent an hour redesigning my booth in Photoshop, creating scale pieces of the different items and moving them around for greater efficiency. Does that count against time spent?
What about the intangible benefits from the show that can't be quantified?
Each year, I meet new people and introduce them to my work. If they don't buy something the first year, they might buy something next time. I'll get new subscribers to A Wilder View, so maybe they will buy something later or share my work with their friends. I reconnect with people who already like my work and come back to see me year after year.
How do I enter those benefits on an Excel spreadsheet? The simple answer is I can't, but they're still valuable.
But for the costs that can be recorded, it's essential to know what you're getting out of it and to be honest with yourself if it's worth doing.
This show has been financially well worth my time and effort for years. But, I'll admit that significant changes to the show before 2019 had me rethinking whether I would do it again. When the 'little Expo that could' sold to the multi-national Fan Expo, now a subsidiary of Informa, it lost the local community feel and it has become a colder corporate event. As a vendor, I used to feel like a valuable participant, friendly with the organizers and happy to see them each year during setup. Now, I just feel like a number on a sheet, easily replaced.
But that turned out to be my most profitable year, and I was pleased with the return on my investment. While I've lost any connection with the organization, I still had a great time with my customers and fellow vendors. So, I booked again, unaware that the next two years would change everything for everybody.
I have no idea what to expect this year. As I post this, there's still no floor plan published, I don't know my booth number or move-in details. Eight days out, that's concerning as far as confidence in the overall organization. It could be a great show, with record attendance and people buying a lot of my art. Or it could be quiet, folks reluctant to gather in groups, still financially shell-shocked from the last two years, and just browsing. It will likely be somewhere in between, but that's still a big range.
I won't know until Monday, April 25th when I run the numbers.