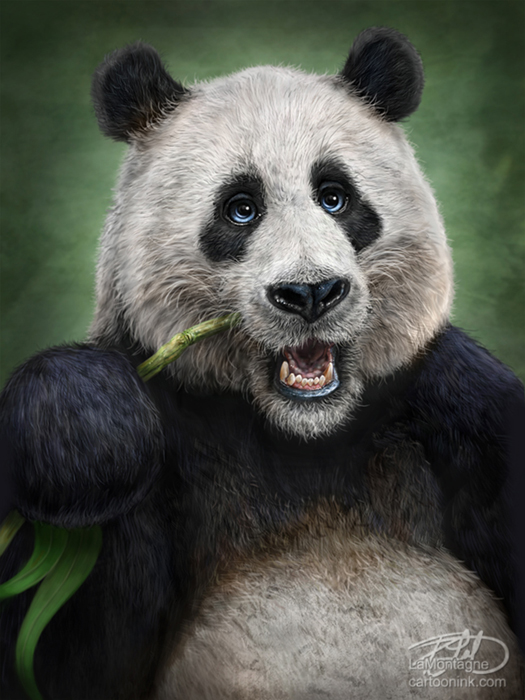 Here's one that I've wanted to paint for quite some time. There have been times where I've had galleries and others asking me to add a Totem to the series for marketing reasons and it hasn't always worked out the way I've wanted it to. On a couple of occasions, the painting ended up feeling forced and I didn't have much fun with it, because it seemed like I was painting it at the wrong time.
At other times, however, the request coincides nicely with the desire to paint that animal and I've been pleased with the result. This is one of those times.
The Toronto Zoo has a couple of pandas on a five year loan from China and they are proving to be very popular. This year, they were successfully bred and two panda cubs are currently being well cared for. Panda cubs are delicate and they won't be available to the public for some time, although the zoo has been posting some pretty adorable photos.
I approached the Toronto Zoo to add my Totem prints to their retail program this year and they are eager to place a large order in January, which will include animals in my current portfolio and a few I've yet to paint. The Panda Totem was one they requested.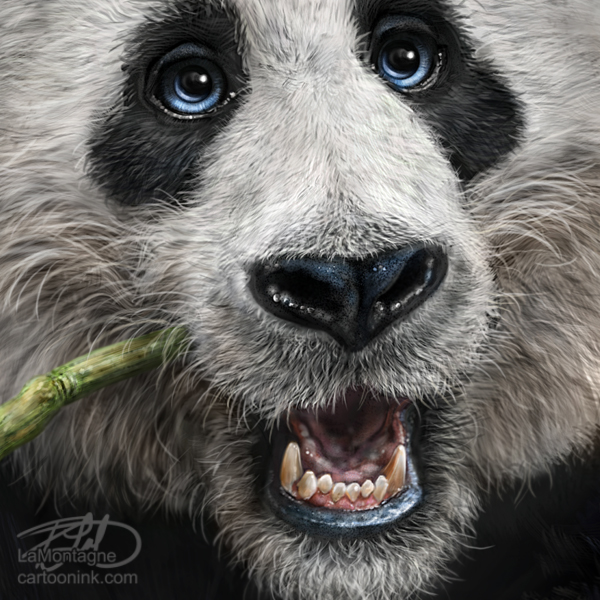 I'm pleased with how this one turned out, especially since it was one of the easier paintings I've done. For obvious reasons, I wasn't able to take my own reference photos on this one, so I relied on stock footage. My friend Scott had some credits that were about to expire and he graciously offered them to me, for this painting and a few others I'll paint in the future.
With those new photos and some of the others I'd already bought, I used about four different head-shots for this one and three different bodies, each offering me detail and anatomy that wasn't available in the others.
Some paintings I've done have been arduous, where I had great difficulty getting the anatomy right, or the expression, personality, lighting. My Bighorn Sheep Totem is especially memorable for being a real slog. But this painting flowed nicely, was quite fun and didn't take nearly as long as many of the others. It was nice to have such a smooth painting experience this time.
I'll be printing this one in January and it will be available in the online store by the end of next month. The Calgary Zoo has already expressed interest in it as well, as the pandas at The Toronto Zoo will be moving there in 2018. Early speculation is that the cubs will be joining them.
This was painted on the Wacom Cintiq 24HD display in Photoshop CC, photos were only used for reference.
Cheers,Patrick
If you'd like to receive my newsletter which features blog posts, new paintings and editorial cartoons, follow this link to the sign up form.  Thanks!