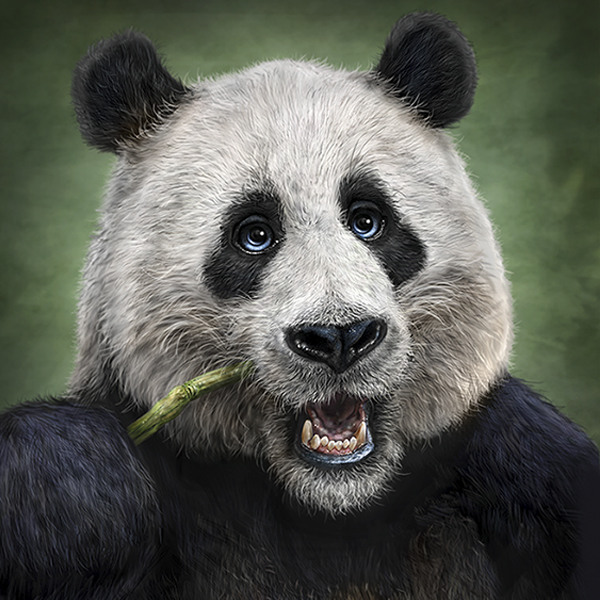 One of the most challenging parts of marketing is playing the game.
We're emotional creatures, not as evolved as we like to think, prone to gimmicks, triggers, fear of missing out, limited time offers, inflated prices on sale for regular price. We are prey to an overabundance of cognitive biases, fall for the same stuff repeatedly, voluntarily share our personal information to save a few bucks, and forever fail to learn from our past mistakes.
Even though everyone knows that salespeople have a spiel or massage the details to put the best possible spin on things, we still buy into it. Marketing works because it understands all of this. And even when you know these things, we still fall for them.
Everybody who has ever invested in anything knows that the cardinal rule is to buy low and sell high. So why does the stock market have a seizure every time somebody in power sneezes or runs and hides when the wrong person says, "Boo?"
We're emotional creatures, even though we like to pretend that we're not.
Every so often, it's nice to point out that elephant in the room. Not just mention it, but shine a light on it, display those wonderful big ears, beautiful tusks, enormous feet, pretty eyes and most importantly, the fact that it just sat on the buffet lunch.
Yes, I'm painting an elephant soon. Stay tuned.
(Get to the point, Cartoon Boy!)
I'm tired. You're tired. We're all a little testy, impatient, worried, uncertain, choose your own less than ideal emotional state.
So I thought I'd try something different for today's marketing—brutal honesty.
The Calgary Zoo is usually one of my largest print clients. They've been supportive of my work for many years and a great customer. Like every other business this year, especially ones where the public gathers in groups, they're facing extraordinary challenges right now.
I was taking photos at the zoo recently, and they're taking the safety measures seriously. The animals are still well cared for, and the staff are doing their best under difficult circumstances. I would encourage Albertans to visit the zoo, support wildlife conservation, and a local business that keeps those hardworking people employed.
They also sell my face masks in their gift shop, made in Canada by Pacific Music and Art, so that's one more place you can get them.
One of the many unforeseen casualties of this pandemic has been the Panda Passage at the Calgary Zoo. The pandas themselves are fine, but they must go back to China and are leaving soon. They were supposed to be in Calgary for a couple more years, but the daily flights that brought their bamboo diet have ceased. The zoo has been doing its best to source the bamboo from other places, like British Columbia, but winter is coming, and the supply has run out.
As nothing goes unconnected these days, here's a strange way this affected your friendly neighbourhood cartoonist and whimsical wildlife painter.
The Calgary Zoo used to sell a lot of my Panda prints. They sold almost all of them. Popular in their gift shops, I made it a habit to keep plenty on hand so that when they ordered, there was no waiting. At the end of last year, I ordered more than 50 of them. The Zoo did not place their usual large spring order. I need not explain why.
With the closing of the Panda Passage, it's beginning to look like it will take me a very long time to sell these particular prints, even at a discount. With that in mind, I'm offering that print at a substantial discount.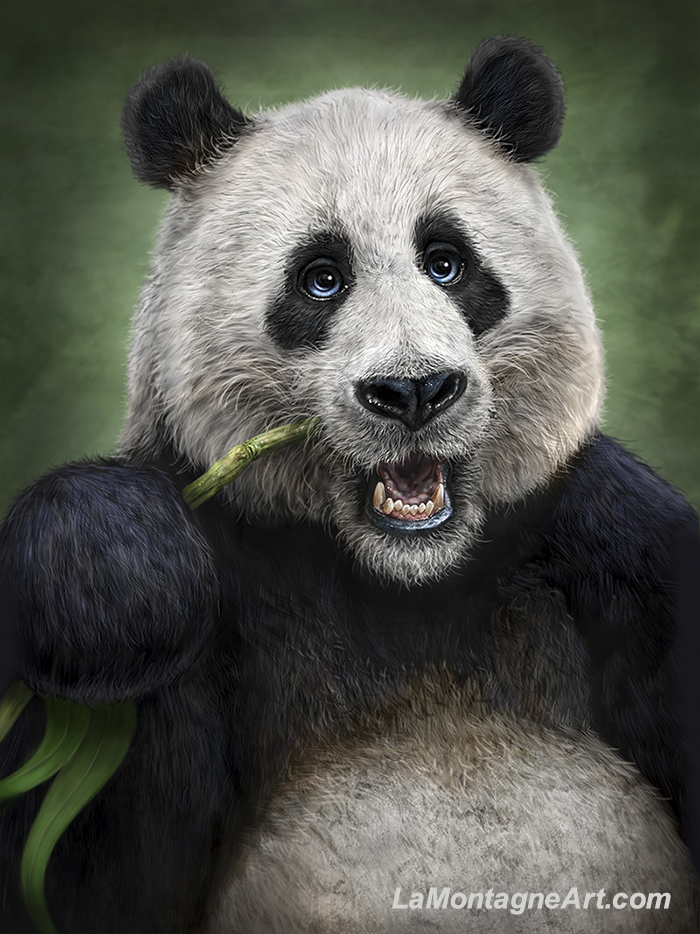 Regularly $24.95, I've reduced the price of the above panda print to $6.95.
Another print I'm offering at the same price is the Sasquatch. This is a weird one. Mike from Pacific Music and Art suggested I paint this image a year ago because many of his retail customers are in British Columbia, Alaska, and the Pacific Northwest. That's Sasquatch country!
The image does very well on magnets, coffee mugs, art cards, T-shirts from Harlequin Nature Graphics and plenty of other products. It's one of the best sellers on face masks.

But whether it was at the Calgary Expo or on my online store, it does not do well on prints. So, I'm going to blow out that stock, too—regular $24.95…now $6.95.
No Promo Codes, no new sign-ups, no hoops through which to pirouette. It's just the price in the store.
Here's a bonus to entice you. If you buy THREE or more prints, no matter which ones, I'll throw in something extra. Could be a calendar, a magnet, face mask, who knows? It'll be a surprise, but there will definitely be an added gift product in there.
Also, all of my prints are 11″X14″. That's a common frame size you can buy in many stores that sell them, no need to spend a bundle having them professionally framed.
I'm fortunate that prints and other products aren't perishable. Someday this will end, and I'll be ready to supply my customers with the stock I have on hand. But I keep painting new pieces, and if I want to stock new stuff, I must make room for it. When sold, the Panda and Sasquatch prints will be retired, as will several other pieces. It's the only way to keep releasing new images.
Speaking of which, here's a Grizzly bear I finished last week, not yet available.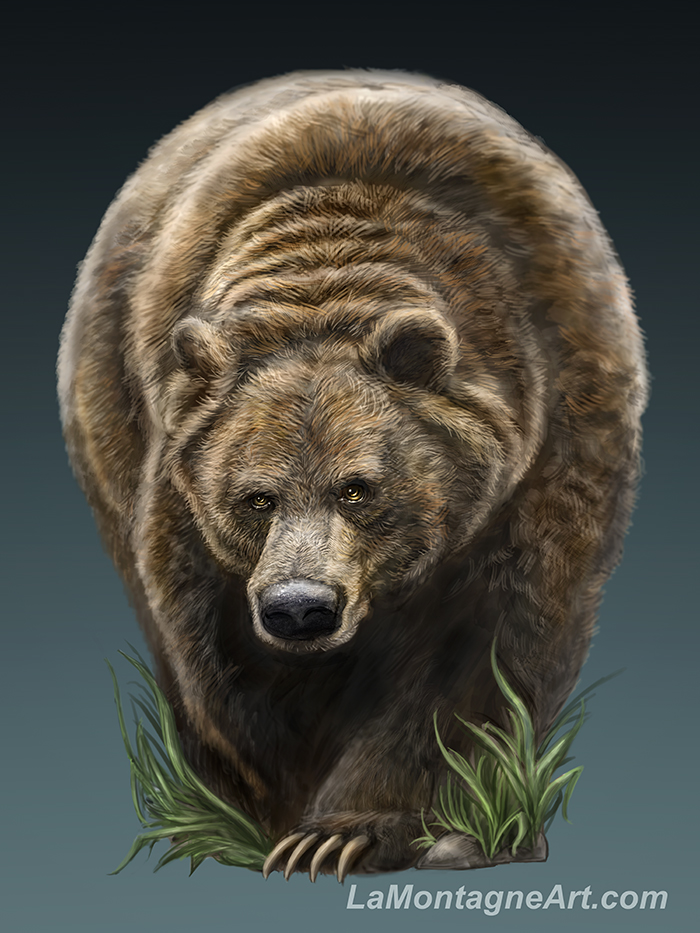 Hopefully, that candor is a refreshing change from the sleight of hand sales gimmicks we often get. I try not to make my blog posts and newsletters all about selling you stuff because I don't like to receive too much of that either. But I'm a self-employed artist, and it's the nature of the gig.
Stay well, be safe, and try to be patient with each other. Things are tough all over.
Cheers,
Patrick
___
© Patrick LaMontagne
Follow me on Instagram @LaMontagneArt
Sign up for my newsletter which features blog posts, new paintings and editorial cartoons, follow this link to the sign up form.