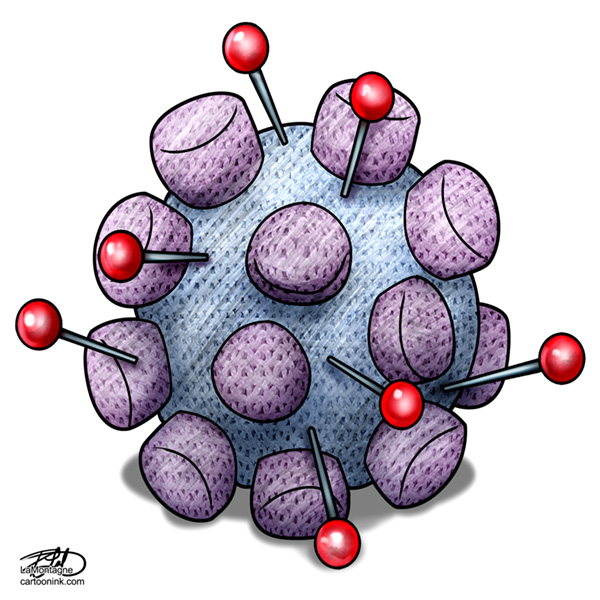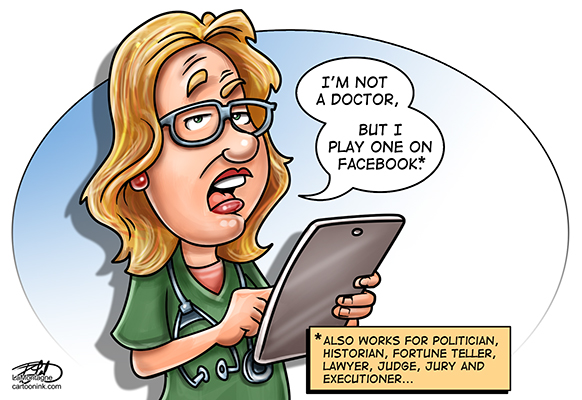 There is no doubt that this coronavirus experience has been difficult on everyone. Statistically speaking, those who've become sick or have died have been few, compared to the 7.6 billion people on the planet.
And yet, as reasonable voices have tried to explain, the victims of this virus have still been important loved ones to other people. It's easy to say that a few should be sacrificed for the many, for the good of the economy, but I've yet to hear of somebody volunteering their own parents, grandparents or vulnerable loved ones for the COVID-19 gas chamber.
It's indeed a struggle, to continue to do the right thing, sitting at home, while losing your job, business, savings and other assets, simply waiting for it all to end.
What makes it even harder is that everyone has their own expert opinion on how much isolation is too much, too little, whether or not to wear a mask, if these distance measures are necessary, if the virus has been around for longer than we thought, or is even here at all.
Suddenly, everybody is an armchair epidemiologist, following every news and fake news story, able to give you death by the numbers from every corner of the globe, and freely offering unsolicited advice on what everybody else should do, even though nobody asked.
If I had a nickel for how many people have told me that they're certain they've had COVID-19 already, simply because they had a bad cold or flu this winter, I wouldn't be worried about my finances right now.
Yes, you might have had it. Many people have. Whose life are you willing to risk to prove it?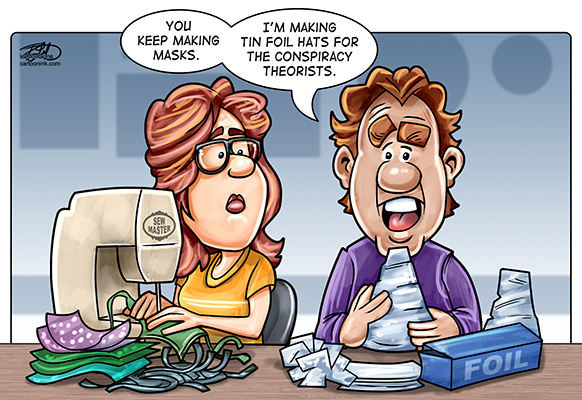 Then there are the conspiracy theorists, intent on making this situation even worse for everybody else by spreading sensationalist videos and articles, accusing the government, deep state, corporations or individuals of having orchestrated this whole thing. Meanwhile, even a cursory examination of the propaganda reveals that the originators of these messages have their own axes to grind, including books, programs and supplements they're selling.
We've heard certain friends and family members tell us over and over again not to believe the party line and to think for ourselves. Of course, that's only as long as the thoughts you'll be thinkin' don't disagree with theirs.
And even if there were some truth to any of the 'it's all a hoax' theories, sharing post after post after post (after post after post after post) isn't going to change any of it. All it will do is piss everybody off, so that when we are allowed to see other people, you're not going to be at the top of anybody's list.
Before hitting share on any of this stuff, ask yourself who you're helping, what you're accomplishing and why it's necessary.
As someone who ordinarily spends way too much time in my head, my struggle in all of this has been mental and emotional. My level of optimism is minimal at the best of times, a consequence of whatever amalgam of nature, nurture and personal experiences have coalesced in my middle age to create this current perspective. Don't forget the secret toxic ingredient of following the news for a living.
When I haven't been as Pollyanna about this as some would prefer, especially if I'm having a bad day and they just happen to be having a good one (their bad day was yesterday), I've been told to 'Cheer up,' 'take a happy pill,' or 'it could be worse.'
None of that helps the situation, largely because making somebody feel guilty for having a difficult time will have the opposite effect.
Regardless of COVID-19, somebody will always have it worse. The person who couldn't make ends meet before all of this doesn't care that your retirement savings are down. They never had any. The unemployed worker with no access to relief funding doesn't care that you've been down to part-time hours for the past couple of months. The person trying to home school three children and hold down a job, doesn't care that you had to cancel your vacation or that you're bored because there's nothing new on Netflix.
And the person who has been homeless for the past thirty years thinks we should all stop whining.
There's a meme I'll see now and then that goes something like, "Yes, they're First World problems. But I live in the First World!"
Everybody has problems and we all react differently to them. Comparing your grief to somebody else's and judging them inadequate for not measuring up to your standards is unfair. Just as you feel hurt when somebody doesn't understand you, so does everyone else.
Each January, because a certain corporation decided to make it trendy, plenty of people in Canada change their social media profile pics and share passive aggressive 'Let's Talk' memes. It's supposed to be about mental health, but it's really a marketing campaign, free advertising for a media company.
Right now, when mental health challenges are at their peak, at a time when people are struggling the most, there's more judgment, finger-pointing, and picking sides than in a federal election. The damage this does to our collective consciousness is far worse than the virus, and we're all to blame for it.
People are hurting, each in a way that's uniquely personal to them. Don't make them feel worse by giving them shit for it.
___
© Patrick LaMontagne
Follow me on Instagram @LaMontagneArt
Sign up for my newsletter which features blog posts, new paintings and editorial cartoons, follow this link to the sign up form.