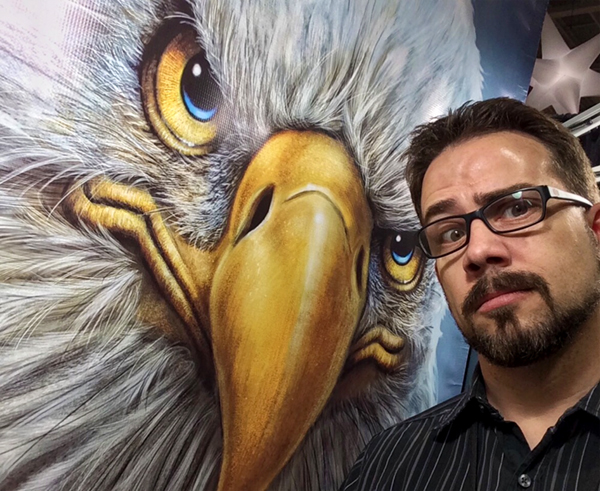 At this weekend's Calgary Expo Holiday Market, a neighbouring vendor mentioned that it's probably healthy for us to get out of our own orbits, to network with new people, actually talk face to face with customers. While my instinct is to shy away from that, I know she was right.
She added, "Besides, it's nice to listen to people tell you how much they like your stuff for an entire weekend."
Over the course of this weekend, I found myself questioning the value of trade shows, mostly because I've gone from doing only the one each year, adding another and am considering more.
So you don't mistake the following mixed feelings with a misconception that this here hermit artist just doesn't know how to talk with people, I've worked more years in customer service than I have as an artist. I know how to play the sales game.
I was in retail and hotels for years before I became self-employed. I managed a waterslide facility full of screaming children and worked a hotel front desk over multiple Christmas holidays and sold out summers in one of the busiest tourist towns in the world. I've smiled through a guest check-in while they've told me everything had better be perfect, and again during their check-out when it wasn't.
I didn't sit down while in my trade show booth, not once through the entire weekend. Sitting down tells people they're bothering you and most will just move on. I wasn't on my phone all the time, or sketching, or standing with my arms crossed. When somebody walked by the booth, I smiled, said Hello, engaged them in conversation, made small talk. If I noticed people looking, but they hadn't approached, I invited them over to take a look. They most often did and often bought as a result. No sales pressure, just being friendly.
I tell you this not to sound like a martyr. Most people who work customer service know they must do the exact same thing, or at least the successful ones do.
As this Holiday show was put on by the same people who do the Calgary Comic and Entertainment Expo in the spring, they marketed it to their regular attendees. From this vendor's perspective, that was great as I've gotten to know a number of customers over the four years I've been doing Expo. Many have purchased more than once and have become collectors of my work. I do look forward to Expo each year, because prior to being a vendor, I was an attendee. It's an event I enjoy.
There were a number of familiar faces that approached me, asked what was new and bought some more prints. One gentleman, who owns a few of my prints already, bought his first canvas print. A couple of my Facebook followers came by to visit and both bought prints. Up until now, they've been names I recognize from likes/comments. It was a real pleasure to talk to them in person and I was flattered that they made the time to come down and see me.
I was able to chit chat with my neighbour in the next booth and as she's a regular Expo vendor and sells at many other shows, her insight was valuable.
These are the benefits that are hard to quantify. There is no specific dollar value, nothing that can be put on a balance sheet, but the information and connections you gain from networking will most definitely contribute to the bottom line in the future.
As for the cons, those are more personal. I'm a results oriented person, which often isn't associated with people in the arts. If I'm not using my time well, then I view that time as wasted.
When I go for a hike, it's because I know that my senior years will be painful and difficult if I don't stay fit. Most days, I'd rather just stay in and work, but I force myself to get out and walk those 6-10km, often with a 20 pound backpack which includes a couple of cameras. If I see a squirrel, bird, or something larger, I can take a photo that might end up being used for reference. I also come up with cartoon ideas on my walks. I'll walk downtown on an errand, rather than drive, not because I'm being environmentally conscious, it's just multi-tasking.
I don't do idle well. So while I'm standing in the booth in a slow period, saying Hi to people that walk by, just looking ready to engage, I'm thinking that I could be writing on my iPad, or drawing a cartoon in my sketch book, or perusing the news on my phone. But that would make me look unapproachable and that's bad for sales.
While some can relax for days on end while on vacation, lying on a beach doing nothing for longer than an hour is torture for me. Let's go tour a ruin, learn something new or have a new experience. Thankfully, my wife has the same outlook.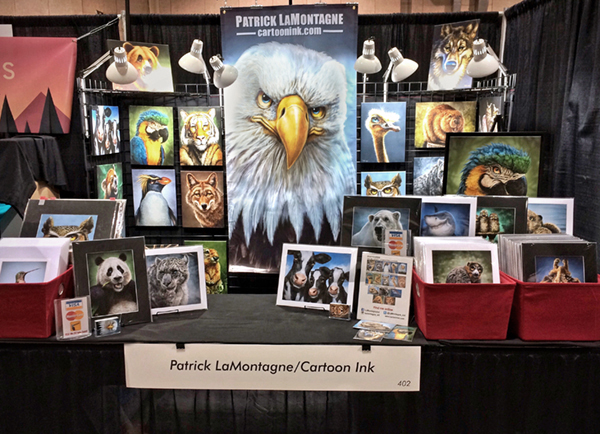 The trade show experience, as a result, feels like I'm wasting a lot of time that could be spent producing more work. It took me almost four hours to set up my booth on Friday and two hours to tear it down and pack the car Sunday evening. There was also the drive time to and from, which amounted to three hours total for Calgary.
I could have gotten a lot of painting done in that time, a blog post, or a few editorial cartoons.
The idea of doing multiple Christmas shows fills me with dread. I don't set foot in a shopping mall between now and January to avoid the madness and festival frenzy. The idea of going on tour to different cities to experience that very thing seems horrific to me. Luckily the weather was great this weekend, but I thought about what it would be like doing this sort of thing when there's a whiteout on icy roads in a packed car, sharing the road with aggressive Alberta drivers looking at their phones. Sugar plums dancing? More like animal prints littering the ditch.
We canceled our Thanksgiving plans this year because the roads were treacherous. Canceling a booth with all of the associated costs would be pricey.
A period of evaluation lies ahead of me. How much of this do I want to do? How much of my best energy (the stuff I rely on to create!) do I spend on this sort of thing, especially at a time of year when that energy is in shortest supply? Psychologically, winter is when I struggle most, when I am much closer to the bottom than the top, for months at a time.
There is a certain amount of self-doubt about this where I think, "Am I just shying away from this because it's different, out of my comfort zone, or a foreign experience?" But then there is also the confidence that comes with age where you also know who you are and that what works for one person might not work for you. I'm an atheist, but the serenity prayer comes to mind.
Living your life by somebody else's playbook, especially in a profession where being unique is the ideal, doesn't make any sense.
On the surface, sales were decent, but if I factor in everything from my print costs, hotel, food, parking, booth rental and power, then my end profit amounted to less than a minimum hourly wage for all of the prep, setup, time on site, tear down and post-work at home. When I looked at that final number after calculating all of the expense, I thought, "That's it? For all of that work?"
I don't feel that way when I get my payments for editorial cartoons, licensing royalties, commissions from the galleries or payments from the zoos. Because when somebody else is selling my work, I'm producing more work.
I'll be overthinking this for some time. It will factor into whether or not I add more shows or commit to a season of the Canmore Market next spring, summer and fall. I lost money on the first Expo I did and barely made any money on the second, but if not for those first two, I wouldn't have made money on the next two and this past spring Expo was a really great year. But I also like doing that show, and that matters, too.
As with most decisions in self-employment, there are no easy answers. There's no map. Most of the time, it's just feeling around in a dark room looking for a light switch. And when you finally find one, it illuminates a very small area and you're once again squinting into the dark, looking for the next light switch.