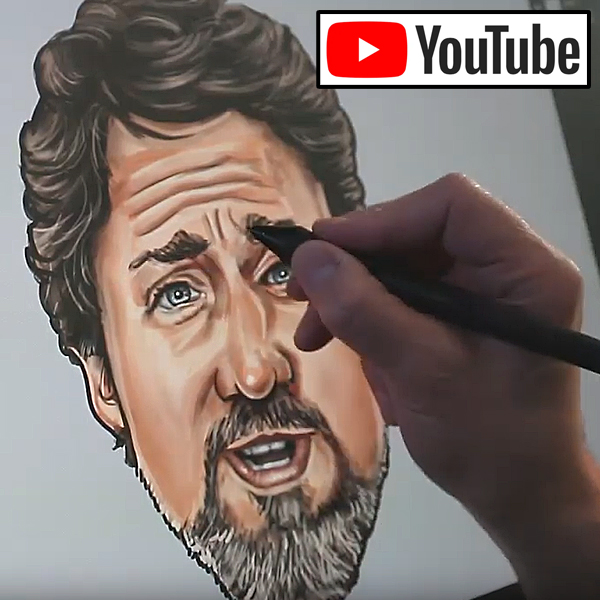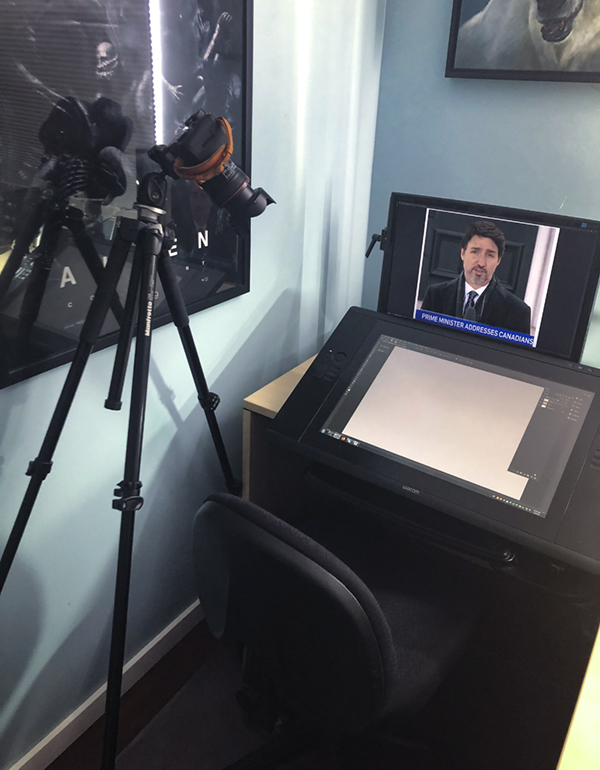 I recorded a high speed video of a cartoon I sent out this morning, some bonus content for my newspaper clients.
The type of cartoon in this video would normally take me about three or four hours since detailed caricatures are a lot more work. Add in camera setup, periodic recording throughout the process, sourcing and buying music, and editing, and I spent about nine hours on this yesterday, which is why I can't do these as often as I'd like.
Because of the way I've set up my office, having a camera on a tripod over my left shoulder while recording is kind of clumsy. I can't have it on the right, where there is a lot more room, because my hand would obscure the drawing. With a tripod leg right behind me, I have to be careful not to move my chair back and bump it. So there's really no way to get into the groove of drawing while recording, at least not one that I've found.
I've tried recording with my phone or iPad on a goose-neck, since that setup is much more user friendly, but the problem is that even if you manually adjust the brightness, the cameras on portable devices just aren't designed for recording the backlit display of another screen. I've even tried a GoPro camera, but none of them have worked as well as the DSLR camera you see here.
In the photo, you can see my second monitor, where I'll often put the images I'm using for reference.
The display I'm drawing on is a Wacom Cintiq 24HD and the software is Photoshop, which is the most widely used professional illustration and digital drawing/painting software on the planet. There have been plenty of times I've wished it were called something else, because for many years, people assumed that if you were using Photoshop, you must simply be manipulating photos.
Thankfully, anybody younger than me has grown up with this technology, so I don't have to explain it as often as I used to.
If you like the video below, feel free to share it from YouTube.
Cheers,
Patrick
© Patrick LaMontagne
Follow me on Instagram @LaMontagneArt
Sign up for my newsletter which features blog posts, new paintings and editorial cartoons, follow this link to the sign up form.