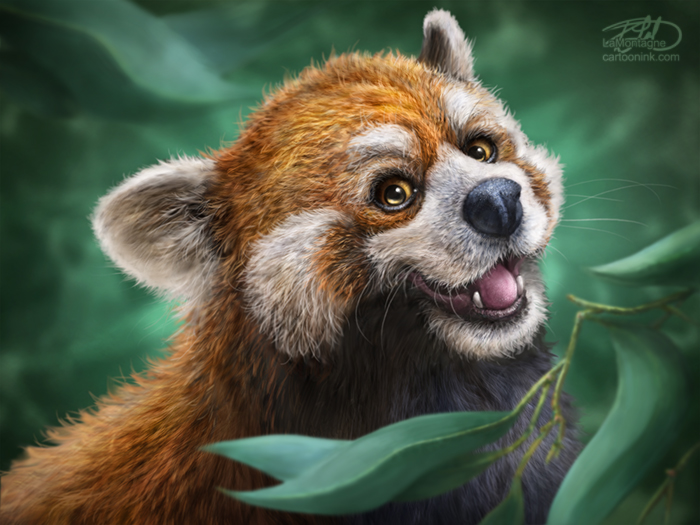 I've been gathering reference photos of red pandas for a few years now at The Calgary Zoo, and while I've taken plenty of shots, I never seemed to get the ones that felt right for this latest addition to my series. Like so many other Totem paintings in recent years, I knew it would happen when the time was right.
Earlier this summer, I was in a pretty deep funk. Down in the dumps, stressed out, pissed off at the world with a black cloud hanging over my head. This happens to me sometimes, but rarely in the summer and not for this long. Part of it stemmed from too many obligations and the pressure I was putting on myself to get more work done.
I was having frequent bad dreams. A few were downright nightmares from which I'd wake up startled and sweating. Shonna even had to wake me up a couple of times.
Even though I'm usually looking for any excuse to paint, I wasn't at all interested in drawing, painting, writing or any creative work. It was just work to get done.
Then I had a rather surprising dream. In it, I was sitting on a couch, leaning on one end with my legs out over the rest of the cushions. It was in the middle of a deciduous forest in the fall. All of the leaves were yellow, plenty on the ground, a familiar setting. I was brooding about something, feeling low.
Suddenly, a red panda crawled up over the back of the couch, walked up my legs, and put his paws on my chest, very much like a cat or dog does. I picked him up, put him further down the couch past my feet and said something like, "not now, I'm busy."
He did it again, walked over my legs, crawled up and started putting his face close to mine. I moved him again, saying, "I said not now! Later."
Finally, on his third attempt, I sighed heavily, said something like, "fine," and started rubbing my fingers in his fur. He nuzzled my neck, squirmed around happily, curled up against my chest and suddenly I felt better. I woke up in a good mood for the first morning in quite a long time.
Most of my dreams over the years have seemed rather random, easily picked apart on examination. "Oh, that element is from a movie I watched, that part is because I was doing my bookkeeping this morning, and I can blame that weirdness on the chili peppers I added to the pizza last night."
But animal dreams have always had a unique feel, a quality I can't quite define. They're just different. For example, that fall forest setting has shown up a number of times in past dreams. I recall one in particular; many years ago where I dreamt of walking through the same forest and was surrounded by a dozen or more black bears. None of them were threatening; they were just there, doing their thing. This forest is always well lit, the leaves vibrant and the scene is filled with a diffuse and pleasant light. It's always fall.
I can trace back my entire menagerie of animal paintings to one dream I had in Banff, long before I had ever painted anything, before I'd even drawn my first editorial cartoon. It only makes sense in hindsight, but the symbolism is unmistakable. I wrote it down the following morning and still have it. Dreams like these are the reason my paintings are called Totems.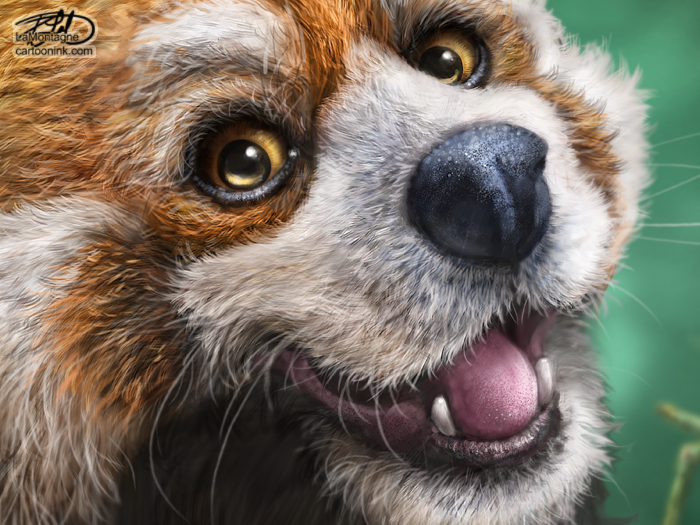 If all of this sounds flaky to you, that's OK. I don't need you to share my beliefs. We all seem to experience 'the other' in the manner that makes the most sense to us. We just need to pay attention.
Because I've followed animal symbolism for many years, and the same ones show up time and time again, I don't always need to look them up anymore to know what each represents. When I do, I have a few different books that have served me well; most notably one by the late Ted Andrews called Animal Speak. I bought it in a mall in Anaheim in 1995, at a time when I was having frequent dreams about whales.
This is the first time, however that a red panda has shown up and it wasn't in any of my books. When that happens, I can usually figure out the symbolism if I sit with it a while, but this one was easy, about as subtle as a sledgehammer.
I wasn't making any time to play, and I'd forgotten why I chose this profession in the first place. I'm supposed to be freed by my artwork, not shackled by it. Sure, it's work, but a lot of this stuff is supposed to be fun, too.
So I decided I might as well go through my reference and at least do a sketch painting of a red panda. Call it a thank you for the wake-up call, and I hoped it would help me climb out of the dark hole.
I found the right reference, came up with a pose and began to work on a sketch painting.  Very soon after starting it, I realized I was painting the Totem. Every day I worked on it, I felt a little better. Yesterday morning, I cranked up the tunes, spent a thoroughly enjoyable few hours finishing it, and it made me happy.
I guess that was the point.
Cheers,
Patrick
If you'd like to receive my newsletter which features blog posts, new paintings and editorial cartoons, follow this link to the sign up form.  Thanks!