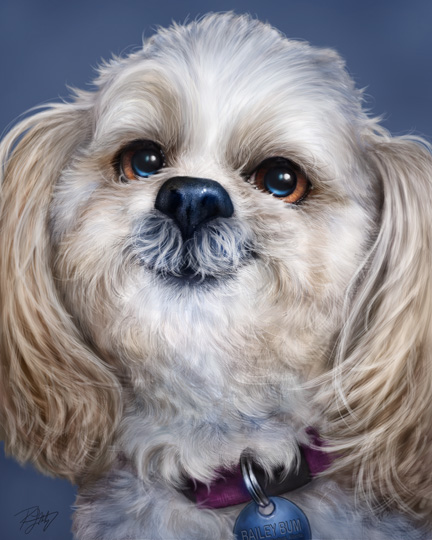 This is my latest painting.  While I treated it like a commission, this was a labour of love, as it was a gift for my mother's birthday.  Bailey belongs to my folks, but as anybody who has ever met a shih tzu knows, my folks actually belong to her.  She's a real sweetheart and my parents just adore her.
I've wanted to paint this for a couple of years now, but could never seem to get out from under the work.  I finally made the time this summer and I'm pleased with how it turned out.  I couldn't have done as good a job two years ago, but then I'll probably want to do another one two years from now.
This one was incredibly tough because it was personal.  While I try to do my best with every painting I do, this one will be done on canvas, framed, and since I already know where my Mom is hanging it, will be displayed prominently in their home.  I'll have to see this for a long time.  So I nitpicked it to death, and given unlimited time, I could probably work on it 'til Christmas.  Sometimes you just have to hit 'Save' for the last time and move on.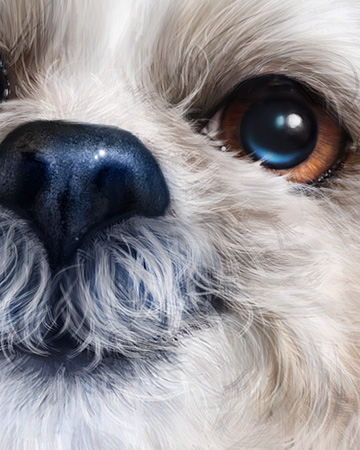 While I've still got other illustration commissions to work on in the next few weeks, this will be the last painting I work on until after Photoshop World, so sometime in mid-September.  That's actually a good thing, because I've finished three in the past few weeks (including the DVD), so I'd like a little break from it.
But I've got big plans for a number of new paintings in the Fall.  Some of them are commissions, some are for my Rocky Mountain Wildlife series, and at least one will start off my Pacific Coast Wildlife series, which I'm very excited about.