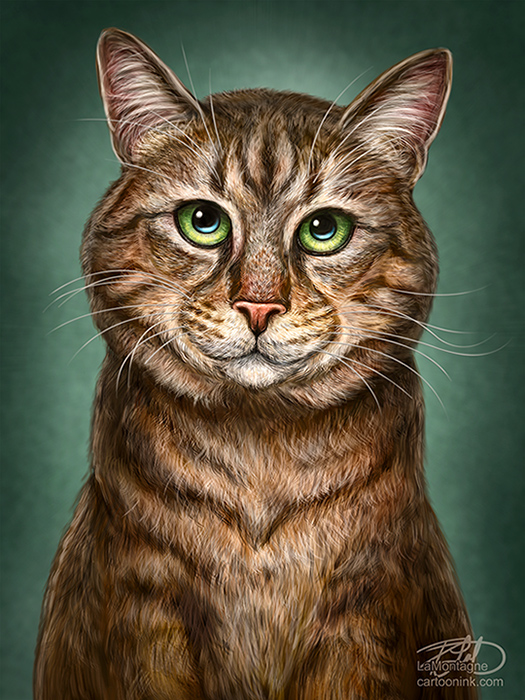 For anybody that reads my random ramblings here on the site, it's pretty clear that my favorite work is painting animals.  Whether they're my signature Totem style of whimsical caricatured portraits, or the more traditional portrait look, I'm having my most fun when working with furry or feathered critters.  Once in awhile, I'll even paint one that hasn't got either (see Humpback Whale).
One of the great surprises of recent months is that more and more people want me to paint their pets, and in both styles.  While the portrait style is just as enjoyable, it's a little more of a challenge.  When I painted my Wolf or Bald Eagle Totems, nobody was holding up a reference photo of one they know really well and deciding if I got the likeness right.  While a tabby cat very often looks just like a tabby cat, there are specific markings and features that have to be right or it just isn't YOUR tabby cat.  Just as failing to capture the likeness of a person will collapse a portrait, the same can be said for missing the personality or likeness of a cat or dog.  Their owner (family member, companion, staff) will know the difference, even with the Totem style.
This past week, I finished these two paintings of Lion-O and Gaia, in order that you see them.  Each has different markings, fur textures, bone structure and personalities, so they presented their own challenges.  But both live in the same household, so the paintings needed to look like they belonged together on the wall.  The clients had choices to make.  Separate paintings or both cats together in one?  Totem style or traditional portrait style?  They chose the former of both options and I'm pretty happy with how they turned out, as are they.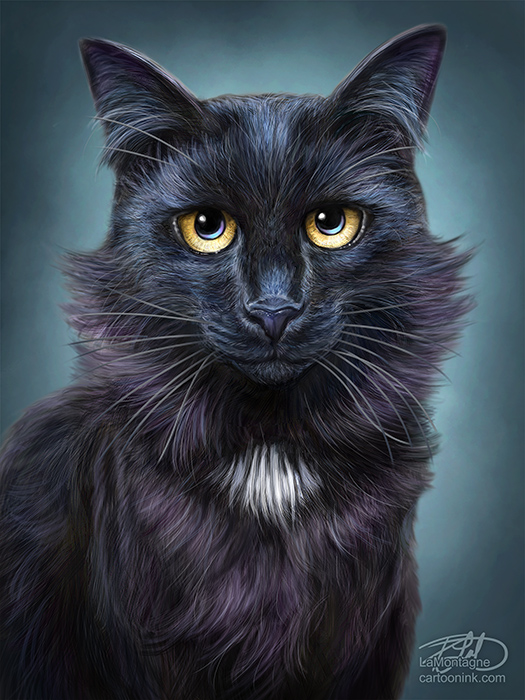 These clients were VERY patient.  We've been talking about this for quite awhile and they decided to go ahead with the paintings in January.  As you can figure out, it's now May, so these paintings have taken awhile to get finished, but thankfully they weren't in any rush, which gave me free reign to do my best work.  Much of that time was back and forth finding the right photos and they certainly did their part, giving me a great variety to choose from.  But even still, with the preparation for the Calgary Expo last month, my daily editorial cartoon deadlines and other commitments, I spent most days wishing I was working on these paintings but otherwise occupied with other parts of my business.
While I'm always taking commission work, lately I've been telling people that rush jobs just aren't possible right now.  I would not be as happy with these paintings had I barreled through them and I would imagine the clients would not have been as well.  Currently I have a number of other clients waiting their turn for commissions and I'm booked up until at least the Fall.  I'll be getting back to work this week on the Coyote Totem I started earlier this year and beginning my prep for the next commission of a dog portrait, this time in traditional style.  More animal cartoons, sketches, and rough paintings are planned in addition to putting the focus on more Totems.  It was a genuine shock to me recently when I realized that I have not painted a new one this year, despite the fact that I've got six of them waiting to be done, reference photos and all.
If you are interested in a commission and are willing to wait your turn, I promise I will make it worth the wait by doing the best job I can for you.   Here's a link to the information and if you have any questions, feel free to send me a message via the Contact page.
Here's a little bit of how it's done, too.