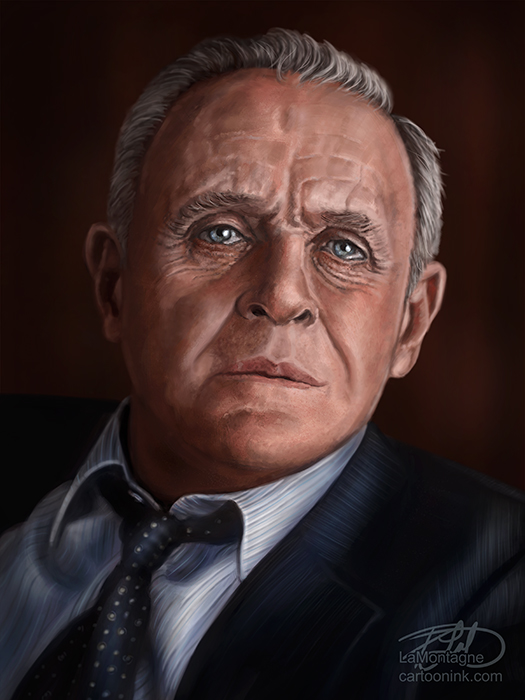 My latest painting of the character William 'Bill' Parrish, played so brilliantly by Sir Anthony Hopkins in the film, 'Meet Joe Black.'
I've mentioned before that I enjoy painting characters from movies, rather than just the actors who play them.  The primary reason is that I believe I can know characters, but despite what the tabloids would have us believe, I don't know the actors who play them.  When Anthony Hopkins was filming 'The Edge' here in Canmore, however, he had a reputation of treating everyone he met with kindness and sincerity and is remember fondly around here, so I must confess, this one was also about painting the actor, simply because I like him and his work.
Meet Joe Black is a loose remake of 'Death Takes a Holiday.'  Anthony Hopkins plays the role of Bill Parrish, a very wealthy man of character and presence who finds himself reluctantly playing tour guide for Death, played by Brad Pitt.  Knowing he is about to die and not having any real idea of how long he has to make peace with it, Hopkins expertly runs the gamut of emotions, with the character sworn to secrecy but trying to say his goodbyes, nonetheless.
The movie received mixed reviews, with criticisms that it was too long (the run time is just under 3 hours) and that it dragged in places.  As it is one of my favorite films, and I frequently disagree with critics, I've watched this movie a few times and have never been disappointed.  I believe the story lends itself to the slower pace and the movie contains a wealth of well played characters brought to life by a very talented cast.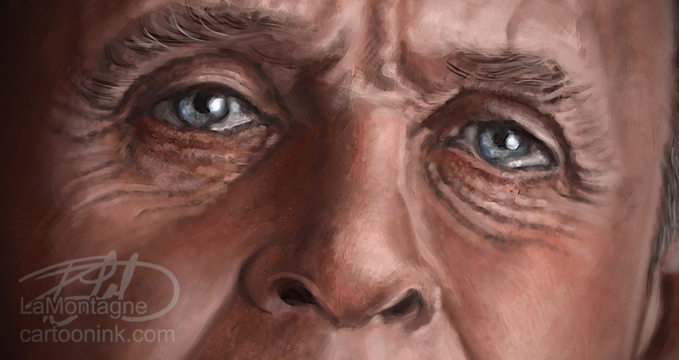 For this portrait, I watched the film again and made notes in different places where the emotion of the character touched me most and I settled on six different possible references.  In the end, it came down to two, the final scene with Parrish dressed in a tux at his birthday party, or the scene when he is finally committed to accept his fate and tells Death that he is ready.  I chose the latter.
I thoroughly enjoyed this painting, listened to the musical score a few times while working on it and I was sorry to see it end, knowing I could have spent another week nitpicking every little detail and still not wanting to put it away.  But to quote Bill Parrish in his final line of the film. "Well that's life. What can I tell you?"

For those artists who always like to know the technical details, the final size for this image is 15″X20″ at 300ppi.  Painted on a Wacom Cintiq 13HD and a Wacom Cintiq 24HD in PhotoshopCC.  Photos were only used for reference and the painting consists entirely of brush work.  No textures or photos were used in this image.  As for how long it took, I didn't keep track, but I would guess about 10-15 hours.