All things considered, I'm pretty happy with the work I accomplished in 2013.  I wanted to focus more on painting, so I turned down more illustration gigs than I accepted this year and about that, I have no regrets.  Along with the daily editorial cartoons, I worked on a number of pet portrait commissions, added more Totem paintings to my portfolio and managed to squeeze in a couple of portraits of people, too.  Regardless of subject, each painting was a thoroughly enjoyable experience and as soon as I finished one, I was itching to start another.
If I were to choose the top three personal highlights of this year, they would be two portraits and one Totem.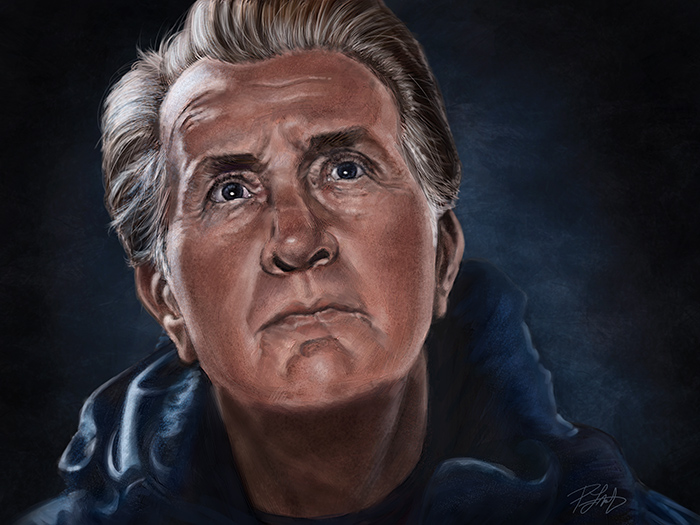 At the very end of 2012, my painting of Martin Sheen as Tom from the movie, The Way, had come to the attention of his son, Emilio Estevez, who wrote and directed the movie.  I had tagged him on Twitter, but didn't really expect anything from it.  Much to my surprise, he contacted me the same morning asking about buying a print, then the original.   He said, "…the image is gorgeous and you have captured my father in a way that few have."
Over the next few weeks of back and forth and having the canvas produced, it was delivered to Estevez at the beginning of February and he gave it to his father as a gift.   I had asked them both to sign a paper print for me as well, which I've now framed and have hanging in my office.   I was pleasantly surprised to later receive a copy of their co-written book 'Along the Way,' personally signed by both of them and a 'Thank You' note from Estevez.  The card is still tacked to my bulletin board.  What can I say, I'm a fan.
While the story received some attention in a number of media outlets, that sort of thing is fleeting and in the long run, just another blip in a rapidly changing entertainment news cycle.  But, what I enjoy most about the experience is that each time I come up the stairs into my office, the first thing I see is the signed painting and it frequently makes me smile.  It is still one of my favorite pieces both for the enjoyment I had painting it and the story that goes with it.  And I still love that movie.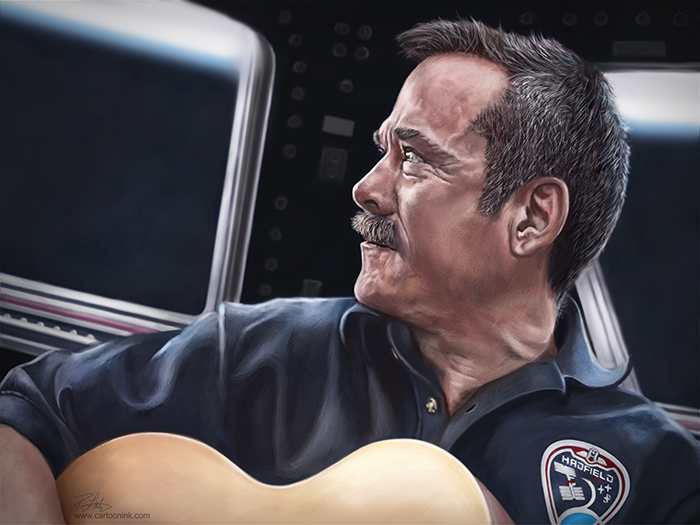 In the Spring of this year, astronaut Chris Hadfield became the first Canadian to command the International Space Station.  With his daily tweets and seemingly endless supply of jaw dropping photos taken from a place few have ever been, he captured the imagination and excitement of the world, including me.  I was inspired to paint his portrait and was thrilled when I received a complimentary tweet from space from Hadfield himself.  If that weren't enough, I drew an editorial cartoon about his taking command and in the toon, I mentioned Flin Flon, Manitoba.  This prompted an interview from that town's local paper which again caught the attention of Hadfield and I received a second short message from the I.S.S..  Apparently all it takes to make a 43 year old man feel like a ten year old kid again is getting messages from an astronaut in space.  That was just cool.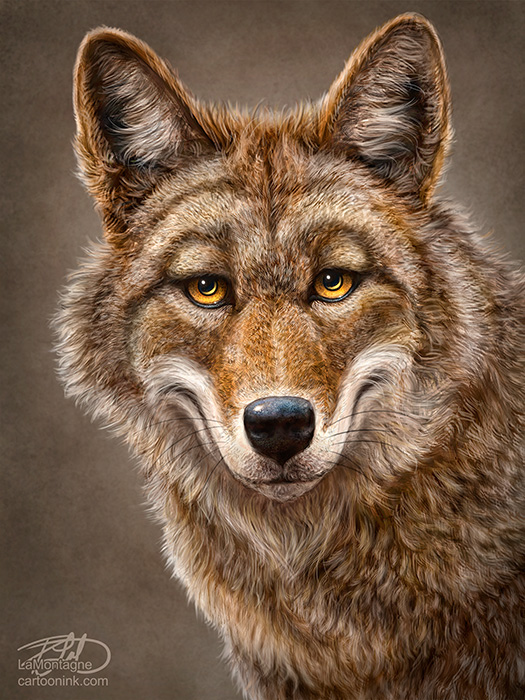 Finally my favorite painting from this year was the Coyote Totem, because it's one that's been waiting to be painted for 20 years, even before I knew how to paint.  For reasons I don't wish to share publicly, and couldn't even explain if I did, this is the most personal of all of the Totems I've painted and the only one I've had printed on canvas and framed for myself.  It hangs in my office on the wall to my right, where I can easily see it.  I look at it often and it reminds me how fortunate I am and how I got from there to here.
I just wasn't skilled enough to do it justice until this year, but of any image I've created, it's the painting I love most.  And I'm grateful that the personality showed up.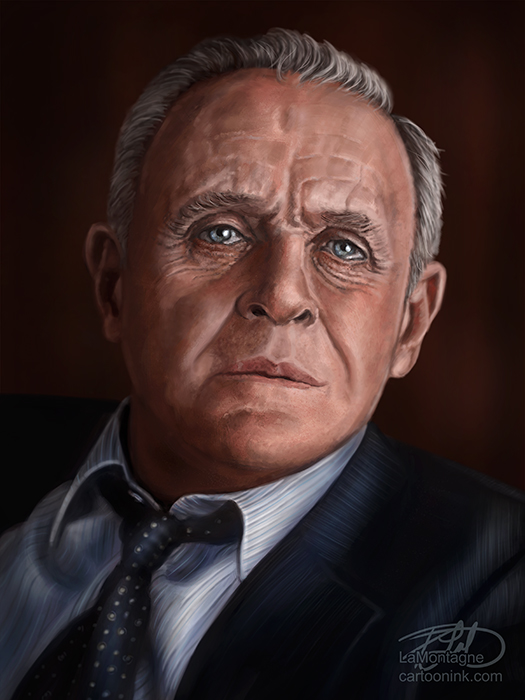 I would like to give honourable mention to my most recent portrait of Anthony Hopkins as Bill Parrish from 'Meet Joe Black.'  This was another personal painting because I did it just for me.  I started the year focused on a painting of a character and actor I admire, an image that got a lot of attention and ended the year with a painting of a character and actor I admire, an image that got very little.  And yet, I loved working on both portraits equally, the work itself brought me the most joy.
That's the lesson I learned this year and the one I'm taking into the next.