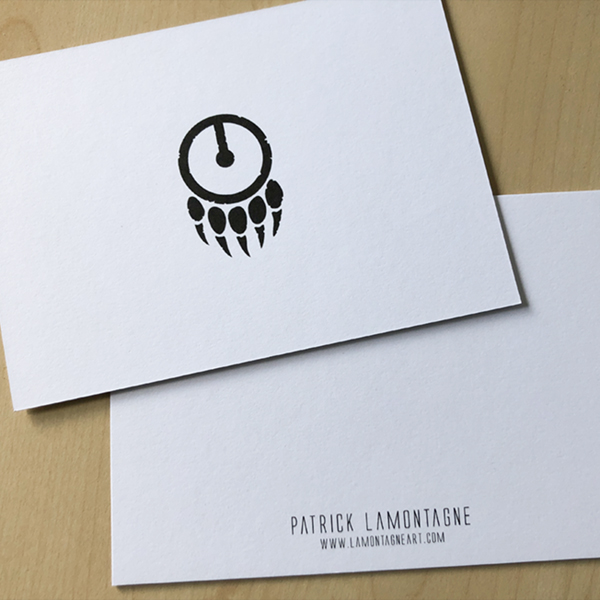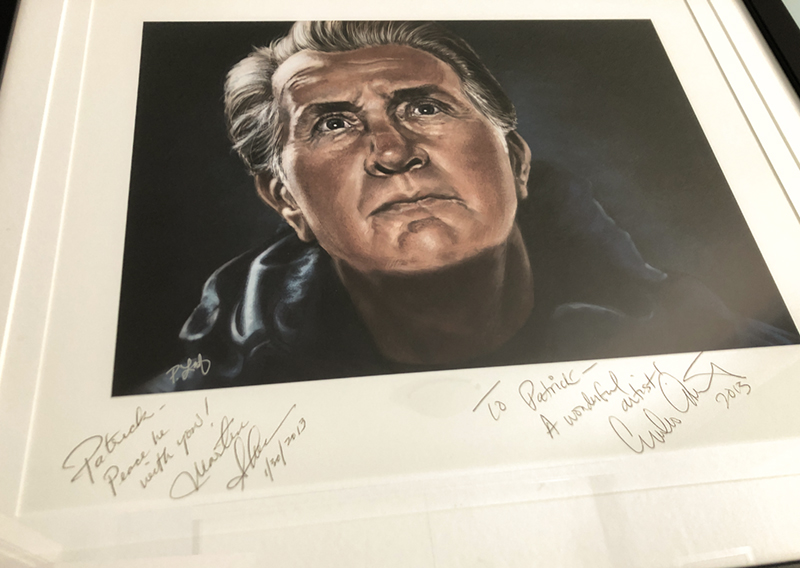 One of the more interesting highlights of my art career happened in 2013 when Emilio Estevez wanted to buy the original painting I did of his father, Martin Sheen. I've told this story more than once, but if it's new to you, here's the link.
While it did generate some media publicity for me, and was personally exciting, it did little for my career. Painting portraits of people is something I do for my own enjoyment and with the exception of one commission I did for Canadian Geographic and the occasional editorial cartoon portrait (usually when somebody dies), I'm not hired for this sort of work and that suits me fine. The editorial cartoons and funny looking animals keep me plenty busy.
I do enjoy telling the story about that experience when it comes up, especially about how genuine and kind both actors were in our communication. Not only did they sign a print for me that hangs in my office, they gave me a signed copy of the book they co-wrote as well, as I'd mentioned in our correspondence that I'd given my copy to my father.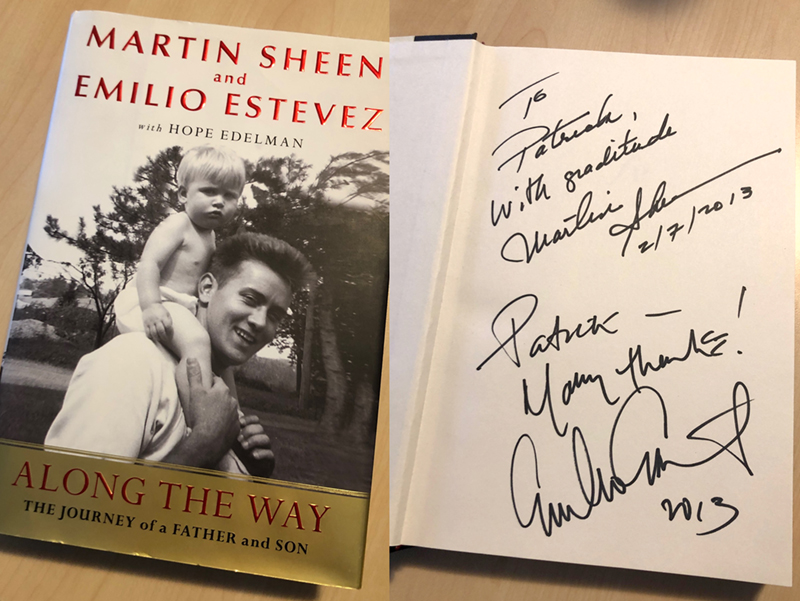 Incidentally, if you haven't seen the movie The Way, which inspired my painting, it's one of my favorites. Few films have moved me the way that one still does.
A short time ago, I came across a note card that Estevez included when he returned the signed prints. Or it came with the book, I don't remember. It was an unnecessary nicety that might not seem like much, but it struck me as a classy gesture.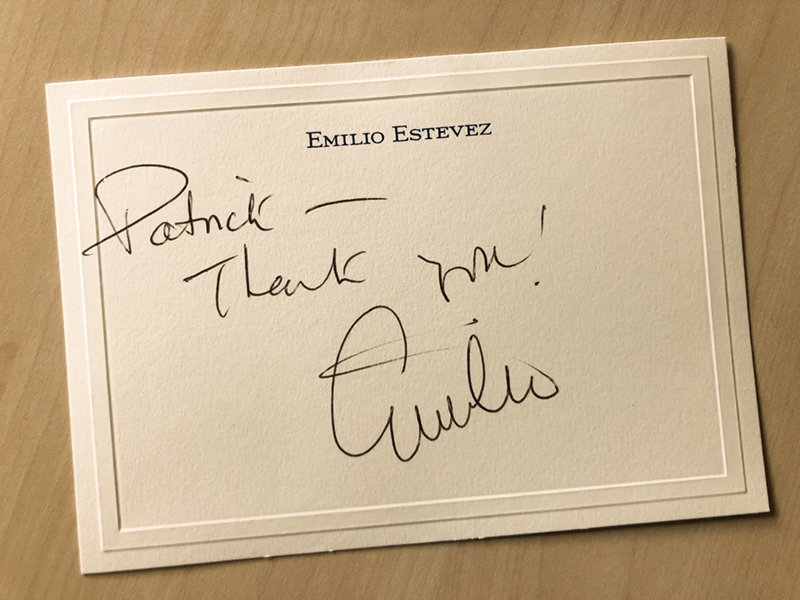 I remember thinking at the time that I should get little note cards like this. It added more value to the experience, and I thought it might be nice to pass the same feeling on to my clients. Obviously it's something on which I failed to follow through.
Whenever I send a print out to someone who has purchased from my online store, I usually include a little note on the invoice or on a post-it, just a little thank you in my own handwriting, which is atrocious, by the way.
But on the invoice or post-it, it always feels a little cheap to me. It's a personal note, sure, but it's still the bare minimum.
This year, my painted work is being seen in more places than ever before. Thanks to my licenses with Pacific Music and Art, Harlequin Nature Graphics and Art Licensing International, it's very easy to buy my work online. You can now order a canvas print of my funny looking animals from Wal-Mart, Amazon and other sites in the U.S. through one of my licenses.
But when people order from MY store, they're getting it from me. I hand-sign the print, I package it, I put the art bio in the sleeve and I'm the one who personally takes it to the post office to ship it. Sure, I've included an extra art card or another small goodie when I can, but every once in a while, I've thought about that note card from Emilio Estevez.
A couple of weeks ago, I designed and ordered new business cards to reflect the changeover from Cartoon Ink to LaMontagne Art. Those arrived yesterday, along with my new note cards. It's just a small thing and it adds to the print cost on my end, but I think it's worth it.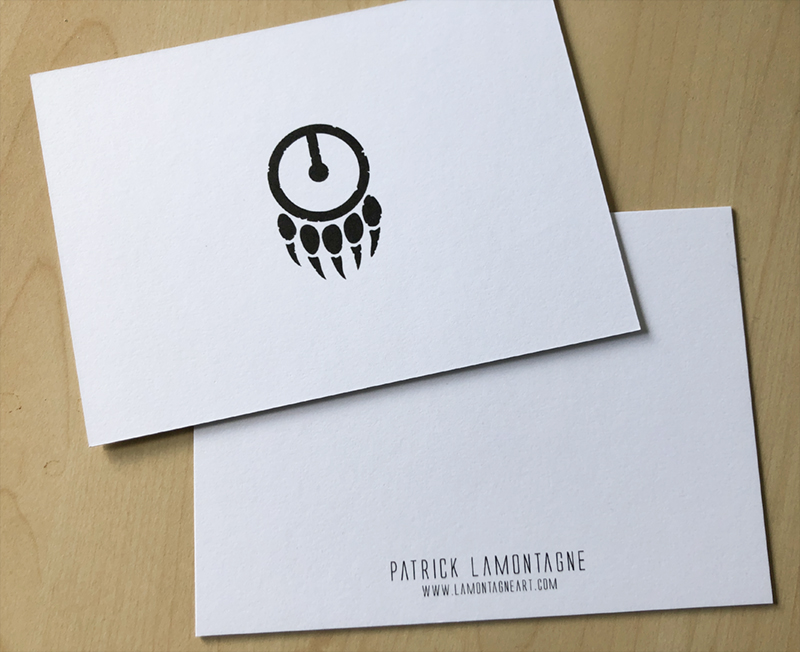 At a time when you can order anything and everything online from an impersonal shopping cart, every so often I like to remind my customers that their purchase is appreciated, that it was bought from a real person. We all work hard for our money, so when somebody thinks one of my prints is worth parting with some of theirs, that's pretty cool.
It deserves better than a post-it note.
I can't do anything about the bad handwriting.
Cheers,
Patrick