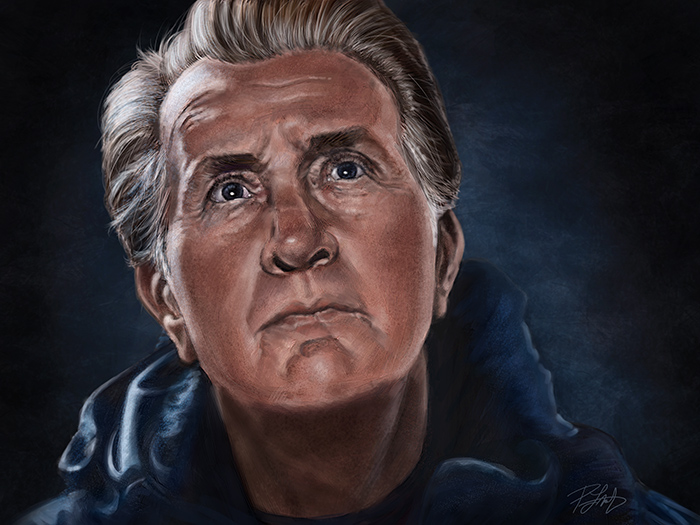 Yesterday, I wrote about why I painted this portrait of Martin Sheen's character, Tom, from the movie 'The Way.'  Click on this link, if you'd like to read it.  Today, I figured I'd write a little bit about the how, as there are always artists out there who want to know the technical details, and I'm happy to oblige.
This painting was done entirely in Photoshop CS6 Extended using a Wacom Cintiq 24″HD display.  No photos were used in the painting, aside from reference.  I didn't keep track of how long it took me to complete it because I wasn't on deadline or in a rush, so while I could easily say 20 hours, it was probably more, over a few weeks.  Without a deadline, I was able to nitpick it and get it as close to perfect as my current skills will allow.  At some point, however, I just have to call it done, because any changes become so minute that nobody will see them but me.
With all of my previous work, it has become my practice to start a painting at low resolution, usually around 9″X12″ at 72ppi.  Then, as the painting progresses, I will keep bumping up the size and resolution.  I teach this method in my PhotoshopCAFE DVD, "Animal Painting in Adobe Photoshop" and it's the same practice I use for painting portraits of people.  There used to be two reasons for doing this.  First, when you're working at low-res, you can't get distracted by putting in too much detail because the size just won't allow any.  This forces me to well establish 'the bones' of a likeness before working on wrinkles, skin texture, and hair.  The other reason for starting at low-res was that my computer had reached the end of it's efficient life for this type of work and at full-size and full-res, the brushes just wouldn't move well enough to make broad strokes across the digital canvas.  A completed painting was never more than 18″X24″ at 300ppi, because at that size, I could only work on the fine details without experiencing some lag.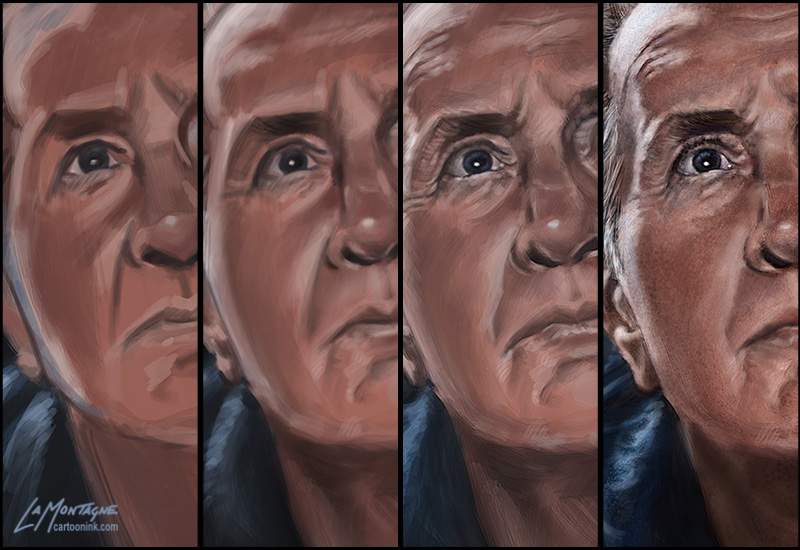 Recently I had a new computer built and I'm back to working on a very current, high end machine.  Running 64bit Windows 7 with 64bit Photoshop, 16GB of RAM and a 4GB video card, everything is running incredibly smooth.  I could have started and finished this painting at full-res, without any problems at all.  BUT, I'm going to continue using my low-res to high-res workflow for the first reason I mentioned.  It forces me to get the likeness right and it works well for me.  That being said, I decided to push this painting to see if I could make it larger, which also allows more attention to detail.  This final painting is 32″X24″ at 300ppi.  At that size, the brushes were working just fine, and I could have bumped it up even more, with no issues in performance.
I'm still using the regular brushes in Photoshop and haven't used any of the Mixer or Bristle brushes in my paintings.  Those brushes are designed to simulate traditional media and I honestly don't feel the need to do that.  Digital painting is a medium all on its own, and I don't try to make it into something it's not.  I do intend to give those other brushes a try in the coming year, however, simply to see if they'll offer me some choices to make my work better.  While I'm pleased with the quality of this painting and very much enjoyed working on it, there will always be room to improve.
Thanks for stopping by.