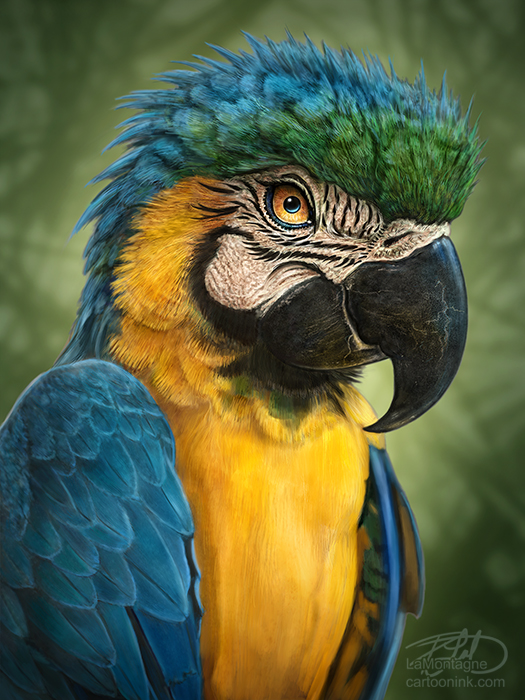 As sometimes happens, I hadn't planned on painting this Totem anytime soon, if at all.  I just happened to do a painting sketch for practice of this Macaw a little while ago.  When I posted the rough painting on social media, the response was very surprising.  People really seemed to like it.  I asked my wife, who is always my harshest critic, a trait I both love and loathe about her, and she said she really liked it as well.  Since I needed to get another Totem done fast in order to meet a print deadline for my Calgary Expo booth in April, I figured it might as well be the Parrot Totem. I realized while finalizing the files that this is my 20th Totem painting.  Where does the time go?
While it has become a cliché for me to say that 'I really had fun with this painting,' it can't be said for this one, at least not entirely.  From the original sketch to the final hours, this one kind of felt like work, couldn't quite get in the groove for most of it. However, I  woke from a sound sleep last night around 1:30AM for no reason in particular,  and I lay in bed for a half hour until I realized I wasn't going back to sleep.  One of the benefits of my office being mere steps from my bedroom, I did what I usually do on the rare occasions I can't sleep, I got up to paint.  And from 2:00AM to 730AM when I finished the painting, I was really enjoying myself with it, so insomnia turned out to be a good thing.  Or perhaps the reason I woke in the first place was that the parrot was squawking for closure.  Either way, I'm happy with the finished result.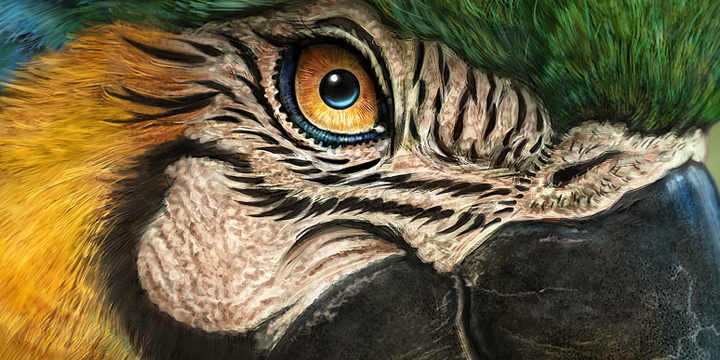 I've stopped keeping track of how long these take, but were I to guess, maybe around 20 to 25 hours in between my other work.  It was painted in Photoshop CC on both the Wacom Cintiq 13HD Cintiq and the 24HD Cintiq, moving back and forth between the two, depending on whether or not I was working in my office or painting in the evening while watching TV in the living room.  Thanks to Pete Collins for the reference photo he gave me a few years ago.  I finally got around to using it.  Pete's a generous soul and a great guy, but don't tell him I said that.  It'll go to his head.
I think another reason that I wanted to paint it was that people seemed to be just fine with the painted sketch being a finished product and I most certainly was not.  Add many more hours to it and here's the difference between the two.