It was suggested this morning on social media that it would be interesting to compare the reference photo I used for my Parrot Totem with the finished painting.  Since some digital painters trace over photos, I thought it would also be a good opportunity to show that I don't, so it kills two birds with one stone.  OK, that's probably a really bad metaphor, especially considering the subject of the painting.
Pete Collins is one of the Photoshop Guys with the KelbyOne organization and I've had the pleasure of hanging out with him at Photoshop World in Las Vegas a couple of times.  Pete's a great guy, loves to encourage creative types and is a very talented illustrator and photographer himself.  One year, he sent me a folder full of pics he'd taken at the zoo and told me I could use any of them for reference, which was incredibly generous of him, but anybody who knows Pete wouldn't be surprised by the gesture.  He's good people.
Click on the images to see them larger.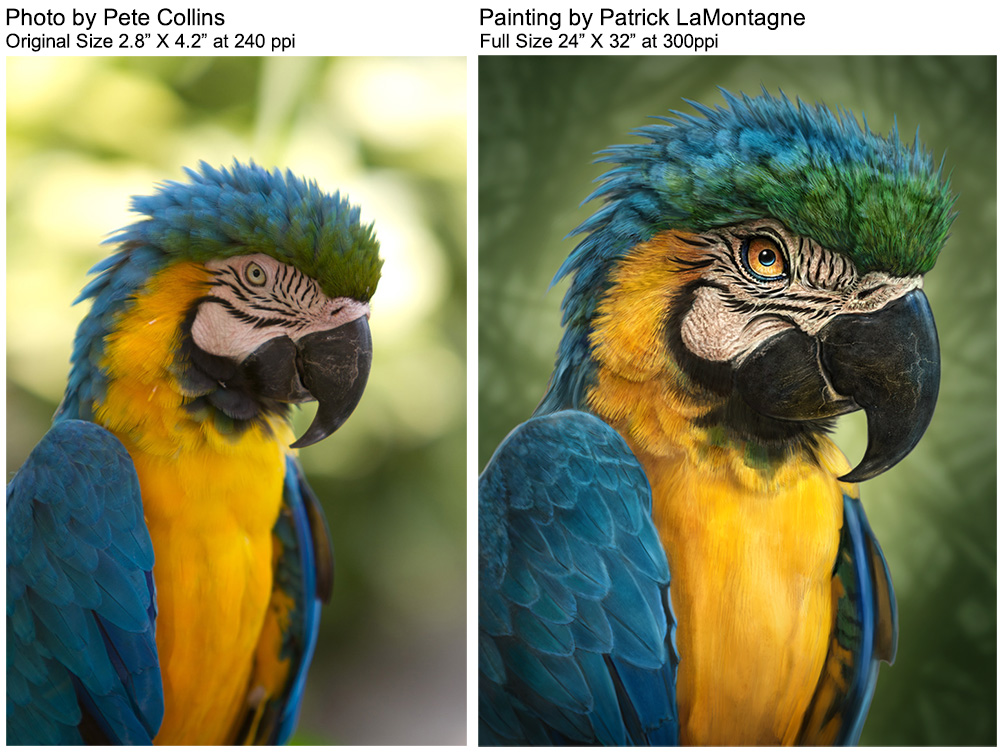 I've used a few of them for painting sketches and now two of them for finished paintings.  Pete also supplied me with the main reference for my Ostrich Totem.  While I usually end up using more than one reference, this one was pretty good and was my main reference for the finished painting.  I bought a couple more from iStock for the close detail reference, as Pete's wasn't a large photo so the anatomy for some of the fine detail wasn't visible here.
As you can see, it's obvious this is the reference I used, but with my style of painting, especially with the Totem paintings, I take a lot of liberties with painting the anatomy, especially in the face and proportions.  It is a caricature of the animal, rather than a copy of the photo.  Zooming in on the detail, the photo doesn't provide a lot because it wasn't large, so you can see where I took more liberties with the details.  My painting is very large, so I could still zoom in quite a bit further.  I rely on reference photos because I can't exaggerate an animal's features or paint the relationships in the anatomy accurately if I don't know what the animal looks like.  Most artists will either paint from life (in a perfect world) or will use photo reference when available.  When I'm painting commission portraits of pets, I need VERY good reference pics in order to get the likeness as close to reality as possible.  When I'm painting my Totems, however, I can get away with a little bit less because I'm going to be distorting reality anyway.