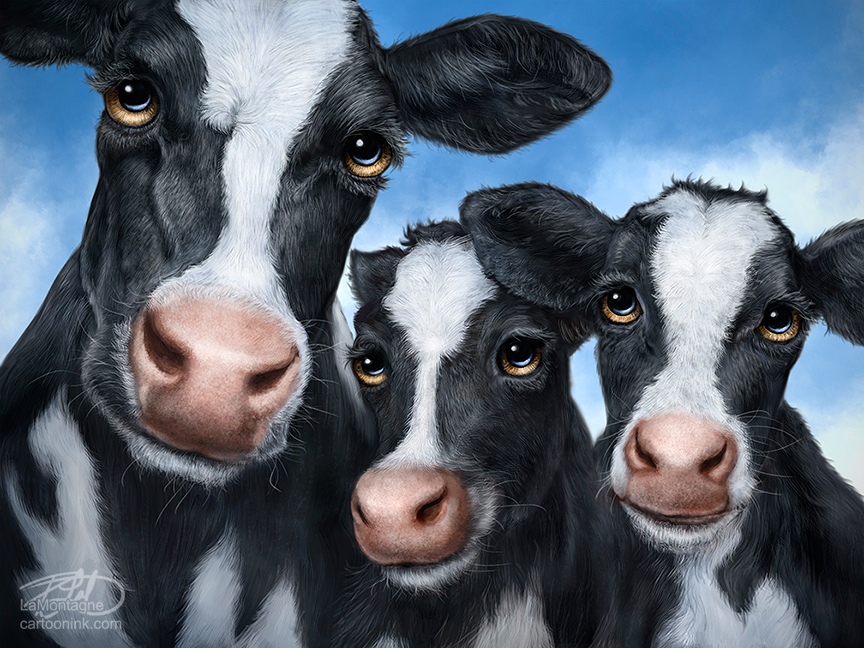 My commission work to date has been dogs and cats (and one beautiful horse), but a friend of ours recently tasked me with painting this gift for his wife.  As she loves cows and is now pregnant with twins, he wanted a painting of a mother and two calves to hang in the nursery.  I cautioned him that comparing his pregnant wife to a cow at a time when most women's sensibilities are heightened, might be a recipe for disaster, but he assured me more than once that it would be fine.  The canvas is still in the proofing stage, but he showed her the digital image of the piece this past weekend and she loved it.  Apparently there were happy tears.  So, with his permission, I'm able to share it now.
This was one of my most challenging paintings to date.  The hairs on a cow are very small and short and the features aren't as malleable as I'd first imagined.  When painting one animal, I can usually find reference that will allow me to see all sides of the subject to decide which will lend itself best to my Totem style of painting.  First, I had to find multiple reference photos of the right breed of cow (Holstein Friesian), which was not an easy task.  I bought twice as many photos than I used as I couldn't play around with the composition without the full resolution files.  There ended up being three different comps and thankfully my wife helped me decide which was best for the painting. With three subjects in the image, it became a juggling act to try and show the best sides of all of them, in the correct proportions with the right lighting.   Then I had to make them look cozy, cute and comfortable, but not crushed together.  Finally, I had to lay down all of the right conditions to allow all three personalities to show up after many hours of painting, something I've often said never seems to be quite my doing, or under my control.  When it comes to the life in these paintings, I'm often surprised (and grateful) when it arrives.

While I don't consider this part of my Totem series, it is definitely painted in that style.  Even though it was a commission piece, I will be offering prints of this image in the store in the coming weeks as well.  The commission piece will be printed at 18″ X 24″ as a giclée on canvas with a black shadowbox frame.  I'm hoping to be able to deliver it next week.
I honestly have no idea how long this took to paint as I worked on it during a very busy time, while juggling other deadlines.  There was at least one session where I worked through the night on it.  I'll admit to being very frustrated with this piece at times when things weren't going as well as I wanted them to, but to be honest, that happens a lot and it always turns around.  I learned a lot from this painting and had to experiment and adjust brushes and technique to get the look I needed in places.  So there was artistic growth here, too, which is always welcome.
Click on either image to see a larger version.  This piece was painted in Photoshop CC on my Wacom Cintiq 24HD.