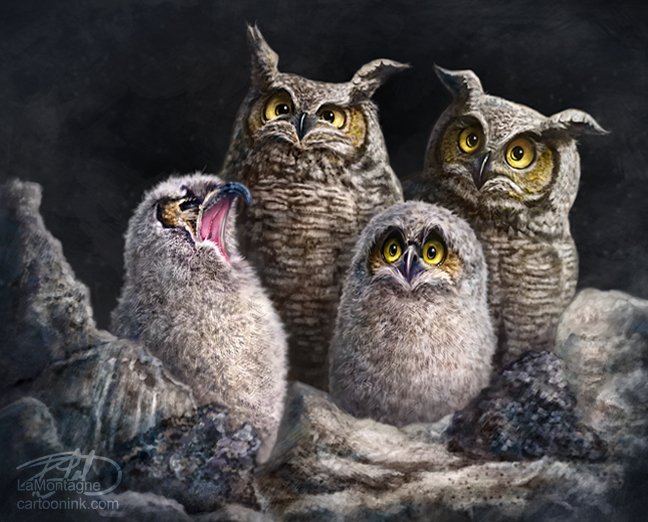 Here's my latest painting, entitled, "One in Every Family."   In this case, it's a family of Great Horned Owls that I had the privilege of watching for a few weeks in June.
Grassi Lakes here in Canmore is a short hike and easily accessible. It's usually quite busy on weekends and during the summer, but if you get there early and take the difficult route (not that difficult), you meet relatively few people on the way up. If memory serves, it's about a 20 minute hike one way, at a brisk pace.
The lakes themselves aren't large, two connected ponds really. The attraction is their emerald colour. Seemingly iridescent blues and greens make for a very nice scene and it's a popular spot for locals and tourists alike. Some benches, bridges and reinforced paths, and on one side of the far lake, you find a large rock face which is actually a fossilized Devonian coral reef. It's also a popular climbing wall.
From the Wikipedia entry, the lakes "are named after Lawrence Grassi, an Italian miner who emigrated to Canada in 1912. After working with the Canadian Pacific Railway for several years he worked in the Canmore coal mines. Grassi also become a well-respected climbing guide as well as building many trails in the area including one to the Grassi Lakes which also bear his name."
Grassi Lakes is great when I don`t have a lot of time, but still want to get some exercise. It's picturesque, an interesting trail and at the lakes themselves, there is plenty of opportunity to take photos of Golden Mantle Ground Squirrels, a favorite critter of mine.
In the middle of last month, I was up at the lakes happily snapping pics of a ground squirrel when a woman came over to me and asked quietly, "Have you seen the owls?"
When I said that I hadn't, she pointed across the lake to the rock wall. About 40 feet up is a little cave and sitting atop one of the rocks was a big Great Horned Owl. I thanked her and moved around the lake for a better look and with my camera at full zoom, I was able to see the owl very clearly. I could also see an owlet that until then had just looked like another rock. The camouflage was perfect.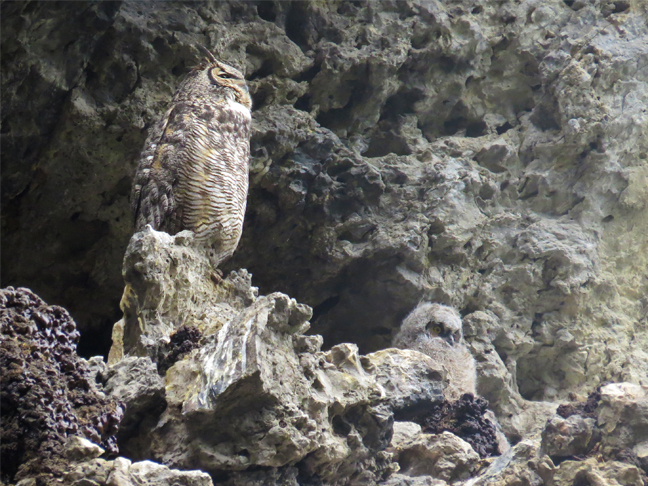 As it's a provincial park, I wasn't surprised to see an obvious red sign chained into the wall at ground level below the cave. I never actually went to read it, but somebody told me it was a warning that this particular climbing route was closed for the protection of the owls. Climbers were on the wall, but all were giving the nest a wide berth.
Over the next few weeks, I went back up to Grassi Lakes with a pair of binoculars (that I happily shared with interested tourists) and a tripod for the camera.   I took well over a thousand photos, most of them at full zoom, and probably ending up keeping a couple of dozen. Great for reference, not so much for print, but since I hadn't planned on that; I was very pleased with the results.  The owls seemed to have no concern at the people watching from below and it usually took a raven or other bird flying by to capture their interest, although the little ones did seem fascinated by a couple of dogs splashing in the lake on one occasion.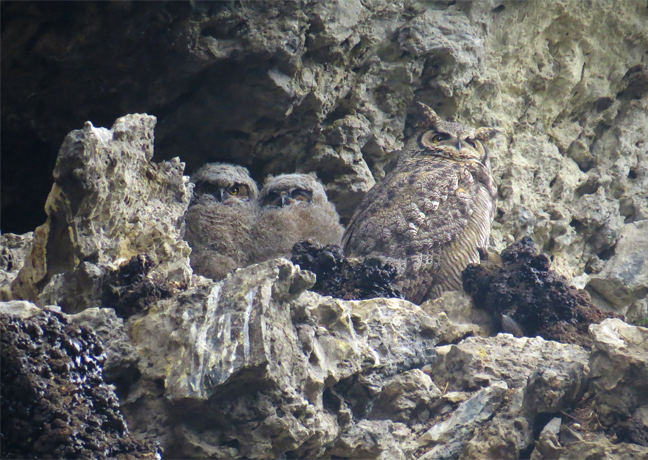 While I've painted a Great Horned Owl before, I honestly didn't know much about them. With plenty of information online, I learned a great deal about what I was seeing, including the family dynamic, the breeding season, how long the owlets would stay with the parents…the info is easily found if you Google it.
During my visits, I was able to watch their behavior, saw both the male and female parents (the female is larger) and the two owlets. Both of them grew very fast and by my fifth visit, they looked quite a bit larger and their feathers had changed to look more like their parents and less like the fuzzy little balls of fluff that they are in the painting. They grew braver and started venturing out further along the rocks away from the cave, were actively hopping and flapping their wings, practicing their calls and mimicking their father, who seemed to spend the most time with them. A real joy to watch.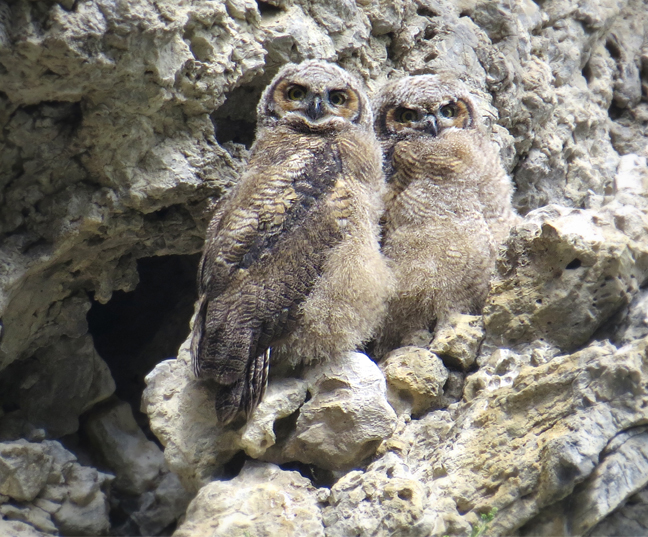 On my sixth visit, I didn't see them at all. A friend had said she didn't see them the day before, either. Judging by what I'd read, my assumption is that they had learned to fly and although they do stay near the nest until the fall, my guess is that they're also exploring their surroundings and learning to hunt. I don't think I can expect to see the whole family hanging about the nest any longer, so I stopped going to see them.
Some locals have mentioned that the mating pair returns to that cave each year, as Great Horned Owls mate for life. The fact that I've never seen them before means I probably just wasn't paying attention to that part of the wall on previous visits and they're not obvious. I'm looking forward to next spring to see if they return and raise new young. A family of owls in the wild was a treat.
Initially, I was just going to do a few sketch paintings and move on. I started out with one of the adult male looking angry at some ravens that were harassing the nest, then another of one of the owlets trying out his lungs. The noise was truly pitiful and I laughed out loud while watching it.  Finally, I added the sibling to the initial owlet sketch painting, looking surprised. After that, I knew I was going to paint the whole family and that it would be a finished piece.  All of the sketch paintings and the final painting were done in Photoshop with a Wacom Cintiq display.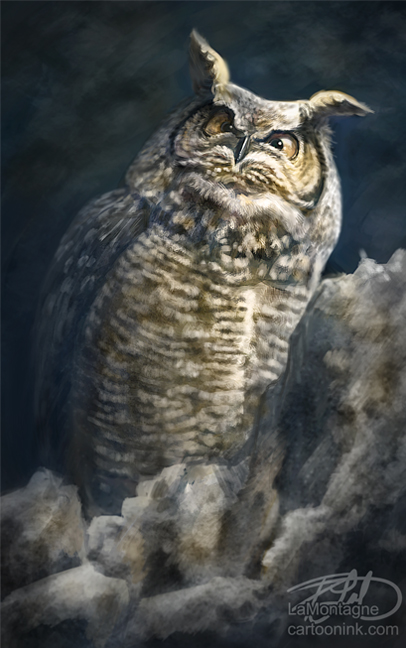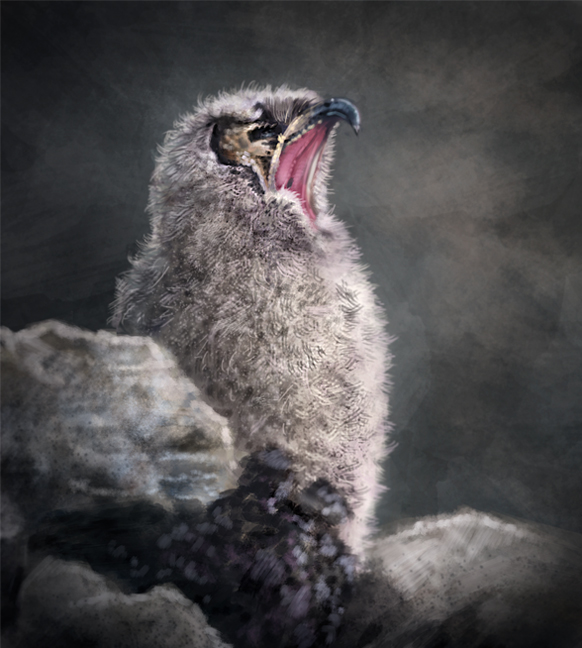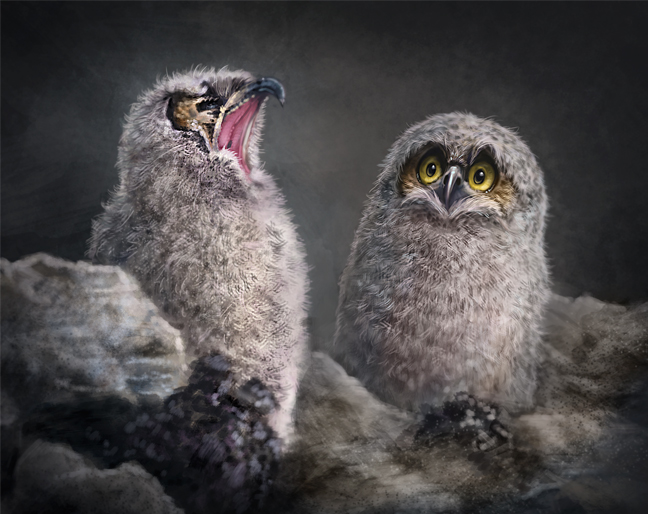 Maybe it's because I'm a cartoonist and have this need to imbue animals with human characteristics, but watching the family interaction, I could imagine what was being said between the owlets and the parents. At one point, all of them sleeping in the sunshine, one of the owlets suddenly fluffed up and excitedly ruffled his wings. The father woke up suddenly, turned sharply to the owlet, and made some noises. I could have sworn he was saying, "Hey! Stop screwing around!"
I like to think that's also his expression in the painting.
This whole experience was a real thrill and I think I'll try painting more scenes like this, featuring other animals.  I've already got one in mind but likely won't get to it right away. I've already got the reference, though, so you never know.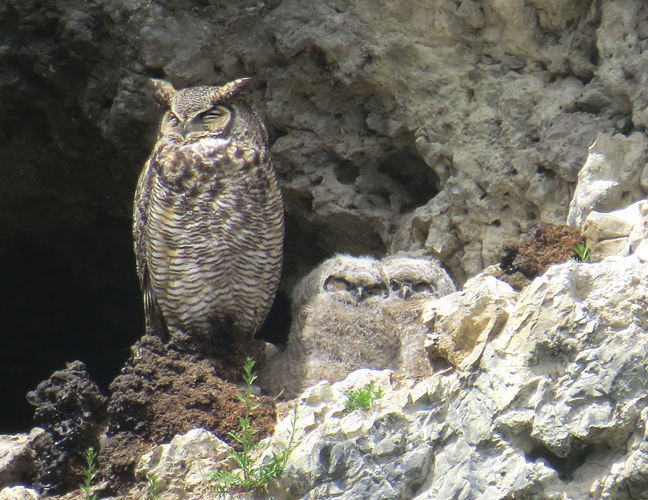 If you'd like to receive my newsletter which features blog posts, new paintings and editorial cartoons, follow this link to the sign up form.  Thanks!
Pre-orders are available for an 11″X14″ matted giclée print of "One in Every Family" until August 30th and they will be shipped in the latter half of September.  For more information or to order, follow this link.  Exshaw, Banff, and Canmore residents, please order by email for free delivery.