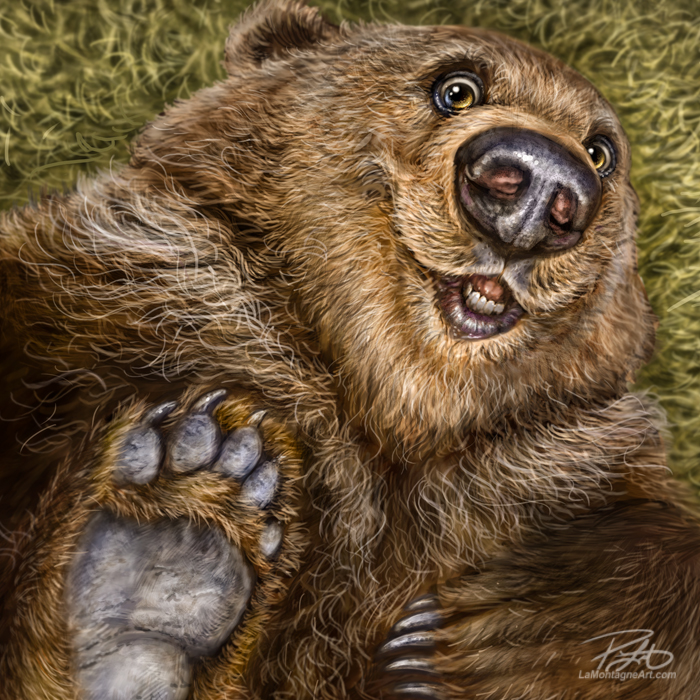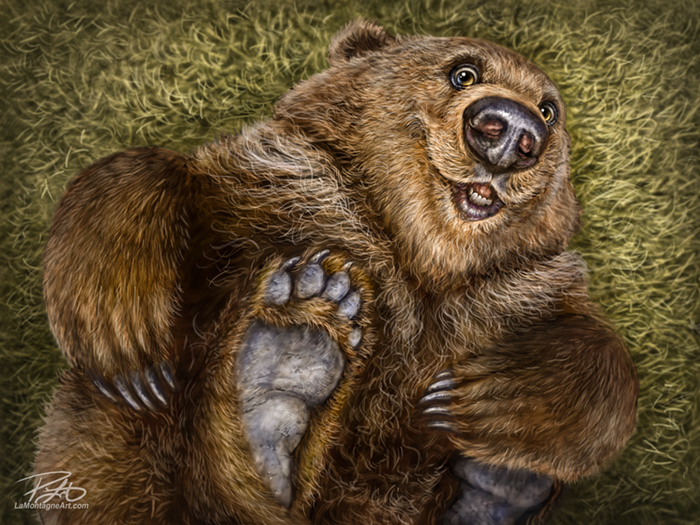 The difference between art for a hobby and art for a living, is that whenever I start a new painting, I often have to weigh the enjoyment of the image I plan to paint vs. the marketability of the finished piece. Regardless of the outcome, I'm always going to get some level of satisfaction from the work, because I'm still drawing and colouring, but I've also got bills to pay and a career to think about, so there are business concerns to consider.
I've done a couple of fully rendered paintings of Berkley already and both are prints that sell quite well. I've also done quite a few sketch paintings of her. It would probably be the smarter move to paint another wolf, or a different bear, or another big cat or an animal I haven't painted yet, to further round out the portfolio and upload to my licensing agency.
While this will still end up as a print, there are times I just want to paint something for me, and Berkley just makes me happy.
I won't rehash our entire history here, but the short version is that Berkley is a rescued Kodiak cub who lives at Discovery Wildlife Park in Innisfail, Alberta. She's been living there since early spring of 2017 and is thriving in her environment. As I'm friends with the head keeper, who is essentially Berkley's Mom, I was able to visit her a number of times during her first year.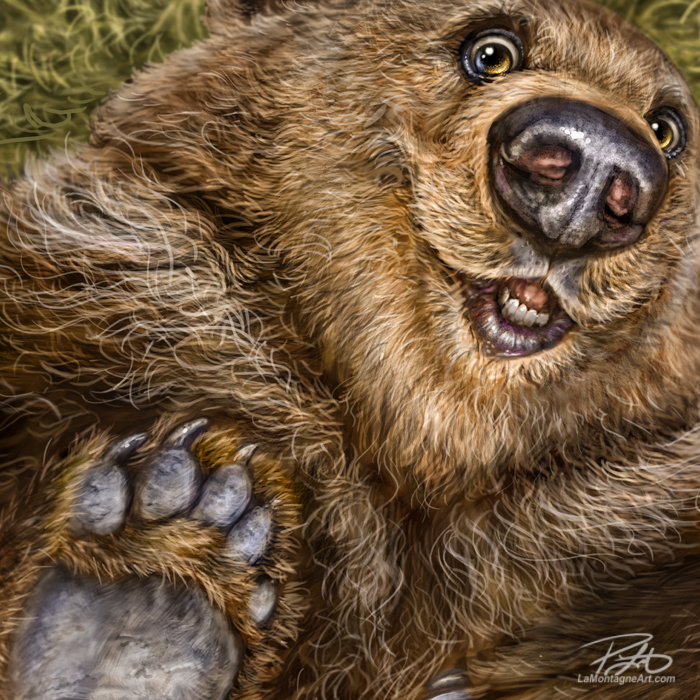 Discovery Wildlife Park sits on almost 100 acres and in addition to their large enclosures for their rescued and orphaned animals, they have a large wooded area on their property. As it is still a fenced enclosure, Serena used to take Berkley for walks every night in the woods where she could freely climb trees, eat berries and run around being a bear cub. Joining them on a few of those walks was an experience that changed me. Berkley has the most wonderful playful personality and I took thousands of photos of her, which left me with hundreds of reference pics to paint from. I will most likely paint Berkley for years to come, because that little face just makes me smile, especially because of the memories it conjures up. My wife, Shonna got to know her as well and we both have a special place in our hearts for that little bear.
Now that Berkley has become a bigger bear, well over 200 pounds and growing still, those close contact opportunities for anyone but the keepers are over. It's a safety thing, for both Berkley and others, but I still like to visit her with a fence between us, and she knows me, which never fails to surprise me.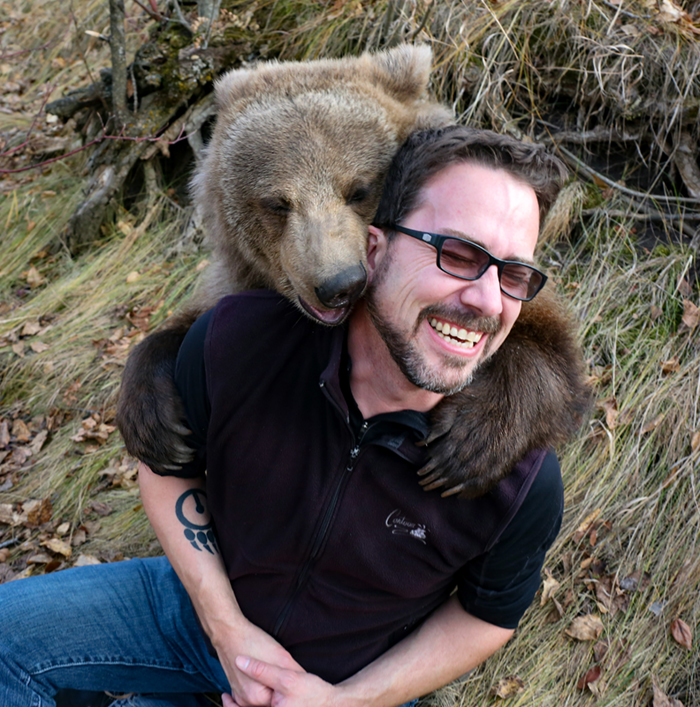 Regular followers will already have seen this photo more than once (twice, three times), but it's one of my favorite pictures of my life, so I'm sharing it again for anyone who hasn't seen it. It just sums up how special that whole experience was. I knew how rare it was while it was happening.
I named this painting Happy Baby for the obvious reason, but also because of a yoga pose by the same name. Shonna and I have been going to yoga each week for many years and it's an awkward, vulnerable, unattractive pose, but Berkley seems to do just fine with it. Or at least her version of it.
On one of Shonna's and my excursions with Berkley in the woods last September, Serena was horsing around with Berkley and telling us how much she loves bear feet. The following short video explains it pretty well, and is the reason I painted Berkley in this pose.

If you'd like to see a little longer version of that evening's antics, here's that one, too.
Cheers,
Patrick

If you'd like to receive my newsletter which features blog posts, new paintings and editorial cartoons, follow this link to the sign up form. Cheers!