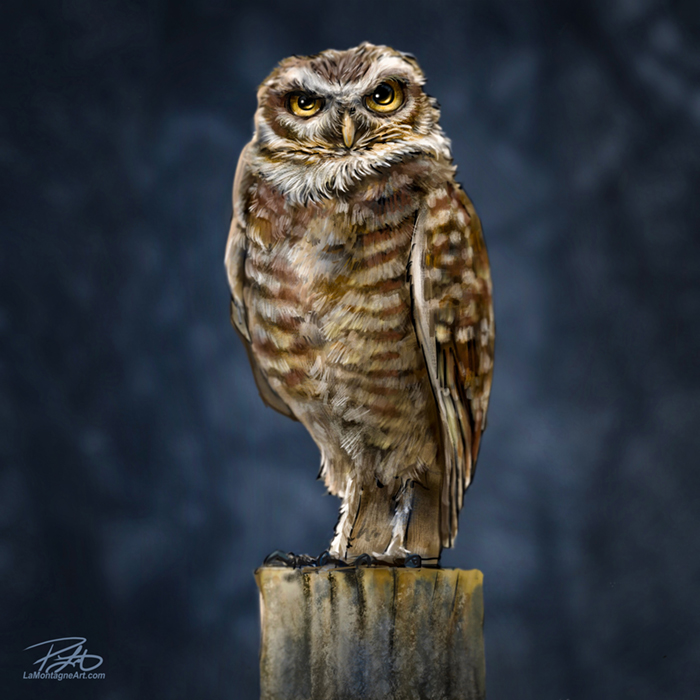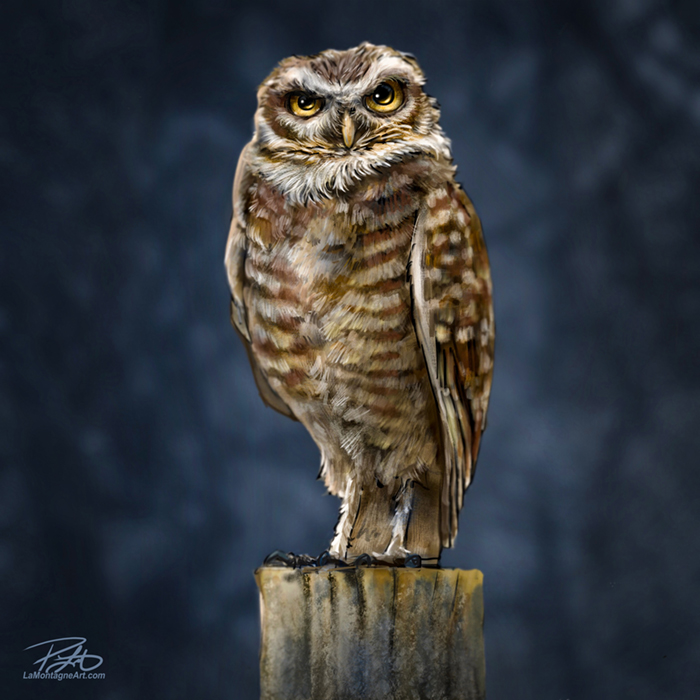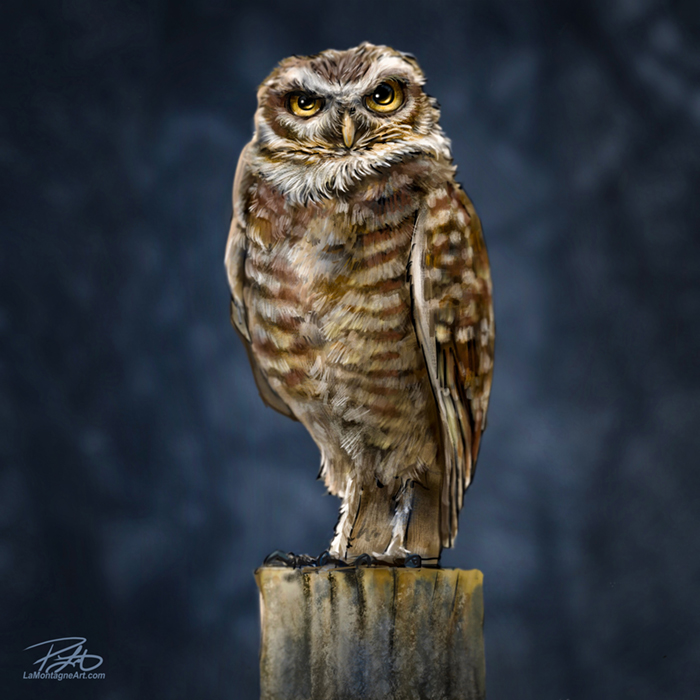 This little guy was painted on the iPad Pro in the Procreate app using an Apple Pencil. I took the reference for this painting while visiting the Alberta Birds of Prey Centre in June. For their small size, they certainly do cop an attitude. But then again, my perception of expression and personality in the animals I encounter just might be a little skewed toward the comical and caricature.
Burrowing owls are an endangered species in Canada and there are a number of conservation groups working to protect them, including the Alberta Institute for Wildlife Conservation and The Alberta Birds of Prey Centre, both of which I'm proud to support.
From the latter's website…"Offspring from our Burrowing Owl breeding program have been released in all four western provinces."
While my more finished work is painted in Photoshop on my Wacom Cintiq display, I'll often sketch or begin a painting on the iPad Pro, using an Apple Pencil and the Procreate app. The advances in both hardware and software in recent years has come so far that the portable device experience now far exceeds the desktop painting I was able to do when I was first starting out.
Having been a digital artist for the past twenty years, I'm very comfortable with the desktop tools I've been using. I've been forcing myself to draw more with the iPad Pro and Procreate lately because I feel there's a lot of room to improve my painting skills using the portable tools. The more time I spend working with these tools, the greater the detail and painting quality I'm able to achieve, which only makes sense. It's also nice to be able to take them with me when I want to work at the tattoo shop, or draw at the cabin or on vacation.
An impressive feature of the Procreate app on the iPad Pro is that it will record every brush stroke you make, allowing you to play it back at high speed to see an image from start to finish. While I edited this one myself, the video below gives you a look at the progress behind the painting.
Cheers,
Patrick
If you'd like to receive my newsletter which features blog posts, new paintings and editorial cartoons, follow this link to the sign up form. Cheers!