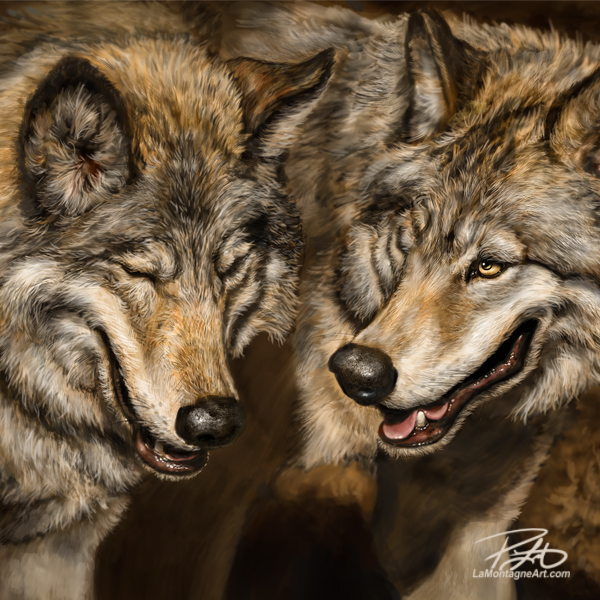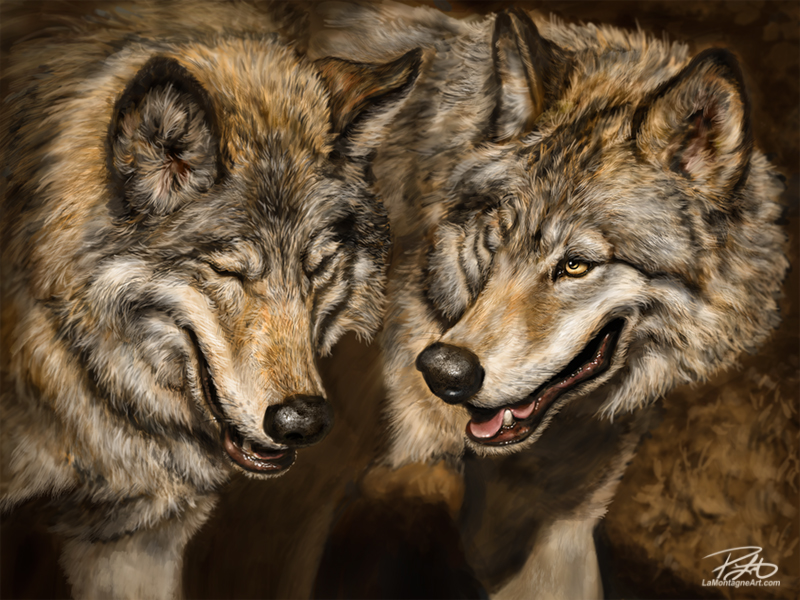 It was with great pleasure and relief that I finally got another painting finished this morning. I started this piece over a month ago and it was a struggle to find the time to work on it.
With the daily editorial cartoon deadlines, ongoing kitchen renovations, a number of other obligations, side issues and unexpected distractions, each day that I couldn't find the time to paint was frustrating.
This year's new license with Pacific Music and Art has introduced my work to a lot more places. Hardly a week goes by without somebody sending me an email from somewhere telling me they saw my work in a store or bought one of my images on a product. My buddy Darrel was just on a road trip out to Vancouver Island and sent me a photo of my Bald Eagle image on some notepads in Harrison Hot Springs, BC.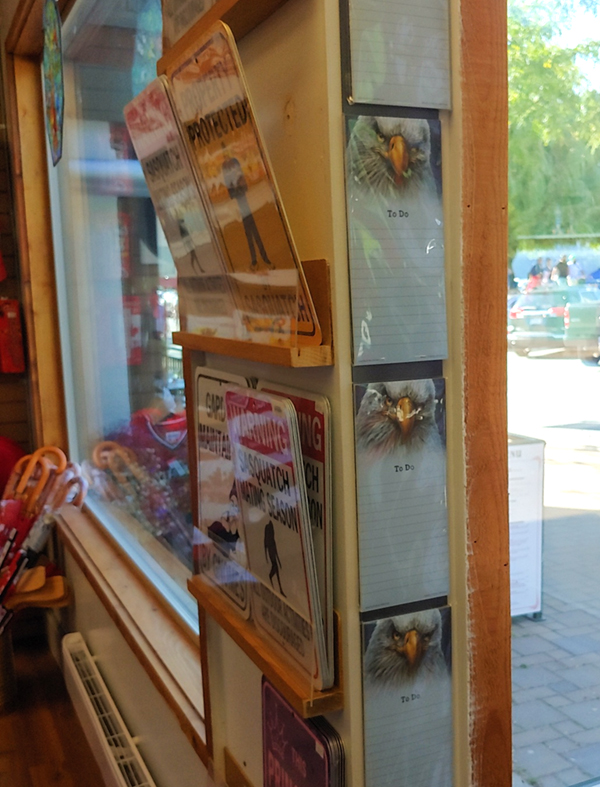 A woman from Florida sent me an email yesterday telling me how much she loves the Smiling Tiger image she bought on a trivet while on vacation in Canada this summer.
It's a little overwhelming, but also exactly what I've asked for.
I've been an editorial cartoonist for more than twenty years, self-syndicated since 2001 and a full-time artist since 2006. But newspapers have long since reached their peak and I'd be lying if I said I haven't often looked down the road and wondered how much longer that will be a part of my career. I'm not ready for the end yet, but I'm preparing for it.
Over the last few years, I've lost more papers than I've gained, most often because some newspapers have stopped running cartoons, have reduced how often they publish or have shut down. Most daily newspapers have sacked their in-house cartoonists and are using freelancers like myself and others. I'm sometimes surprised that the ride has lasted this long for that part of my business.
While I still need that income and it's an important part of my business, that first funny looking Grizzly Bear I painted in 2009 has led to my still being able to live and thrive in this artist life, ten years down the road. During that time I've created more than 60 production pieces. They're sold as prints in zoos and parks, and licensed through a handful of companies here in Canada and in other parts of the world.
The foundation for this part of my business was laid ten years ago and has turned out better than I could have imagined, all started with a simple experiment, painting this bear.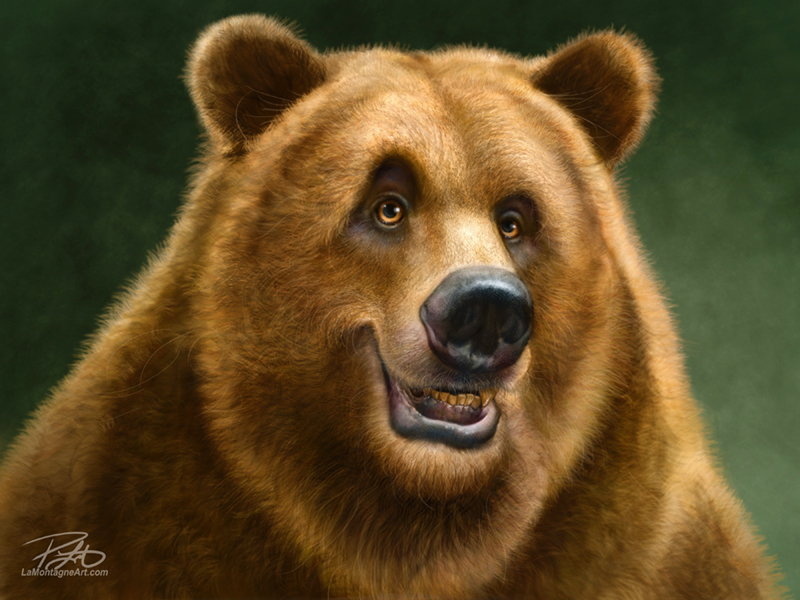 In all of that time, the daily deadline of editorial cartoons has been priority one, because that's the monthly income, the clients I supply each day and invoice at the end of each month. I've always put the painting on the back burner, to get to when I have the time away from the cartoons. Over the past year, with my painted work spreading faster and further, it has become clear to me that they are both of equal priority; because the painted work I do now will be what pays the bills down the road.
Just as that Grizzly Bear is still one of my bestsellers (and one of my favorite paintings), none of the current licensing would be possible had I not built the portfolio to offer to these clients in the first place.
It's also tempting to stick to the formula, to paint the head-shot animal composition time after time, because that's where it started, that's what initially got these pieces noticed and those are proven sellers.
But that's not where the magic happens. We too often worry so much about keeping what we've got that we fail to imagine what else might be possible.
With that first painting, I tried something new, took a risk on being different, and it led to the work I most enjoy. I love my whimsical wildlife critters. I am at my best when painting them, both in my skill level and how they make me feel. If the politics of editorial cartooning is the poison, these animals are the antidote.
For years, people have been telling me that what makes these images special is the eyes. It's always how I paint the eyes, I hear this constantly. Then I painted the Smiling Tiger with her eyes closed and it's one of my bestselling pieces. Had I paid too much attention to what I'd been told and not enough to what I wanted to paint, this image would never have happened.

I feel the same way about this latest piece. It's a different composition, two wolves who might be sharing an inside joke. A couple of buddies or a romantic couple? It tells a story and while I'll always be my worst critic, I really like this painting. I hope it's popular, because right now, it's already one of my favorite pieces. It's different from the usual head-shot composition but a risk worth taking.
And it was fun, something I don't make enough time for.
I took the reference for this painting at the Calgary Zoo a while ago and I felt that I had captured something when I looked at the shots. I knew instantly I would be painting this image. That doesn't often happen.
As a professional artist, I have to keep in mind that if I don't produce any commercial images, I don't make a living. But I have a feeling about this direction, more animals in an image, telling a story, and still in my style. I think there's something here.
Only time will tell.
Cheers,
Patrick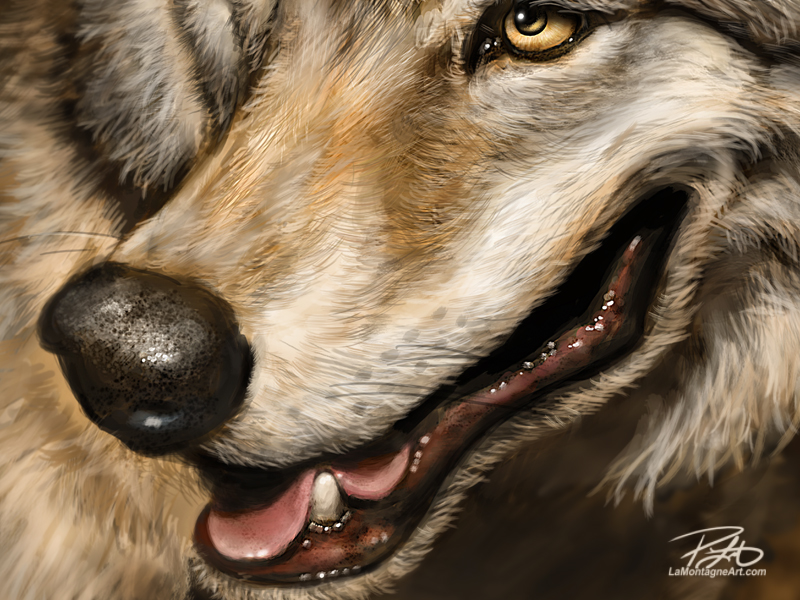 If you'd like to receive my newsletter which features blog posts, new paintings and editorial cartoons, follow this link to the sign up form.