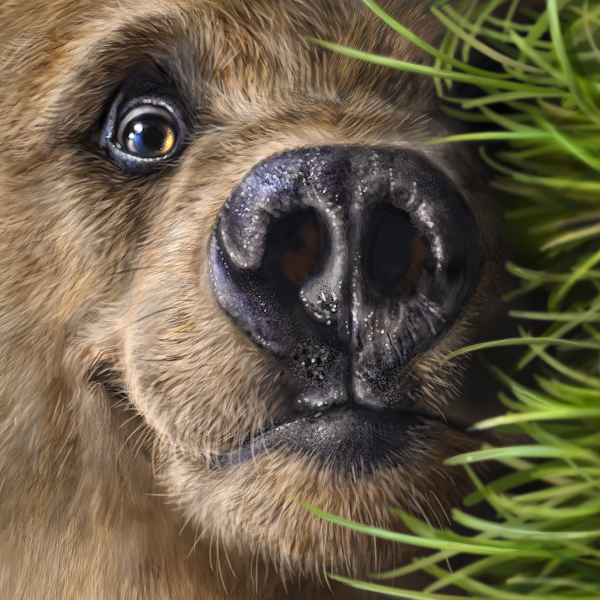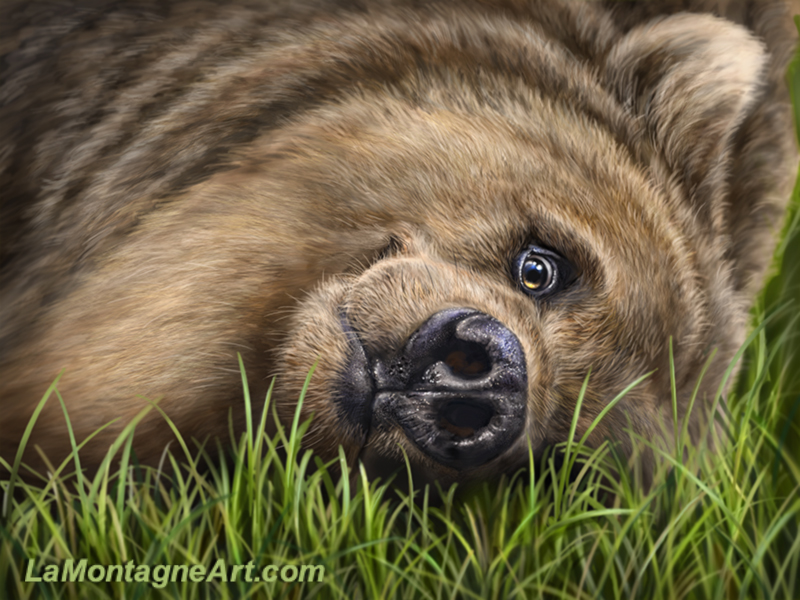 Yet another painting of Berkley, but for marketing reasons and the potential implication of that goofy grin, I'm calling it Grizzly on Grass.
Aside from their efforts to rescue and take in orphaned animals, one of the things I love about Discovery Wildlife Park is their focus on enrichment. In the wild, animals are kept busy searching for food, defending their territory, and making miniature versions of themselves.
While captivity is never ideal, the animals at Discovery Wildlife Park would likely have been destroyed due to the circumstances that brought them there in the first place. Those circumstances are usually us, people who have either directly or indirectly prevented them from surviving and thriving in the wild.
The animals at the park can't be rehabilitated and released, either because laws prevent it or they were too habituated already, which is why they needed to be here.
With 91 acres on the property, the park can provide the animals with large enclosures, complete with natural structures, clean ponds and water features. The black bears and Berkley can dig their own dens each year, or they're given structures they can use if they choose the artificial route. It's incredible how each bear has a different preference.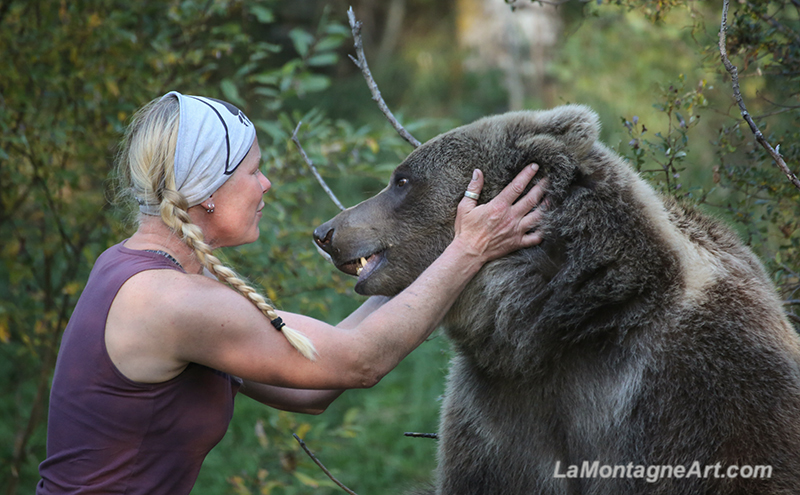 They're provided with as much hay as they want to pad the dens for warmth and comfort. I remember Serena (the head keeper and good friend) sending me pictures and videos the first year Berkley dug her den. Berkley took the hay inside, then came out and dropped a little at Serena's feet, asking for more, which of course, they gave her. Some bears do get up during the winter, even in the wild, but Berkley has always slept straight through.
If you've followed my work for any length of time, you'll know I have a special place in my heart for Berkley. I was able to get to know her when she was weeks old and had many visits with her in the first couple of years. Discovery Wildlife Park has a large, wooded area where she could climb trees, splash around in a creek, play in the snow and wander around as she liked without any danger.
The personal contact I had with her when she was a cub created a lasting bond, and when I visit her now, she knows me. If I go to one end of her considerably large enclosure and call her, she'll come from the other end to visit, and we'll hang out together on either side of the fence. We can't have close contact these days because even though she's a very gentle bear, I'm intimidated by her size. My nervousness creates an unknown safety issue.
The park staff are incredibly dedicated and care a great deal for the animals in their care. You need only talk to them and watch their interactions to realize the trust between them. When an animal dies from medical complications or old age, it hits them all hard. They work hard to give the animals the best life they can, despite their captivity.
Survival is no longer a concern for these animals. Their diets and health are continually monitored, and they receive top vet care. The problem with captive animals, however, is that without constant stimulation, they will get bored. As a result, the animals get plenty of enrichment opportunities.
The structures in their enclosures are often changed around, diversions hidden in strange places, along with additional food. It gives them something to explore and dig out. There is a large forested fenced amphitheatre area that acts as another natural playground. The bears and wolves are taken in often and allowed to run around as they like. Not together, of course. There are many rock structures and ponds for them to play around in, with room to run. This new environment gives them plenty of stimulation, and they seem to enjoy it a great deal.
There is a high cost to maintain this type of facility, and they're always looking for new revenue streams to help. In addition to the gift shop, campground, and winter RV storage, they rely on donations and sponsorships to keep the doors open. If you've ever seen the vet bill for a jaguar's arthritis stem-cell transplant or a root canal, you'd understand.
"I'm in it for the money," said no zookeeper ever.
When they built the amphitheatre area, they had the foresight to install a fence along one side, with large enough holes along it for camera lenses to poke through. They regularly host small groups of photographers to come and take photos of the bears and wolves in their playground. It's an opportunity for the animals to play and for the park to raise funds to care for them.
In September of 2019, my buddy Derek, a skilled tattoo artist and painter, and I went up to Innisfail to participate in one of these photo sessions. While I enjoyed taking photos of the wolves, as I always do, I'll confess that my main focus was Berkley. I just can't get enough time with her.
The problem is that because she knows me, she kept coming over to the fence to say Hi, which means nobody could get any photos. Serena kept having to call her back. She finally gave me shit and said I was never going to get any pictures if I kept talking to her. I had to turn my back and retreat so Berkley would go back to enjoying the natural playground.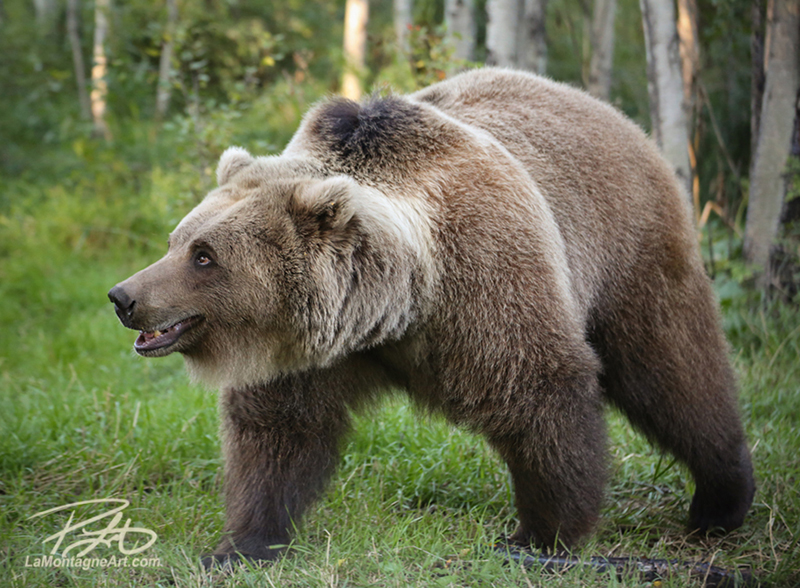 Once she did, we were able to get some great photos. She has a natural smile and brightness in her eyes. People often remark on the personality I create in my paintings. It's almost like I don't have to add any with Berkley because it's already there. She remains my favourite subject to paint, and I can't imagine I'll stop anytime soon. There's just something in that face that makes me happy.
Even though she played in the water, scratched and climbed on trees (she's tough on trees), Berkley looked over often, and I had to be careful not to distract her. But it meant that I got some great pics of her looking right into my lens, including the reference for this painting.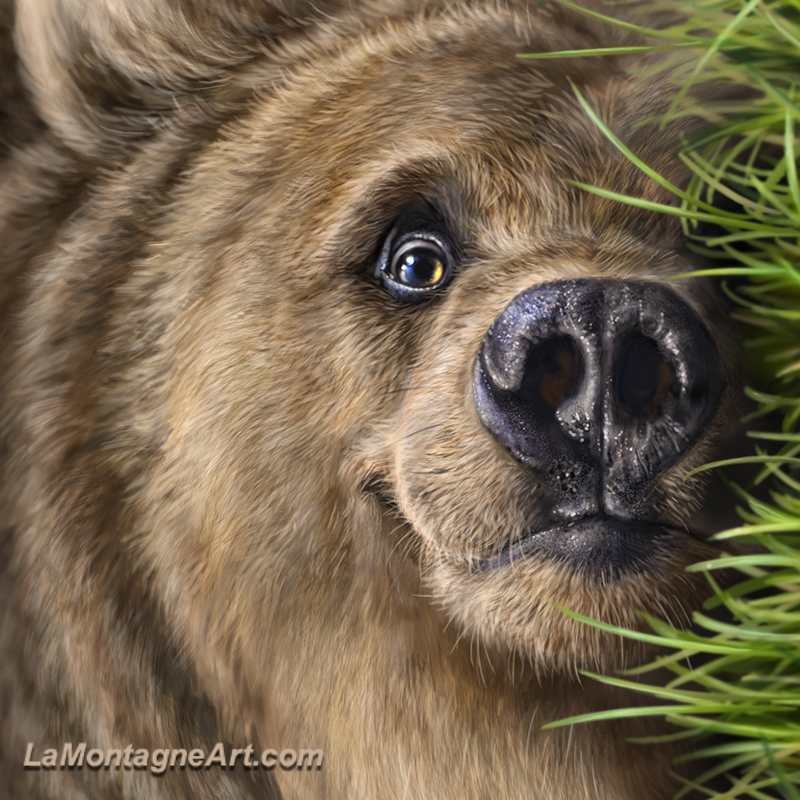 I didn't want to stop working on this image because I enjoyed it so much. Even though the finished painting is a horizontal composition, I painted it vertically to get the expression right. I'll confess that if I get this printed for myself, a distinct possibility, I'd hang it vertically above my desk, so that goofy grin can greet me every morning.
I'm looking forward to seeing Berkley again soon. She's up from hibernation and gaining back the weight lost during her winter slumber. Every year I wonder if she'll still know me, but she always does, and it's one of the best feelings in the world.
—
If you'd like to support Discovery Wildlife Park, you can donate or buy an annual membership on their site. They open for the season on May 1st and will be happy to see you. You can buy my prints in the gift shop and see some of my artwork around the park. Be sure to take part in their daily education talks about how to be safe in bear country and help contribute to wildlife conservation, no matter where you live. Ask plenty of questions. Education is a big part of why they do what they do.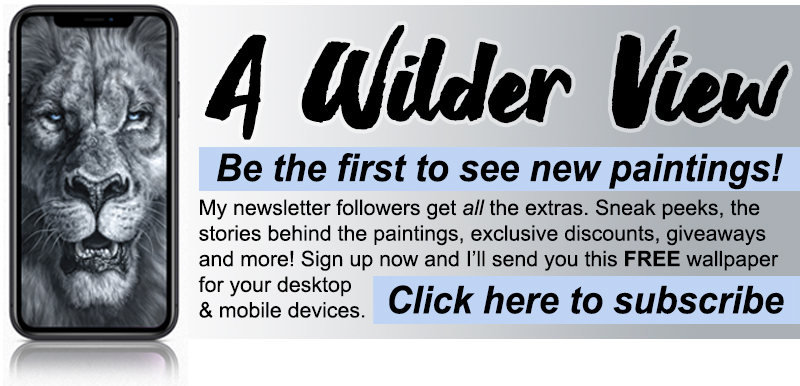 © Patrick LaMontagne
Follow me on Instagram @LaMontagneArt