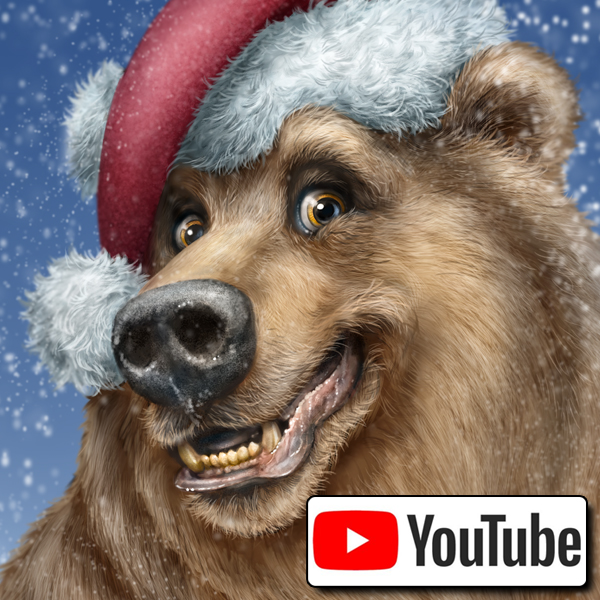 Whenever there was a turning point in an 80s movie, you could expect a music montage. Whether it was rebuilding a classic car, a group of rebellious teens learning to dance, or the karate tournament advancing to the final match, an upbeat song helped the story jump through time without making the viewer watch all the actual hard work.
Did you really want to see the protagonist standing in line at the auto parts store to get an air filter for the '67 Camaro he's restoring?
It often takes many days or weeks to complete one of my whimsical wildlife pieces, and I enjoy most of it. Drinking hot black coffee, tunes in my earbuds, I'm quite content to spend hours at a time painting tiny little hairs on a wolf's muzzle or adding texture detail so the sea turtle's skin looks real.
But if you were watching this work over my shoulder, I guarantee you would be bored out of your mind.
My buddy Derek is one of the most incredible tattoo artists you'll ever see. When I hang out at the shop, I'll often lean over his shoulder to watch. His linework is ridiculously precise, and I'm fascinated at the silky-smooth colour gradients he achieves with a tattoo machine. But eventually, it gets boring. He'll often have clients that sit for hours all day for three days straight.
I just want to see some of the work in progress and the finished piece.
I've been creating time-lapse videos off and on for many years, and even though they can add hours of extra work to a painting, they're fun to put together.
Sometimes I'll record a voiceover, something inspirational for other artists, or relevant thoughts on the piece. Over the years, I've done a few of those for Wacom, the company that makes the tablets and displays I've been using since the late 90s. While I still love their products and will continue to recommend them, the best days of that working relationship are likely behind me now.
Most corporations are still chasing the likes and shares on social media, whereas I am not. I have no designs on becoming an Instagram influencer. I'd rather spend that time creating more art.
The time-lapse videos I enjoy most are the short ones with a musical accompaniment. These days I have a monthly subscription to Epidemic Sound, and it allows me to find the right track to go with a painting, regardless of the mood I'm trying to set.
I record the first part of the video over my left shoulder with my DSLR camera. I must keep in mind that the camera is beside me on the tripod, careful not to bump it. Because I'm recording a digital screen with a digital capture device, it also creates lighting problems.
Movies and TV shows will often add device and monitor screens after the fact in editing because it's so difficult and time-consuming to record them with a camera.
But people like to see my hand holding the stylus, moving around the display.
For the rest of the video, I use Camtasia's screen capture software. I've been using it to record and edit since I created my DVDs ten years ago, and it works well.
But when I get down to the smallest of hairs in the painting, making subtle shading changes, and applying catchlights to the wet skin of the nose or around the eyes, it eventually becomes difficult for the viewer to follow the cursor.
And finally, our attention spans keep getting shorter. With slot machine scrolling on our phones, multiple tabs open on our desktops and pinging alerts going off all around us, holding somebody's interest is a challenge.
I used to record four- or five-minute time-lapse videos, but most people won't sit through those anymore, so I try to keep them under two minutes. Of course, it means there are significant jumps in the painting's progress and detail, but it works.
People just want to see some of the work in progress and the finished piece.
Cheers,
Patrick
P.S. As always, feel free to share the video, with my thanks. That goes for anything else I post on this site as well.