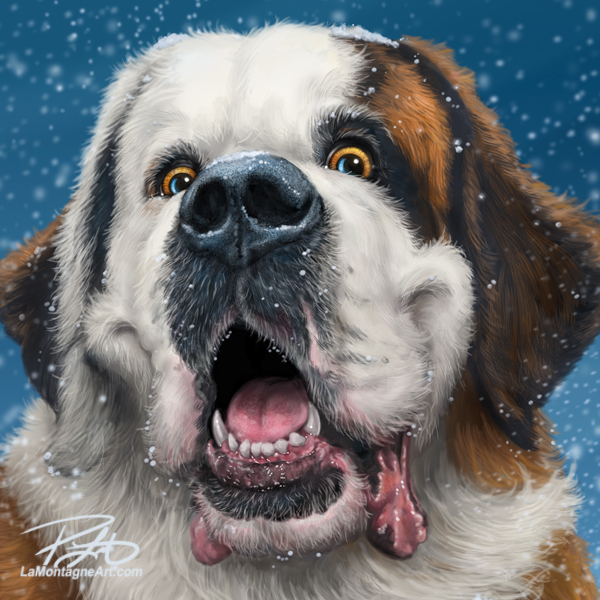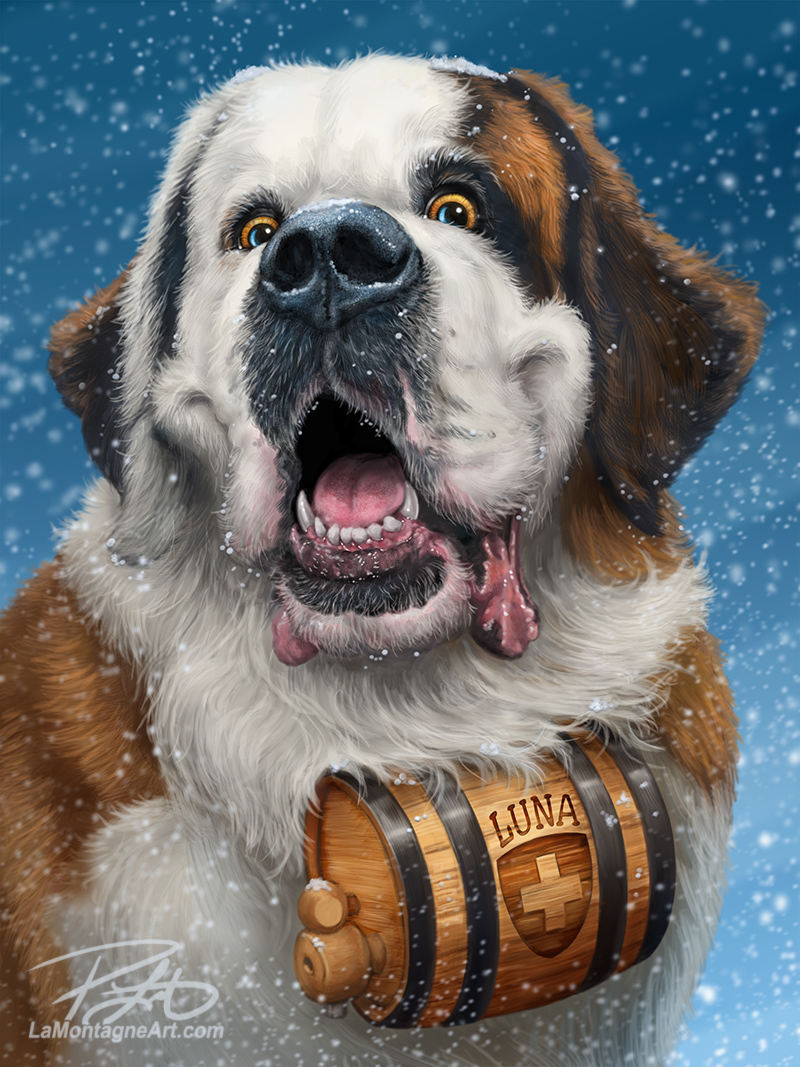 While commissions are a small part of my overall work and business, I've enjoyed the pet portraits I've painted over the years. All have been challenging, either the artwork or managing client expectations. Though I have my personal favourites, I've learned something valuable from each.
A couple of years ago, my friend and marketing guru David Duchemin suggested my rates were too low. Artists are notorious for undervaluing their skills, often attracting the wrong clients, those more interested in a bargain than the artwork.
A commission is a custom portrait requiring consultation, preparation, printing, and shipping/delivery, plus many hours of actual painting. Unlike my whimsical wildlife portraits, which can be sold as prints and licensed, a commission is an original work created for one client.
David asked me to consider whether I would rather have more clients at a lower rate or fewer clients at a rate more appropriate to the years I've put into my skills and the unique look of my critters.
I took that to heart and raised my rate because when I'm painting a commissioned piece, that's time that can't be spent painting anything else.
On my site, I'm upfront about pricing, the photos I need for reference, and the details a client needs to make an informed decision without making it awkward if the price is out of their range. I'm happy to answer inquiries, but with my daily editorial cartoons and new whimsical wildlife pieces, the commission work is welcome when it comes in, but I don't actively market it.
My first and last paintings of 2022 were pet portraits, both thoroughly enjoyable experiences with great clients, nice bookends for the year.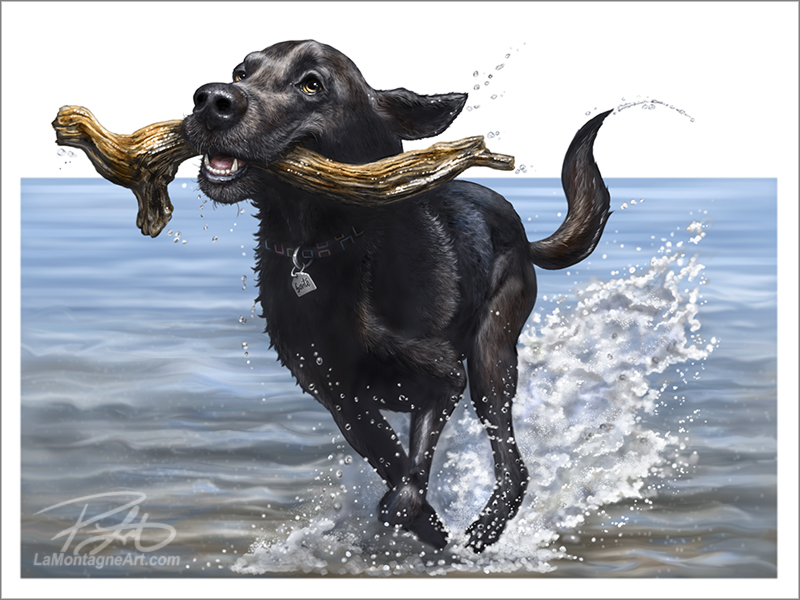 Santé was a memorial piece. Suzanne wanted my whimsical style and a full-body action pose, something I hadn't yet painted in a commission. She wanted the painting to portray the active and joyful full life that Santé led and had the photo reference to back it up. While difficult, it stretched my skills, and I was pleased with the result. Click here to read more about that experience in the original post.
Near the end of October, I got an email from a man in Calgary asking me to paint his dog Luna, a gift for his wife. He'd read the Commissions page, knew what he wanted, and even included some initial reference photos. Talk about a good start.
We'd briefly discussed a possible commission at the Calgary Expo in April, but while I get several inquiries at that event, this is the first one that has resulted in a hire.
Given the time of year, I assumed this was a Christmas present. However, when I asked, he replied, "not a huge rush, if we got it for Christmas it would be a great surprise, but I'm not overly concerned if we don't get it until the new year."
I thought that if we could reach an agreement quickly, I would make that surprise happen.
I asked if he could take more photos for me, offering a little guidance on what would be ideal. He got right to it and I ended up with great bunch of reference. In one of them, I noticed she had a little brandy keg around her neck, and I asked him if I could paint her in a winter scene with that keg. Sure, it's a cliché image of a St. Bernard, but it was too perfect a fit, and I could see the painting in my head. Jeremy liked the idea and said that Luna loves the snow.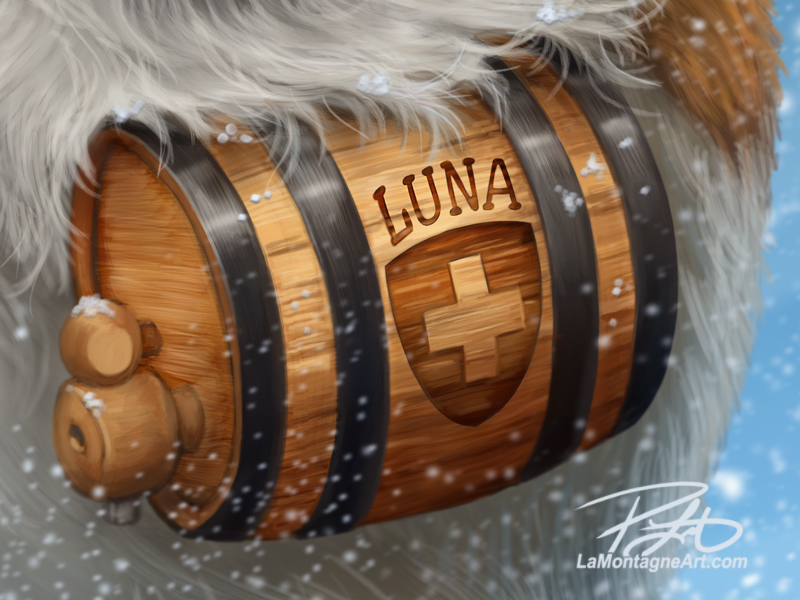 At the beginning of December, I sent him the finished piece for approval before it went to the printer. Of the options I offer, he had initially chosen an 18X24 canvas, and while that would have looked great, I talked him into going with the same size matte metal piece instead. With the bright, vibrant colours in this painting, I knew it would pop a lot more on metal.
I've been having my metal and canvas prints done by Posterjack for over a year now. Everything is always well-packed, and this was no exception. The colours and quality of the Luna print were stunning.
But you can imagine my disappointment when I noticed some slight damage in the bottom right corner. There was no damage to the box and it was wrapped well inside. In their busy season, somebody likely knocked it during production and failed to notice before packing it. It was a tiny dent, only noticeable on close inspection.
I put some foam wrapping around the corner and gently bent it back into place with some pliers. Then I took a white paint pen, blended it with a little blue and smudged over the corner with a Q-Tip, blending it as best I could into the sky and snow background. It was the only corner of the painting where this could have worked. I did a pretty good job of it, too, but I could still see the damage.
While setting up and working at markets, no matter how careful I've been, I've dinged a couple of these myself in the same way. I might bump one, and it falls off the gridwall, that sort of thing. In those cases, I'll offer a discount to anyone interested in that piece, which is usually acceptable. It's almost always barely noticeable and this was the same type of subtle damage.
But this was a custom commission.
I told the client about it; said I'd still drive it in the next day and see what he thought. He wasn't too concerned, but I wasn't comfortable with his settling for a damaged print. But at least he'd have the piece to give to his wife for Christmas, and I could replace it afterward.
I sent Posterjack a photo of the damage, and they immediately offered a replacement. However, since I wasn't sure it would arrive before Christmas, I delivered the print I had.
Of course, while preparing to deliver the piece, I had to ask, "do I get to meet Luna?"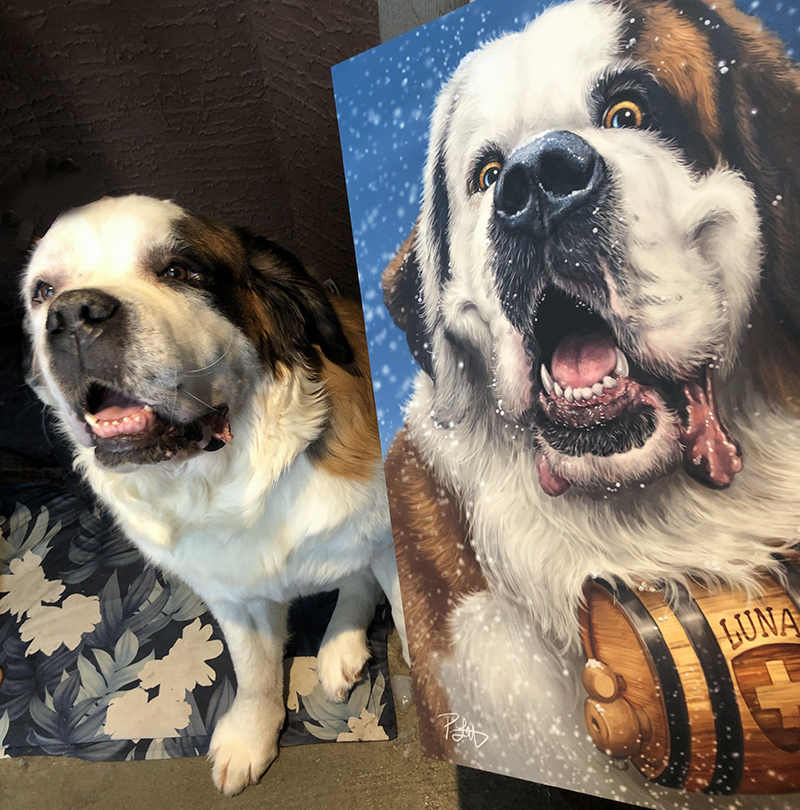 She's exactly as you'd expect, a big slobbery friendly St. Bernard with the sweetest face and lovable eyes. I would have liked to have taken a better photo with her, but Jeremy and I met in their enclosed front porch, with Luna and her Newfoundland sister, Sally, between us. As they're both BIG dogs, it was a little cramped, but Jen was home, so there was a risk of ruining the surprise.
The replacement print arrived five days later. I inspected it and wrapped it back up right away to keep it safe. I sent my Posterjack contact an email thanking them for standing by their product. Nothing secures my loyalty more than great service. Too many companies have forgotten that.
In ideal conditions, I could have gone to Calgary again to replace it before Christmas, but our weather turned incredibly nasty, temperatures between -30 and -40C every day all week, right after the starter in my car began to grind intermittently. Not the safest set of circumstances for a trip into the city.
With the starter replaced last week and this cold snap departed, I'll soon arrange to make the exchange. I plan to display the original print at Expo in April, a full-size example to point to for any commission inquiries. In the meantime, I'll hang it in my office because I do love it; such a fun piece to paint.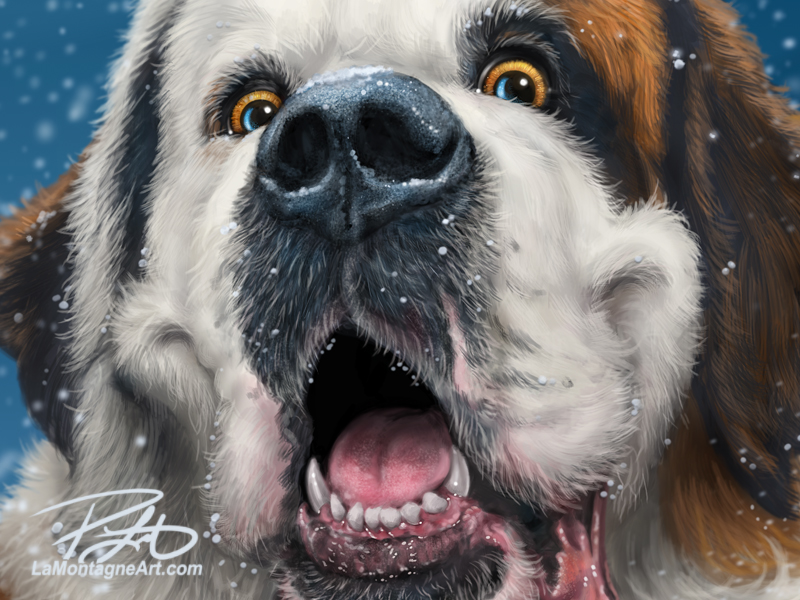 As for Jenny's reaction, Jeremy sent me some pictures Christmas morning. Let me tell you, tears are the best compliment I ever get.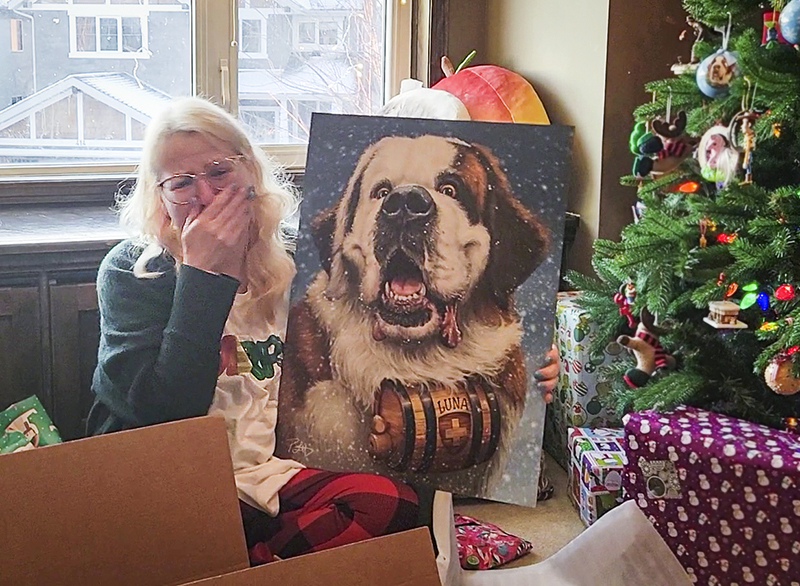 Click here for more information about pet portrait commissions. If you have any questions, drop me a line at patrick@nulllamontagneart.com