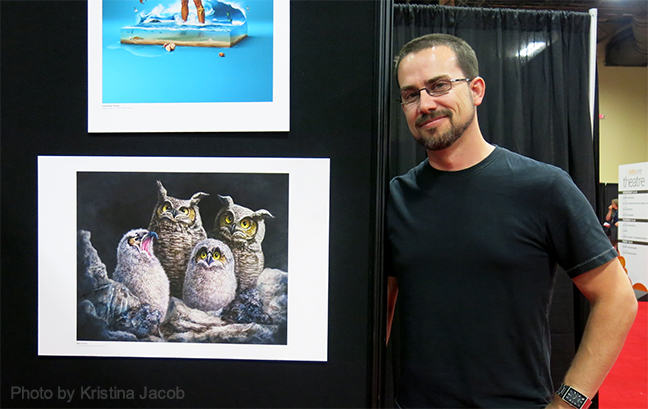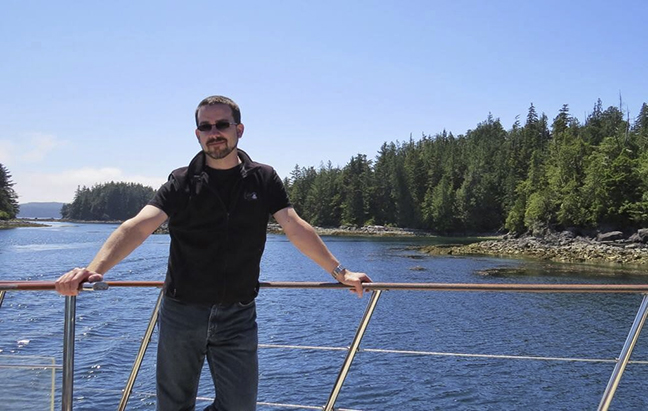 Coming up on the end of another year and while it's just a date on a calendar, having these periodic markers along the way does give a person a chance for reflection and to make plans for the next go round the sun.
I've been fortunate that every year in my art career has been better than the one that came before it. 2014 was no exception. Always learning and improving my skills, the challenge this year was to keep my eyes on where I'm going, despite the distractions that tempted me to lose focus. It's easy to look at what other artists are doing and to wonder if they know something you don't, but in my experience, we're all just winging it, no matter what profession you're in.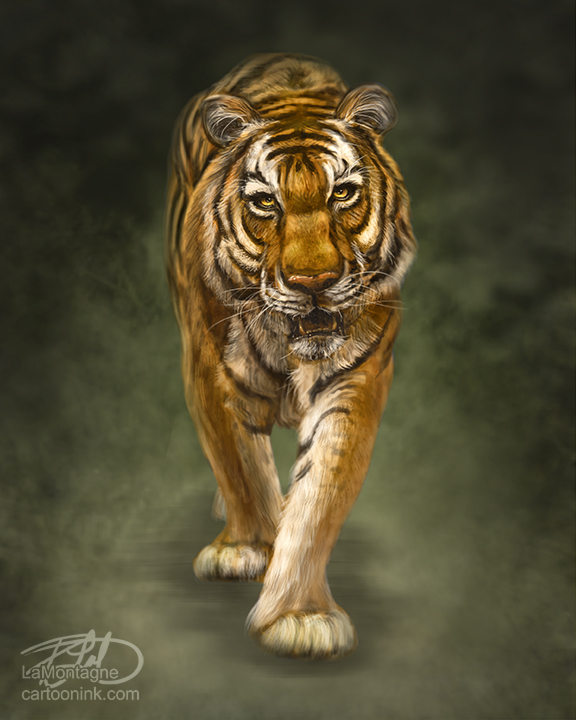 This past year, I found myself doing a lot of sketch paintings, simply the term I use for what I consider unfinished work. Some of those went further to become finished paintings in my Totem collection, others ended up being practice pieces, and still others sold well as prints, even though that hadn't been my intention at the beginning of the year. I plan to do a lot more of that type of work in 2015, as I really enjoyed it.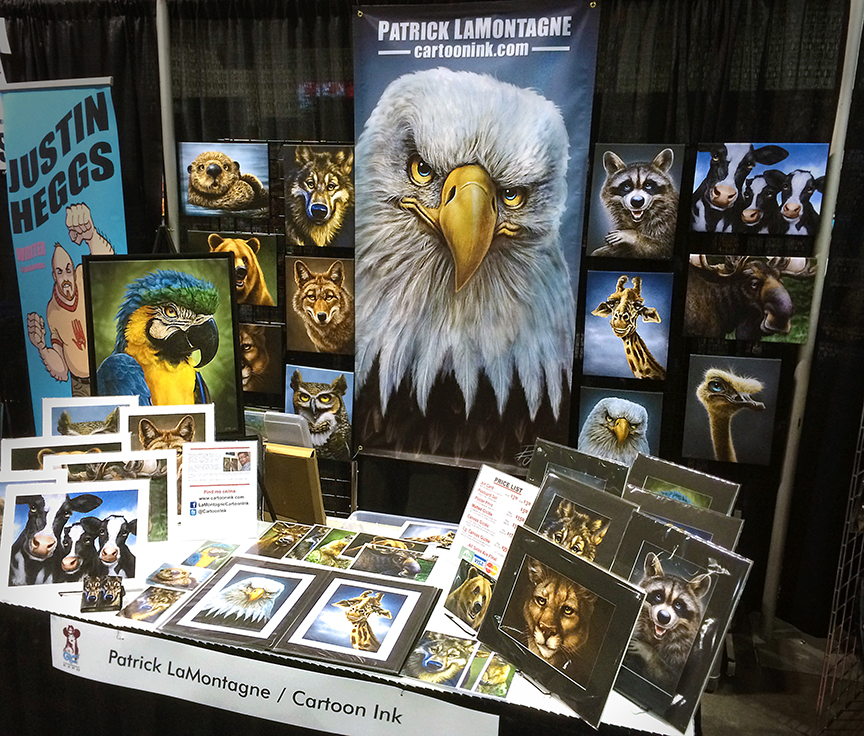 In the spring, my wife and I were once again working my booth at the Calgary Comic and Entertainment Expo, our second year at that event. As it was a big success for us, I've been signed up for the 2015 Expo almost since the last one ended. I'll be trying a few new things with print sales this year and I look forward to participating in their tenth anniversary. We also plan to have a booth at a few other trade shows during the year.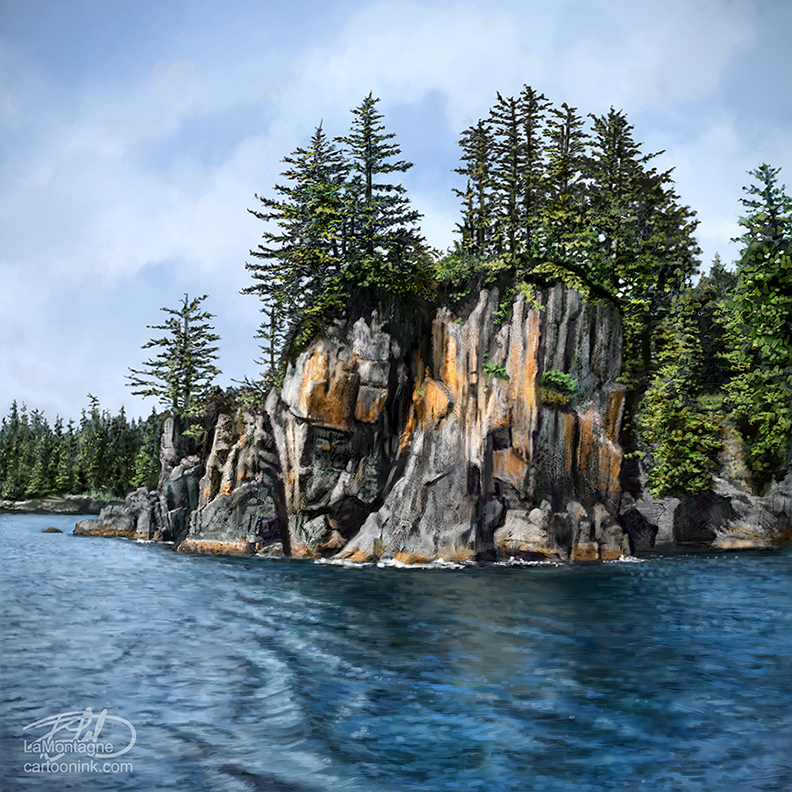 I painted my first landscape in 2014, an enjoyable personal project I did just to see if I could. I doubt that I'll become a landscape artist anytime soon, but I've still got a few ideas I'd like to bring to light, so there will likely be one or two in the coming year, along with some experiments that may or may not involve animals.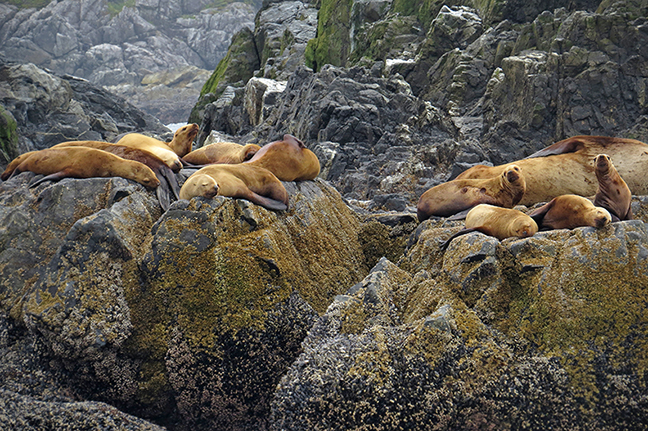 One of the reasons I chose that particular image to paint, a landmark called White Face Rock, was that I had fond memories of Ucluelet, British Columbia, somewhere my wife and I had vacationed a few years ago. I decided to go back this year on my own in June for sort of an artist's retreat and it ended up being one of the best experiences of my life so far. I rented a little cabin off the harbour for four days, took three days of wildlife cruises through Barkley Sound, brought home plenty of photos and thoroughly enjoyed myself. That trip also gave me the opportunity to get my work into two new galleries in Ucluelet and Tofino.  In the New Year, I plan to go back there and will stop in at some other places along the way. I still have reference photos I have yet to use from the last trip and I plan to get to some more of those soon.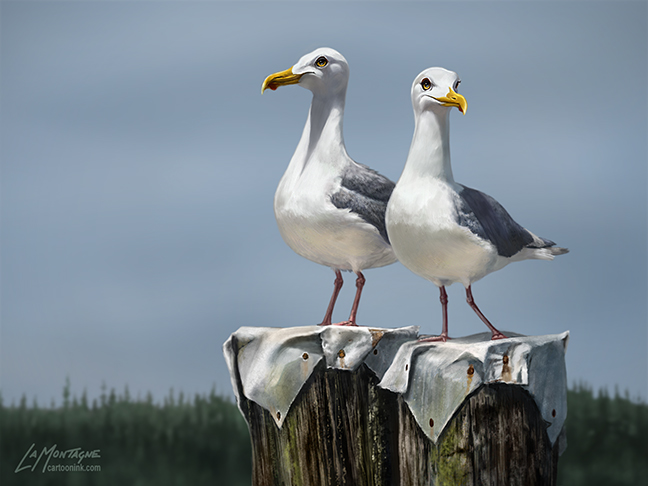 One of the more valuable life lessons I've learned is to make time for personal projects. Seems each one ends up yielding unexpected benefits. One such project this year came from finding a nest of Great Horned Owls up at Grassi Lakes here in Canmore. After watching the family of owls for a couple of weeks, taking plenty of photos and doing some sketch paintings, I ended up with a painting that I called, 'One in Every Family.'  It was a departure from my usual style of animal paintings.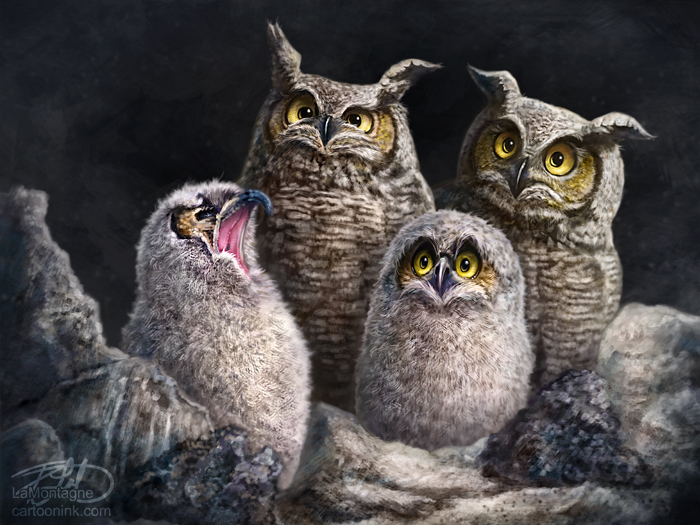 At Photoshop World in Las Vegas this year, that painting won me the Best in Show Guru Award, the second year I've received that honour. A nice surprise bonus of that award was winning a Canon 5D Mark III camera, a professional piece of hardware that I am enjoying learning how to use. I've discovered that photography as a hobby has opened new creative avenues for me, especially since it contributes directly to my work. I take the camera with me whenever I go hiking or for a drive and it has helped me get even better reference photos for paintings. Funny how things work out.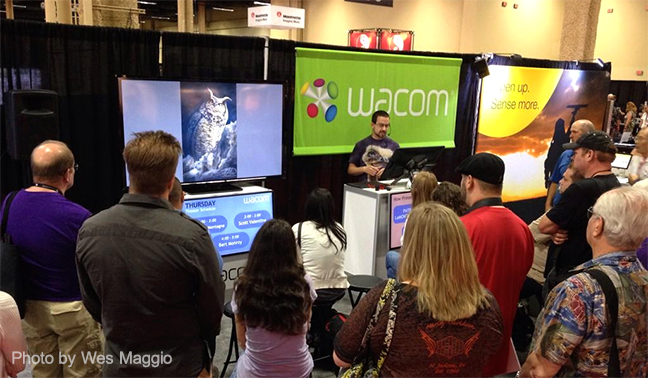 While I've got plenty of fond memories of Photoshop World in Las Vegas, having attended five times, made plenty of friends and learned a lot, this year was a high note and I think a good ending for me for that particular event. I don't think I'll be going back anytime soon, certainly not in 2015. I've learned never to say never, but there are plenty of other experiences and trips I'd like to take.  The world's a big place.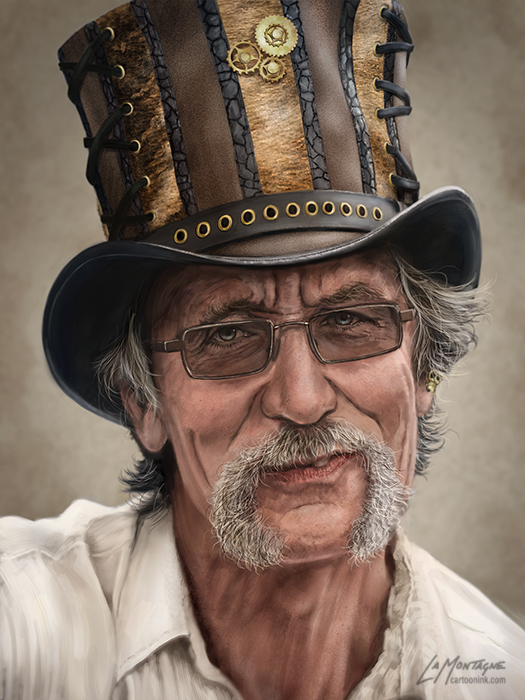 In August, I met a gentleman named Bruno, a vendor at one of the Canmore Market booths. I just liked his character and felt the urge to paint him, another personal project. He was willing to participate in the experience and I ended up doing a portrait piece that I was quite proud of.
Since then, I've gotten to know Bruno and he has been giving my wife and I a crash course in the community and inner workings of the artist trade show circuit in Western Canada. We've been learning a lot and planning to venture into that world a little more as a result. Serendipity once again. I will be doing more portraits in the coming year.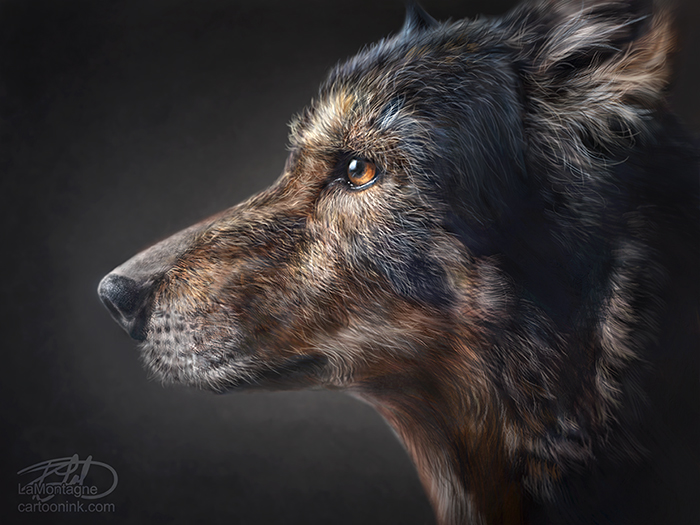 And finally, one of my favorite pieces this year was the commissioned painting of Denzil, one I consider to be my best work to date, at least when it comes to a realistic rendering. It raised the bar for what I will now consider a finished piece and it's going to make me try harder. Many times I've finished a painting and thought, "that's it, I can't do better than that," and I'm always wrong. With time and practice comes more skill and that applies to everyone and everything, no matter what you do.
I've no desire for time to move quicker than it already does, but I find myself excited to think about the paintings I'll do five years from now.
For the next year, I'm playing the long game. I've met with and hired a local designer friend and neighbour who is going to help me bring a book of my artwork into reality, something I've wanted to do for years. Up until now, I didn't feel I had enough pieces with which to populate the book I had in mind. I still don't, but by the end of 2015, I will, so there will be a lot of painting this year.  Before I commit to anything else as the year goes on, that will be front of mind.
It's with quiet confidence that I close out 2014, with great expectations for the coming year. I see no reason why the recent trend should not continue and I look forward to 2015 being better than the year that came before it.
If you're reading this, you're probably a follower of my work. Perhaps you've purchased my prints at the galleries, online or at Expo, or you've been a client that hired me to paint one of your fuzzy faced loved ones. You might follow my Facebook page, Twitter feed, or subscribe to my newsletter. You might be one of my many editors across Canada who sees fit to publish my cartoons on your editorial page. Maybe you're one of those friends or industry colleagues I've been fortunate to know and work with over the years. No matter where you fit in with your support of my daily work of drawing and colouring all day, please accept my sincere thanks.  I do appreciate it.
My very best to all of you in the coming year. Take chances, start checking items off those bucket lists, don't wait to live the life you've imagined. It is well worth the risk.

If you'd like to receive my newsletter which features blog posts, new paintings and editorial cartoons, follow this link to the sign up form.  Thanks!