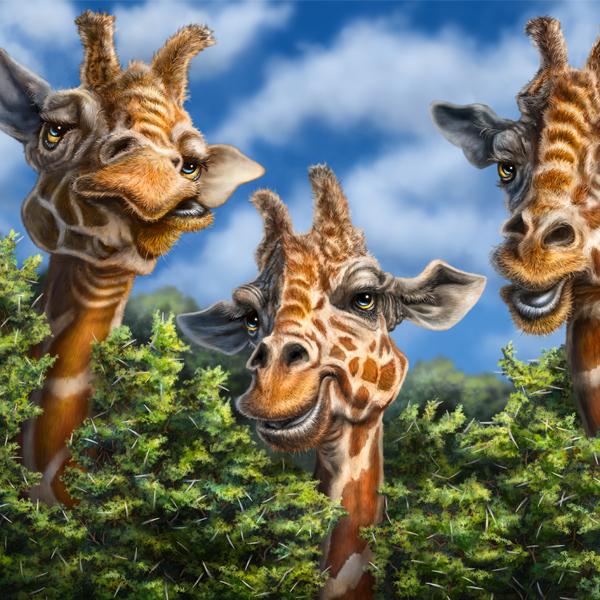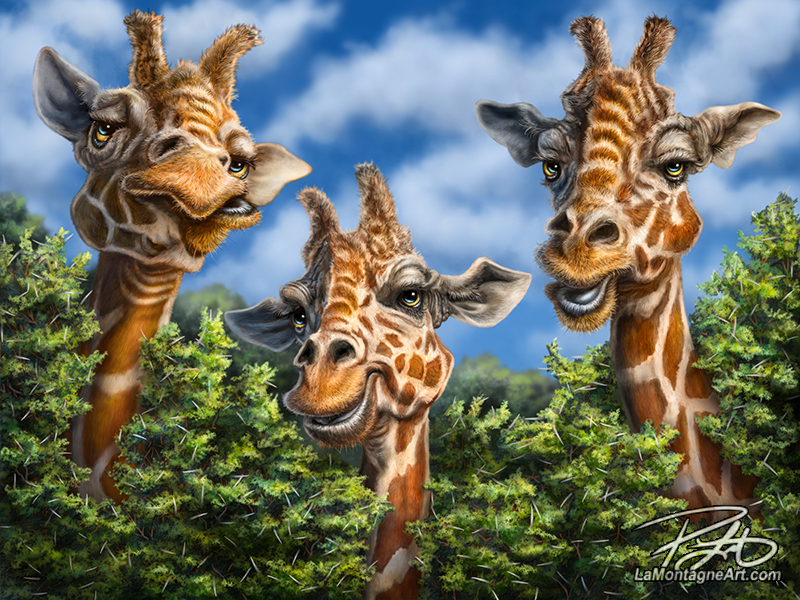 While labour-intensive, this painting wasn't especially difficult. There weren't any parts of it where I worried I might not have the necessary skills. That comes from experience, the feeling that "it'll take a while, but I got this."
I wanted the piece to be bright and colourful, with plenty of detail throughout. I planned it to work well for a print and several other products, but I was also thinking about puzzles and diamond art kits.
I'm a commercial artist; this is how I make my living. So, creating a new piece can't just be about painting for my enjoyment. It's both a creative and financial investment; that's the deal you make when a hobby becomes a job.
People often ask how long it takes to me complete a painting. I don't paint an image in one sitting; it's usually over a couple of weeks, two or three hours here and there. At the same time, I'm also drawing daily editorial cartoons, writing, answering emails and phone calls while working on marketing, bookkeeping, and managing the self-employment minutia.
So, I usually ballpark it and say it takes ten to twenty hours to complete a painting, depending on the subject. That doesn't include my time taking reference photos. This piece, however, took a lot longer, and I can't even begin to guess, because one morning, I painted leaves for three hours.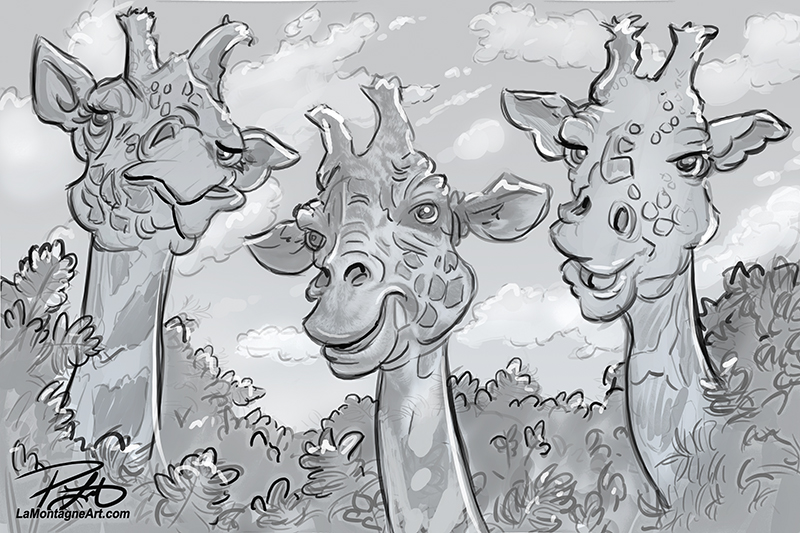 I began the project with several sketches and refined those into this mockup.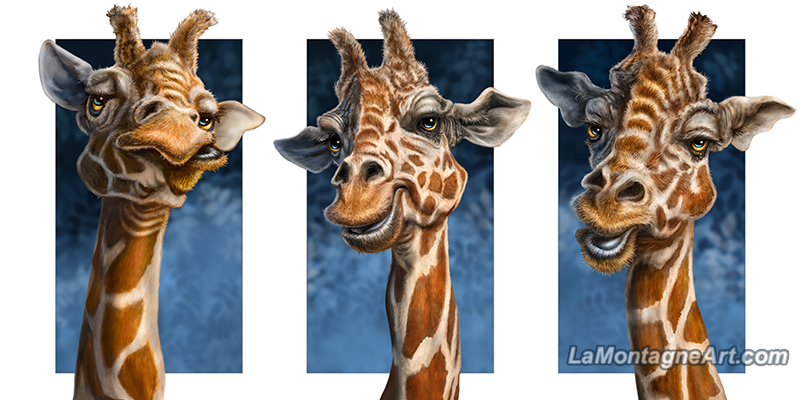 Then I painted the individual giraffes, creating three expressions different enough to be their own characters, but I still had to match the colours, light and shadow so they belonged together in the scene. Each giraffe could have been a single painting.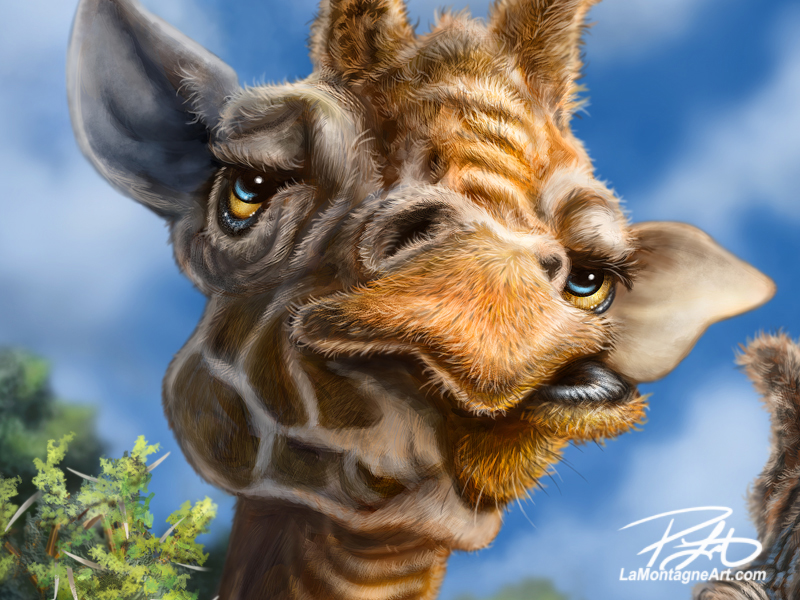 Painting the environment was the most challenging part. I could have gone with generic-looking green deciduous leaves, and most people wouldn't have cared. Even though my style of art is whimsical, and I take liberties with exaggeration and expression, I still try for accuracy in the anatomy and environment.
Just as I had looked up the appropriate trees and foliage for my recent sloth painting, I wanted to do the same for these funny-looking giraffes. It seems they'll vary their diet when needed, but giraffes prefer acacia trees when dining out on the savannah.
And wouldn't you know it, in addition to their distinctive overall look, one of the most prominent features of an acacia tree is sharp spiky thorns. I included less of them in my piece than are visible on some acacia trees as I wanted them to accent the leaves rather than overpower them.
WARNING: Here's a little tech art nerd stuff for the digital artists in the crowd.
I used to love to create brushes in Photoshop. I'd spend hours experimenting, tweaking, and adjusting brush shapes and options until I got the behaviour I was after. I've got brushes for sketching, inking, blocking, hair, texture, rocks, grass, skin, clouds, and more. Most of the brushes I use daily aren't complicated because it's not the brush that does the work; it's the person using it.
It's no different than a traditional painter, woodworker, sculptor or other skilled creative. They all need good tools to allow them to create their best work.
The hair brushes I use today are ones I designed several years ago. What varies is how I use them, depending on the critter I'm painting. But because I've perfected the ones I use most and rarely need to change them, I seldom design brushes anymore.
For this painting, however, I wanted to design three new brushes for the foliage. I created one for the branches and painted those in as a base. Then I designed several variations of acacia leaves and experimented with the brush settings to get the desired results. I realized quickly, however, that I only needed one and used that for most of the painting, adjusting the size as required.
Finally, I created a thorn brush. I set it for random rotation and spacing and erased single thorns as needed if they didn't look right.
In the image below, the top row shows the brush design for each, the bottom row shows how the settings allow me to use it.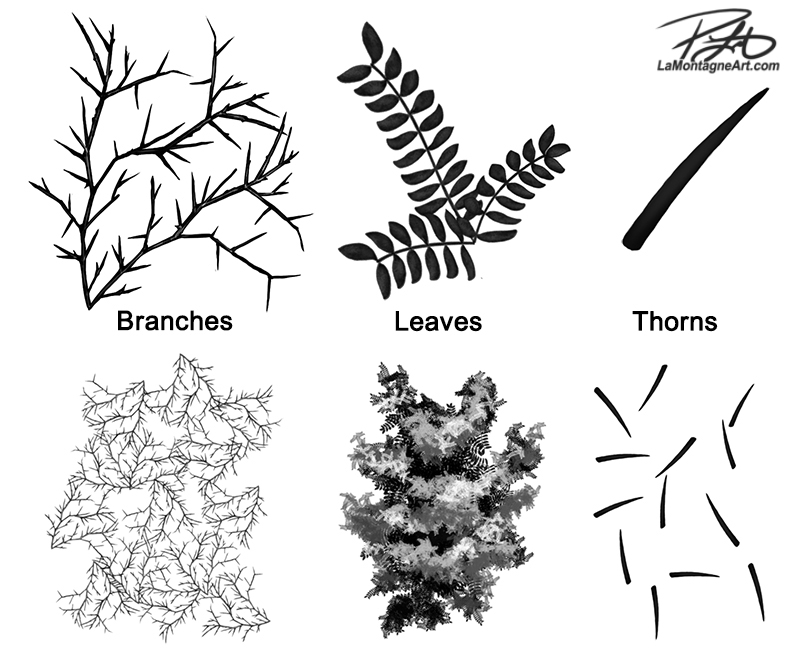 I don't use any colour dynamics in my brushes. I prefer to pick and choose colour while painting, sampling from adjacent colours to get a better blend.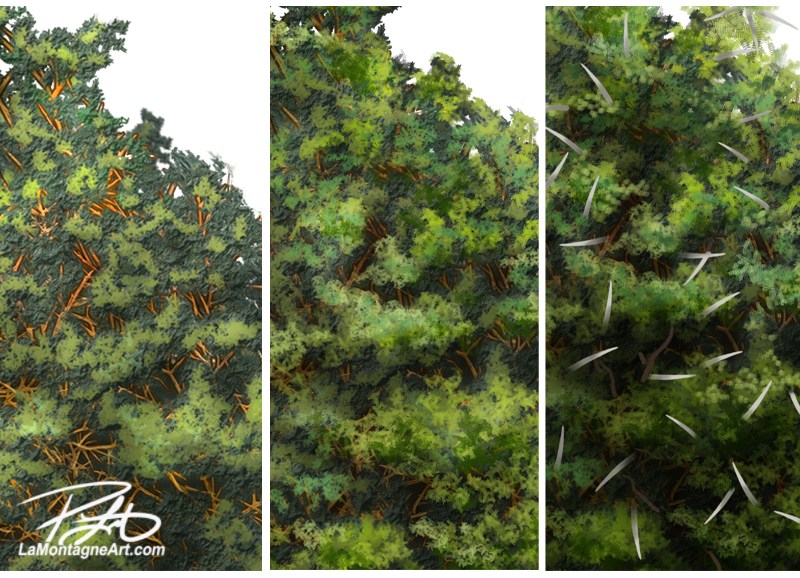 These new brushes allowed me to create a solid foundation, but it looked flat and lifeless until I spent several hours painting light, shadow, and detail to achieve the finished result.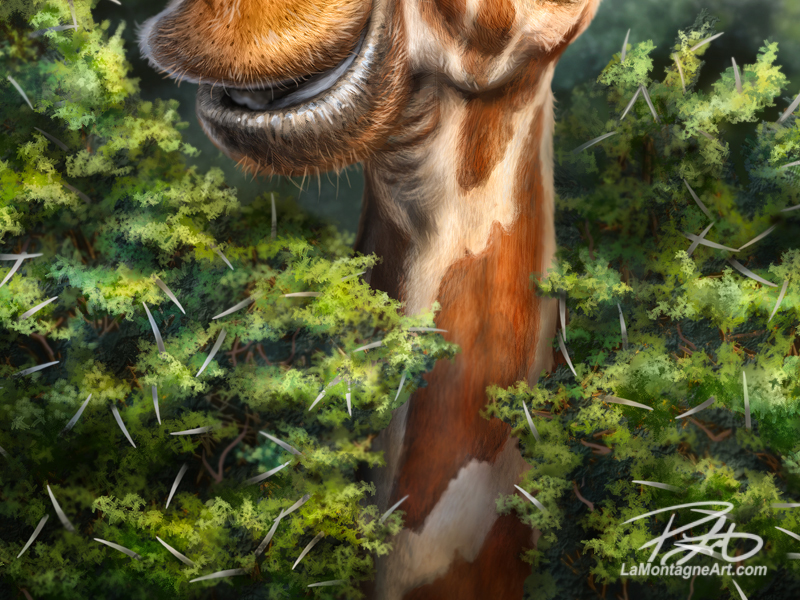 New digital artists often get obsessed with buying brush packs, thinking that's all they need to achieve the same look as more experienced artists. But professional tools won't provide a shortcut past the years of work it takes to become good at anything.
That's like thinking you're ready for a National Geographic assignment just because you bought an expensive camera.
I decline to share my brushes and advise people to learn to make their own. The best way to learn how to use them is to learn to design them. I had forgotten how much I used to enjoy that until I created new ones for this painting.
Because this painting took so much longer than most others I've done, more than once I felt like I was running behind and not working fast enough. It was hard to slow down and accept there was no rush.
I blame the daily editorial cartoon deadlines for that state of mind. I can never take too long on a cartoon, or I miss the opportunity to have it published, which means I don't get paid. Depending on the popularity of each image on prints and licensed products, the payment for a painting often spans several years, and it's easy to forget that. I always feel that I need to get it done so I can start on the next one.
But I'm pleased with this finished piece and glad I spent so much time on it. It feels like a step forward in my work, and I want to invest more time in painting more involved pieces like this one.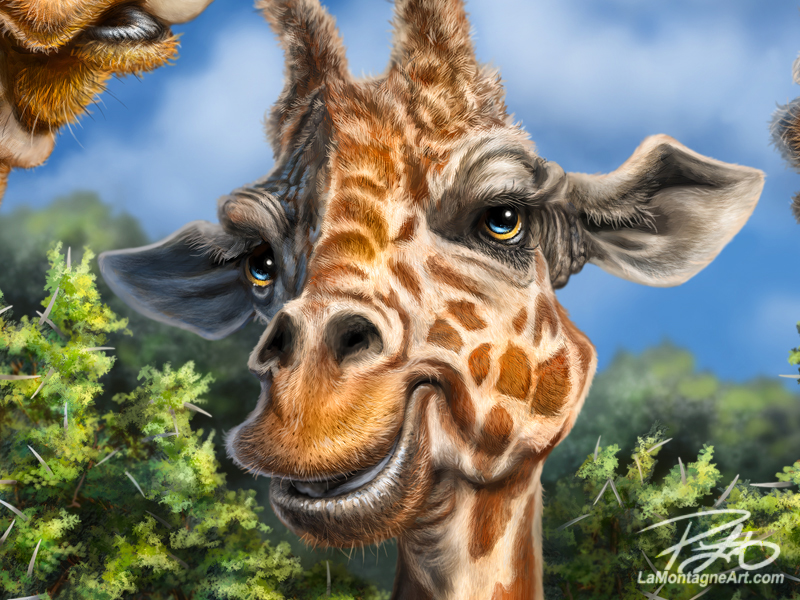 While I called it Long Neck Buds, someone could easily interpret them as two parents and a child. People often tell me what one of my paintings is 'thinking' or what their expression means, and I wouldn't dream of contradicting them. If the art makes them feel something or triggers their imagination, that's good enough for me.
Cheers,
Patrick
P.S. A special thanks to my buddy, Derek Turcotte. I sent this to him near completion and asked for his critique. He'll send me work-in-progress shots from time to time with the same request. It's so helpful to have another professional artist look at a piece with fresh eyes, and offer advice to help make a painting better, especially when it's asked for and answered without ego.
When you stare at a piece for hours, days, and weeks, it's easy to miss something. I had initially painted too much contrast in the clouds, which distracted from the foreground detail. Once Derek mentioned it, and I made the changes, it was suddenly so obvious he was right.