Wacom just released a new entry level tablet, the Bamboo Splash, and I had an opportunity to put it through its paces.
The Bamboo Splash tablet is designed for the amateur or beginner digital artist.  It's perfect for kids and teenagers, allowing them to experiment with digital art without having to spend a bundle to do so. Best of all, even though it lacks the bells and whistles of the more advanced tablets, it doesn't sacrifice much in performance.
As I draw syndicated editorial cartoons almost every day, I wanted to see if I could still get real work done using the Bamboo Splash, rather than with the medium sized Intuos5 that I use every day.
The Wacom Intuos5 is a professional tablet.  With the programmable Express Keys, the Touch Ring, high end pen, and the onscreen customizable features, not to mention the larger size, it's unfair to compare the two tablets as they are designed for different skill levels.  As I've been doing this for a living for many years, I'll admit that the Bamboo Splash isn't tablet enough for my daily needs, but then again, it isn't meant for me.
The Bamboo Splash tablet was simple to set up.  Plug it in; install the drivers from the CD, restart the computer and it was working flawlessly.  Visiting the preferences utility, I found that very little aside from 'Tip Feel' was changeable.  For a beginner, that's ideal.  It's ready to go, out of the box, nothing confusing.
Put simply, it's a great device.  The Bamboo Splash has 1,024 levels of pressure sensitivity, which is plenty.  While a number of people may wonder about the size, your mind figures it out fast.  I work on a larger tablet every day, mapped to two screens.  I keep all of my Photoshop tools on one screen and draw on the other.  That means I'm really only using half the tablet for drawing.
When using the Bamboo Splash, I didn't change my screen mapping, so I was only drawing on half of the smaller tablet, too.  After a few minutes, I didn't even think about it.  My mind just figured out that brush and pen strokes required less movement.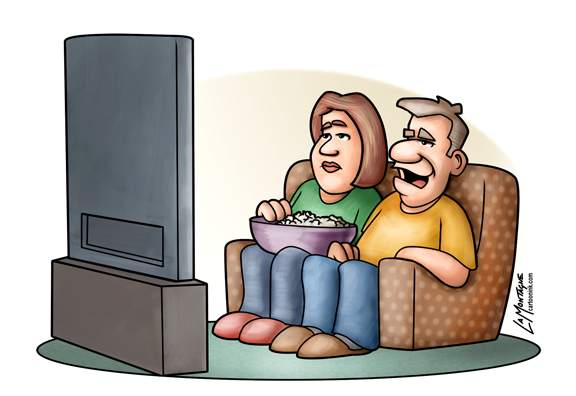 This cartoon (with the political commentary left out) was drawn and painted entirely with the Bamboo Splash in Photoshop and it worked very well.  While I did keep reaching for the Express Keys and Touch Ring of the Intuos5 out of habit, once I got used to their absence and reverted to using keyboard shortcuts or drop down menus in Photoshop, I was able to work smoothly and still got my cartoon out to my newspapers on time.
Trying to draw with a mouse is an exercise in futility.  You really do need a Wacom tablet to draw with a computer.  While the Intuos5 tablets and Cintiq devices will represent more of a financial investment, you're not risking too much with the Bamboo Splash.  The tablet comes in at well under $100.  Best of all, it comes with two very nice pieces of creative software.  One is Autodesk's Sketchbook Pro and the other is ArtRage Studio.

I spent some time with ArtRage, and it was very enjoyable to use. While it's not designed to be a professional illustration and painting tool like Photoshop or Painter, it offers a lot to anybody wanting to try their hand at digital art.  With pencils, crayons, chalk, oils, watercolors and a number of other tools, there's very little to limit your creativity.  It even supports layers and blend modes, and has a number of other fun tools and settings to mess around with.
Pairing ArtRage Studio with the Bamboo Splash was a great idea, because they're both designed to allow you to create digital art, without a steep learning curve.  You can start working with both right away and if you're like me, preferring to figure it out as you go along, you'll be able to get pretty far without having to look through the manual.
When you do want more info, the ArtRage website has plenty of tutorials.  You can also upgrade the software to ArtRage Studio Pro and they have iPhone and iPad drawing apps as well.  If you do want to try out the mobile apps, I'd recommend the Wacom Bamboo Stylus as a drawing device to go with them.
Here's a video I recorded for Wacom's 'See What You Can Do' campaign, designed to share a little bit of my thoughts on digital painting, and to show some of the drawing and painting tools available in ArtRage Studio.