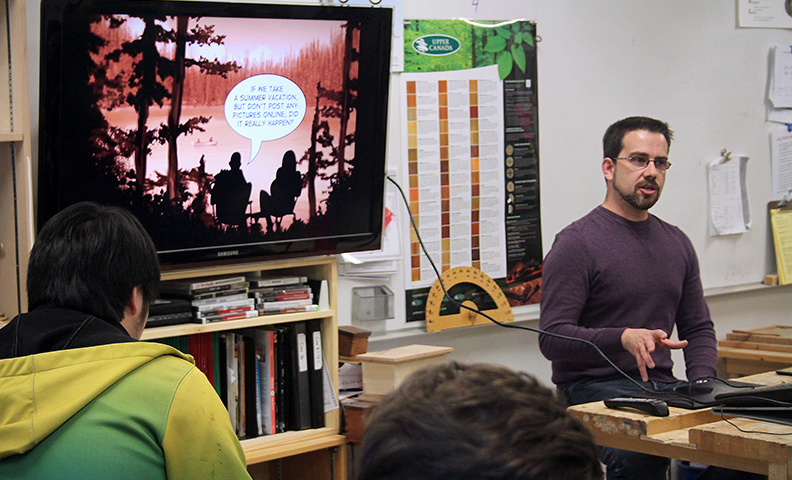 A couple of weeks ago, I was asked by the Banff Community High School to speak to their digital media and art classes about the type of work I do.
In the past, these presentations have been more about editorial cartooning, especially when students are studying politics and current events. It provides a window into the difference between journalism and opinion, satire and commentary. There is value there, and I think those talks are important, too, but my passion lies with the other artwork I do, so I was really looking forward to this one, as it was about the art, not the politics.  To paraphrase the teacher who contacted me, it was basically an opportunity for students to be exposed to yet another creative medium of expression, one they might not have considered.
I've had plenty of folks give me a leg up in my relatively short career as an artist and whenever an opportunity like this comes up, I realize it's my responsibility to pay that forward.  So, if I've got the time, I'm happy to help if I can.
I was scheduled to do two presentations to two different age groups. A slide show of my work, a little background on how I got into it, the type of work I do, plus a glimpse into how the actual drawing and painting is done.
In the back and forth emails leading up to the presentations, I became aware that the Banff Community High School didn't yet have any drawing tablets. School budgets being what they are, students often don't get all that we would like them to have. I thought that showing them how to draw and paint digitally and then denying them the means to do so would be a little cruel on my part. Hey, look at this delicious candy I'm eating…you can't have any.
Over the past decade, I've been fortunate to have made some valuable contacts in this industry, and some even better friends. While I've used their products since 1997, it wasn't until 2010 that I started getting to know a few people at Wacom quite well. Over the past four years, I've done webinars, tutorials and hangouts with them; written blog posts, recorded videos, done demos at their booth at Photoshop World, and even ran a booth on my own for them in Calgary at a Kelby Training Seminar. I'd hardly want to give the impression that this relationship is one-sided , however, so without getting into specifics, let's just say that Wacom has been very good to me in return. It's a very symbiotic relationship.
Needless to say, I'm lucky to call a few of them friends. With that in mind, without shame, I requested a discount on a couple of tablets, so that I could give them to the school. I figured I could afford it and two tablets are much better than none.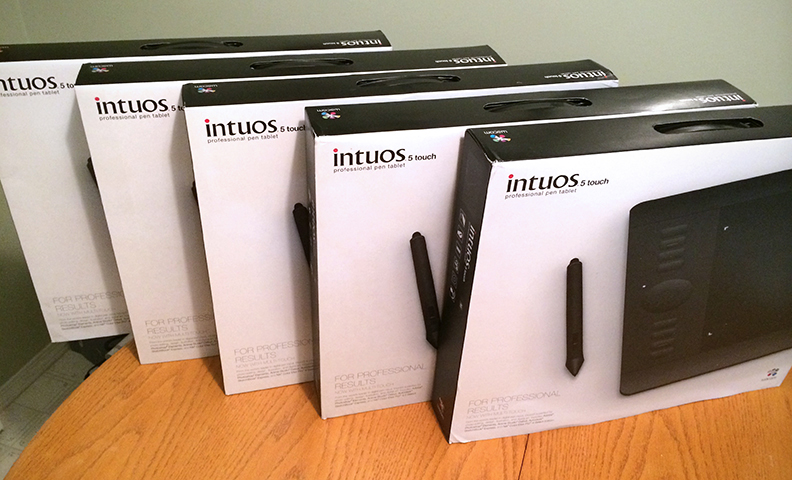 Much to my delight, my friend (who is choosing to remain anonymous, dammit!) donated five Intuos 5 Medium tablets to the school, free of charge. For those unfamiliar with these devices, I could do all of the work I do on one of these tablets. These kids aren't being asked to settle for inferior hardware, mostly because in my experience, Wacom doesn't make inferior hardware. While I'm currently using their 13HD and 24HD displays (seen on screen in photo below), I have had an Intuos 5 Medium tablet for quite a while and if you went to my portfolio, a lot of it has been done with that device.
I was pretty thrilled at the donation, and it would have been more than enough.
But then I realized that because they don't yet have the Adobe CC software, the students had something to draw and paint on, now they needed a program to do it with. Lately, I've been using Autodesk Sketchbook quite a bit and thoroughly enjoying it. Their app for iPhone and iPad are the best I've seen for mobile art and those are only outshone by their desktop version. I've been doing a lot of sketching for my editorial cartoons with that lately, so I knew the students would benefit from it.
Even though I haven't had a long relationship with Autodesk, Wacom works closely with them and had recently introduced me to some of the folks in charge, a direct result of the work I've been doing with their software. Since I was already on a roll, I sent an email to their Product Marketing Manager, told him about Wacom's generosity with the tablets and asked if I could get some licenses for software to go with them. He simply asked how many I needed, and then made it happen.
Then, while mentioning all of this privately to an industry author friend of mine, (who also wants to remain anonymous), he asked if they could use any books. I told him they couldn't be software specific as they'd be wasted if the students didn't have those tools. So he asked his publisher Peachpit what they could do and sure enough they donated half a dozen books on design and photography, titles that the students will benefit from no matter what software they're using.
While bragging about this on my Facebook page, a few people made references to these being great Christmas presents and ironic that this here often-Scrooge gets to play Santa. In truth, it really is just a coincidence of timing that I was asked to speak to the students this close to Christmas. I've no doubt that had I asked these wonderful folks for their assistance in September, they would have come through in the same fashion. I've made a point of thanking all of these people individually, and I know the school has as well.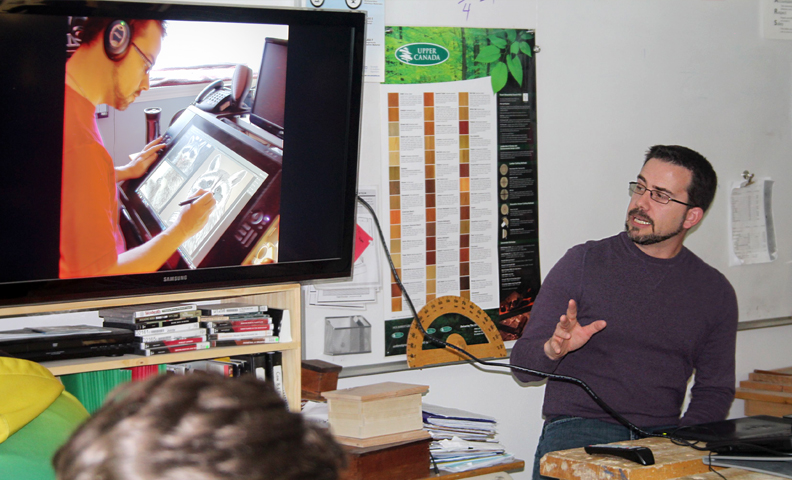 But, I wanted to write about it for a couple of reasons. One, these companies and people deserve a little positive PR for helping out, even though that isn't why any of them did it. Trust me on that.
Secondly, I would encourage you to consider how easy it is to give of your time and resources, no matter what it is that you do. You can't always say yes to these requests, and over the years, I've had to decline these presentations almost as often as I've accepted them. Everybody has obligations and responsibilities, we're all busy, we can't give as often as we'd like. But it sure feels good when you can.
I would also encourage you to realize that when you need somebody's help, especially to benefit someone else, don't be afraid to ask. You'd be surprised how often people will say Yes when you need them to give a little, especially when it involves kids and education. If they say No, that's OK, too, and don't hold it against them.
It's true that I was the one who got to stand up at the front of the room to reveal all of these great gifts from perfect strangers on Tuesday, and I got to do it twice.  I wanted you to know that I was just the messenger. The real thanks go to my friends and colleagues, the ones who said Yes when they were granted an opportunity to give to complete strangers.
Thanks again, folks. You know who you are.