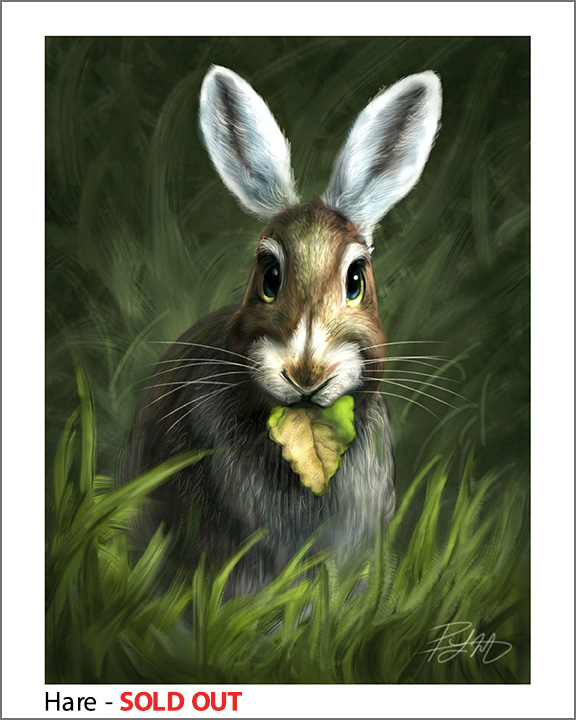 Anybody who has ever run their own business knows that it's all one experiment after another.  In this day and age, our attention spans are shorter than ever so if you're in the business of sales, you need to be looking for new ideas of promotion and catching people's attention.
As an artist, the best way to do that is to continually produce new work.  It keeps you in the collective short term memory of those who have found it worthwhile to follow you.  The last thing an artist wants anybody to say about them is, "hey, whatever happened to that LaMontagne guy?"
While it's true that I produce new editorial cartoons almost every day, many of the people who follow me on social media and my site are interested in my painted work, so it's important that I keep them coming back.  It's not enough to tell somebody where to find me; I've got to make sure I make it worth their time to do so.
My Totem and commission paintings take a great deal of my time to complete, mostly because I have other work to do at the same time, like those editorial cartoons I mentioned.  There can be weeks and sometimes (much to my horror) months in between finished full detail paintings.  That's a lifetime in the online world.  While I'll often post work-in-progress images during the process, I can't always do that, especially if I'm working on a commission.  Ruining your client's surprise gift is bad for business.
To improve my painting skills, satisfy my desire to work on new things and to keep that new work flowing, I started doing what I call 'sketch paintings' a while ago.  Some have taken exception to that title because they're really not sketches and I'll concede that.  I call them that because in my mind, they're not finished pieces, meaning that they don't contain the meticulous obsessive detail of my other work.
I've recently realized that people don't care and it does me no good to disagree with them when they say they like a sketch painting as is.  That's always good for business…tell your customers they're wrong.  I'm a slow learner sometimes, but at least I eventually get there.
A number of people have asked about prints of the sketch paintings and I've declined to offer them because the work isn't finished.  Again, somebody wants to give me money for my work and I've been telling them no.  This Canadian cartoon guy isn't too bright.
So, in order to correct my error, I decided to order up of a small selection of sketch paintings and offer them up for sale.  They're giclée professional quality prints, same paper and printing as my matted prints, but without the mat, bio, or clear sleeve.  An 8"X10" print, which includes a ½ inch white border and each is hand-signed.  They're $15 each + shipping, which will be minimal because the print fits into a standard business envelope between two pieces of cardboard for protection.
This time around, only four of each was available, so it was first come, first served and newsletter subscribers had 24 hours to order before I posted the offer here.  As a result some of the images below are already sold out and there are only one or two of the others available at the time I posted this.  As they sell out, I'll update this post to reflect that.  I already consider this a success as some sold out quickly and a few early responders still didn't get the ones they wanted, so I will do this again.  Newsletter subscribers will still get first crack at them, so if you haven't subscribed and want a shot at any future prints of this nature, I would encourage you to sign up at this link.
To order any of the available images below, send me an email to lamontagne@nullcartoonink.com with your mailing address and indicate whether or not you'd like me to send you a Paypal invoice or want to pay by Interac e-transfer. You can order as many as you'd like, while supplies last.