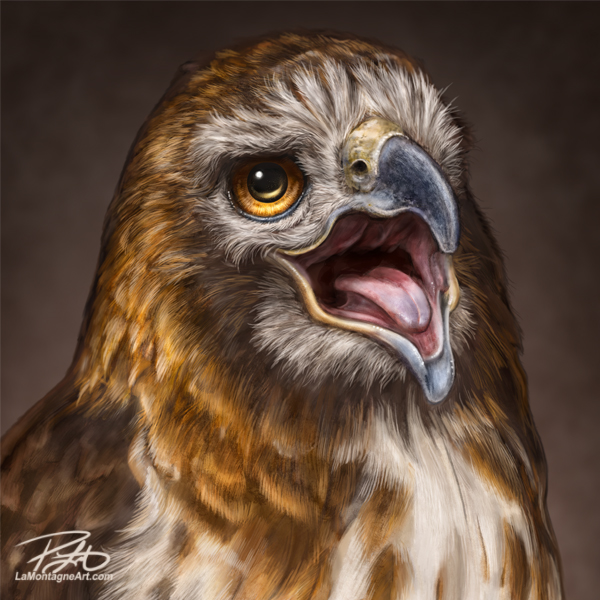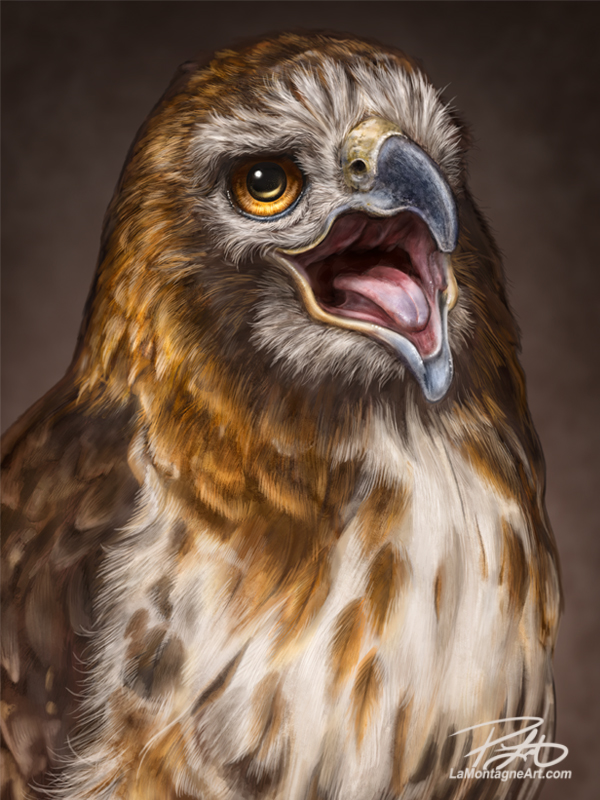 I've wanted to paint a Red-tailed Hawk for quite some time but could never seem to find the right reference. Though a common bird, my sightings in the wild have often been a comedy of bad timing.
If I happen to be out with my camera, I'll see one flying high but never stationary. I can pass three or four of them sitting on fenceposts alongside the highway, with nowhere to pull over if I'm driving.
The shots I took on that first visit to the Alberta Birds of Prey Centre a few years ago didn't provide what I needed. It was a rainy weekend, and even though I took plenty of photos, the Red-tailed hawk still eluded me.
So, when I drove down to Coaldale to visit the Centre in August, I was on a mission to finally get some reference for this piece. Sorting the photos, I realized there were many possibilities.
I started this painting just over a week ago and was surprised at how quickly it came together.
I asked Shonna's opinion this morning in the piece's final moments, and she said that it's not her favourite pose. She has always been my harshest critic, which is a double-edged sword. On the one hand, she can often spot problems I've failed to notice, minor changes that might help the likeness, especially in my portraits of people.
On the other hand, it's a bit of a kick in the crotch when she's blasé about a painting. If you think that harsh, I know of many artists, writers, photographers, and other creative types whose spouses and partners are not big fans of their work. It's probably a good thing.
A couple of my most popular paintings, consistent sellers that people seem to love, are not my own personal favourites. No, I'm not going to tell you which ones, as I wouldn't want to take the shine off a piece you might like or love.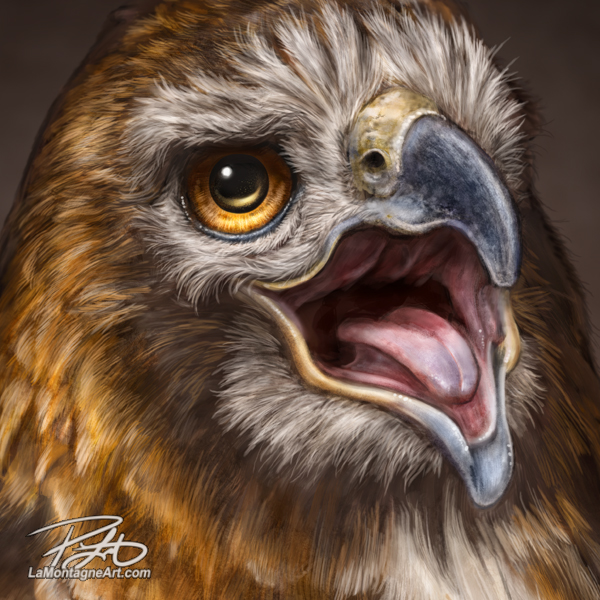 Not every creation is destined for print. Just as there are paintings I didn't anticipate reaching best-seller status, there are ones for which I have high hopes that wither on the vine of public opinion. I just paint my funny-looking animals, do the best job I can with the creative tools I've got, and release them into the wild.
Where they go after that is out of my control.
Now that I've got plenty of reference, with more to take on future visits to Coaldale, I'll no doubt paint another Red-tailed Hawk in the future. I like most of my paintings while I'm creating them, and for about five minutes after each is finished, but I'm always eager to move on to the next one.