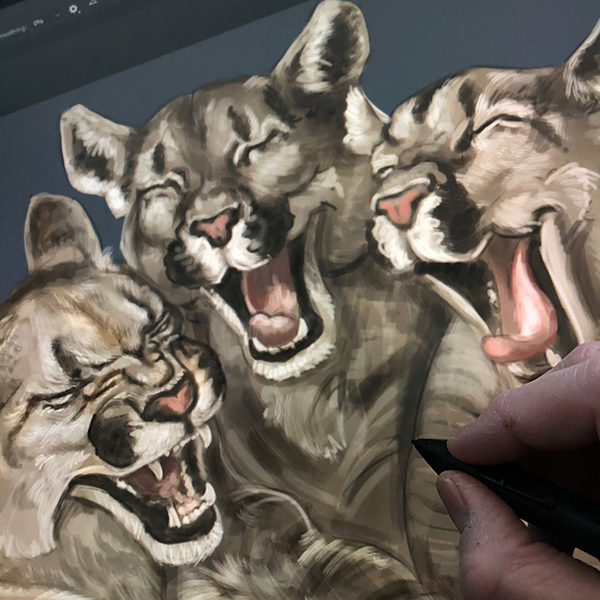 The following was part of this week's newsletter, sent Wednesday 11/13/19. While I write blog posts and newsletters on a fairly regular basis, a lot of what I write in the newsletter is only seen by subscribers, along with some photos, sketches and works in progress. If you'd like to sign up, here's the link. Enjoy!
In addition to listening to podcasts and music while I work, I've always got an audio book on the go.
The one I'm listening to right now is quite fascinating. I told Shonna this morning that it might be one of the best books I've ever read (listened to) on why we do the things we do, even when it is against our own best interests.
This book focuses on business, but not the 'rock me to sleep' boring facts and figures type stuff. Anybody who has ever wondered why things aren't working out the way they thought or hoped, would benefit from this book. It's replete with examples of corporate executives, politicians and world leaders who have consistently failed in their roles due to finite thinking. Conversely, there are some surprising examples of leaders who went against the grain, defied convention, and made positive changes while everybody was telling them that they were crazy.
The book is called 'The Infinite Game' by Simon Sinek.
One of the things he has been quoted as saying in the past is "People don't buy what you do, they buy why you do it."
Now at first glance that might seem like one of those pithy little sayings that somebody slaps on a meme and shares on Twitter, but in the week or so since I've heard the phrase, it's been occupying a lot of my thoughts. I even went so far as to write it on a post-it note and stuck it to the bottom corner of my Cintiq display.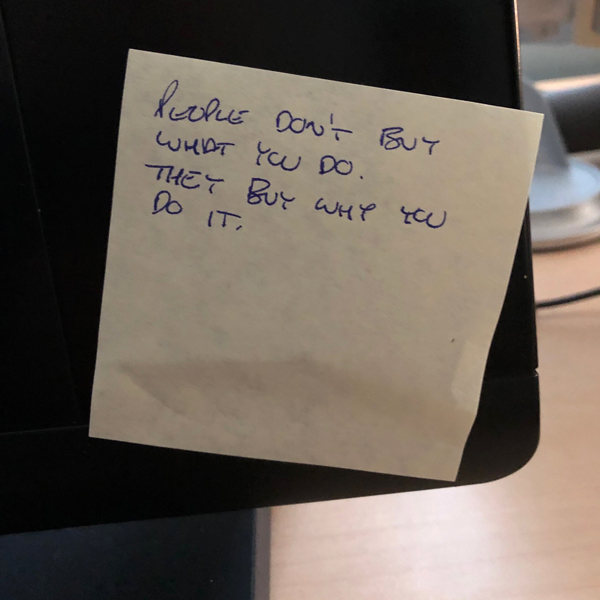 It feels like a mystery to be solved, because I can't really say why I do what I do, but I feel I should know.
There are plenty of professions that are much easier and pay more than being a self-employed artist. If it was just about the money, I'd be foolish not to do something else.
Editorial cartooning, if I'm being honest, I just do that for the money. Sure, I still get to draw and be creative with it, I'm engaged in daily critical thinking, practicing and improving my art skills, but as I've talked about (far too often) in the past, following politics and bleeding-leads every day for twenty years begins to do long-term damage to a person's soul.
I show up for that work every morning, put my ass in the chair, draw a cartoon or two and make sure my clients are supplied with what I've promised. Editorial cartooning is my day job.
It's no secret that newspapers are struggling and have seen their best days so the fact that this profession still manages to pay a large chunk of my bills is surprising, but I'm under no illusion that it will still be doing so in ten years. Then again, I said the same thing ten years ago, so what do I know?
Each year prior to this has financially been better than the year before. That is, until this year.
At the risk of breaking the unwritten rule of self-employment, to always shout that everything is peachy and amazing and frickin fantastic (!!!), I'm experiencing my first down year, enough to make me more than a little nervous.
Why would I share this? My editors might read this, not to mention my competitors. Why would I point out the blood in the water?
Because I get really tired of the bullshit we feed each other, pretending we've got it all figured out when almost none of us do. I know you're lying about your picture perfect curated Facebook life, you know I'm lying about mine and we're all just pretending to go along with each other's fabrications.
I've talked to a LOT of people who are having a tough time this year, business owner friends who are freaking out about the red in their books, but that's only shared in whispered one-on-one conversations lest anybody finds out. The economy is down, people are scared and when that happens, they spend less money, which affects everybody.
As one of my editors said in a candid conversation yesterday, expecting to have nothing but good years, in business and in life, is incredibly naïve. Shit's gonna happen and if you can step back and take a long look at it, it might be the required catalyst for positive change that wouldn't have happened if everything stayed the same.
I began painting my whimsical wildlife portraits ten years ago, not knowing at the time that it would be the next transition in my career. It's the work I love doing most and if there's an answer to the question, "Why do I do what I do?", it's hidden in those brushstrokes.
The happy accident of all this, however, is that the revenue from licensing this work and selling prints has been increasing year after year, and this year, thanks to companies like Pacific Music and Art, Harlequin Nature Graphics and Art Licensing International, I'm seeing the largest year of growth in that part of my business. So the seeds I planted ten years ago are bearing more fruit.
But it's hard to see that as all positive when the cartoon revenue that has sustained me well for so many years is experiencing a decline. That's human nature, and generates all sorts of negative cognitive distortions. Change is always hard, but inevitable.
While working on my local cartoon for the Rocky Mountain Outlook, having already sent out today's syndicated cartoon, looking forward to working on my current animal painting this morning, I got that familiar anxious feeling, worrying about income.
"Maybe I should get another cartoon done for today instead of painting, just to try and make a little more money. I can always paint tomorrow."
But clearly Sinek's book is sinking in, because I thought, "this is finite thinking, focusing on the quarterly profit numbers, at the expense of the long game."
If I keep putting off painting, then no painting gets done. The work I enjoy most that is laying the foundation for the future of my career, is being set aside for the short term revenue that is unlikely to be paying the same portion of my bills a decade from now.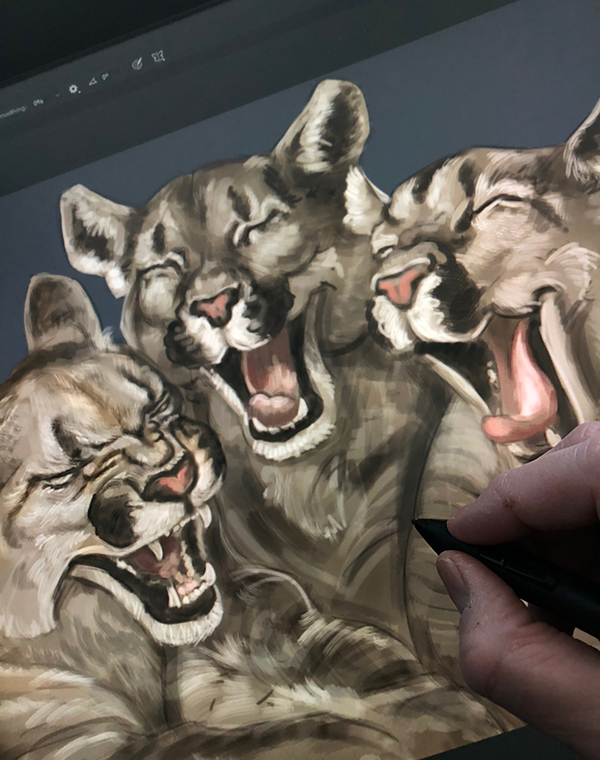 Focusing on the big picture, I decided to paint instead and made some nice progress. It took me about a half hour to really get into today's session, to quiet the fearful voice in my head, but it was eventually drowned out by the music in the earbuds and the good feelings of painting three happy cougar cubs. Still a long way to go on this, but I can see the finished image in my mind.
Just as the sixty plus whimsical wildlife images I've painted during the past ten years are generating income for me now, this painting will do the same later. I just need to stay focused on playing the infinite game.
Cheers,
Patrick
@LaMontagneArt
If you'd like to receive my newsletter which features blog posts, new paintings and editorial cartoons, follow this link to the sign up form.