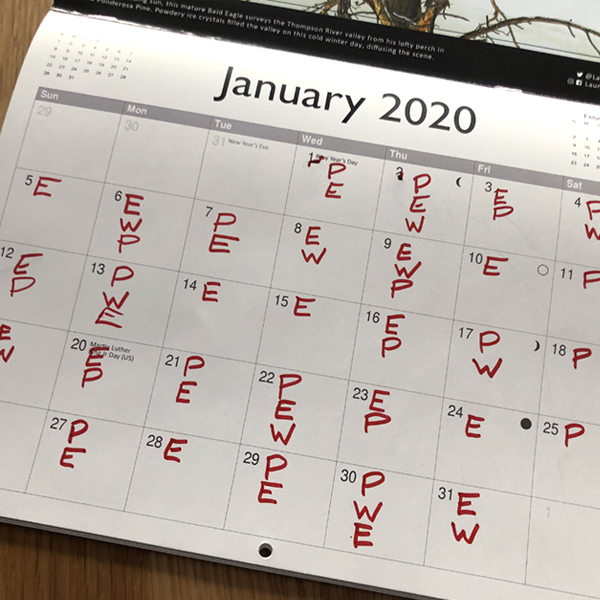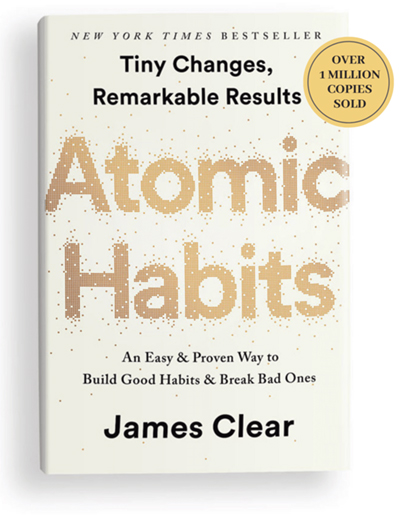 The timing of this post might seem like a New Year's resolution update, but that's a coincidence. Shonna recently recommended this book she'd found interesting, but had she done so in August, I would have tried these changes then.
Atomic Habits is a New York Times bestseller by James Clear. While I've read my share of self-help and pseudoscience over the years, often with more than a grain of salt, I was willing to give this a shot. It didn't seem like the usual positive-thinking-will-solve-all-of-your-problems tripe.
I wasn't a fan of the title, but it wasn't long before Clear explained the reason for it by calling out the definition. Atomic, meaning powerful but also tiny. The premise of the book is that small changes yield big results, building good habits and breaking bad ones.
Full of practical perspectives within, two strategies caught my attention.
The first is something Clear calls habit-stacking. We all have habits we do every day, from our morning rituals to how we accomplish routine procedures at work. These are behaviours we do to be more efficient with everyday tasks. Habits, when appropriately used, add some automation to our day, freeing up our brainpower for more interesting things.
Habit stacking involves adding onto an existing habit or series of habits, making the new behaviour easier to adopt. In my case, I've been trying to make time for meditation every morning. I've been unsuccessful at keeping a regular practice over the years because I could never find the time.
In the fall, I took an eight-week course on Cognitive Behavioral Therapy combined with Mindfulness Meditation, which I found well worth my time. I've been meditating ever since but found it easy to skip a day here, two days there and hadn't yet found my groove, despite my best intentions.
After reading Atomic Habits, I realized I just had to add it to my existing routine. In the mornings, I get up at 5, turn on my computer, go downstairs, start the coffee, have a shower, get dressed, go back downstairs, do a series of push-ups and sit-ups, grab my coffee and back up to my office to start work.
Over the past month, I now meditate for 15 minutes, after the sit-ups, before grabbing my coffee. I've inserted it into my usual routine, and it's ridiculous how easy it was to do because it's not something for which I need to find the time. It's now just part of how I start my day.
As an aside, if you're unfamiliar with mindfulness meditation, suspend your preconceived notions about lotus positions, chanting like a monk and becoming one with the universe. The practice is about being present in the moment. Most of us are victims of endless mind chatter where we ruminate on our past mistakes or shortcomings and worry about the future, while rarely being right here, right now.
I'm not very good at it, but that's not the point. My mind still goes off on its own on dark tangents, and I have to gently bring my attention back to my breath or a chosen focus. Some days are harder than others, but I still sit there in silence for 15 minutes, and the benefits are evident. There's plenty of information online if you're curious.
The second habit-changing practice I've adopted from the book involves my office calendar. The jury is still out on whether or not this has become a good habit or bad.
At present, my revenue streams are my nationally syndicated editorial cartoons, which I work on most days but send out Monday to Friday. Then there's my painted work, which involves commissions, prints, and licensing on many different products through several different companies.
On top of those pursuits, I enjoy writing, but for many years, that's been confined to my regular blog posts and newsletters. But in recent months, I've wanted to get back into writing fiction. I wrote about this in a previous post, so I won't elaborate here.
In Atomic Habits, the author suggests that one method of adding a desirable habit is to employ a calendar.
I'll use eating healthier as an example. Each day you have a serving of fruit, you put an X on the calendar. Successive calendar marks will make you want to add more, an absence of them will motivate you to prevent further blank spaces. It's a visual representation of what you're actually doing, rather than what you think you're doing. Eventually, you just become somebody who has a habit of eating fruit.
You can use this for reading, playing an instrument, going for a walk, stretching or adding any good habit to your life. Consequently, you can use the same strategy for eliminating bad habits, marking an X each day you don't perform a habit you dislike.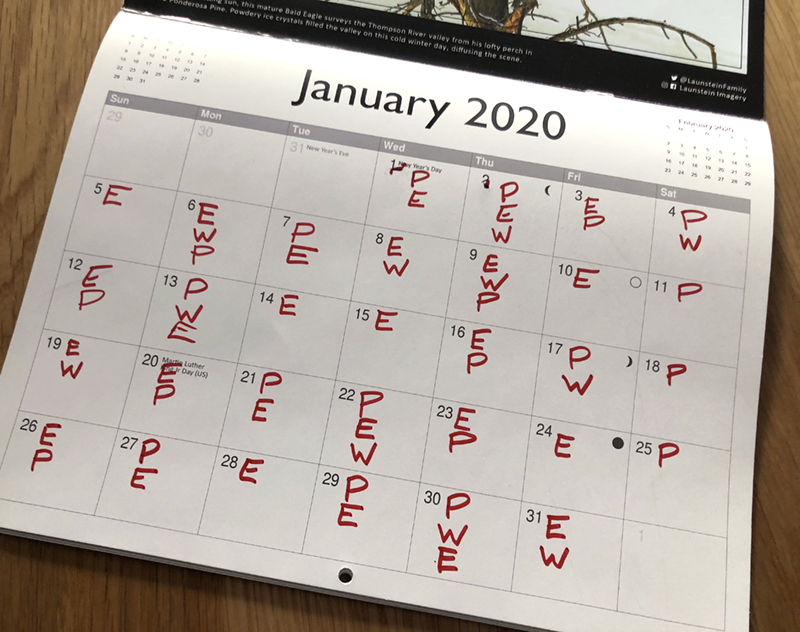 I've got three creative outlets I want to accomplish each day; Editorial cartooning, Painting and Writing. All three every day is possible, but not realistic. However, that's still my goal.
Adding writing into an already busy schedule, I knew that was going to be tough, but I also knew that if I didn't, I'd suddenly be 20 years older, lamenting the road not taken.
Blog posts and newsletters count as writing, so if I wrote something like this post, I got to add a W to that day. But if I only wrote a sentence or two, I wouldn't, since I'd only be fooling myself.
Having done this all month, I looked at all of the red letters on the calendar for this month and had mixed feelings.
Clearly the editorial cartoons are where the bulk of my creative time is spent, followed by painting, which makes sense since that's how I earn my living.
As intended, I'm writing fiction again, something I haven't done in twenty years. I'm quite a few thousand words into a story that I'm enjoying, even though I have no idea where it's headed. Without this calendar practice, I believe I'd still be wishing I'd started, just as I have for years.
As I recently heard in a book or podcast, "Writing isn't hard. Putting your ass in the chair to start writing is hard."
There were days this month when I wanted to write, but life got in the way. Shonna's car battery died during a brutal cold snap, -30C and below for more than a week, which took two days of problem-solving, trips to Canadian Tire, and serving as her taxi. Now, I work at home, have the most flexible schedule and I was happy to take care of that stuff. OK, happy isn't the right word, but I certainly didn't blame her for the inconvenience, especially since my car was warm and comfortable in the garage.
Add to that all of the other daily stuff that comes with life, year-end bookkeeping, tax prep, month-end invoicing, communicating with clients, all of the usual and unavoidable tasks.
The most startling revelation in this whole experiment, however, was that there isn't a day off on this calendar. Even on Saturdays, my day with the most freedom in the week, I still get up at 5 a.m. and put in 3 or 4 hours before Shonna gets up.
This might seem like humble bragging, as in look how busy the martyr is, but I'm well aware that just being busy isn't a badge of honour. If it were, we'd all get a participation medal. Everybody is busy.
No, this is indicative of a bigger problem. Anybody who has ever been self-employed knows how much work it takes, especially in the beginning. Then if you make a good go of it, it becomes less about enjoying the successes and more about hanging on to what you've got for fear of losing it.
When the inevitable losses do come, in the usual ebb and flow of life, you end up working even harder (not smarter!) to keep as tight a grip as possible. Pretty soon, you're taking little time off, are perpetually tired, grumpy, depressed, running on empty and operating from a position of fear. You spend less time with friends, and the concept of spending an entire day doing nothing feels, well…irresponsible.
Like any bad habit, it's easy to come up with excuses that sound reasonable.
Some of the greatest hits we've all said or have heard include…I'll quit smoking next month when work is less stressful. I'll start saving money next year because it's Christmas and it's too hard right now. I'll make time to exercise later when I'm not so tired. Any bad habit comes with a dump truck full of enthusiastic excuses that sound good at the time, but ultimately don't hold water.
I'm too busy to take time off. In reality, I've just forgotten how.
So while this calendar habit was supposed to be a motivating carrot on a stick, I ended up beating myself with it, and I'm disappointed. Awareness, however, is the most significant part of solving any problem, so I intend to continue using it to motivate me to write. But it will also serve double duty as a cautionary device, reminding me that having a blank day here and there is ultimately healthier than killing myself for another editorial cartoon.
The next time somebody suggests I write a children's book, get into animation, draw something for their fundraiser, or do a commission for them 'in my spare time,' however, I've got an excellent visual aid for when I respectfully decline.
I remain a work in progress, just like everybody else.
Cheers,
Patrick
© Patrick LaMontagne
@LaMontagneArt
If you'd like to receive my newsletter which features blog posts, new paintings and editorial cartoons, follow this link to the sign up form.