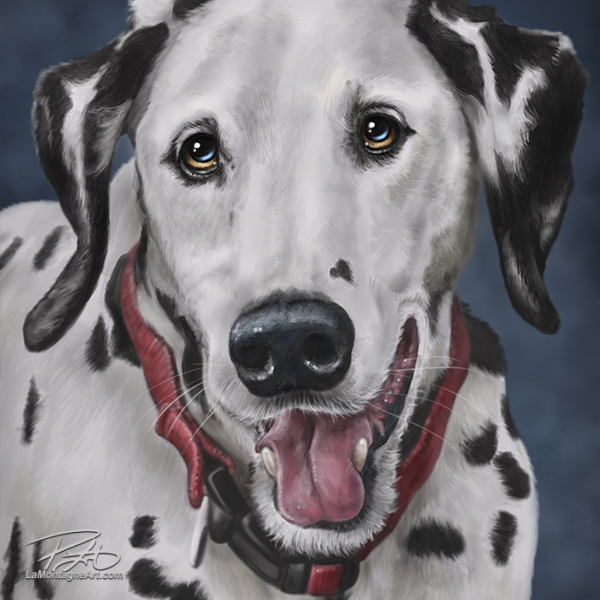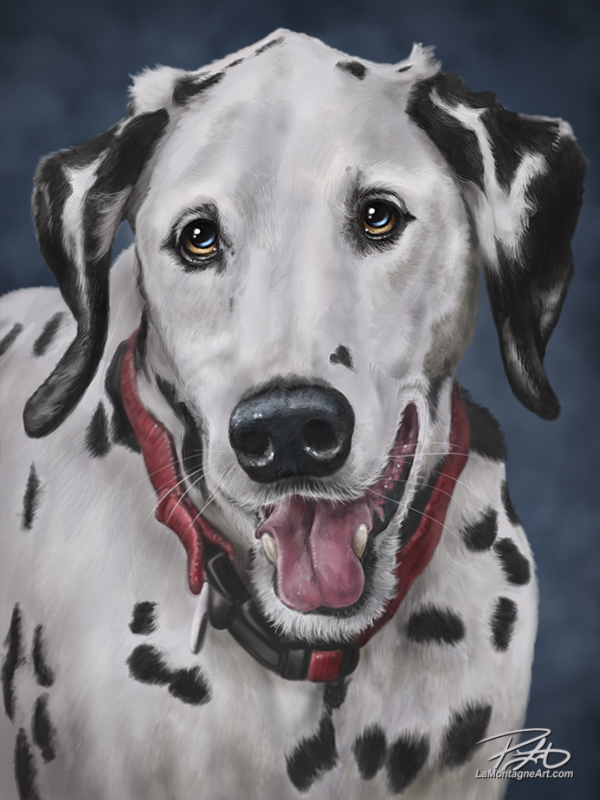 My latest commission, this is Rocky.
This is the second piece for the same client as my most recent commission post, my painting of Sammy, the Golden Retriever.
Rocky's portrait is a memorial piece, as he passed away some time ago. The very image of a firefighting dog, Rocky was the fire mascot in the World Police and Fire Games in Vancouver in 2009. He even participated in the parade and opening ceremony.
I've never painted a Dalmatian before and this was a fun piece. It was a challenge to make sure I got all of the markings in the right place, even as I exaggerated his features in my whimsical style.
When it comes to getting it right, it's not only about the features themselves, but also the relationships between the features, affecting how believable the likeness will be. This is especially important when painting people.
Black and white fur is tricky because I couldn't paint pure black or pure white. The blackest black or whitest white in a colour piece will create flat dead spots that will rob the image of its life. It's all about degrees of shading and how the light reflects in the dark and light areas. Black will often be a very dark blue, white the brightest yellow or pink.
There isn't much fur detail in a short-haired black and white dog, so it requires restraint. Too much detail and it wouldn't look right, especially if I painted the fur too sharp. It became about manipulating the depth of field, blurring out some areas and sharpening others. The personality and overall image were the focus and it was important not to have any one detail distract from that. He really does have that heart shaped feature above his nose, however, and I wanted to make sure it was evident.
This client was a joy to work with, for purely selfish reasons. Aside from some minor direction I was happy to accept, I had the freedom to paint these beautiful dogs my own way. For this painting, I asked if they wanted me to include the collar or not. I didn't include one for their other dog because he had long, luxurious hair, but I was hoping they would want it for this one. They did and said they preferred it to be red.
Considering that Rocky was a firefighter dog, it added a lot, balancing out the black and white with a splash of colour. Had they given me no direction at all, I would have made the same choices.
Because I don't know how the clients are planning to hang the canvases, I wanted them to look good on their own or together, so I made both of the backdrops blue, with Rocky's a little darker because I liked the way it looked against the subject.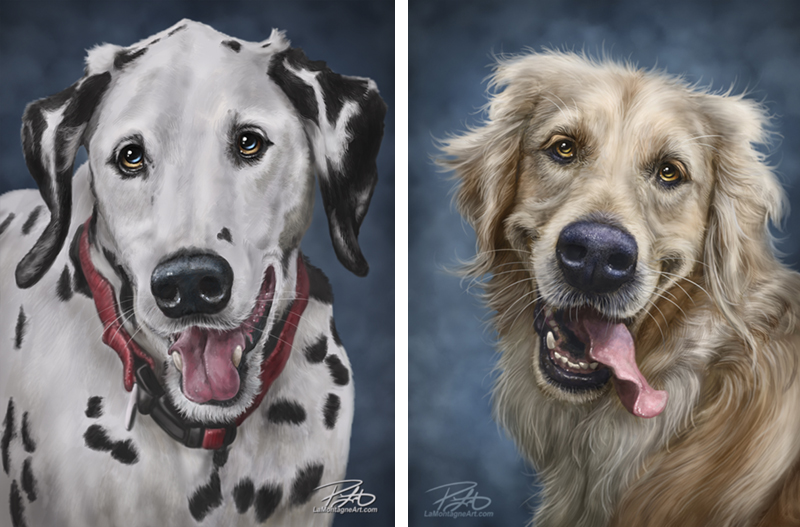 After painting whimsical wildlife and pet portrait commissions for more than ten years, I'm confident in my abilities and the skills I've developed. But each painting still presents unique challenges, and I would be disappointed if it were otherwise. Overcoming those obstacles makes for improved skills and better prepares me for the next piece, no matter what that may be.
As always, the most crucial part of any commission is the client's approval and I'm happy to report that they were pleased with both finished pieces. Next up, I'll be sending these off for printing, then shipping them to their new home in B.C.
For you tech and art people, I painted this image in Photoshop on a Wacom Cintiq 24HD display. Photos are only for reference, not used in my paintings. It's all digital brushwork.
© Patrick LaMontagne
@LaMontagneArt
If you'd like to receive my newsletter which features blog posts, new paintings and editorial cartoons, follow this link to the sign up form.