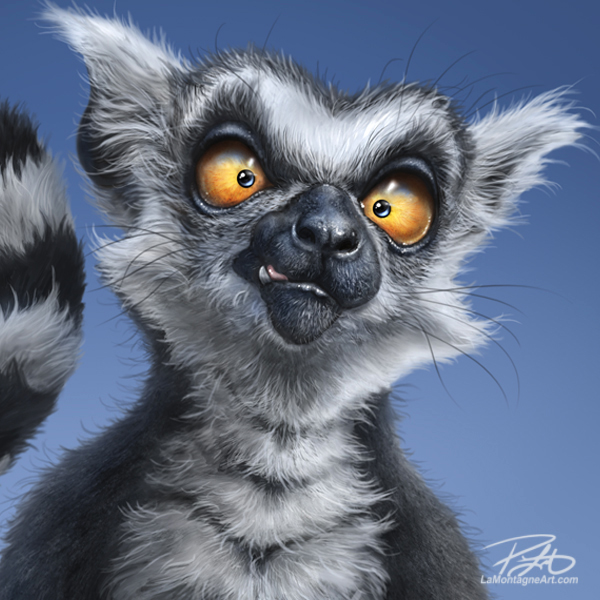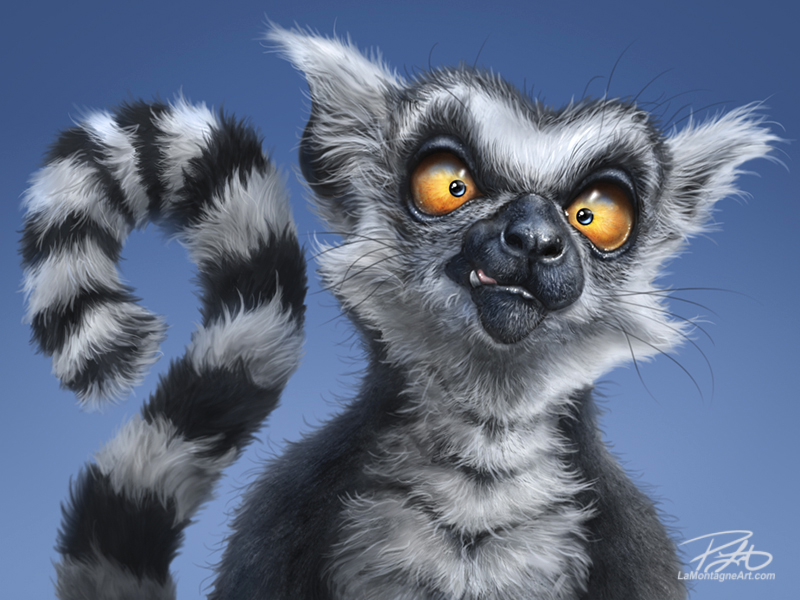 Here's a new painting, a Ring-tailed Lemur just finished this morning.
Wacom sent me their new Wacom One display to take for a test drive and to record a video for them. The video has an inspirational theme, rather than a technical one. I've written the script, recorded the video, but now I need a few days to edit all of the footage and record the audio, especially since I have my cartoon deadlines as well. It's a lot of work to take a painting that took about 15 hours and compress it into a 3 or 4 minute video so people won't get bored.
Seriously, I love painting hair and fur, but it would be effective torture to make me watch many hours of somebody else doing it.
Initially supposed to be more of a cartoony creation, I wanted to see what kind of advances Wacom had made in their display technology, so I painted with it instead. The Wacom One is being marketed as an entry-level display, but I enjoyed working with it and didn't feel hobbled at all.
I'll have a more technical evaluation post a little later, but for those of you who just like looking at my funny looking animal paintings, I'll save those details.
The Ring-tailed Lemurs at the Calgary Zoo are fun to watch, and the Land of Lemurs is an immersive experience. Their enclosure allows them to freely roam where they like and it's the people who are restricted in the center, but with no barrier. With zoo staff on hand to make sure people follow the rules, the open-air concept allows for some great photo opportunities.
I've taken many shots of these critters and plan to paint a group of them together as they like to huddle in a ball. All of the expressive faces peeking out is quite comical.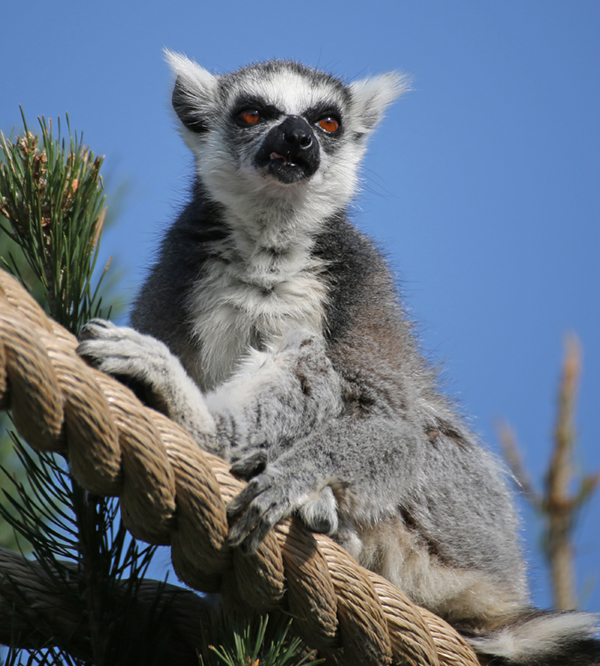 While going through my photo reference, however, I came across the image above. She's a female, as are all of the ring-tailed lemurs at the zoo (or were at the time of this photo), and I liked what I saw. I even loved the blue sky background, and saw no need to change it. I don't know if she really has a bad attitude, but part of the reason I paint the personalities I do is that I actually see that in the photo reference I take. The painting definitely looks male, however.
This was a lot of fun. I know I say that about many of my paintings, but I'd put this painting experience in the Top 3. Many of my paintings could be labelled cute, but this one borders on psychotic, which is probably why I liked it so much. Those crazy eyes suggest a critter that isn't quite all there.
As my friend Pam at Wacom said this morning on Instagram, "He looks like an evil ringleader."
So while I don't know if it's the kind of image that will be popular on a print or licensed product, some of my best images were ones I did for myself. I never expected my cantankerous Ostrich image to be popular and that one has developed a strange cult following I don't fully understand.
I worked a very long day on Sunday drawing three editorial cartoons so that I could spend all day yesterday putting the final hours in on this piece. I could have finished it last night, but I erred on the side of patience and decided to sleep on it. When I opened the image this morning, I laughed out loud. It's such a ridiculous expression.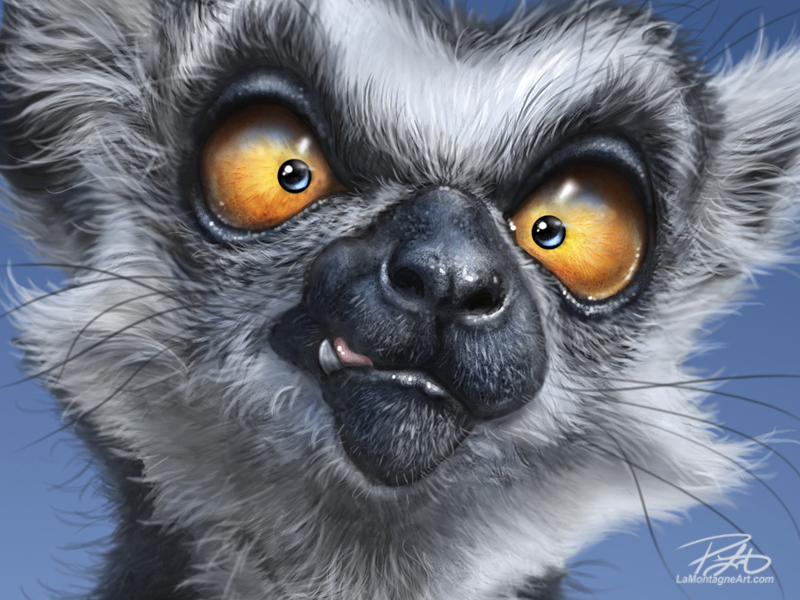 Another hour on the fine hairs, tweaks here and there, tunes cranked in the earbuds, and I'm glad I waited. It was a great way to start my day.
I'm looking forward to sharing the video soon.
Cheers,
Patrick
© Patrick LaMontagne
@LaMontagneArt
If you'd like to receive my newsletter which features blog posts, new paintings and editorial cartoons, follow this link to the sign up form.