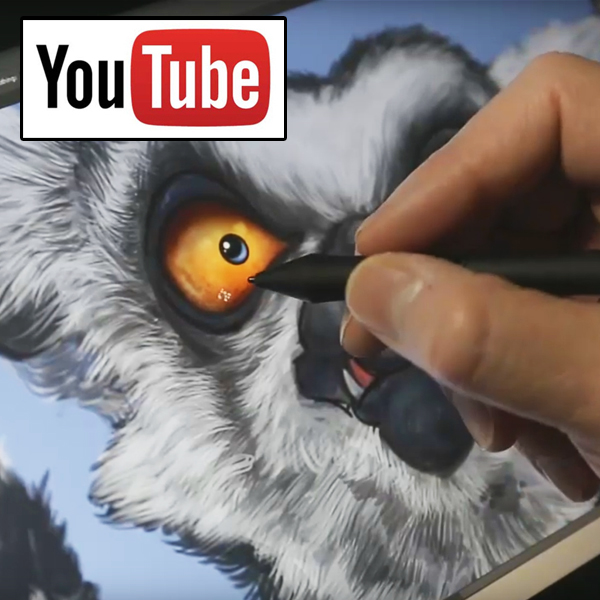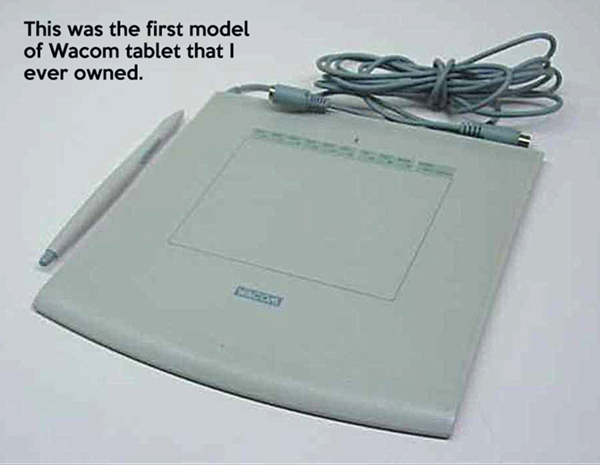 One of the unexpected benefits of having been a digital artist since the late 1990s is that I've been able to see all of the advances in the medium. My first Wacom tablet was an original Intuos with only a 4"X5" drawing surface.
It seemed so futuristic. I could move the stylus on this tablet, which would be mirrored on the screen by the cursor, and then DRAW. To some, it seemed complicated, but to me, it seemed like a prosthetic limb I'd been missing.
I don't know how to paint with oils, acrylics, or watercolours. My sketching skills with a pencil are adequate; my pen and ink skills less so. I've tried charcoal, woodcarving, sculpture, but just barely, and all of it felt clumsy.
This is obviously a personal problem, given the centuries of incredible artwork created with those tools.
But digital tools always felt right to me. It has been my medium for more than twenty years.
When it came to software, there was Photoshop, Painter, and a few others. I tried them all. But for the hardware, if I wanted to work digitally, a Wacom tablet wasn't an option. It was a requirement.
Since then, I can only guess how many Wacom devices I've owned, upgrading when I felt the need and could scrape together the funds. For the first half of my professional career, I used tablets rather than displays. That's where you look at the screen but draw on the device sitting on your desk. It's not difficult to get used to since we all use a mouse the same way. We look at the cursor, not the device in our hand, and our brain figures it out pretty fast.
Drawing with a Wacom tablet was easy for me.
But in 2011, I got my first Wacom Cintiq display, a 12WX, where I could draw right on the screen. These days, that seems unremarkable, considering how many screens and mobile devices we have at our fingertips. But at the time, it was a huge deal for me.
The 12WX was pretty thrilling, even though it could be a bit clunky at times. Marketed as a portable model, being the first one that didn't take up your whole desk, it was more like the prototype for what would come next.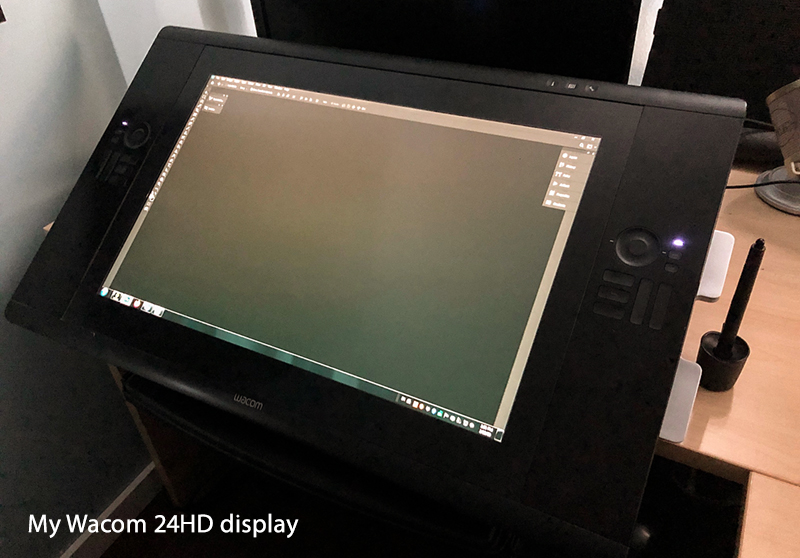 When I got my Cintiq 24HD in 2012, everything changed for me. Not only was I now using their most professional display model, but I also had a working relationship with Wacom.
That display is still the one I use every day, and while there are newer models available, I have a sentimental attachment to this display, and I never feel it's lacking. Yes, it's a piece of technology, but like a reliable car, years out of the showroom, my 24HD is like an old friend. I've created many of my favourite paintings on this display.
In the past six months, Wacom has sent me a couple of their newer portable models to evaluate and work with, recording videos with them. The Cintiq 16 I received last summer is a welcome addition to my digital toolset. I use it while working on my laptop, often on the couch in the evenings while watching TV. You can see a recording I did with that one in a blog post from late last year.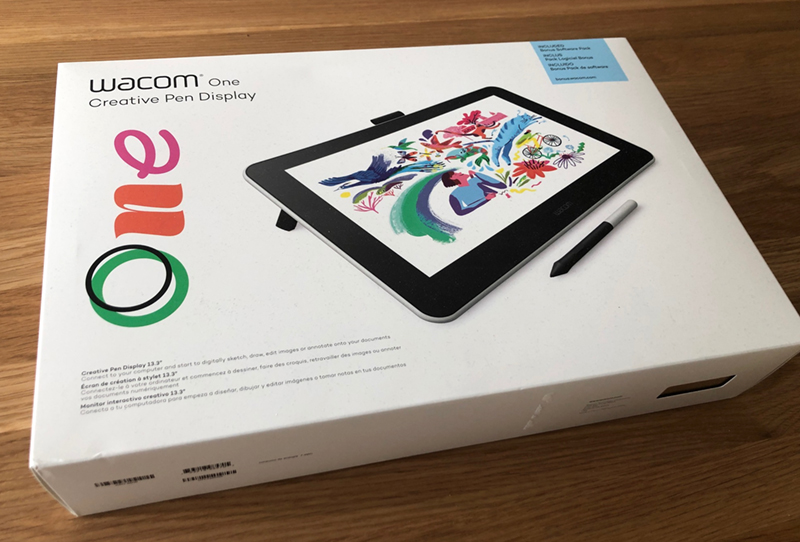 Just recently, I was asked if I would take their new Wacom One display for a spin. Pitched as an affordable solution for artists looking to make the jump to digital or for those just starting, it's an entry-level display.
After using it to paint my latest Ring-tailed Lemur, however, I find that notion rather amusing. This display is better than all of the tablets and displays I used for most of my professional career.
Without getting too technical, it's a comfortable experience. From the feel of the stylus on the screen, the pressure sensitivity, the image quality of the display and the simple setup and installation, this is a display I would have been thrilled to have worked with early in my career.
I know many people these days draw on the iPad Pro with the Apple Pencil, and I've seen some incredible work done with those tools. I have an iPad Pro, I use it every day, and when I bought it, I expected I'd be doing a lot of drawing with it. There's even a professional level painting app called procreate that's pretty incredible.
But no matter how often I work with the iPad, it never feels quite right to me.
Whether it's the stylus on the screen, the display itself, or the size, I can't seem to get comfortable with it. To be fair, the iPad is a standalone device, where a Wacom display has to plug into a computer, whether a PC, Mac, Notebook or Laptop. But most people have those already.
I've often said that the best tools are the ones you don't have to think about. When I'm in the zone, painting fur, feathers or details, I don't want to have to stop because the tools aren't doing what I want them to do. I've invested quite a bit of time on the iPad Pro, and it just doesn't feel as comfortable as a Wacom display.
I'm well aware that we resist change, so I've tried other devices and displays. But I keep coming back to Wacom time after time. Part of me knows that being sent the display, tasked with doing a video, it's my job to pump it up and promote it.
But honestly, if I didn't like it, I wouldn't. And I know my friend Pam at Wacom wouldn't want me to. I was thankful I didn't have to find a way to put a positive spin on this display. There is nothing about this display that I can criticize. For what was promised, it over-delivered.
The only thing I missed while using it was the Express Keys I have on my Cintiq 24HD. I use those all the time. Those are buttons and dials that you can program to access features you use often. Those features are now automatic to me. Thankfully, in recent years, Wacom introduced a device called the Express Key Remote. It's a standalone device, and it worked flawlessly with the Wacom One.
A beginner might find Express Keys too intimidating at first, and I understand why they left out of this entry-level display, both for price and function. But it's nice to know that if a user wants to try them, there's an affordable add-on option.
As for the video above, called 'Voices,' my task was to offer a message to new artists, something to inspire them to give their creativity the chance it deserves. I spent a great deal of time thinking about what I would have wanted to hear when I was new at this artist's life, trying to gather the courage to stick my neck out.
Ultimately, I ended up speaking to myself two decades ago, that twenty-something kid who was scared to death of being a fraud, having never gone to art school. I'd have wanted to let him know that it isn't easy for anybody. The only way to navigate this world is through experience. Decades later, it's still scary to do this for a living, but I can't imagine doing anything else.
I'd like to think the message I recorded would have given him hope.
Cheers,
Patrick
© Patrick LaMontagne
@LaMontagneArt
If you'd like to receive my newsletter which features blog posts, new paintings and editorial cartoons, follow this link to the sign up form.