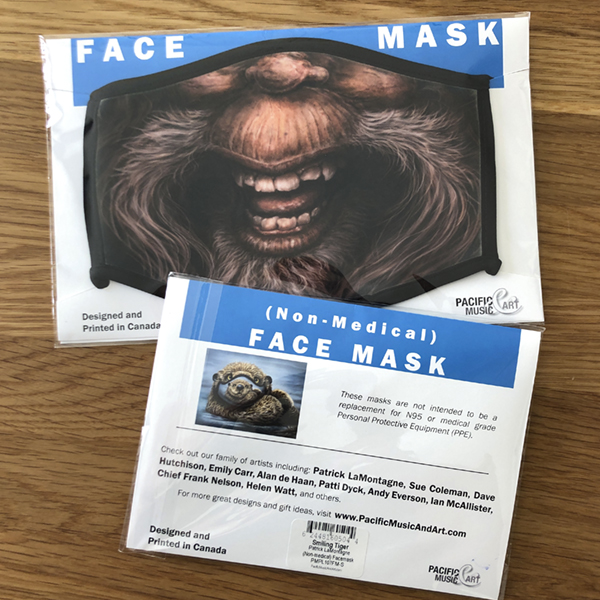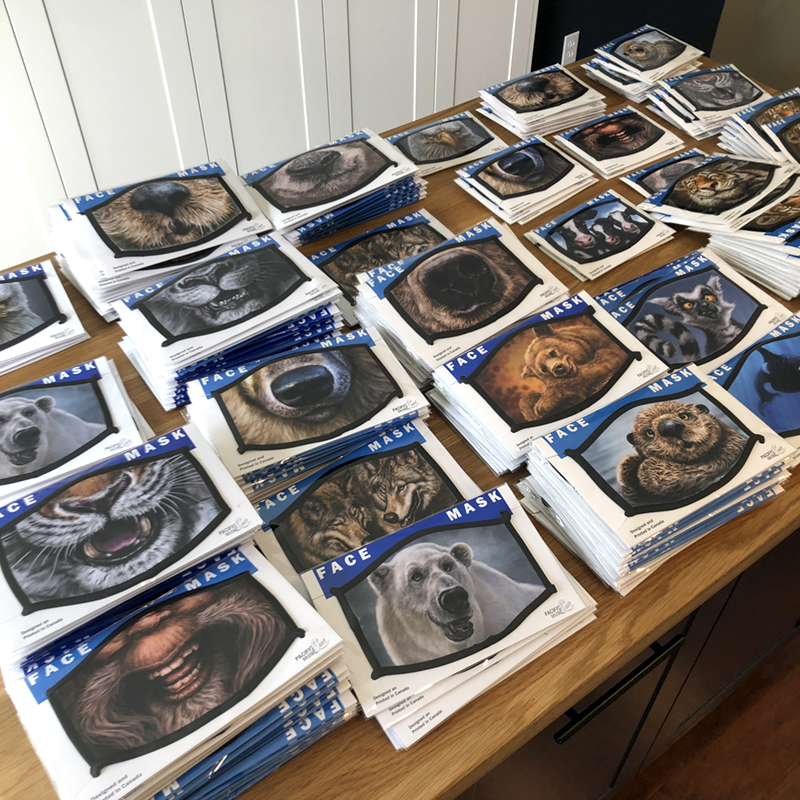 The second order of whimsical wildlife face masks arrived this week and in less than two days, I was able to get them all out the door. Banff and Canmore local deliveries are done and all of the Canadian and US orders have shipped.
Compared to the first order, this one was a breeze.
As these are being sold to retailers and other venues, they need to look attractive on the shelf, so Pacific Music and Art added snazzy new packaging. While the quality and printing of the masks was already there the first go 'round, the new packaging makes them look even better. That's a large and small mask shown here. If you are an interested retailer, please contact Mike at Pacific Music and Art and he'll be happy to set you up.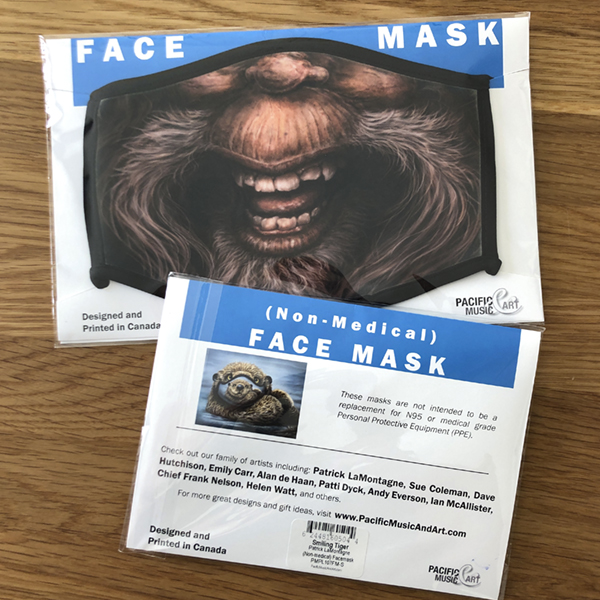 Plenty of people have told me that they've received positive comments when wearing the masks. So far, I've only worn the Lion Face and the Amur Tiger, but I got a few more for myself on this order, too.
The Sasquatch looks ridiculously funny on the pictures I've seen, so I wanted to have one of my own.
As a lifelong wearer of eyeglasses, the most annoying part of wearing a mask is that they fog up. I tried doing the dish soap method, it just doesn't work. But I found a great solution online from an optometrist. He explains it well in this video.
I've made one modification myself to his method, by rolling two strips of medical tape on the inside of the top of the mask.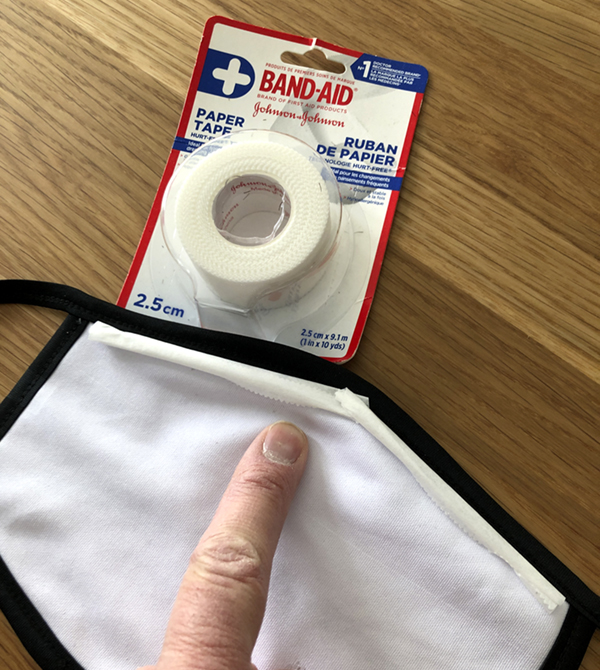 The inexpensive hypo-allergenic paper tape can be found at any drugstore. I prep the mask before I leave the house so I don't have to mess with it (or wear it) in the car. When I get to the grocery store or post office, I put the mask on, press the taped areas in place and my glasses no longer fog up.
When I got a haircut the other day, for the first time in four months, I was required to wear a mask. But I anticipated that wearing the ear loops would make it a challenge to cut around my ears, so I taped the sides of the mask to my face so that the ear loops didn't need to be secured. Worked like a charm and the tape doesn't irritate the skin.

Here's the before and after haircut pic. Someone used the word nefarious to describe my expression in the after picture. I won't argue that. I'm fortunate to still have thick healthy hair at my age, and for that I'm grateful. I was, however, very happy to get rid of it all.
To wear or not to wear, that is the question.
Here in Canmore and Banff, I'm surprised that few people are wearing face masks. I don't mean on the street or in places where you can keep the 6ft. distance, but in grocery stores, post offices and other places where close proximity is not only possible, but probable.
This isn't a question about whether or not the virus is as serious as they say, whether the precautions taken were too much or too little, or how much the masks help or don't help. I've seen the arguments online and the uncertainty of it all isn't what disturbs me most, but how people are speaking to one another in the discussions.
Whether an expression of their own fear or frustration with this new normal, I don't know, but people are being downright nasty to each other, and it's completely unnecessary. The discussion can be had without the vitriol.
My wife Shonna works full-time at a law firm, but has also worked part-time at Safeway for more than a decade. There are two senior women who work at the law firm, and at the beginning of the isolation, they had expressed concern about her coming in to work every day while still working at Safeway.
So she sacrificed that part-time income for the past few months so she didn't potentially introduce the virus to the law office staff.
With no local cases, things opening up again, and safety measures in place at Safeway for the workers, she went back to work at the grocery store on Monday and has already worked a couple of shifts. Suddenly, she's aware of how many people are wearing masks, or rather aren't wearing them.
There are Plexiglas barriers at grocery stores now, but people forget themselves. They look around them, put their hands on the sides, and aren't keeping the distance they should. Shonna has said she feels a little more relaxed and safer when a customer is wearing a mask, because she can't wear one herself for her entire shift.
The messaging has been clear. A reusable non-medical mask is unlikely to protect the wearer from a virus, but it might prevent an asymptomatic person from passing it on to somebody else.
People need to be reminded that you aren't wearing the mask for yourself.
Wearing a mask tells people that whether they believe in the threat or not, whether there are local cases or not, whether it's all a deep-state, Illuminati, government conspiracy or not, you're wearing one to make the people around you feel a little safer.
It's an act of community.
People talk a really good game on Facebook, Twitter, Instagram and in the comments section about how other people should behave and how people don't care as much as they used to and how things used to be better in the world. They use words like 'hero' for front line workers and grocery store clerks (Shonna does not), failing to understand that those people shop for groceries, too. They go to the post office, the bank, and the coffee shop. You can't clutch your hands to your chest, get all weepy-eyed, and share memes on Facebook supporting them, then dismiss them as a kook in a mask behind you in the checkout line.
You don't reveal yourself by the things you say, you reveal yourself by the things you do.
I get it, I've been the only one in an aisle at the grocery store wearing one. I'm very healthy, have no immunity issues, and I'm not worried about getting sick. It feels a little silly or unnecessary to wear one sometimes, but ultimately it costs me nothing but a few minutes to put it on and take it off, and wash it when I get home. And if people think I'm a sheep, or a dork, or paranoid for wearing one, that's fine. The issue is theirs, not mine.
One of my best friends has asthma, two others have high blood pressure, and more than I like to think about are entering their senior years. That puts them in the vulnerable category. I'm not wearing the mask for me, I'm wearing it for them and people like them. That doesn't make me noble, or better than anybody else, it just makes me part of a community.
Just as we're all supposed to wear our seat belts, stop at traffic lights, drive the speed limit (or close to it), and stop behind a school bus to keep children safe, wearing a mask in close quarters is a simple act of telling your neighbours, "I'll look after you, you look after me, and we'll all look silly together."
They had to make those other things a law because people didn't get it. They shouldn't have to make this mandatory, too.
You might think I'm just trying to sell you more masks, but I don't care which one you wear. There are plenty of designs out there or you can make your own. I'm also not going to tell you what to do, because there are too many people doing that already. But give it some thought, especially the next time you're at the grocery store and see a senior citizen, somebody with mobility issues, or just the looks of worry on the faces of your fellow shoppers. Do you really want to risk getting them sick, even if that risk is small, simply because you couldn't be bothered?
This is all so new, we're all frustrated, and hopefully it's temporary. It's not that big a sacrifice.
I thought this was going to be the last pre-order I did for a while. With warmer weather, people able to socialize outside and keep their distance, the demand seemed to be waning. But now with talk of a second wave, whether that's a real threat or not, and that more people are seeing my masks out in the world, I'm getting more inquiries. Nobody wants to be trying to find them in the fall if there's a sudden spike in demand.
As such, SUNDAY (the 21st) I'll send out another newsletter, with an opportunity to order more. The new 2021 calendars will be available in that one as well. So stay tuned.
If you have any friends or family interested in the masks, have them sign up for my newsletter. It has proven to be the most efficient method of getting the word out.
___
© Patrick LaMontagne
Follow me on Instagram @LaMontagneArt
Sign up for my newsletter which features blog posts, new paintings and editorial cartoons, follow this link to the sign up form.