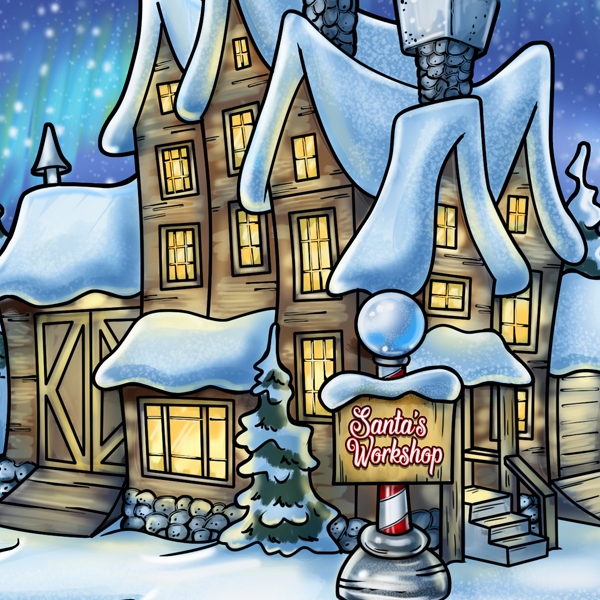 One of the questions I get from people is, "what's your medium?"
When I answer that it's digital, I can expect a few different reactions because many people don't understand it or think it's something else.
Many people hear digital and think I'm just messing around with photos on the computer, especially because my work is highly detailed and often has a photorealistic quality. I explain that it's all brushwork on a digital drawing display, like a cross between a TV monitor and a drafting table. Even though I take my own reference whenever I can, no photos are ever part of the paintings.
For most people, that's enough of an explanation.
When I tell a traditional artist, somebody who paints with acrylic, oil or watercolour, that I'm working digitally, I often get disdain and condescension. A lot of traditional artists don't like digital. It might be that they can't do it, don't understand it, or feel threatened that it will replace their work medium. Or they don't like the idea that anybody creates anything on a computer and calls it art.
It used to bother me, and I'd feel insecure about defending my medium, but these days, I dismiss it and move on. I started creating art on a computer in 1998 with one of the first drawing tablets Wacom ever made. I've been making my full-time living as an artist for almost twenty years and arguing art mediums is wasted time and energy.
I can't imagine any photographers or moviemakers still arguing film vs. digital these days. But when digital cameras first came out, those communities had plenty of heated discussions. It seems rather foolish as the camera doesn't create the art; the photographer does.
It strikes me ironic that artists who are all about free expression, exploring creativity and pushing boundaries are often the first to tell another creative, "you have to stop because that's not the way it's done."
Judge a piece of art by how it makes you feel. If you get nothing from my work, it's simply not for you. Move on to another artist whose creations push your buttons.
Fortunately, anybody under 30 has grown up with digital art, so they have no stigma. They've seen it in movies and video games their whole life. They've been doodling on their tablets and phones for years. So when those people ask me about the work, they usually want to learn how to do it.
And I'm always happy to share what I know because so many generous artists gave me their time and knowledge when I was coming up.
While creating a Christmas-themed editorial cartoon this week, I decided to share the different stages of how I draw a cartoon. This isn't a tutorial, as I don't want to bore all of you who aren't aspiring digital artists. Instead, it's simply a window into the creation.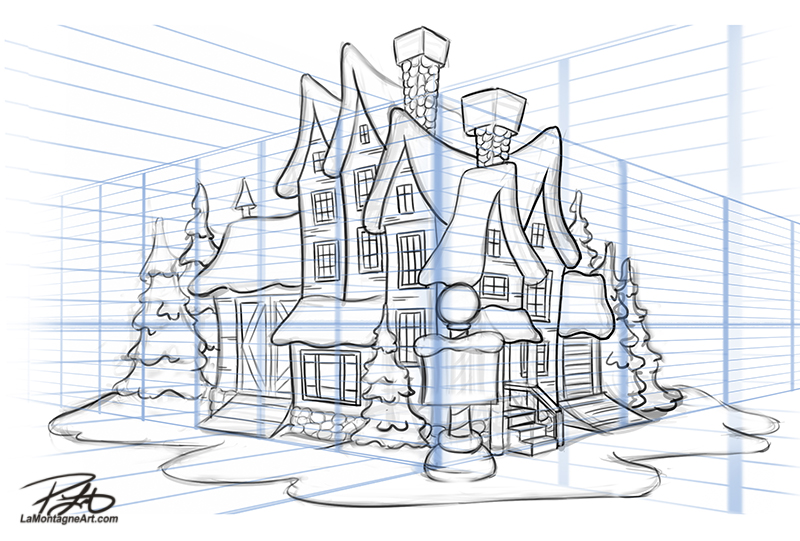 I put rough perspective guides on a layer in Photoshop for this cartoon.
On another layer, I'll sketch out whatever I'm drawing and keep refining over and over until I get what you see here. It's the same principle as sketching and drawing on paper, without all the mess of smudging and erasing.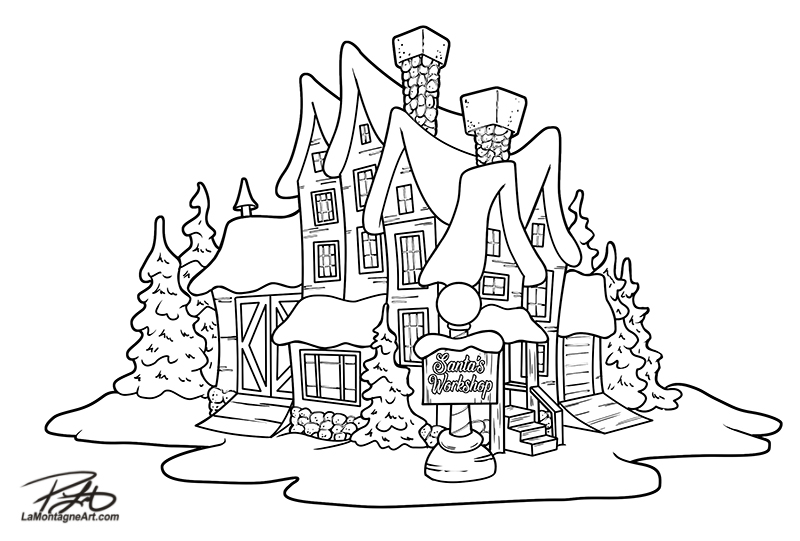 Then I'll drop the opacity of the sketch layer, so it's very faint and create cleaner black lines on the layer above. I call this an Ink layer, even though there's no ink involved.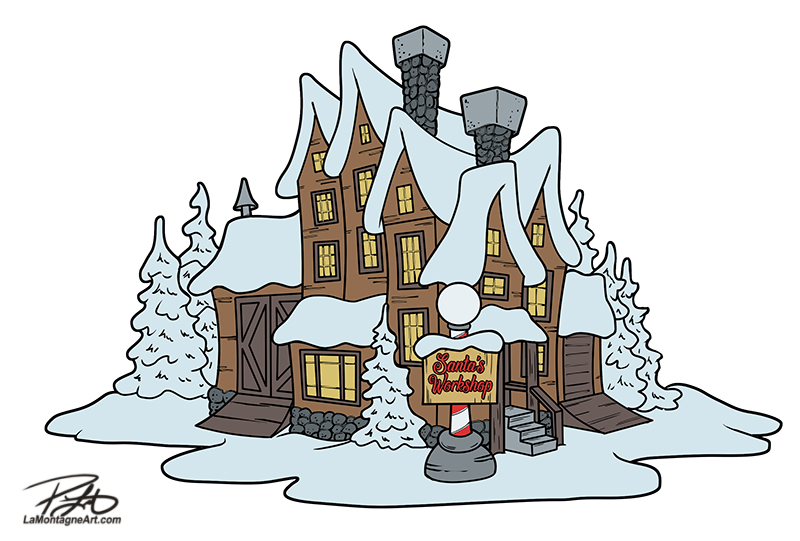 I'll delete the sketch, create a new layer beneath the ink layer and fill in sections of flat colour on different layers. This helps me establish a base colour for separate pieces and select certain painting sections easily.
On top of the flat layer, I create a layer for light and shading. The initial sketching and the painting layer are where I have the most fun.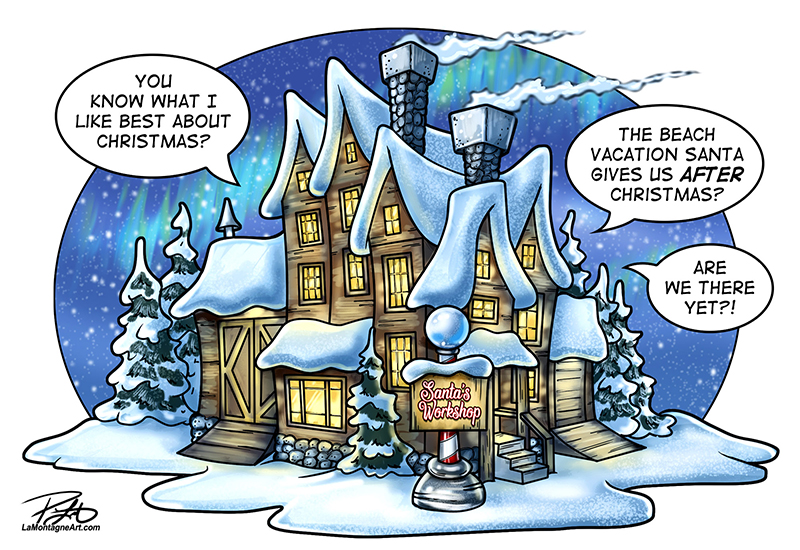 Finally, I'll create a painted background, add talk bubbles, my text and signature, and save different formats to send to my newspaper clients across Canada.
Years ago, I recorded a whole DVD on this process through PhotoshopCAFE. It's no longer available, but this is the basic idea.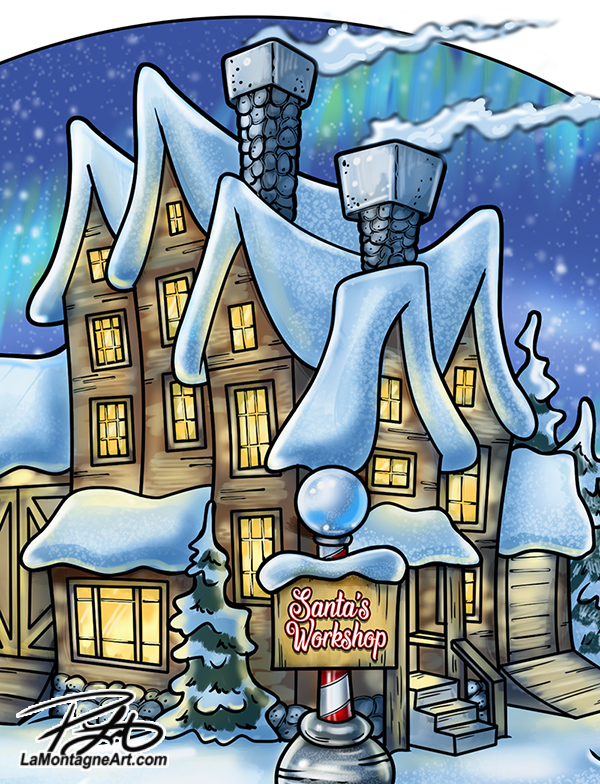 The painting process I use for my whimsical wildlife and portraits of people is more complicated because each painting takes many hours to complete and involves a lot of fine detail. But the tools are the same. Many artists have asked me about my painting brushes over the years, and they're surprised that they're not complicated. Just like in traditional art, it isn't the brush; it's the person wielding it.
As in any profession, creative or otherwise, skills only come from years of working on your craft, and there are no shortcuts.
I created a time lapse video of a Christmas reindeer a few years ago. It shows the Wacom display on which I work and a painting from start to finish in two minutes. Watch 'til the end for a little digital magic.
As this is likely my last post before the 25th, I hope you all have a Merry Christmas. I'll have something else for you before New Year's Eve.
Cheers,
Patrick