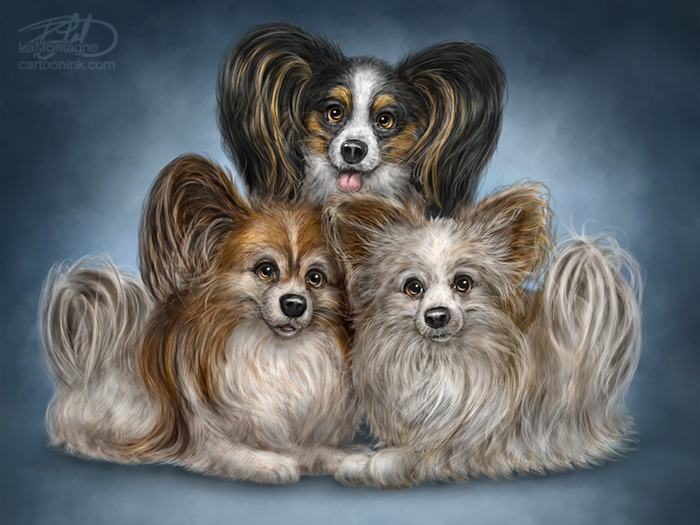 My final commission of the year was completed this past week, a challenging piece.
Featuring three Papillon dogs, each with distinctive colouring, personalities and subtle size differences, keeping them straight was almost an exercise in futility. From the top, moving clockwise, they are Desperado, Ringo and Mick.
For some reason, I kept mixing up the personality traits and subtleties of Desperado and Mick. Apparently Mick is less vocal, but I'd originally drawn him with his mouth open, which didn't fit. Desperado is the mouthy one. Mick tilts his head left, but I drew Desperado doing that, which I ended up keeping after all. Then, after I made the changes in the sketch and got approval, I went back and started painting on the original sketch, which meant I had to correct it again. Chalk it up to a silly mistake from not paying close enough attention.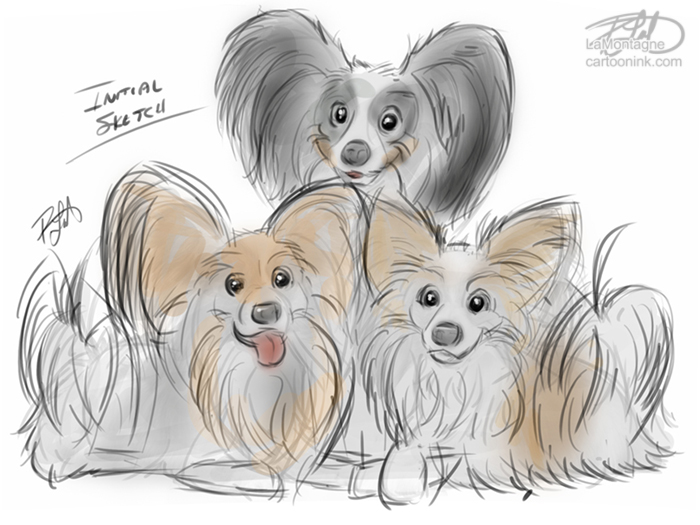 While the client gave me dozens of photos to work from, almost all of the eyes in the usable pics were washed out by flash reflection or were small pics with low resolution and poor lighting. It happens and I do my best to work with what I've got. For the details, however, I did buy half a dozen stock photos of other Papillons. The colours were all wrong, but it helped me see fur direction, layering, poses and to fill in the missing anatomy I needed, but didn't have in the supplied reference.
All well in the end and the client told me I managed to get each personality right with each dog. The painting has gone to print and I should be able to pick it up and ship it by week's end. Thankfully, this one is right here in Alberta, so there shouldn't be any issues with shipping at one of the busiest times of the year for parcels.
It occurred to me this week that I've been breaking an important rule of mine recently. I've said in the past, and have advised other artists, that proofing is essential every time I have a painting printed. A proof is a test print.
Kelly at Chroma Surge has been printing my canvas and matted prints for the past five years. During that time, there have been growing pains. Prints came out too dark or too light, colours too bright or not bright enough, whites and blacks sometimes washed out and muddy, different papers and materials producing different results.
Kelly's printers and machines are colour calibrated, as is my own display, but with different profiles and myriad little adjustments here and there, a bunch of little deviations can make for large problems, and it wasn't anybody's fault. This is why proofing has been essential, especially in the beginning. For my poster prints, I use Maranda Reprographics and Printing in Calgary, and the same thing happened when I first went with them. The adjustments I make for Kelly's prints are different than those I make for Maranda's prints.
In recent years, Kelly and I have come to that Goldilocks zone for printing my work. When I send a painting to print, I know which adjustments I have to make ahead of time and I save them in the Photoshop file, a layer that tells me what I did, and that becomes the Master File. A dog with a lot of black fur (which is really not black), needs to be lighter than a dog with light fur, because I know the detail in those blacks is going to be gone if I don't compensate.
Whites can't be fully white and blacks can't be fully black because it sucks the life right out of a painting. Pinks, reds, blues and greens have to be selectively desaturated in the print file, which means making them less colorful. I've seen skin tones print very red on portraits, a dog's tongue so pink that it overpowers an entire painting, or a green background dominate the animal in front of it, simply because the adjustments weren't made or were done incorrectly on my end. A canvas print will often appear more saturated, especially after it has been spray coated, so I have to compensate for that as well.
All of these things I've learned by proofing, which is usually just doing a preliminary small print on canvas and taking a good hard look at the colours to make sure the shift isn't significant. When it all works, images on canvas just POP! I'm never as happy with a painting as when I see it on canvas.
Now, I could get really meticulous about the proofing, pull out a loupe and check for every little variation, but what I've also learned over the years is that tiny little colour shifts from my screen to canvas, matted print, or poster print are acceptable up to a point.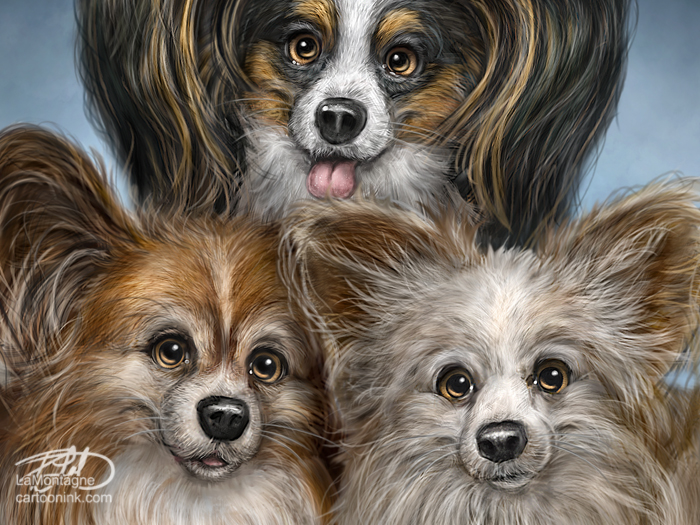 I attended a class at Photoshop World last year, taught by my friend Alan Hess. He was talking about how to reduce noise in a low-light image and how to compensate for it with camera settings in night photography. But he also cautioned that the only people who really care about noise in an image are other photographers.
That lesson applies to my work as well. The only person who really cares if the fur colour in the print exactly matches the fur colour on the screen is me, or possibly another artist. Most people don't see it, or don't care. A screen is also backlit, which means every image will always be brighter on a screen as opposed to a print. So it's all just finding a balance that's good enough.
Incidentally, the term 'good enough' is like fingernails on a chalkboard to me. Like most creative types, I'm a perfectionist. Thankfully middle-age has taught me to let that go a lot more than I used to. Perfection is unattainable and as the mantra goes, "Done is better than perfect."
As a result, I have let go of that rule of proofing everything for the very good reason that I now have plenty of experience with the known variables. I know my printer and he knows my work. If there's a problem, he'll let me know. Kelly did a test print of my last two commissions, but I never saw them in person. He just told me that he knows what I want and how I like my paintings and that he thought they looked good.
I weighed my options. I could take a few hours out of my day to drive to Airdrie to see the proofs and then tell him to go ahead with the print, or I could just gamble on our past history and the fact that I can't remember the last time I've had to reproof something with him. So I told him to go ahead and when I picked them up this week, the prints were fantastic.
For this commission of the three dogs, I decided to continue the streak and let it ride. I sent Kelly the image Friday morning and got back, "The proof looks great! I'll run it off here shortly."
I've no doubt that I'll be happy with finished result.
Technical details. This was painted in Adobe Photoshop CC, using both a Wacom Cintiq 13HD and 24HD displays. Photos were only used as reference. For most of the painting, I kept each dog on it's own layer, to help with painting the hair.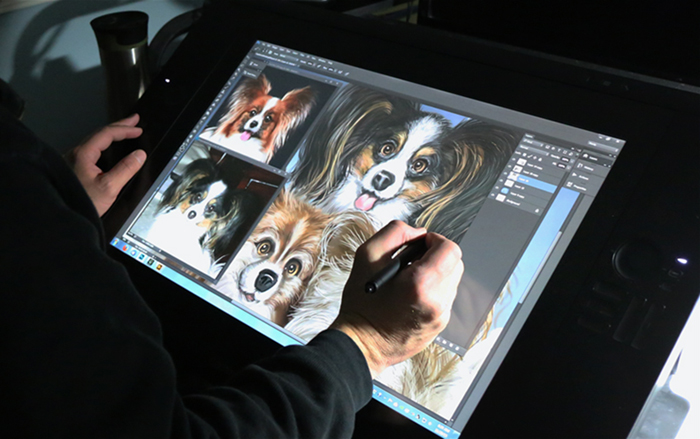 If you'd like to receive my newsletter which features blog posts, new paintings and editorial cartoons, follow this link to the sign up form.  Thanks!