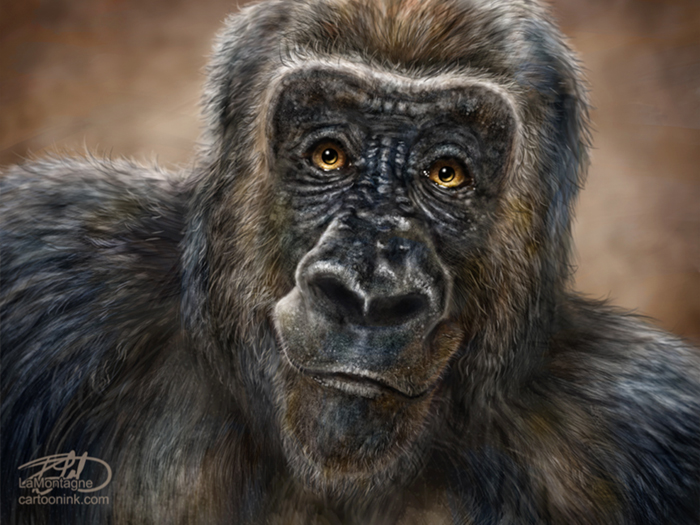 Here's my latest painting and newest addition to the Totem series.
I started this at the end of October but didn't get far on it, as I had pet portrait commissions and editorial cartoons taking priority. The bulk of that logjam was cleared last week and I was happy to get back to working on one of my own paintings. As much as I welcome and enjoy commission work, my own work has a lot more freedom to it, as there are no client instructions or details to keep in mind.
If I had nothing else to do, I'm pretty sure I could get one of these done in a couple of days. In fact, I'd love to have a year with nothing to do but paint the animals I enjoy most. But, I guess that's everybody's dream, isn't it? No obligations but the bills still paid would certainly be the ideal. That's likely why so many hope for retirement one day.
On that front, I often think of one of my favorite artists, Drew Struzan, who has painted some of the most iconic movie art of our time. If memory serves, he has tried to retire a few times, but he keeps doing work when his favorite clients come to call, if he feels like it. I like that. I don't run well on idle and likely won't ever retire. I'll just paint what I like.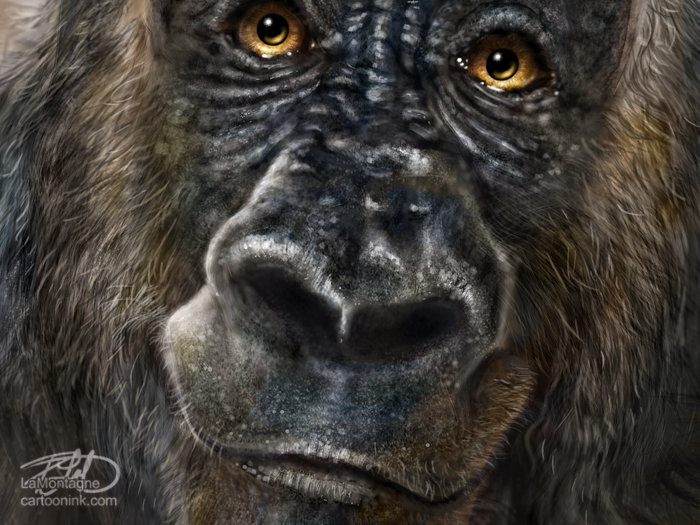 I took a lot of reference photos this year, some in the wild, but most at The Calgary Zoo and Discovery Wildlife Park. Some of the shots were sought out for upcoming paintings, others were happy accidents where an opportunity presented itself and I got the photos I needed. This Gorilla Totem is the result of the latter.
Had I planned ahead for this painting, I might have chosen the classic Silverback to paint. An imposing figure with great presence, I've no doubt I would have been pleased with the result. But this lady was looking at me through the glass one day and when I brought the camera up, she appeared even more interested. Whether it was her own reflection in the lens or mere curiosity, I happily snapped away until she moved on. The glass was dirty and at an odd angle, the light was poor with annoying reflections, but I managed, and was pleasantly surprised with the results.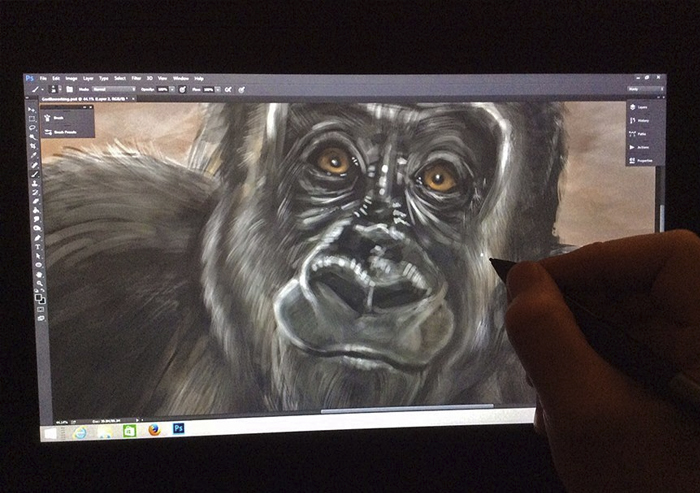 I've said before that I might hang on to reference for some time before getting around to painting an animal, waiting for the moment to seem right. That's why I chose the gorilla over others currently waiting in the wings. It was just the right time. This was painted on the Wacom Cintiq 13HD, 24HD in Adobe Photoshop CC, with photos only used for reference.
Starting another Totem today as there are a few I'd like to get done before the end of the year.
Thanks for stopping by.
Patrick.
If you'd like to receive my newsletter which features blog posts, new paintings and editorial cartoons, follow this link to the sign up form.  Thanks!