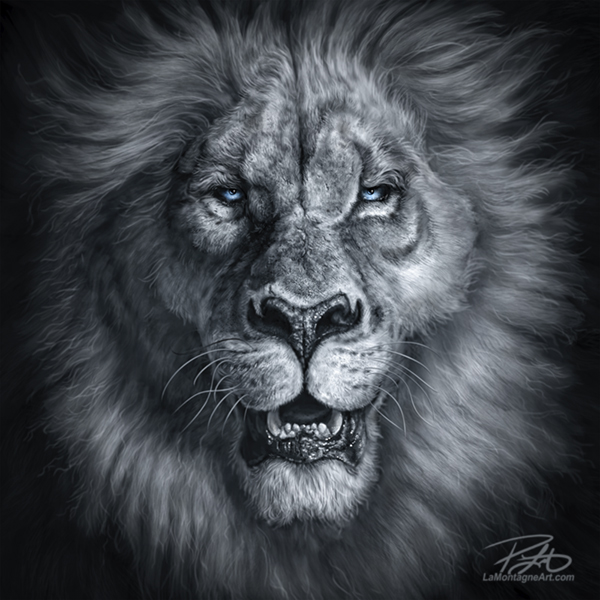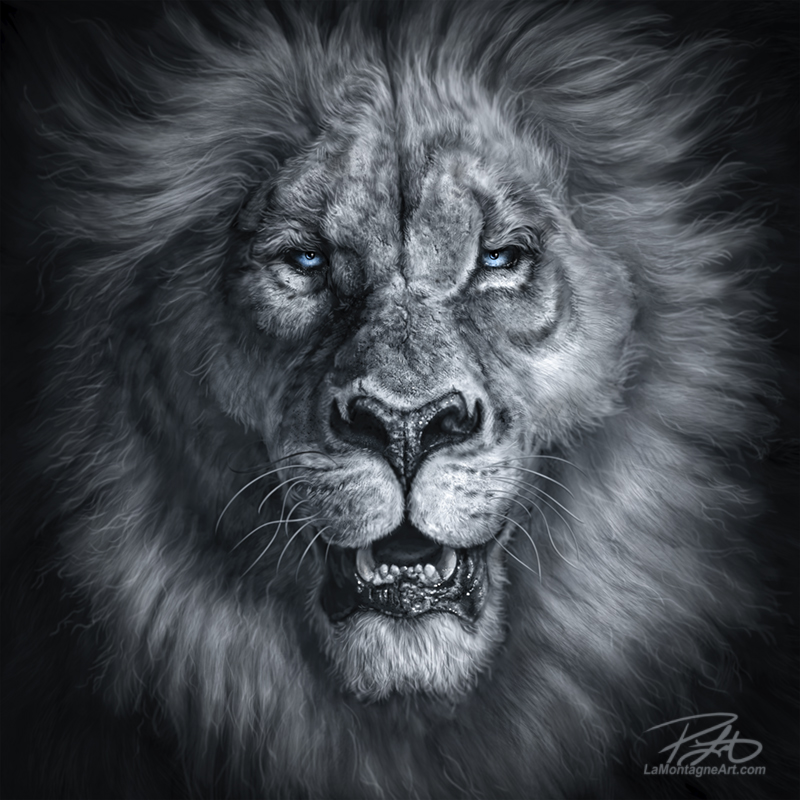 My latest painting, finished this morning.
It's the largest piece I've done to date, with a file size of 45"X45" at 300ppi. For those unfamiliar with digital art, that's a big file, and it stretched my computer's abilities. My desktop is quite powerful, but it has its limits, as does Photoshop.
Put this image and my recent Ring-tailed Lemur together, and they're quite different. Both are still my style, but not the same character and feeling.
Once you get an established niche or look, it's tempting to approach each painting from a cookie-cutter perspective, so you don't risk alienating customers. But I've painted more than 70 animal images, and while many look like they belong together, some veered into another lane, and yet still became popular. As much as I love this work, it can get boring if I don't try new things from time to time.
You never know what will grow from planting a different seed. As I'm fond of telling people, my first animal painting of a Grizzly in 2009 led to all of the others. It not only changed the direction of my career but my life as well. At the time, it was an experiment.
Most of the time, I can't predict the outcome. My Roar painting (below) was almost a practice piece and yet many people like it. Most recently, DecalGirl added it to my licensed images for phone cases and device decals.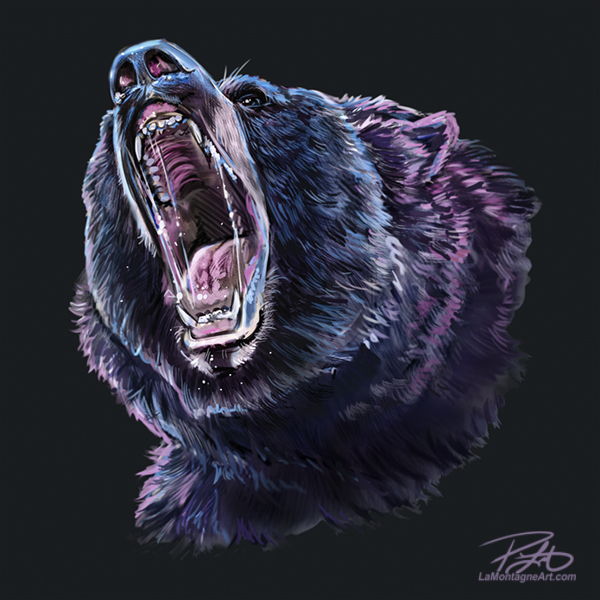 Some experiments aren't popular at all, but as I recently told an art student who sent me some questions, every piece teaches you something. Sometimes the lesson is what doesn't work, but you don't find that out until after the painting is finished.
My recent Lemur painting was far more popular than I thought it would be. I'd been a little worried about that one because it doesn't look like he's playing with a full deck. My buddy Derek Turcotte, an incredible wildlife artist himself, ordered it on canvas for the shop at 32" X 24" which is the largest canvas I've printed to date. I should be picking that up this week.
And Shonna, ever my harshest critic, is urging me to paint more animals like that Lemur, critters that are more "bent" as she put it.
While going through my extensive photo library recently, looking for an animal to paint, I wrote down four different ones, including this lion. I took the reference for it at the Calgary Zoo. One of the reasons I didn't paint it in a happy whimsical style is that I'm saving that painting for a particular model.
Griffin, the male lion from Discovery Wildlife Park, is now an adult, and while he will get more regal-looking as he ages, I'm ready to paint him this year or at least gather the reference. Serena has long told me I could do a photo-shoot with him when the time was right. So I'm reserving the happy, whimsical painting of a lion for him.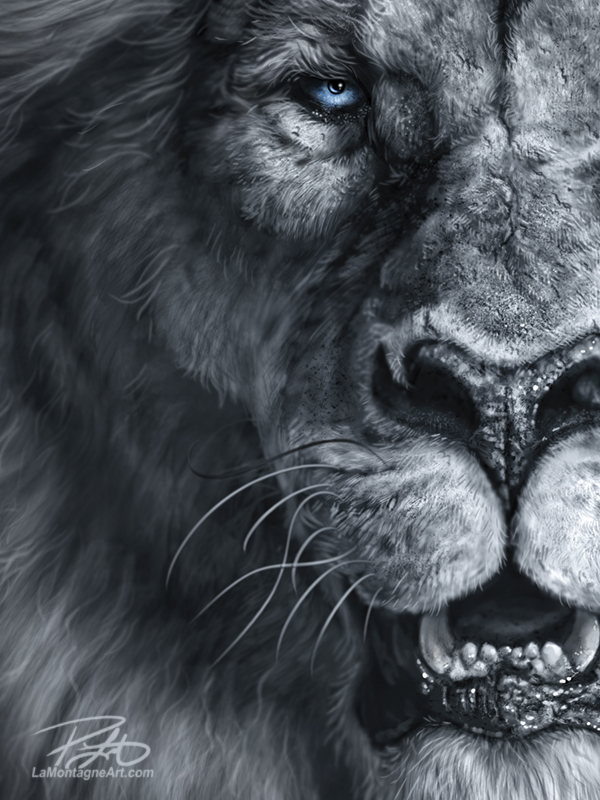 This is one of the reasons why this lion is more severe-looking, also because I just felt like painting him that way. Painted in grey-scale (black and white), I added the slight blue cast at the end, just to give it a little more life. The eyes are bluer still, which is a bit of a cliché in paintings and photos, but as Eric at the tattoo shop pointed out to me the other day, everything in art is a cliché, especially if it's something people like.
Rather than avoid it, I just went with the look I wanted. Whether others like it or not, only time will tell.
Cheers,
Patrick
© Patrick LaMontagne
@LaMontagneArt
If you'd like to receive my newsletter which features blog posts, new paintings and editorial cartoons, follow this link to the sign up form.