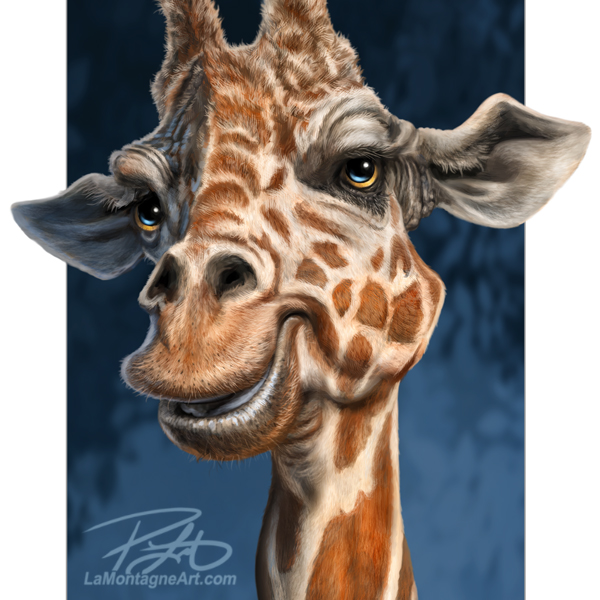 In 2008, I hosted the Canadian Editorial Cartoonists Conference in Banff. Several industry veterans who attended came up in a culture where busy unionized daily newspapers hired editorial cartoonists for impressive salaries, benefits, and pensions. I began my career at the end of all that.
I put a lot of work into the conference and preparing a Photoshop drawing class, trying to impress and curry favour with the more established cartoonists in this exclusive club. But, unfortunately, I realized too late that nobody cared. They were simply looking for an excuse to visit Banff, hang out and talk shop. It was about nostalgia, politics, and competitors fishing for information.
I wanted to improve my skills and artwork and learn how to adapt to a struggling industry, but many of them were focused on avoiding having to change. In fact, in the wrap-up, one of the more senior cartoonists loudly promised there wouldn't be any Photoshop drawing classes at the next conference.
Clearly, I didn't belong in this group.
In 2009, I attended another conference, the National Association of Photoshop Professionals in Las Vegas. I had been a member of this supportive online community for several years. Critiques were constructive, questions were answered with enthusiasm, and I learned more from that association than any before or since.
Fresh off that first Photoshop World conference, inspired to try something new, I painted a funny looking grizzly bear, my first whimsical wildlife portrait.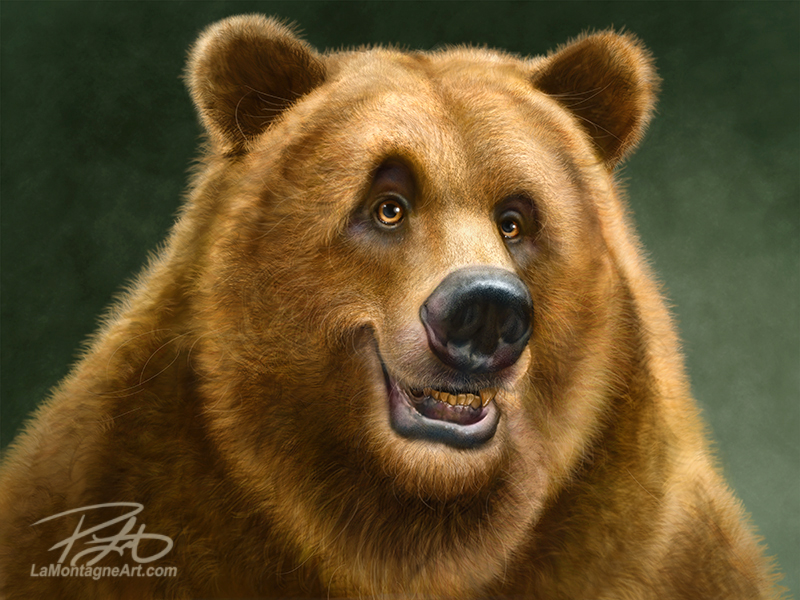 I went to that conference five times between 2009 and 2014. In 2010 and 2014, I won multiple Guru Awards for my animal paintings, including two Best in Show awards. The classes and instructors, the community of friends and colleagues, it was time and money well spent.
At Photoshop World, I made valuable business connections. For a long time after, I had a welcome working relationship with Wacom, the company that makes the drawing tablets and displays I've used for the past 25 years. I recorded two training DVDs for PhotoshopCAFE, and NAPP helped me form a strong foundation for my creative skills.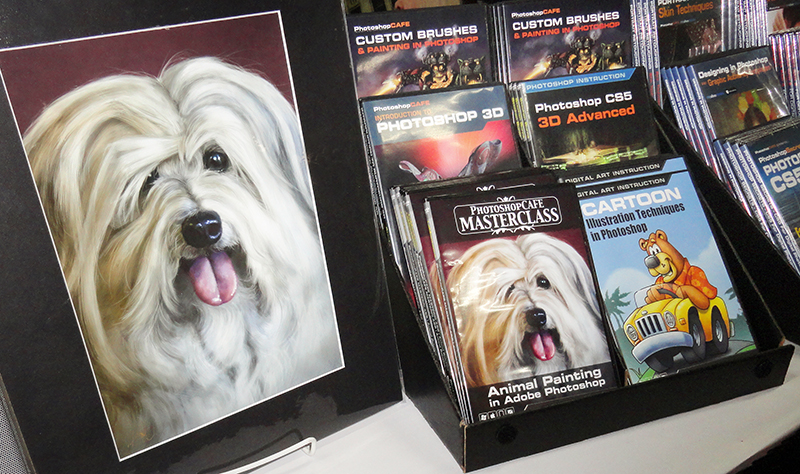 Eventually, social media killed the forum, and the organization rebranded. As a result, NAPP no longer exists, and the Photoshop World conference is a ghost of its former self.
Time spent pining for the way things used to be is a waste. Adaptation is the most useful skill a self-employed artist can have.
While licensing and retailers are essential for my business, those customers each have their own ideas of what they want from my work. One retailer wants more bears; another wants more wolves. One agency wants me to follow seasonal trends; another client wants more realistic animals. Some products sell better with brighter, more colourful elements, and some without a background. Some items work better with a vertical layout, others horizontal.
Most artists have heard they should find their niche, the work that makes them unique and different from everybody else. It's the key to survival in a crowd where a lot of art looks the same. But if you work hard and are lucky enough to discover the work that defines you, the next piece of advice you hear is that you need to make it appeal to everyone all the time.
Well, which is it?
How do you create work you enjoy enough to keep doing it year after year and continue to make it pay? How do you serve your customers and clients and allow their input and direction without changing your work so much that it's no longer yours? Is it artwork or factory work?
When it becomes a grind or just about pumping out more images, it can take all the joy out of it. Lately, finishing some paintings has brought the same sense of accomplishment I get from cleaning the house. That's a telltale sign of burnout. I've been here before, more than once. It's a common experience with anyone who creates anything, especially if it's their job, a warning that something's got to give.
I know how to paint a single animal. I've put almost fifteen years into it. Each takes hours to paint, and the work I'm doing now is better than I've ever done, but it's still the same style and (shudder) formula. It's not as challenging or fulfilling as it used to be.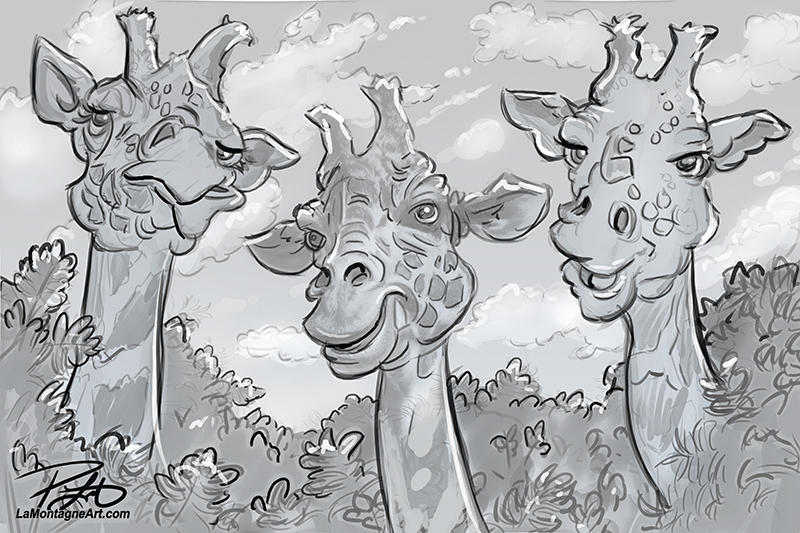 I've taken a new approach with the trio of giraffes, already titled "Long Neck Buds." I don't know if it will work the way I imagine it, but if it does, it will be the first of several I plan to paint this way.
This latest individual giraffe isn't quite a finished piece, but it's close. It will also be the middle giraffe in the painting based on the group sketch above. With the simple background, it's a solid painting on its own. I'll paint the other two individually, like this first one, with my usual high detail, then I'll place them all together. Finally, I'll paint the sky, clouds and leaves around them.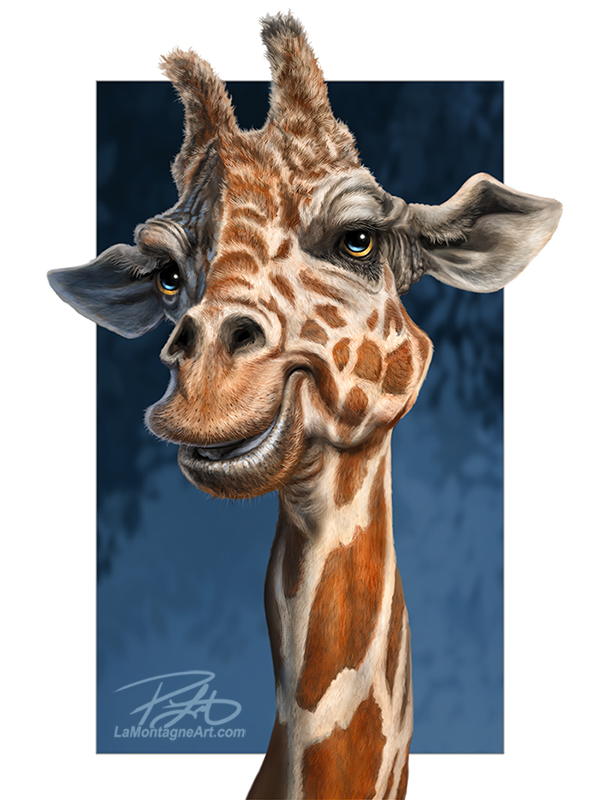 I'm a commercial artist, it's how I make my living. I don't pretend otherwise. But this is also supposed to be fun. I want to paint more detailed and elaborate images I'll enjoy while also leaving options open for clients and licenses with different needs.
I want to create more paintings this way—a troop of meerkats, several burrowing owls, and a waddle of penguins. I could paint different species in an image. However, with each critter as detailed as my usual work, these will take longer than a single painting, requiring a more substantial investment in each piece.
I get nervous when spending too much time on one painting, likely due to many years of drawing editorial cartoons. Twenty years ago, when almost nobody was publishing my work, I would spend many hours nitpicking a cartoon, trying to get a caricature right or fussing with perspective. Shonna and I referred to these as Sistine Chapel cartoons. I had to train myself to say, "good enough."
Most political cartoons have a short shelf life, so speed is essential. Get it done, get it out, and get started on the next one. My cartoon work pays monthly bills.
With a painting, however, the income can come anywhere from next week to next year. Pieces I painted ten years ago are still paying today. Paintings are an investment in future prints, products and licensing, income that often comes later.
This year, I'm making time to play and experiment.
I'll share works in progress, sketches, and thoughts along the way, but fewer finished pieces. The ones I do complete will be bigger and hopefully worth waiting for. Of course, I expect I'll still paint a single animal here and there if the mood strikes me.
11" X14" poster prints will come out only a couple of times a year rather than as I complete them. With higher shipping costs, I imagine that it won't be a problem for collectors of my work to be able to order two or three new pieces at a time with one shipping cost.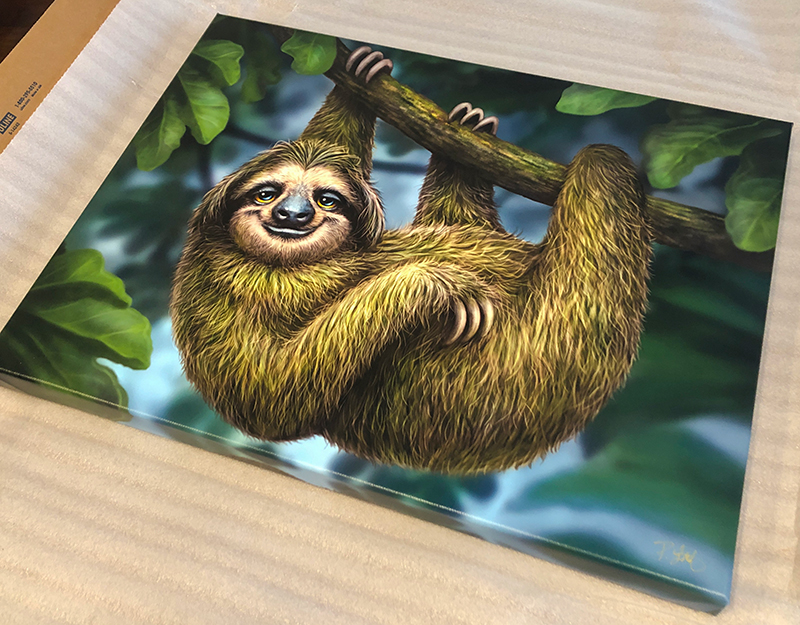 But I'll still welcome custom metal and canvas special order prints. You can order those by email anytime. The above 18"x24" sloth on canvas and 20″x20" Blue Beak Raven on metal below are two custom orders that arrived this week.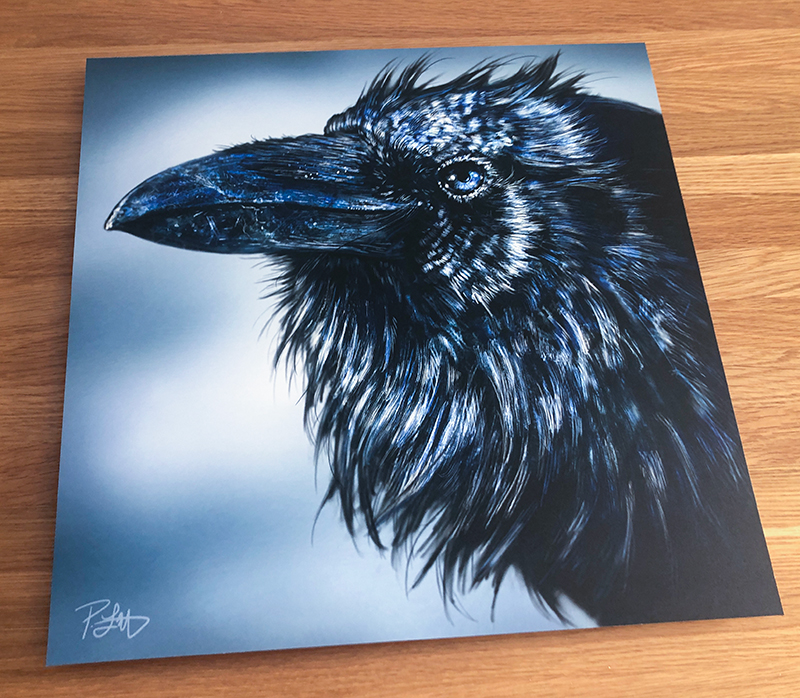 The puzzles I launched this year felt like a considerable risk, but I sold a lot of them and have received requests for more. I'm suddenly motivated to plan paintings that will work as prints, puzzles, stickers and more. I'm also exploring puzzle licensing opportunities.
In the meantime, my collection of more than 100 paintings will continue to pay the bills with prints and licensing, as will drawing daily editorial cartoons, for as long as newspapers hang on.
I'm not having any fun. That needs to change.