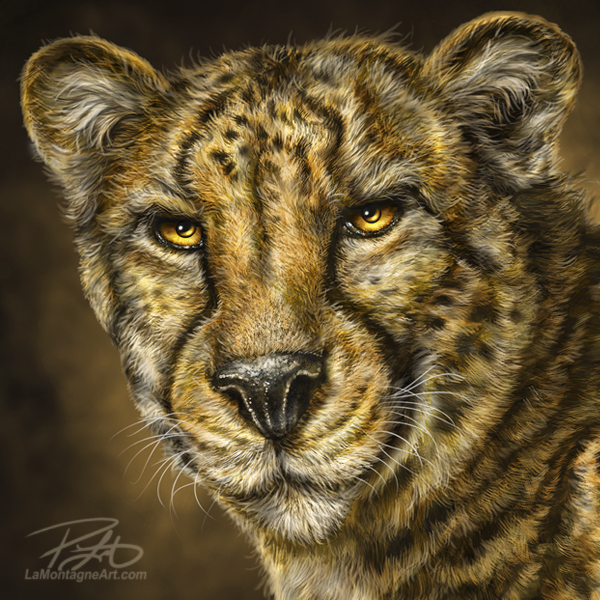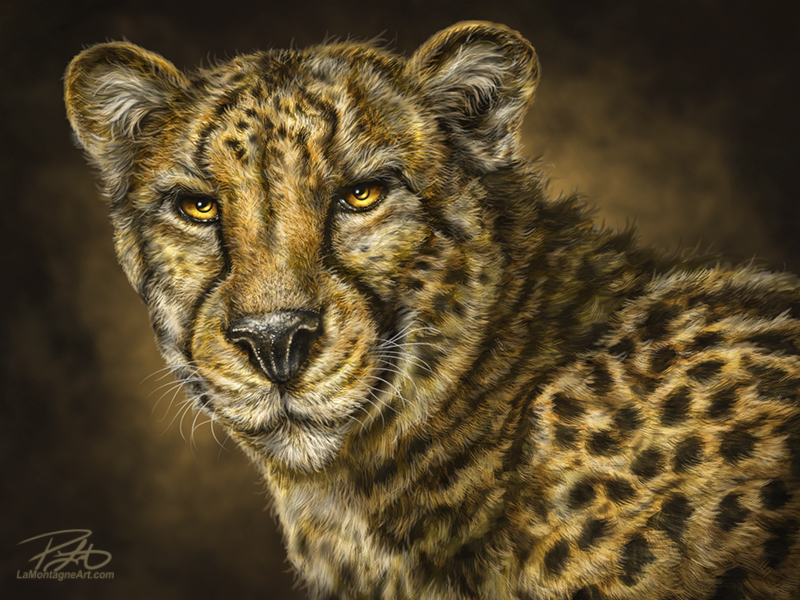 For many years, I was a member of a group called the National Association of Photoshop Professionals. I don't remember when I joined, but I think it was sometime in the late 90s or early 2000s, and I remained a member until 2014 when it rebranded.
Owned and operated by Scott Kelby, the organization contained a wealth of online tutorials, a magazine called Photoshop User, and the Photoshop World conference. There was extensive training from internationally well-known instructors, each with their own areas of expertise.
Before social media ruined it all (yeah, I said it!), when like-minded individuals wanted to learn from each other, share their work for critique, answer each other's questions and simply offer support, there were online forums where artists could gather.
I learned a lot from the NAPP forum and made some terrific friends there. Quite a few of them, I never got to meet in person, but when I finally got to Photoshop World Las Vegas for the first time in 2009, that was the best part of the whole experience, meeting this community in real life.
Over the next five years, I enjoyed seeing them each year, attending classes together all day, parties at night, hanging out at different venues. It was a fun event.
My involvement with NAPP was in a large way responsible for my now expert level skills in Photoshop. The networking opportunities introduced me to people and companies that advanced my career in many ways. I recorded a couple of training DVDs for Photoshop CAFE, wrote some articles for Photoshop User magazine, and won a few prestigious awards. It was due to a weird comedy of errors at my first conference that led me to a long and productive relationship with Wacom, the company that makes the digital tablets and displays on which I create my artwork.
I honestly believe that if I hadn't been a member of that organization, with the opportunities and insights it afforded, I wouldn't be painting my whimsical animals today. There's a direct line between those people and experiences and the work I enjoy most.
Sadly, nothing lasts forever. The organization changed focus, became the Kelby Media Group, they retired the forum, and most of my friends stopped attending Photoshop World. It doesn't hold the same value that it used to.
I still talk to some of them now and then, but not nearly as often as I'd like. To this day, there are still a few people who call me Monty, my username from that forum.
For the first part of my career, while I'd been drawing editorial cartoons, I would also paint detailed caricatures of celebrities, and people would hire me to paint them for weddings, anniversaries, birthdays and the like. But I didn't see a future in it. The first funny looking animal in 2009 was an experiment, inspired by some personal reflection following my first Photoshop World that year.
Without good reference photos, I can't paint the detail I enjoy, so in the beginning, I had to buy stock photos and relied on the generosity of photographer friends I knew through NAPP.
In 2014, I had already been taking my own photos with a decent camera I'd bought, but it was essentially a point-and-shoot with a good zoom lens. That spring, I painted a family of owls from the reference I'd taken myself here at Grassi Lakes above Canmore.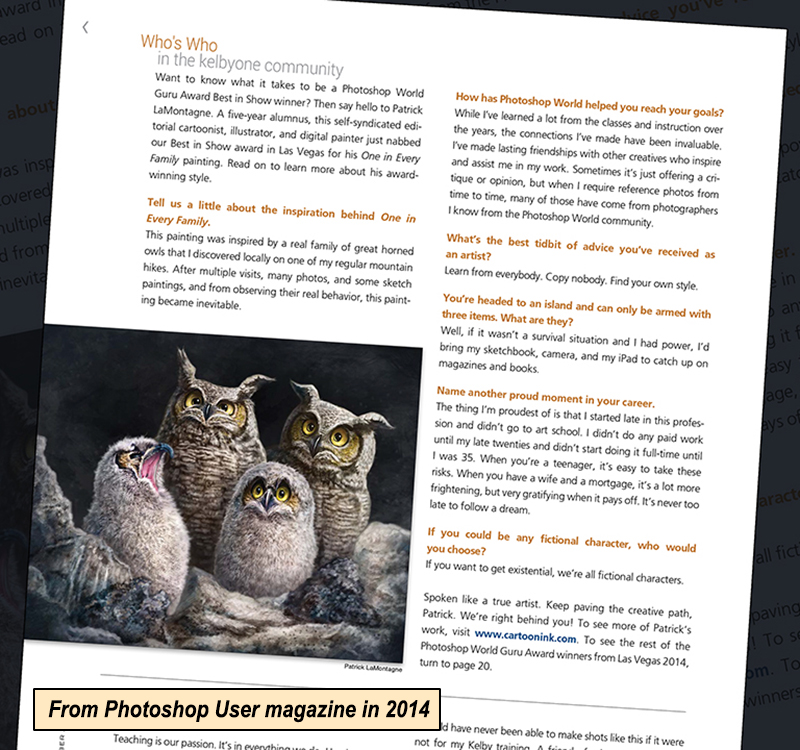 At Photoshop World that year, I won the Best of Show Guru award for that painting. At the last minute, they announced that part of the grand prize would be a Canon 5D Mark III camera. The oohs and aahs from an audience of mostly photographers indicated that it was something special. I had no clue.
When I won, I remember somebody laughing and saying, "Of course, the illustrator won the camera!"
When I returned to my seat, the friends I'd been sitting with told me just how good it was and that it was worth thousands of dollars. I remember calling Shonna to tell her I'd won, and we mused that I should probably sell it on eBay as such a professional camera would be wasted on me.
When I mentioned that idea to my buddy Jeff from Boston, he gave me some of the best advice I've ever received in my career. He told me to keep it and learn to use it.
Since then, I've discovered a love of taking reference photos, and it has become as much a part of the creative process for me as the painting itself. While I don't make a habit of calling myself a photographer and have no designs on going pro, I enjoy it a great deal.
I've taken good care of that camera, been using it for six years, and it still does the job I need it to do. If something happens to it, or when it comes to the end of its life, I'll buy another professional camera, because it's now such a big part of my work.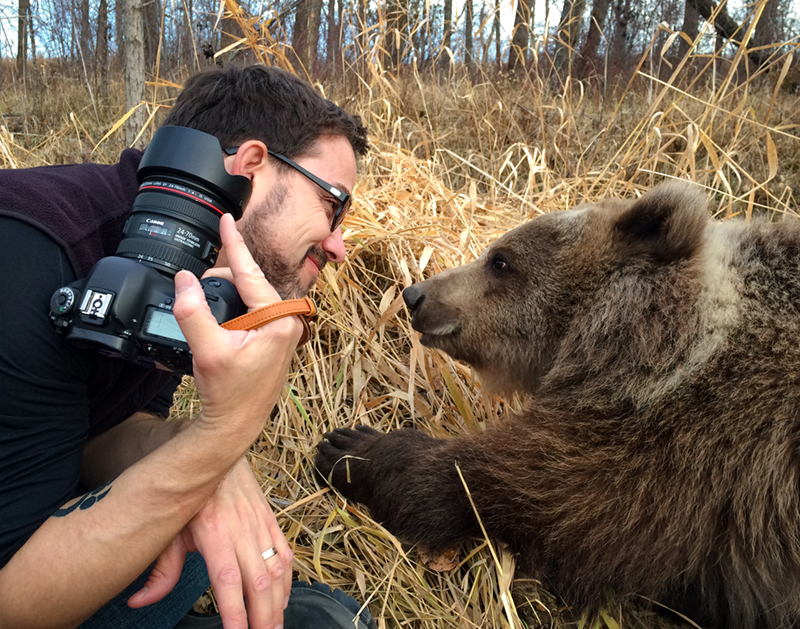 Still, now and then, I find myself unable to take my own reference pics. This is especially true of commissions, where I rely on clients to provide me with the photos I'll use to paint their furry family members.
Or it's merely a case of access and travel being prohibitive. I've been searching for the right reference for an elephant painting for years. My friend Serena from Discovery Wildlife Park went to Africa earlier this year and brought back the perfect photos for me.
One of the people I knew well from my years in the NAPP organization and Photoshop World was Susan Koppel. It's not enough that she was a flight instructor at 18 and then became an aeronautical engineer, but she's also an incredible photographer and supporter of animals.
Now retired from the aviation industry, Susan's photography business is her primary focus, pun intended. She volunteers for the Nevada Humane Society taking pictures of the animals to make them look their best for their adoption photos. She also donates her skills to a wildlife sanctuary and nature center in Reno called Animal Ark.
The facility has adopted several cheetahs, and one of their regular events is to have cheetah runs. This gives the animals much-needed exercise opportunities to run full out, as they would in the wild, but also provides photographers with a chance to take pictures they can't get outside of Africa. These photography events give the sanctuary added funds to continue the work they do.
Years ago, Susan provided me with the reference for my Raccoon and Fox paintings. I've seen her cheetah photos before and recently asked her if she'd be willing to share some. I've wanted to paint a full body cheetah in a running pose, mostly inspired by the photos Susan has posted over the years.
Susan generously opened up her online archive to me and told me I could use what I'd like. I ended up grabbing a dozen or so and expect to do three cheetah paintings in the near future. The reference was just so good that I couldn't decide.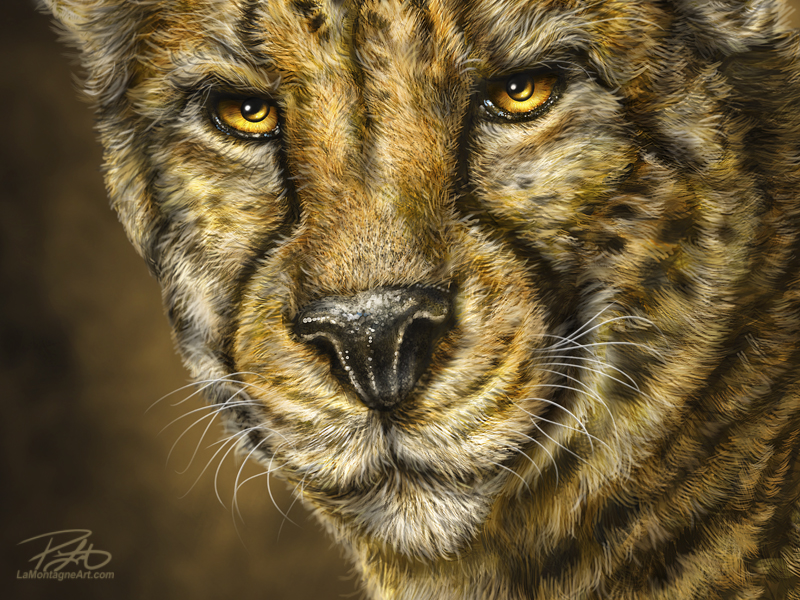 This is the first of those cheetah paintings, and I obsessed over the details. I expect I could have spent another 10 hours on this one, just nitpicking every little hair. But as every creative knows, eventually you just have to abandon one piece so that you can start on the next.
I miss all of those great people in the NAPP organization and at Photoshop World conferences. Each of them, in one way or another, inspired and contributed to my creating the work I love most, and I believe I'm a better artist and a better person for having known them.
Cheers,
Patrick
___
© Patrick LaMontagne
Follow me on Instagram @LaMontagneArt
Sign up for my newsletter which features blog posts, new paintings and editorial cartoons, follow this link to the sign up form.