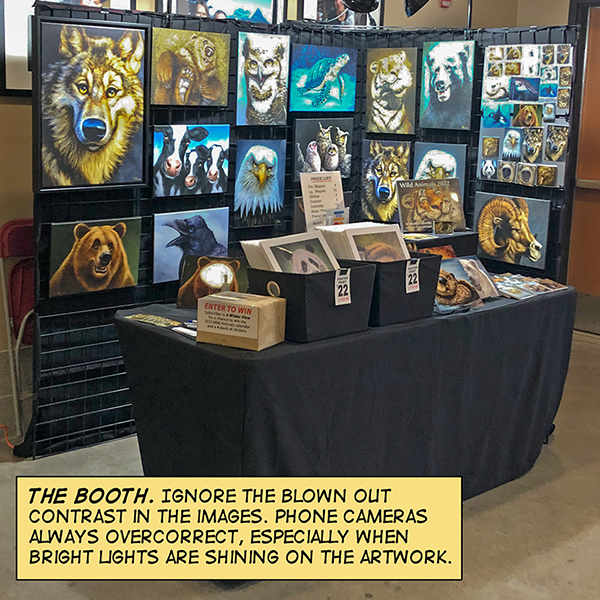 I signed up late for The Mountain Made Christmas Market at the Canmore Civic Centre, but since I had the stock, the time, and it was close to home, I couldn't think of a reason not to give it a try.
As it was a six-foot table space rather than a 10 x 10 booth, and I haven't used any of my hardware and displays since April of 2019, I set it up in my garage last week to figure out how I wanted it to look. With setup time limited on-site, you don't want to experiment and solve problems in the final moments before the doors open.
Usually, these events have vendors packed tightly together, but with distancing rules, there were 2m between booths and a building capacity limit, including those behind the tables. So while it meant fewer vendors could attend, it didn't feel crowded, and we had breathing room. Behind masks, of course.
If you've followed my work for a while, you know I'm most comfortable working on editorial cartoons or paintings in my office. I know a lot of artist introverts, seems to go with the profession. We're good with one or two other people, but crowds sap our energy.
And yet, I didn't realize how much I missed the interaction at these things.
The show hours were 10-4, and I had a prime corner in the main lobby. With a couple of hours setup on Saturday before opening, restocking on Sunday morning, and an hour of tear-down at the end, it was just a couple of eight-hour days. I even got some painting time in at home in the morning before heading to the venue. Some of these shows have long hours without a break, all day, every day. So I come home exhausted after five days at The Calgary Expo.
Getting to know the other vendors is usually enjoyable. Sometimes you can have a conflict, especially if a neighbour starts pushing into your space, but it's most often a cooperative, friendly environment. When possible, we help each other out with forgotten supplies, keeping an eye on tables for bathroom breaks, taking orders for coffee runs, chatting during the slow periods, and learning about what each of us does.
Before the pandemic, I only did one or two shows a year. The daily editorial cartoon deadlines prohibit a lot of travelling. Some of these vendors make their entire living doing the gift, craft, and trade show circuit, and they're pros at it. They've got setup and travel down to a science. When it comes to farmer's markets, some of them go four or five days a week in different locations, a lot of time spent on the road.
While I only had a five-minute drive back to my house on Sunday after tear-down, one of my neighbours was still packing up before her four-hour drive back to Fernie, BC.
Halfway through Saturday, I realized I was having a good time. I've written about this before, but I love it when people are surprised by my wall of funny-looking animals. Even behind masks, the positive reaction is obvious.
It's a good feeling to make people smile, especially since the past year and a half has seen so little of that.
I'll often have to invite people to come closer, telling them it's OK, my critters don't bite. Their hands come up as they point out different ones to their companions. Because I had over 45 different images at the show, with no way to put them all on canvas on the wall behind me, I invite people to flip through the bin of poster prints, assuring them they're all different.
I get the same questions all the time, and I'm happy to answer them.
"Are you the artist?"
"Did you paint all of these?
"How do you do this?"
And I hear the same comments, without complaint.
"They've got such personality!"
"They look cartoony…but real."
"I love these."
Yeah, that last one never gets old. Even if people don't buy anything, it's comforting that my work helped distract them from their troubles for at least a moment or two. Not a bad way to measure success.
Sales far exceeded expectations, and I couldn't have asked for a better weekend. What people buy in different places and times of year never fails to surprise me. While prints like the Otter and Smiling Tiger always sell well, people have their favourite animals or a friend who loves owls, cows, or moose. So one person buys a rat, the next person a hippo, and the one after that a Ring-tailed Lemur who's not quite all there.
But two popular standouts at this show were the Winter Wolf and the Sea Turtle, both newer paintings.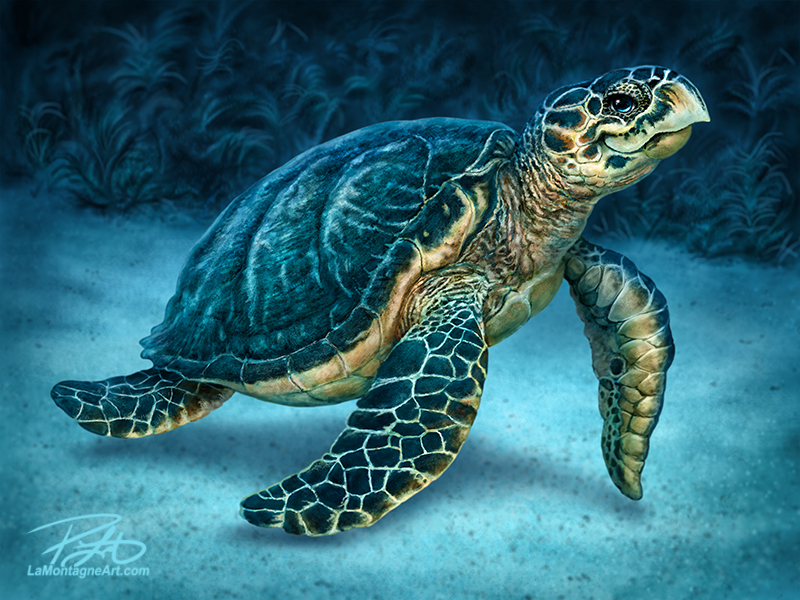 .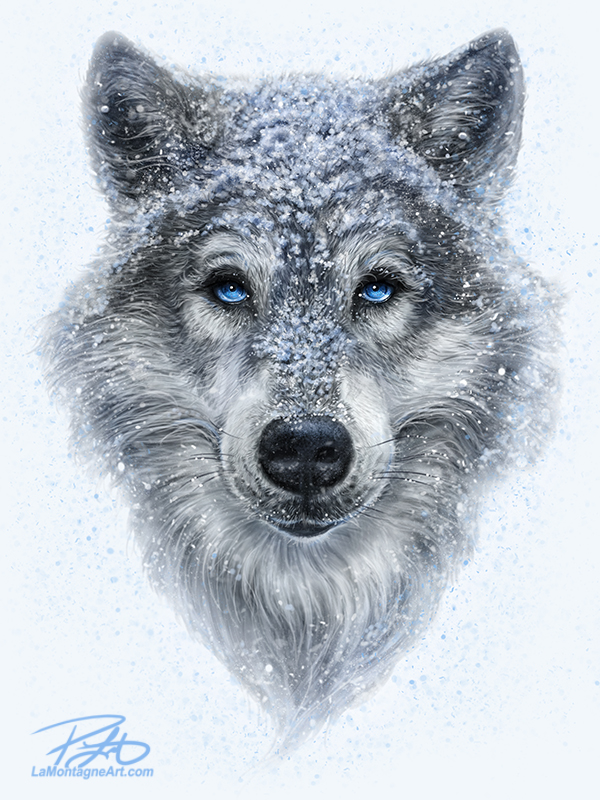 8X10 aluminum prints and ceramic coasters were big sellers at this show, and I sold out of calendars. Those are all made by Pacific Music & Art, and I've already placed a resupply order. I'm adding the Sea Turtle, Winter Wolf and a few others to aluminum art for the next time around.
There will be another two-day Mountain Made Christmas Market at the Civic Centre on December 11th and 12th and a one-day Last Minute Market on December 18th. As this was such a positive experience, I've registered for both. This was an enjoyable event because the organizer, Julian, set the right tone and did a fine job of putting everything together. In addition, the Town of Canmore's building monitor, Maurice, was ridiculously helpful and courteous, and we let him know how appreciated that was.
We're often quick to point out when others fall short but fail to tell them when they've done a great job. People need to hear it, to let them know that it matters.
Now, please don't get excited and think I've found my long-lost Christmas spirit or anything.
Having just endured two back-to-back elections in Alberta, plus the last year and a half of uncertainty and stress, it was nice to talk with people without the whole conversation revolving around politics, the pandemic, and polarized opinions.
Thanks to all of you who signed up for A Wilder View at the show. Chris S. won the calendar and sticker draw, and I've already delivered it to him. I enjoyed chatting with all of you, and I welcome your feedback, so don't be shy about leaving a comment on a blog post or sending me an email from time to time.
Coming up next week, I'll have a new desktop/device wallpaper download for all subscribers. I think you'll really like this one. It's one of my favourite paintings, and I hope it will put a smile on your face, even if I don't get to see it in person.
Until next time, thanks for being here.
Cheers,
Patrick.