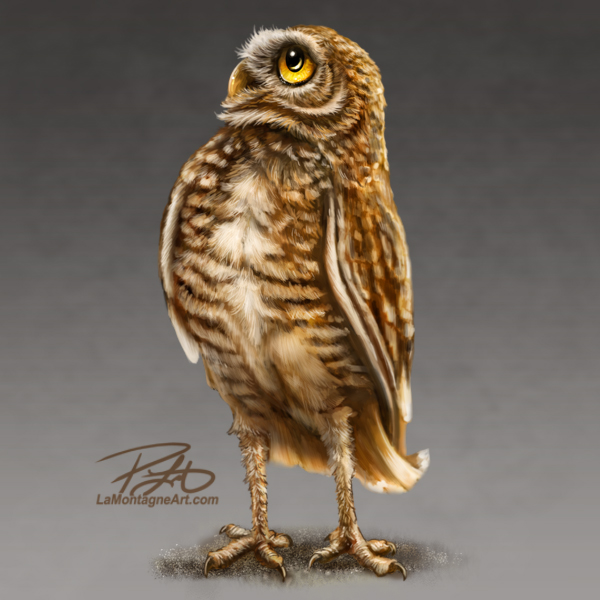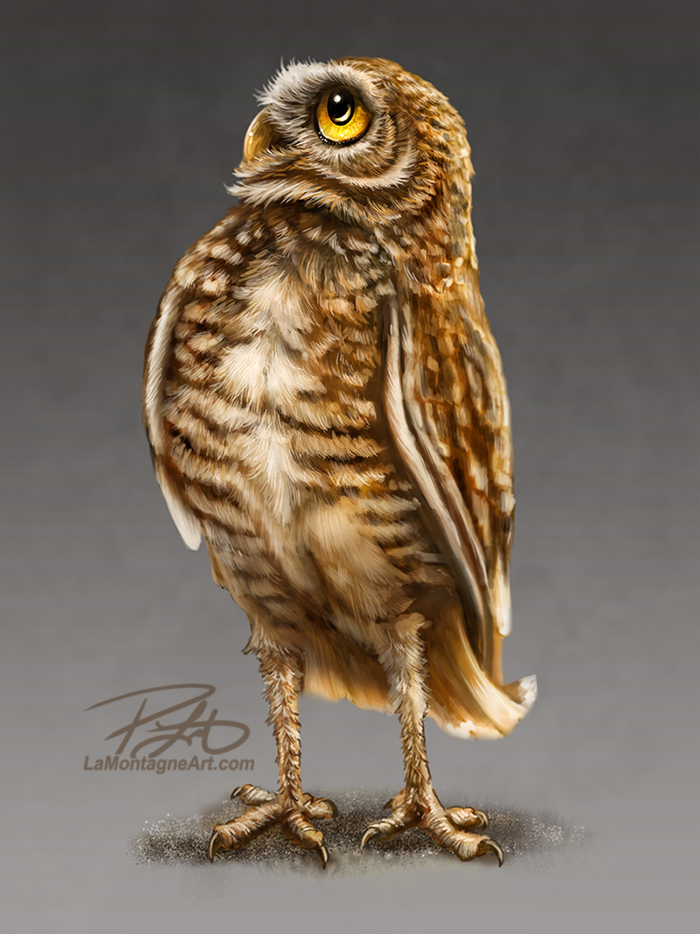 Here's the fourth burrowing owl in the series, which will be part of a larger piece featuring multiple owls in different poses. I don't know how many owls yet, and I only have a rough vision of it.
Though I've only been to the Alberta Birds of Prey Centre in Coaldale a couple of times, spending two days on each visit, I've also seen them on several occasions here in Canmore.
Before the pandemic, The Town of Canmore used to host a WILD event at the Civic Centre. It featured everything from hikes, art activities, educational talks about the environment, etc. Colin Weir and his daughter Amy would bring their ambassador birds to the event, featuring four different owl species and a golden eagle named Sarah.
It allowed the public to get up close and personal with these owls, learn about the Alberta Birds of Prey Foundation's great work and raise funds for the non-profit organization.
I've taken thousands of photos of these birds over the years, and even though I've only kept the best of these shots, I still have hundreds in my well-organized archive. Every time I go through these photos looking for my next painting, I often think it a waste to have so much reference that I've yet to use.
While most of my whimsical wildlife paintings are single animals in a portrait-type pose, I enjoy the challenge of putting multiple animals in a composition and creating a scene.
There's the Two Wolves painting where it looks like they're sharing an inside joke. Another is the three cougar cubs laughing together in Snow Day. One of my favourites and still a very popular painting is One in Every Family, a scene I painted in 2014 featuring four great horned owls.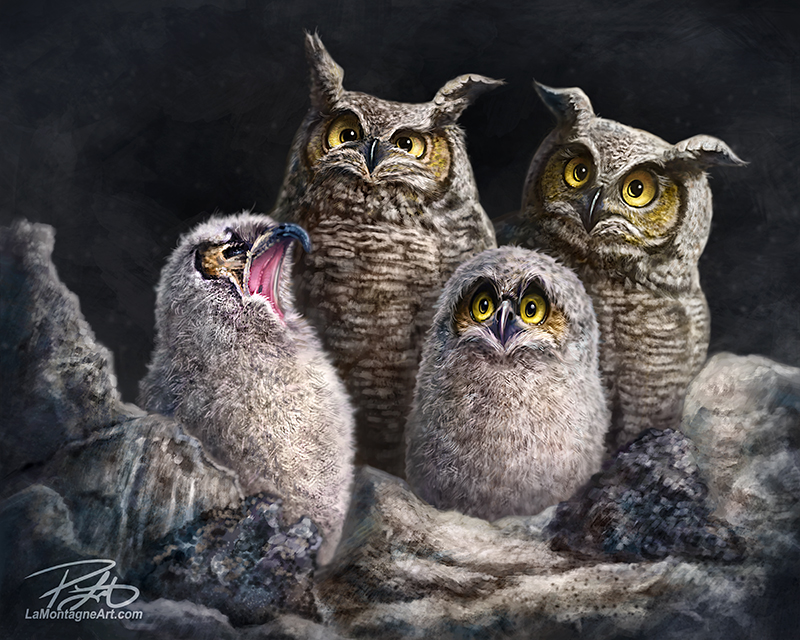 Part of the reason I love that painting is the story behind it. That painting won the Best of Show award at Photoshop World that year, but the prize for that win was my Canon 5D Mark III camera that has become like an old friend. I baby that thing because it has helped me take the reference that allowed me to paint my best work in the years since.
That owl piece began as a practice experiment. I took several photos of the family up at Grassi Lakes over multiple days, and the experience was more about seeing these wonderful birds in the wild than creating a painting.
I did some individual sketch paintings from better shots than I expected to get. Eventually, I put those rough paintings together and invested the time to render the finished piece above.
Having painted more than 100 production pieces since 2009, I'll often go through my photo archive and have difficulty deciding what to paint next. Lion? I've painted a few of those. Wolf? Several of those. Eagle? Raven? Black Bear? Many of each.
I could quite happily paint Berkley the brown bear repeatedly for a year, and I have more than enough references. But a variety of popular animals is more desirable, to find something new that will be appealing to me and be of interest to my customers and licensing clients.
There's the difference between art for a hobby and art for a living.
So, when I repeatedly came across dozens of burrowing owl photos, many of which are the same owl, this little fella named Basil, I wondered what I could do with them.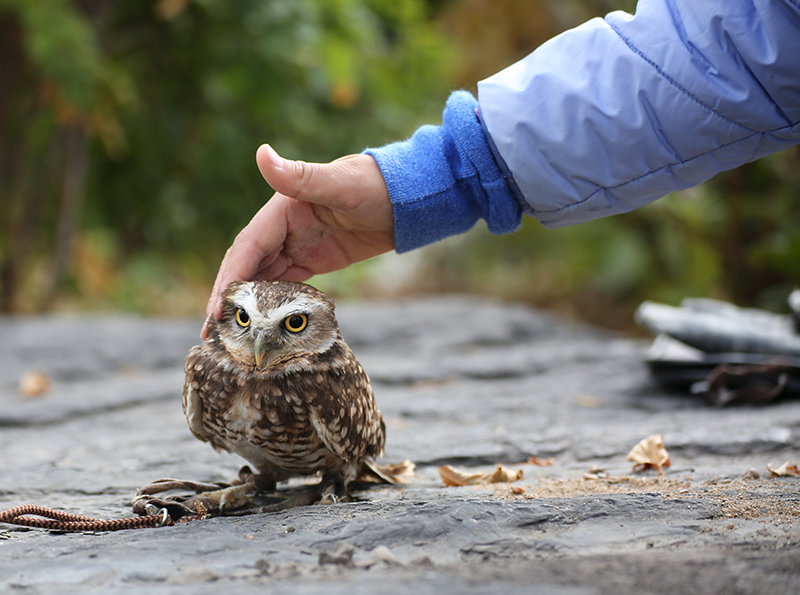 And that's how I ended up creating a folder called Next Level Projects. About a year ago, I spent a whole weekend going through my photos looking for animals for which I had plenty of reference; that would also look good in a painting featuring a group of them.
The first is going to feature these burrowing owls. I'll paint several of them individually, like the one at the top of this post. Then, when I have enough, I'll move them around on a larger digital canvas, come up with a scene, and spend time painting over them, ensuring the light matches up and they look like they belong together.
From a business perspective, each one of the owls will lend itself to an individual painting on different items. For example, Pacific Music & Art could have a set of six burrowing owl coasters, all of which are also part of the same painting in a print. It would work for stickers and magnets as well. But the larger painting, featuring all of them, would work well on a coffee mug, as it's a longer horizontal layout.
Because I've been painting these animals for thirteen years, many in the same popular format of the headshot composition, the routine has started to creep in, and it's a little concerning. I'm not tired of this work; I still enjoy it immensely. But as the recent commission piece taught me, and the latest elephant painting, it needs to continue to be challenging, or I'll get bored of my work.
Paintings featuring multiple animals feels like the next step, and I'm focusing on creating more of those this year.
I've long wanted to do a painting featuring several meerkats. There's one I keep coming back to with multiple ring-tailed lemurs, too. I've already got titles for both and a lot of reference. And I have so many baby pictures of Berkley and the new cubs at Discovery Wildlife Park that I've long wanted to put multiple brown bear cubs in one painting.
I'll still paint the single animal pieces because I have several in mind as well, but these multiple-animal pieces will present an ongoing challenge to keep me excited about painting.
So instead of sharing as many finished paintings with you this year, I'll likely be sharing pieces of finished paintings and the stories behind these next-level projects.
In the meantime, I'm always open to suggestions. So, if there's an animal you'd like to see me paint, let me know in the comments. There is always the chance you'll come up with something I haven't considered. Or if you'd just like to tell me which one of my many paintings is your personal favourite(s), that helps me decide on future paintings, too.