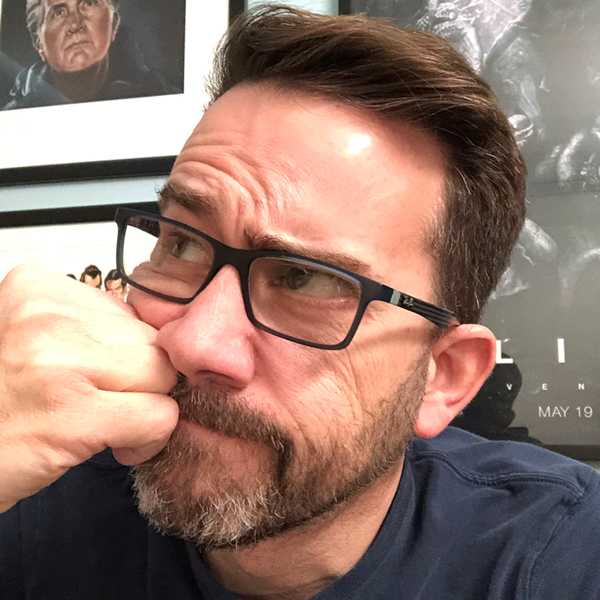 Keeping a blog is handy when I write a year-end wrap-up because I don't have to remember what happened. So here are some of the standouts from this year.
Sticker Surprise
While on a cabin trip last year, my buddy Darrel suggested my work might lend itself well to vinyl stickers people put on vehicle windows. So, I designed a few, sourced a production company, and realized he was onto something.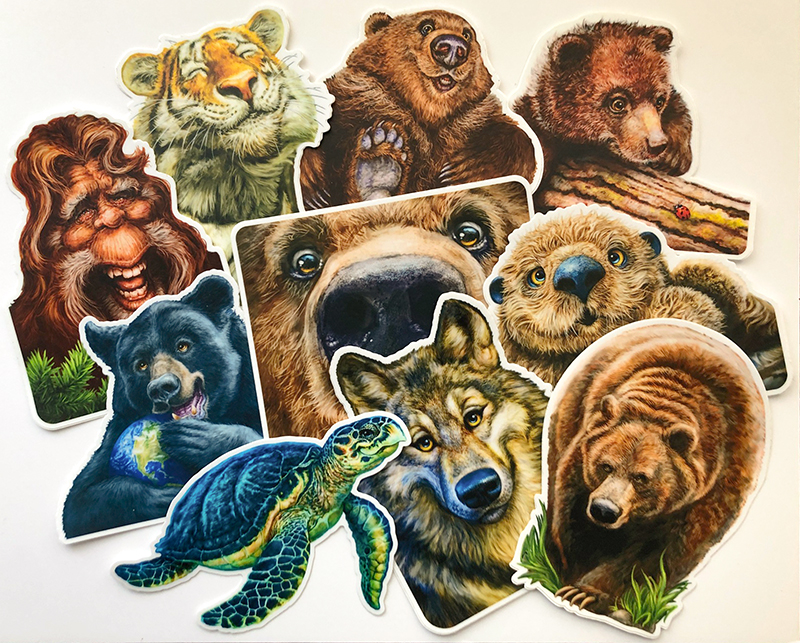 The ten designs have done well with regular re-orders at the Calgary Zoo, Discovery Wildlife Park, and Stonewaters in Canmore. They were also popular at Calgary Expo and the Mountain Made Markets. This week, I reordered a bunch and added two new designs. In the upcoming year, I'll be working to get these into more stores.
The NFT boom goes bust
Earlier this year, I thought there might be a market selling NFTs of some of my paintings. I read a lot of information, entertained offers from online galleries, and eventually signed with one. They were professional and good to work with, but then the entire crypto art market fell apart.
Thankfully, I lost no money on the experiment. I never bought any cryptocurrency or paid for my own NFT minting. The time I lost was an educational experience, and I have no regrets. You will never have any success without risk. Kevin Kelly once said, "If you're not falling down occasionally, you're just coasting."
Will NFTs come back into favour? I doubt it.
Cartoon Commendation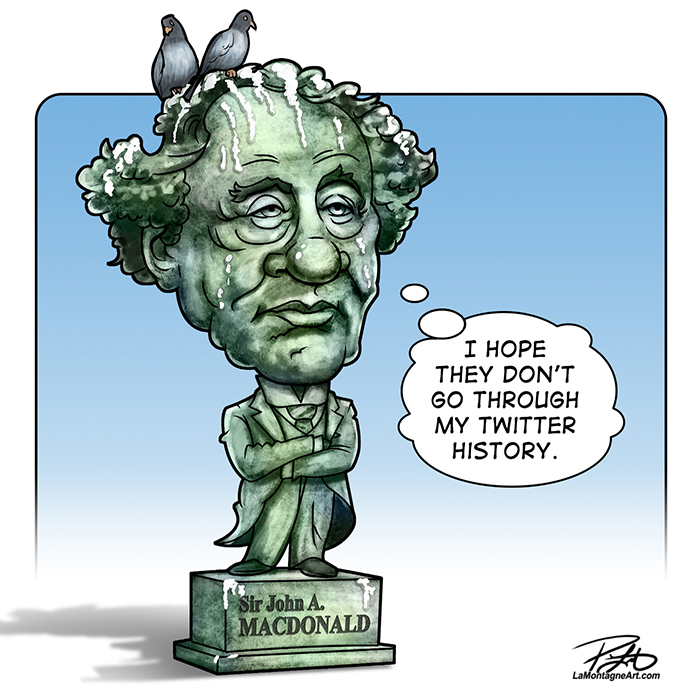 I don't usually enter editorial cartoon contests, but I made an exception this year for the World Press Freedom Competition. I'd already drawn the cartoon above that fit the theme, and the top three prizes included a financial award. Though I hadn't expected much, I won 2nd place and the prize money paid for most of my new guitar.
The Rocky Mountain Outlook is our local weekly paper. I've been their cartoonist since it began in 2001, and I've never missed an issue. National awards matter to weekly papers as they lend credibility to the publication, especially when soliciting advertisers who pay for it. The Outlook enters my work into the Canadian Community Newspaper Awards each year.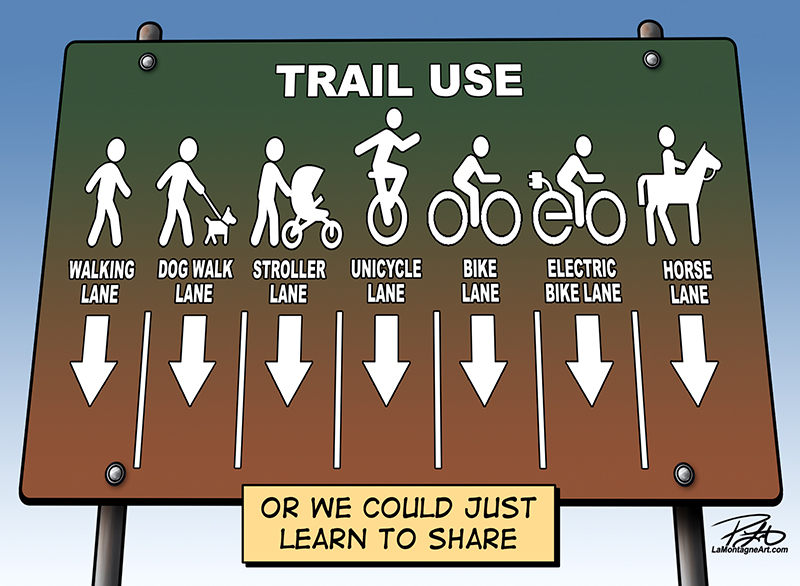 The CCNAs didn't happen last year because of the pandemic, so they awarded two years at once this time. For Best Local Cartoon, I won First, Second and Third for 2020 and Second and Third for 2021 in their circulation category.
Given there are fewer local papers each year and even fewer local cartoonists, I wonder if the multiple awards say more about the lack of competition than the quality of my work. Regardless, the recognition is still welcome.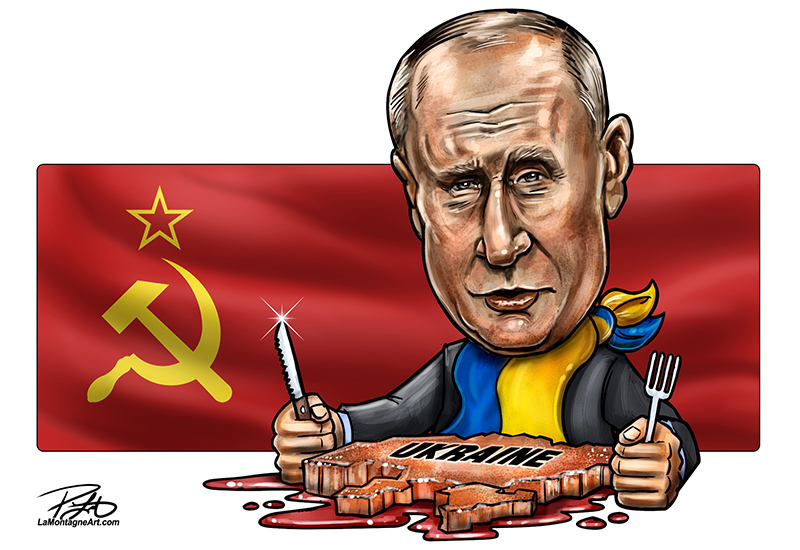 The problem with local cartoons is that you kind of have to live here to understand most of them. So the ones I've shared here are a random selection of local and national topics.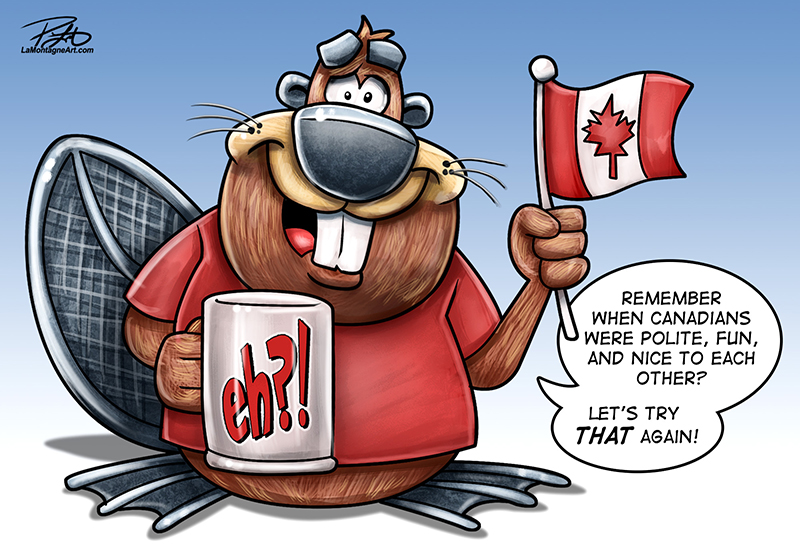 Between the five or six syndicated editorial cartoons I create each week, plus the local cartoon for The Outlook, I drew 313 editorial cartoons this year.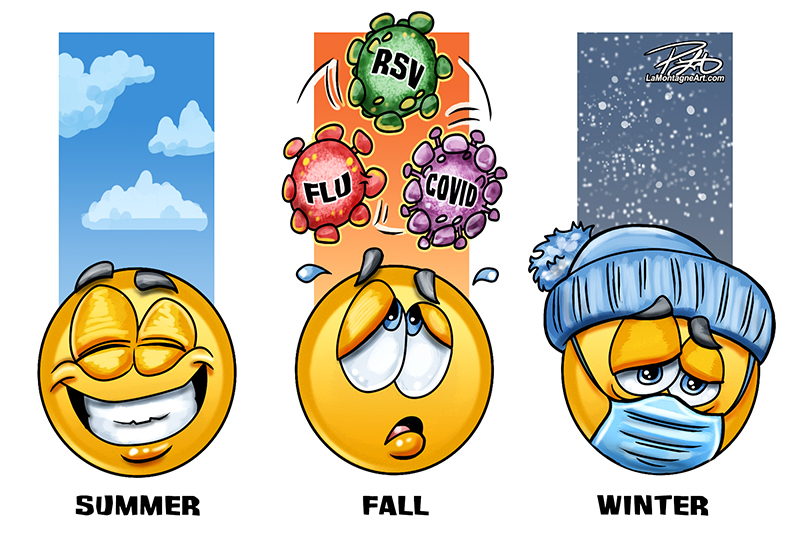 Calgary Expo and the Mountain Made Markets
I know artists who do the gift and market circuit all year long. For some, it's their entire living, and they do well. Others try it for a few years, don't make any money, and move on to something else. It can be a real grind.
More than once, I've considered getting a bigger vehicle, a tent and the display and booth hardware I would need to do the fair and market circuit in the warmer months and the holiday shows in November and December.
But with daily editorial cartoon deadlines, long days away and travelling each week are next to impossible. I enjoy working in my office every day and have no desire to spend a lot of my time driving and staying in hotels.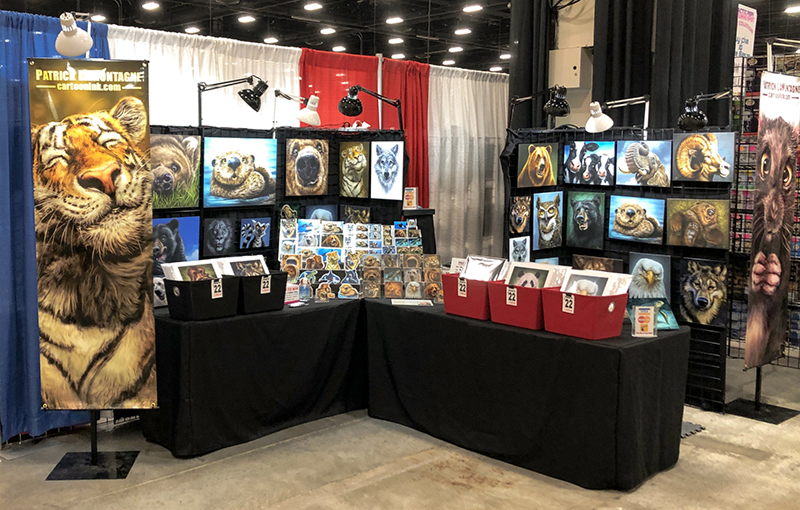 The one big show I look forward to each year is the Calgary Comic and Entertainment Expo at the end of April, five long days, including a full day for setup. So when the full event reemerged from its two-year pandemic hiatus, I was excited to return.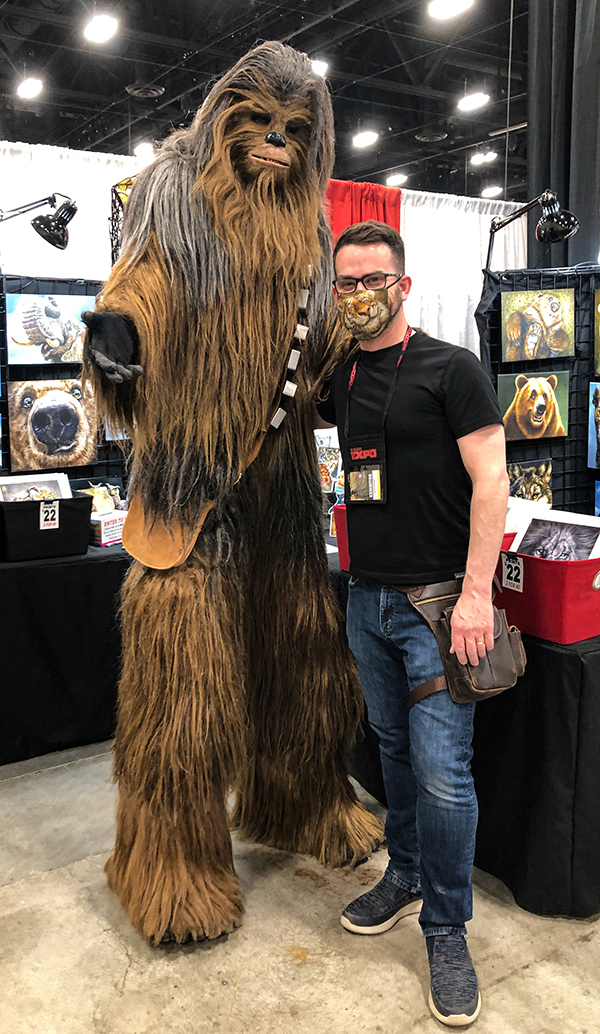 Not only was 2022 my best year of sales to date, but it was also great fun. I'm already looking forward to the 2023 event, though I'm tempering my expectations with a possible looming recession. Then again, I didn't think this year would be good, and I was happily proven wrong.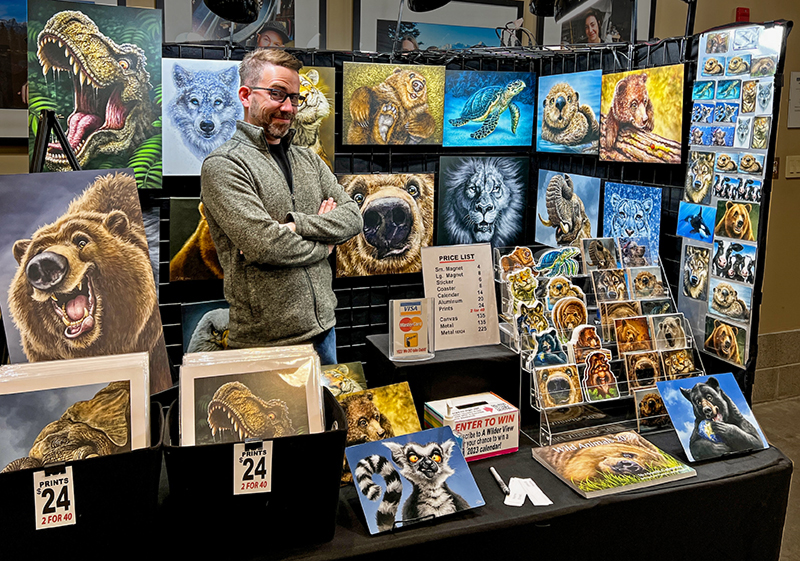 There were several Mountain Made Markets this year, with weekend events every month from May to December. Held indoors at the Canmore Civic Centre, it's an easy setup close to home, so it's worth my time.
Each market was profitable, and I enjoyed introducing new people to my work, meeting subscribers in person and visiting with customers, vendors and friends. Significant changes are coming for that event this year. Whether good or bad remains to be seen, but I hope to do more of them in 2023.
Licensing
If you've ever bought a face mask, magnet, coaster, or calendar from me, those come from Pacific Music & Art, just a handful of the many items they sell. I often hear from people who've bought a trivet in Banff, a coffee mug in Alaska, or an art card in Washington.
Licensing allows me to spend my time painting and still reach new markets and audiences. I signed a few new deals this year with Art Licensing International agency, a company that has represented my work for several years. Agencies might have many more contacts, but they take a big chunk of the royalties, so it's a double-edged sword. I prefer to find most licenses on my own.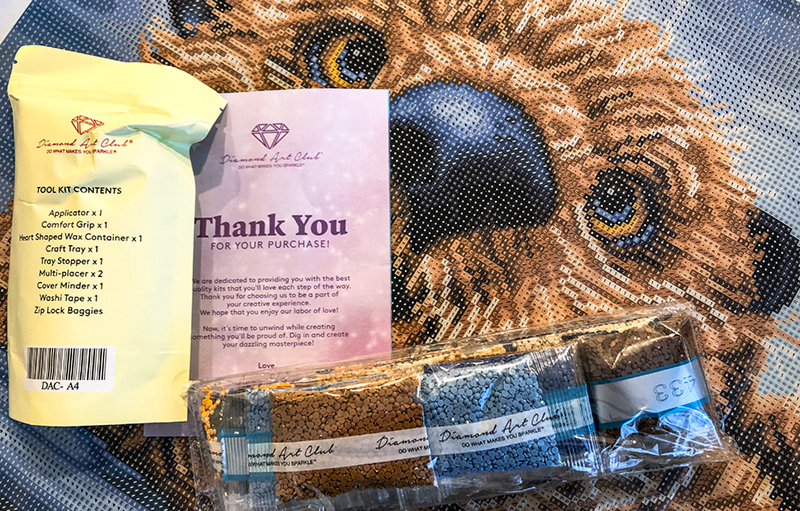 Sometimes companies cold call me. When Diamond Art Club contacted me about licensing my work, I had barely heard of diamond art kits.
Though there was a lead time of many months, the Otter kit finally launched this summer and sold out in days. Producing these kits involves more than simply printing the image on an item, so it took a few months for them to restock that first piece, but it's again available on their site.
More diamond art kit designs are coming in 2023, but I'm not allowed to share which ones yet.
I signed a new contract last week for ten of my images with an overseas company for another product, but that, too, will be something I can't share until the middle of next year. Licensing usually involves quite a bit of time between signing contracts and actual production, so it's work now that pays later.
Come to think of it, that's a good way of looking at commercial art in general. Every piece I paint is an investment in future revenue.
Special Projects
As I wrote about my latest commission earlier this week, here's the link if you'd like to see and read about the pet portraits I painted this year.
Every year, I begin with great plans and expectations, but things go off the rails or new opportunities show up, and the whole year becomes a series of course corrections. All I can do for delayed projects important to me is try again.
I tend to slip into a fall melancholy or winter depression most years. When it happens, I often throw my efforts into a personal project, usually painting a portrait of a screen character. I've painted several portraits of people, and many result in great stories to go with them. Here's the John Dutton character painting I did last year.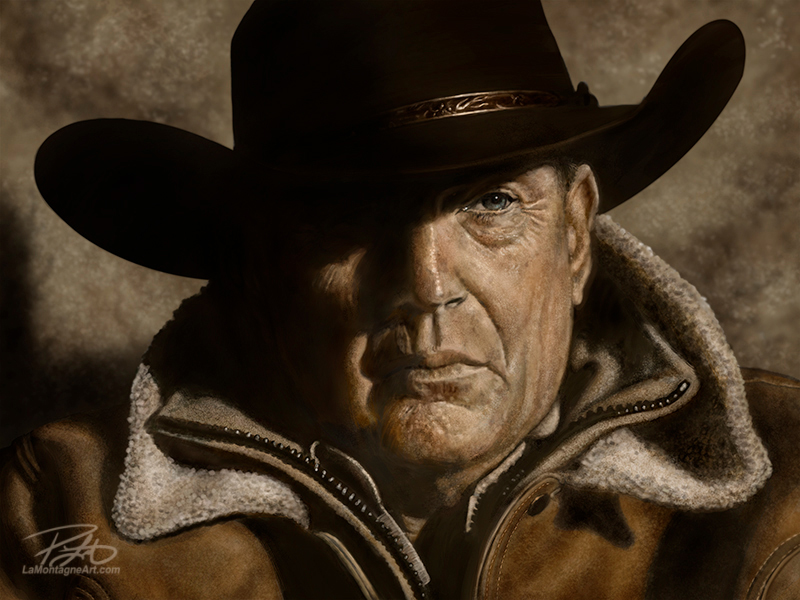 I realized earlier this month that I wouldn't get to one this year, even though I had already chosen someone to paint. While disappointed, not having the time was likely due to the work I put into the markets, something I hadn't done in previous years. However, my latest commission of Luna almost felt like a personal piece because I so enjoyed that painting.
I still had down days this fall, especially with our brutally cold November and December. But September and October were beautiful and right before the weather turned, I had a great cabin trip with my buddy, Darrel.
So the seasonal depression wasn't as dark as it has been in recent years, and for that, I'm grateful.
The Personal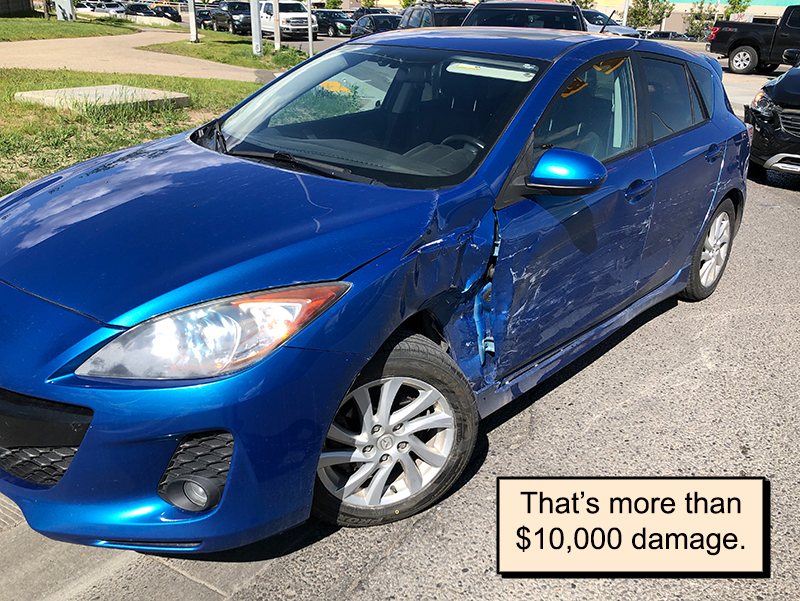 On a sunny June day in Calgary, a woman ran a red light and wrote off Shonna's car. While we had no immediately apparent injuries, we've been sharing one vehicle ever since and likely will until sometime in the middle of next year. Unfortunately, everything we can find, used or new, is overpriced, and we've heard many stories of fraudulent car dealers adding extra fees and playing bait-and-switch games. As if the near criminal behaviour of our own insurance company wasn't bad enough.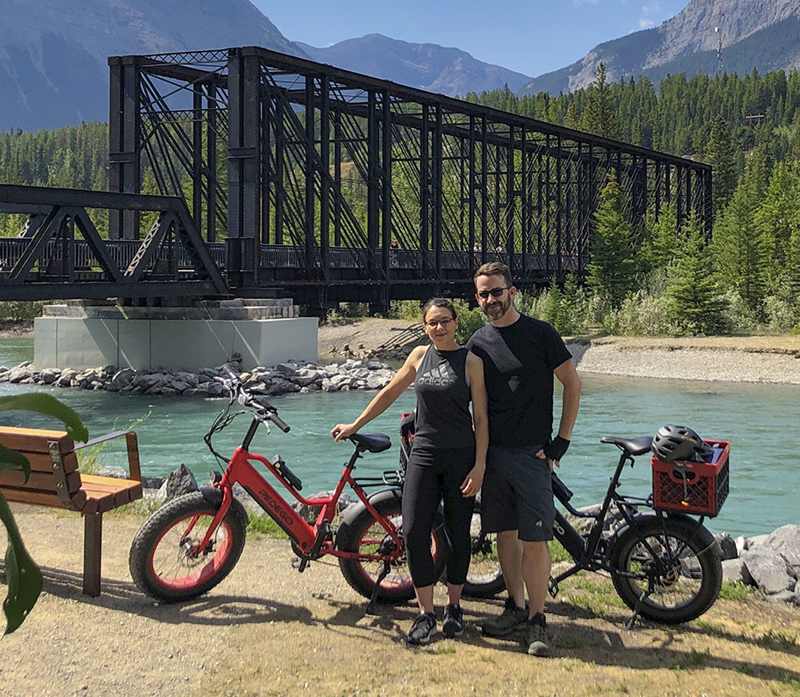 But we bought Pedego Element e-bikes and love them. Canmore is easier to get around by bike than car, and it has become a necessity since they brought in paid parking. So we were both disappointed when winter arrived with a vengeance in November, and we had to put them away. While we had planned to get studded tires and ride the bikes all winter, as many around here do, 20″ studded fat tires are just one more item on the long list of global supply problems.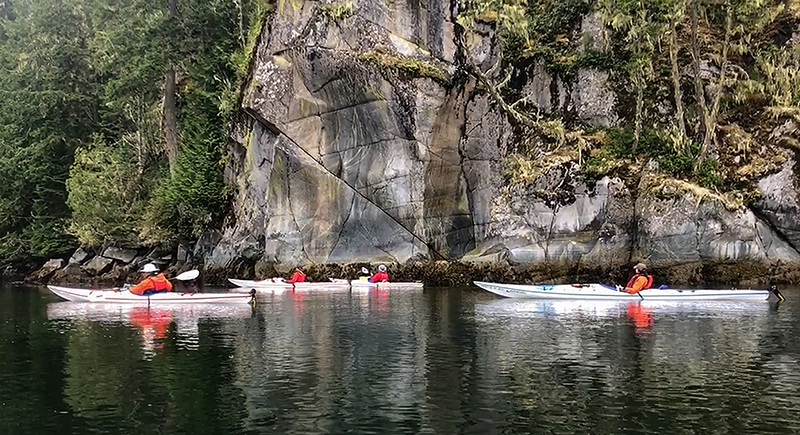 We had a wonderful vacation in August, glamping and kayaking for a week off northern Vancouver Island, a 25th-anniversary trip we had postponed at the beginning of the pandemic. It was one of the best adventures we've ever had.
I bought a silent acoustic guitar this year and began to play music again. It's always within arm's reach of my desk, and I've been playing it almost every day, sometimes for ten minutes, but most often for an hour or more. With regular practice, I'm a better musician now than I've ever been, and it's a lot of fun, especially bringing it on a couple of cabin trips.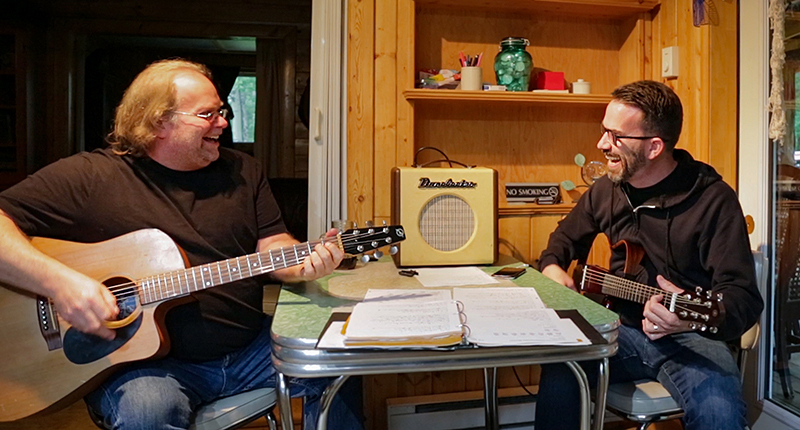 Best of all, there is no chance I will ever play guitar for a living. It's a purely creative escape with no responsibility to pay my bills.
Painting
Including the two commissions, I completed nine full-resolution production pieces this year. I wanted to paint more.
Best I can figure, preparing for and attending the additional Mountain Made Markets this year ate up a lot of time and energy, especially on weekends when I do a lot of my painting. I still had to create the same number of editorial cartoons each week but sacrificed painting time. That's valuable information to have when considering future markets and shows. While those might give me more opportunities to sell the work, they steal from time creating it.
I've put together another video to share this year's painted work. Most of these are finished paintings, with a few works in progress.
Hundreds of new people subscribed to A Wilder View in 2022. My sincere thanks to you who've been with me for years and those who just joined the ride. Whatever challenges you face in the coming year, I hope the occasional funny-looking animal in your inbox gives you a smile and makes life a little bit easier, if only for a moment or two.
Good luck with whatever you work toward in 2023.
Happy New Year!
Patrick.