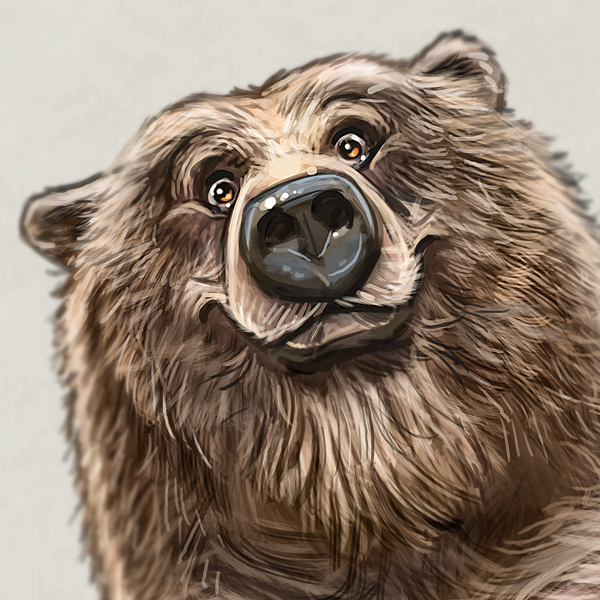 Here's a painting I did late this week. Not a fully rendered piece, just something I did for fun. I'm still working on another bear, a more finished piece and video. I hope to have that one done in a week or so.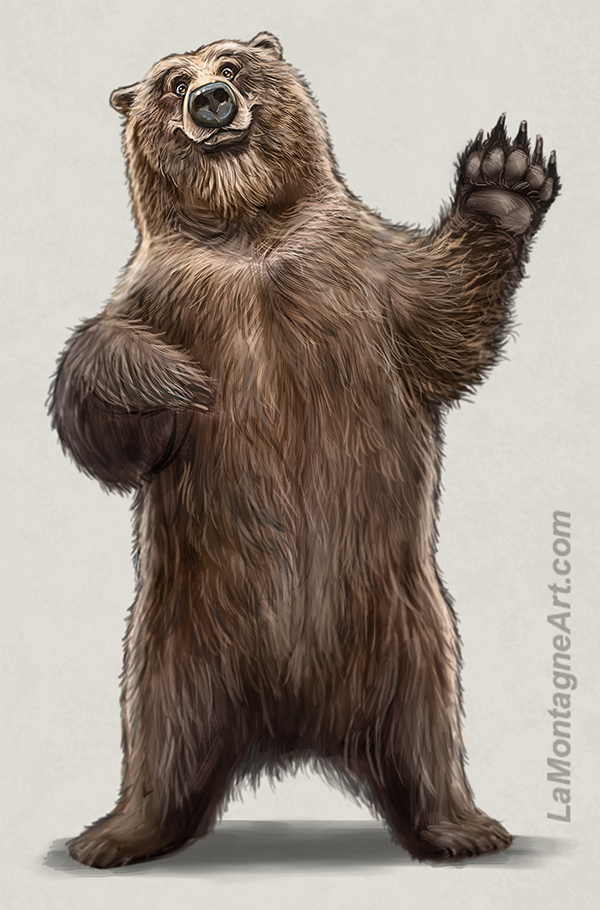 It's not unusual to see bears in this valley, but it has been a strange season for encounters. The berry crop was poor this year, and bears have been spotted all over town for weeks.
When people fail to pick the ripe fruit from the trees in their yards, it attracts bears. Dog food, bird feeders, dirty BBQs, and garbage will too. Bears have an incredible sense of smell, and they're attracted to anything that gives off an interesting odour. Dirty diapers will attract bears.
All it takes for a bear to become spoiled and dangerous is too many opportunities to associate people with food.
Shonna and I bought our townhouse condo in 2001. It's in a well-defined complex with single road access and a couple of other walking entries on the opposite end. We've occasionally had elk inside the complex, but in the 21 years we've lived here, I've never seen a bear on the property.
A couple of weeks ago, while checking the mail, I noticed a sizeable pile of scat six feet from our front door. If you've never seen bear poop, it's unmistakable.
At the end of our street, nowhere near a wilderness area, a well-used gravel path passes beside a daycare. A week before, as I rode my bike around the building heading for downtown, I was surprised to see a mother black bear and two cubs in my way. I hit the brakes, breathed something like "oh shit," and slowly backed up, wondering what she would do.
She and her cubs looked right at me, but I got away without a confrontation. It was only a half block from home, so I called the Bear Report Line, as did several others.
Still on the phone when I got home, I stepped onto our kitchen balcony to see the Mom and cubs walking by on the street below. It was just after noon.
Many in town have seen this bear and her two cubs, another black bear and her three cubs or several other single black bears looking for food in suburban neighbourhoods.
I recently had a cable internet issue requiring a service call. The tech who came to sort it out lives in an apartment-style condo building near the other end of our street. While walking his dog one evening, he saw a grizzly in his parking lot. Others in his building have seen it too, and warnings are now posted around the property.
Last Sunday, our next-door neighbour Chris sent me a text warning at about 9:15 pm that the black bear and three cubs were spotted walking down a long road that leads to the top of our condo complex. Shonna would be biking home an hour later from her part-time job at Safeway.
Here's a late-night photo Chris took from his balcony at the end of August.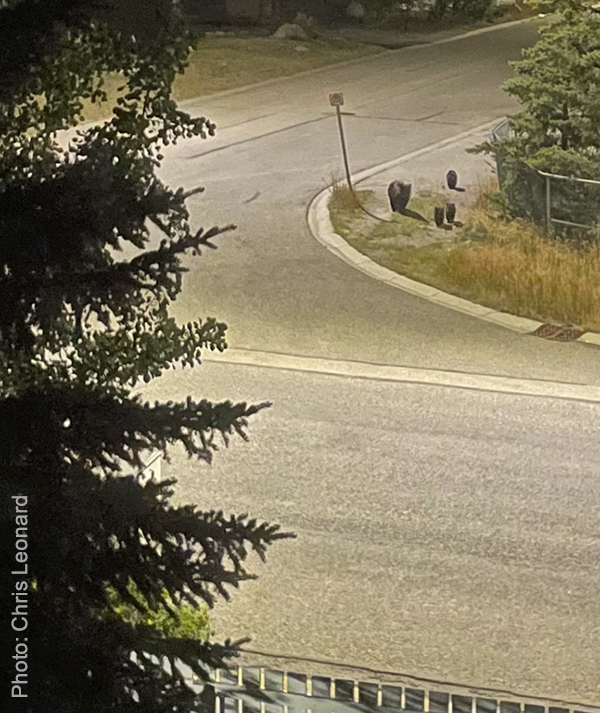 I called Shonna to warn her and said I'd keep an eye out. She takes well-lit main roads to get home, away from the current bear sighting. But this year, they can be anywhere, including downtown.
A half-hour later, Mom and cubs were walking down the road inside our complex, straight toward our front door. Four people stood in front of our place, taking pictures and videos with their phones. I warned them from my open living room window that they were in a dangerous spot and should leave.
They were dismissive and waved me off, a typical tourist response. But I think these were locals who should have known better. Shortly afterward, my neighbour was more blunt when he warned them about their poor choices.
Chris and I were more concerned about harm coming to the bears. When stupid people trigger an encounter that forces a bear to defend itself, the authorities shoot the bear and orphan her cubs. All for an Instagram post.
Fortunately, this bear was more intelligent than those people. She turned around and went back the way she came. The four humans finally left as well, their departure significantly increasing the average IQ of our neighbourhood.
Though the bears were no longer in sight, I knew they'd still be close.
Shonna called before she left Safeway, and I told her I'd be waiting. Bear spray in hand, I stood at the open front door until I heard her repeatedly hitting her bike bell as she drove into the complex. I opened the garage door as she turned the corner so she could go right in, ending our evening's excitement.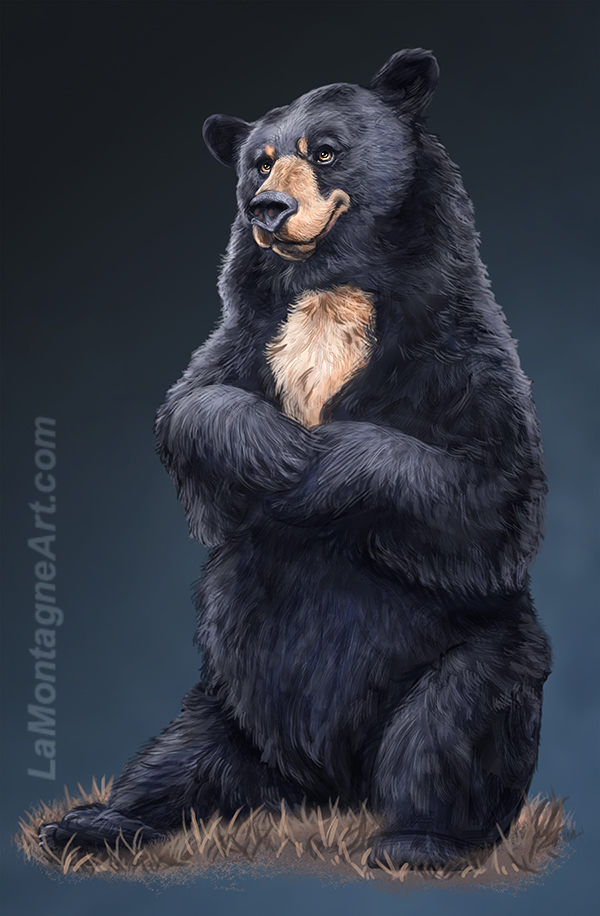 I have a complicated love-fear relationship with bears.
The first whimsical wildlife critter I painted in 2009 was a grizzly bear, and I've painted more bears than any other animal. I've spent countless hours at Discovery Wildlife Park, having close encounters with their rescued orphan bears, especially a favourite named Berkley. I've painted her quite a few times.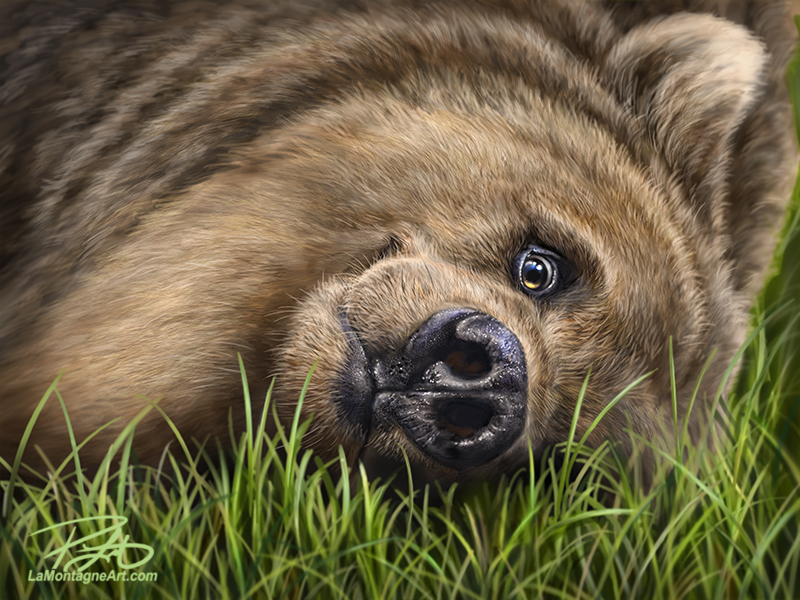 On the flip side of that coin, I am unreasonably terrified of bears. For years, I've tried to get used to camping in a tent in bear country.
Bears are more likely to avoid people than seek them out. I know that if you keep a clean campsite, don't bring any strong smells into the tent with you, and sleep away from where you cook, you're unlikely to attract bears.
I know what to do if I encounter a black bear or grizzly. I make noise while out in the woods, carry bear spray and know how to use it. I know that bears have far more to fear from us than we ever do from them, that bear attacks are almost unheard of and usually defensive, prompted by a human doing something foolish.
Bears don't kill people. People kill bears.
And even with that knowledge, I've never been able to shake the phobia while camping or hiking in bear country. Every noise is a bear, especially from dusk 'til dawn. My camping companions have taken great delight in mocking my bearanoia, despite having phobias of their own.
Am I having fun yet?
After countless camping trips, not sleeping well, annoying others with my nervousness, and living with the shame of not being able to talk myself out of it, I've given up camping in tents in the Rockies. I return home more pissed off than relaxed.
Besides, a cabin is much more comfortable, especially when it rains.
Strange that I had no concerns on our recent kayaking adventure on Vancouver Island, living in a tent in an area with a dense population of black bears. I slept great every night. Is my fear geographical?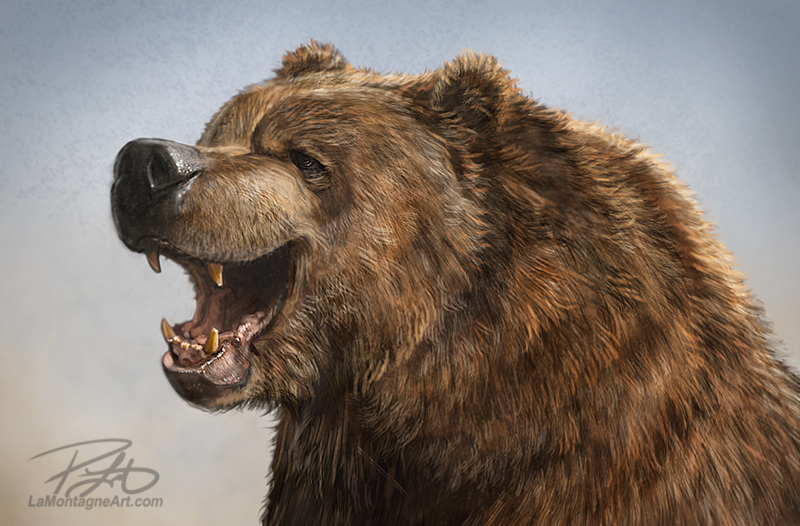 The most remarkable recent bear encounter was at the September 3rd Mountain Made Market when a black bear tried to walk into the Civic Centre in the middle of the day, about forty feet from my table. Fortunately, the Town building monitor, Maurice, a genial and helpful gentleman, stood at the door waving his arms and making noise, convincing the bear to seek a different path. There's a man who's good under pressure.
I've enjoyed my market experiences over the past year. Decent sales, close to home, and I get the same great location in the Civic Centre each time. Connecting with other vendors and my customers, I always learn something new.
This market was especially fun because Alexander Finbow occupied the next table. He owns Renegade Arts Entertainment here in Canmore. Alex has been ready to publish an art book of my work since 2016. He has been very patient, is still interested and we talked more about it.
Alex figured out that I've been making too big a deal out of it, trying to put together one big book instead of a smaller one. He suggested that rather than try to cram my whole career into one volume, I make it more specific, and pick stories and artwork that fit a theme. Then if the first book does well, there will be more books on other parts of my work in the future. That not only relieves a lot of pressure, but it's a sound business plan as well.
Sometimes you just need somebody to point out the obvious.
The first art book is about bears. Perhaps it always has been.